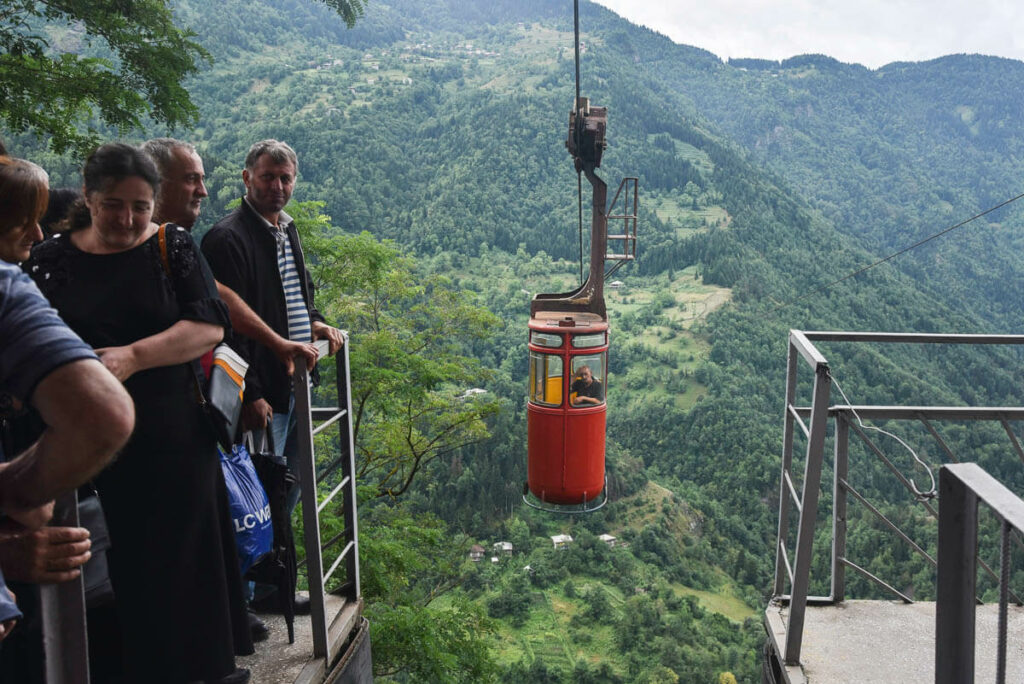 Heads up.
When we visited Adjara, we had our best local experience ever in Georgia, when a random family invited us to their mountain house.
We ate home-made food, drank chacha, wine and danced to traditional music until night.
It was great, and the truth is that around the Adjara mountains we were continuously blessed by heavy doses of hospitality, either with random Georgians we bumped into or the locals we hitched a ride with.
This part of Georgia is, for some reason, one of the most unspoiled parts of the country, even more than Tusheti, at least when it comes to tourism.
Historically, this area had always been under Ottoman rule, and that is the reason why today, most people here are Sunni Muslims, even though ethnically and culturally they are Georgian.
In fact, one of the highlights of this region is checking the peculiar mosques that abound, typically cube-shaped and made of metal, which makes them the humblest mosques I have ever seen.
However, you need to remember that you are in a former Soviet country, so the people in Adjara are the type of Muslim who never say no to a sip of local wine or chacha, and that is why we had so much fun with the family who hosted us.
This is a quick guide to travel in Adjara mountains, which includes things to do and tips.
For general tips, check my Georgia travel guide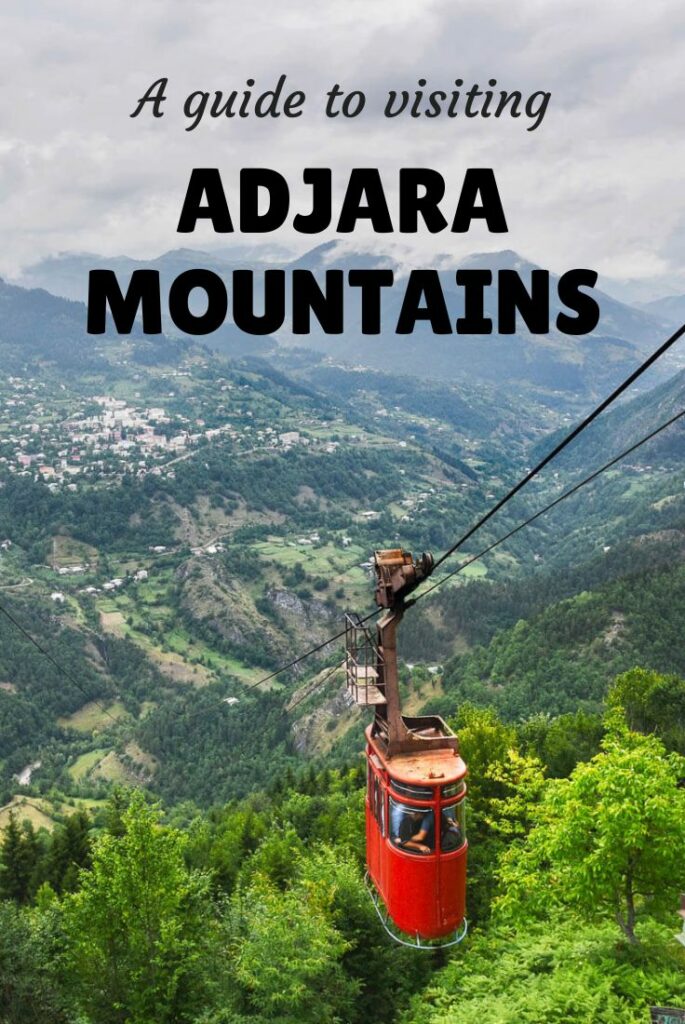 Get travel insurance for trekking in Georgia
I strongly recommend IATI Insurance as it provides coverage for a very big bunch of adventure activities.
Get an exclusive 5% discount if purchasing via this link
Best time to visit Adjara region
Assuming that this is the wettest and rainiest region in Europe and winter is covered by snow, I think that the best time to visit is from late spring till early autumn.
Check out the weather before going there.
How to get to the mountains of Adjara
There are two ways of getting there, as the road connects both Batumi and Akhaltsikhe and Borjomi.
From Batumi, some marshrutkas cost 2GEL. They go as far as Keda, the main town in the area.
The other side goes through a mountain pass which is only open in summer, the last big village being Beshumi. You should find marshrutkas going from Akhaltsikhe or Borjomi to Beshumi.
Otherwise, you can also hitchhike, as we did on the way back, from Beshumi to Akhaltsikhe. It was very easy.
How to move around Adjara
Visiting the mountains of Adjara consists of village-hopping, from one to another.
We just followed the road that links Batumi with Akhaltsikhe, stopping in whatever place we felt like.
Marshrutkas are connecting pretty much every village and hitchhiking is easy.
Things to do in Adjara
Time needed to visit all these places: We spent 3 full days and 2 nights, spending the first night in Mosiashvilebi and the second in Khulo. On the third day, we stayed in Akhaltsikhe, the first big town just after Adjara.
As I said, Adjara is about visiting villages.
The mountains are beautiful, but they are not outstanding, meaning that if your aim is trekking, this is not the best place in Georgia to go, but the High Caucasus.
On the other hand, Adjara is a great place to discover and experience the local culture.
Map of the things to do in Adjara
Click here to see the interactive map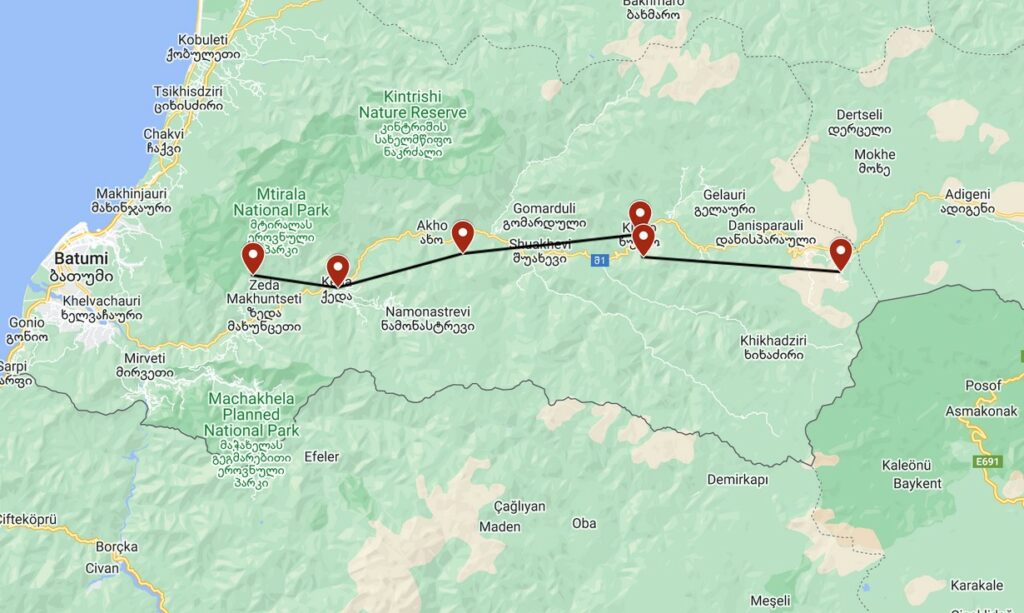 Makhunseti
The first place of interest you will find is a village named Makhunseti, where you can visit a dramatic waterfall and a historic stone bridge.
You will quickly realize that this place is very crowded with tourists, Russians and Saudis especially, but, fortunately, this is as far as tourists go because from the next village on, you will be by yourself.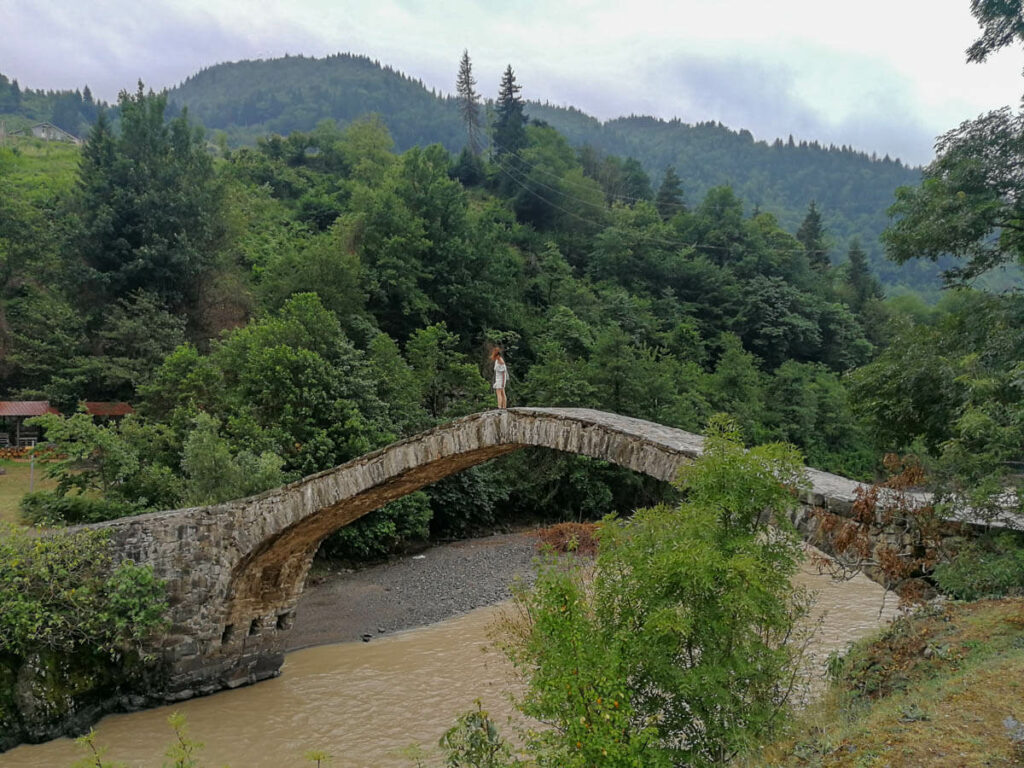 Keda
Keda is like the main town in Adjara and as far as the marshrutkas from Batumi go.
There is a tourist office, where we stopped to ask for some information about the area. The lady was pretty nice, and we had a nice chat but other than that, we didn't spend much time here.
Where to stay in Keda
Homestay – Rancho in Georgia – If you like mountains, this homestay is perfect for you, great views and cozy.

Check on Booking.com
Mosiashvilebi
We stopped in this random village because someone told us that there was a micro-winery which, at the same time, was a homestay, so we decided to give it a try. It was a pretty cool house, quite fancier than we expected and they traditionally made wine.
The house is located on the top of a hill, from where you get a panoramic view of the village, so we spent the foggy evening at the terrace, drinking wine and eating the local food they produce. By the way, this area is famous for growing pink tomatoes and this family grows them in the garden.
When we heard about pink tomatoes we were expecting to see like Barbie-pink tomatoes, but it is more like a light red with a slight pinkish tonality.
We paid 40GEL each, which included dinner, breakfast, a quick visit to the cellar, and a generous portion of wine. Very good deal.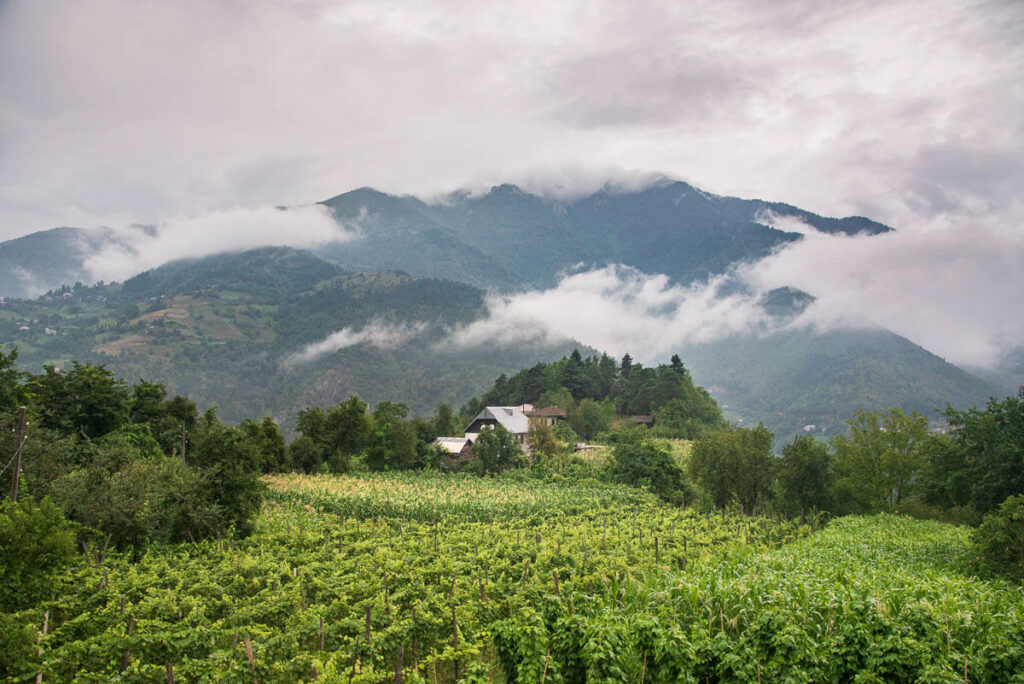 Khulo
Khulo is a hilly village and, perhaps, the largest town after Keda.
There are quite a few homestays here, a nice market to swing by and the most amazing attraction is an old Soviet cable car that takes you to the other side of the valley, to a tiny village named Tago.
The journey is very scenic.
Where to stay in Khulo
Guesthouse – Rimas Home – A beautiful location with a view of the mountain.

Check on Booking.com
Top-rated Hotel – Ambassadori Goderdzi Hotel – The best accommodation in Khulo.

Check on Booking.com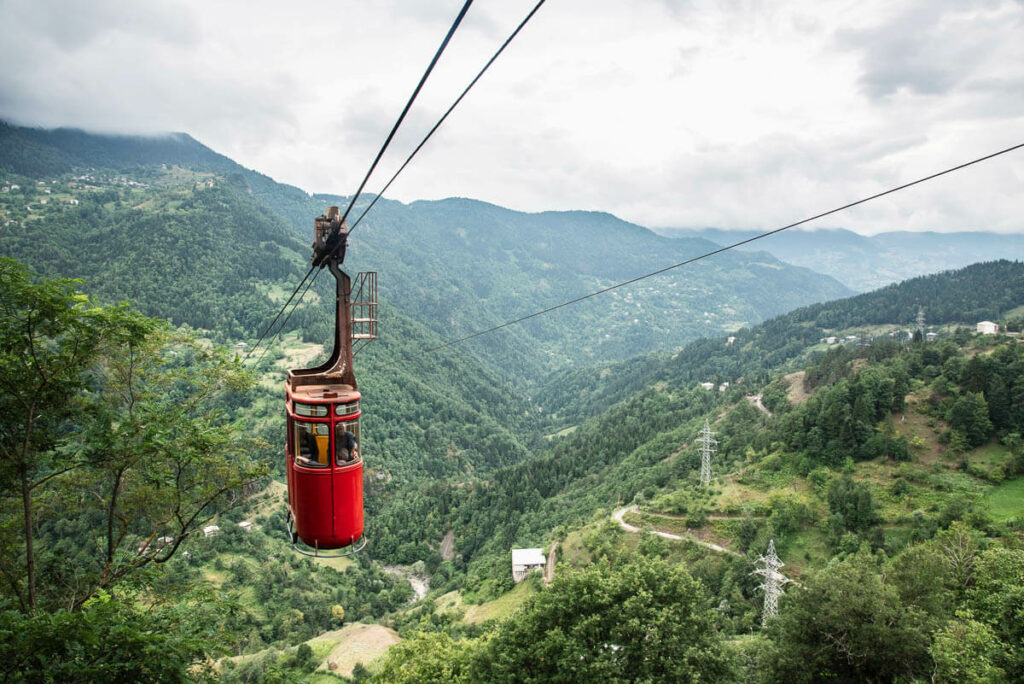 Adjara travel tip – This area is famous for the tobacco growing and in fact, pretty much every house had tobacco leaves hanging and drying out in their gardens, plus you found tobacco stalls in every market.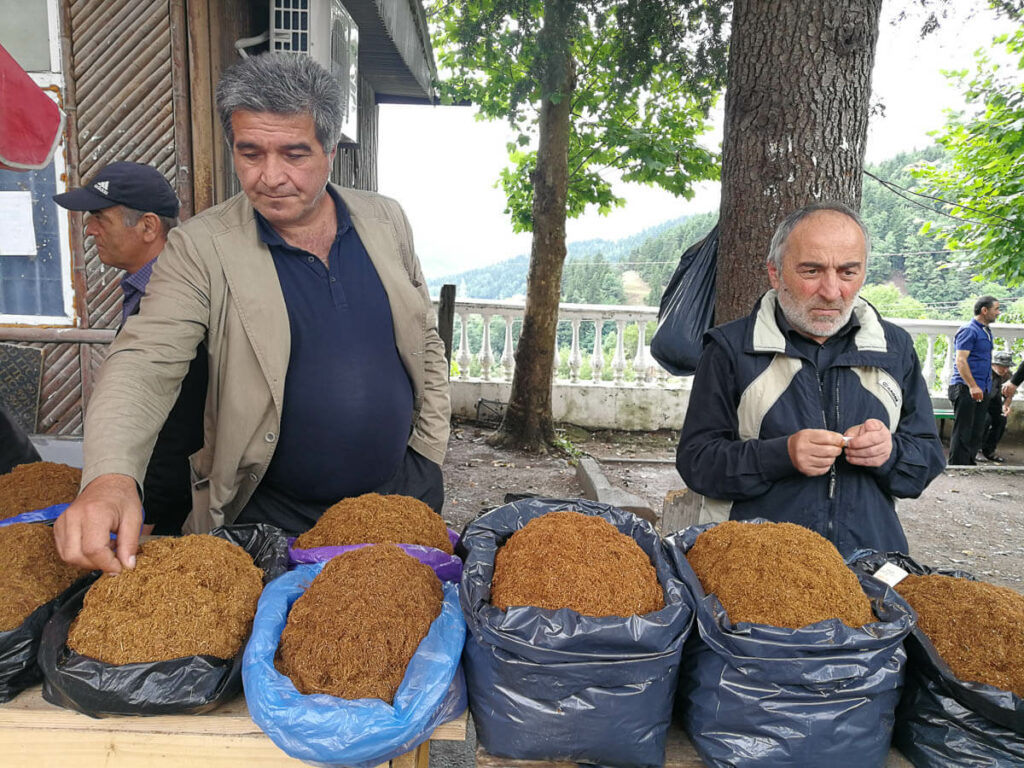 Tago
Tago is basically, the village across the valley which can be reached by cable car from Khulo (by foot it would take ages).
Next to the cable car station, there is a panoramic bar (by bar I mean a shack with a local that sells beer) and on the top, you will find one of those strange cube-shaped metal mosques with epic views.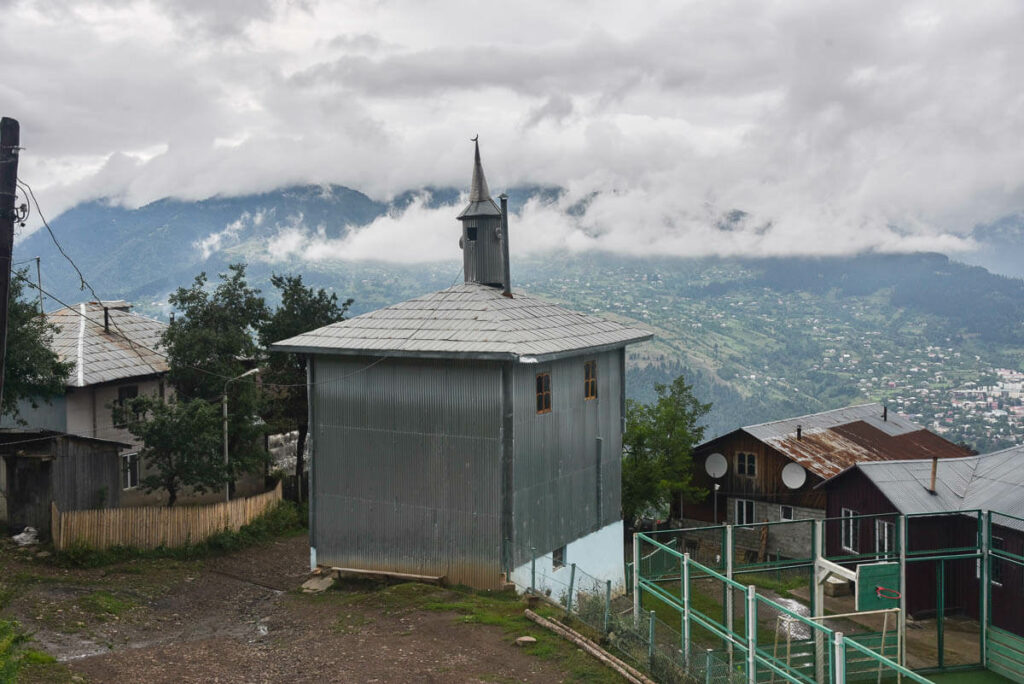 That mosque was the place where we were approached by the locals we had a party with.
One of the men said he was a policeman so, in the beginning, I thought he was telling me something about my drone (I was setting it up), but they were just inviting us to their house, and we had the best time ever.
Where to stay in Tago
Guesthouse – Hotel Tago – Pretty much the only accommodation in Tago.

Check on Booking.com
Interesting fact – You should know that compared to the rest of Georgia, this area is very conservative. When we arrived in Khulo, Adriana and I were sitting in the living room of the homestay, when the father of the house came with 4 liters of beer. He poured some into a half-liter jar and then, he asked me if I wanted some as well. I couldn't say no, of course, so I also got a fresh pint but then, without even asking, he took like a 15ml glass, poured beer into it, and it turned out to be for Adriana, as he assumed she wouldn't drink much, just because she was a woman (and she actually drinks more than me). Then, when the three of us finished our beers, he poured his jar and mine, but never cared about Adriana again.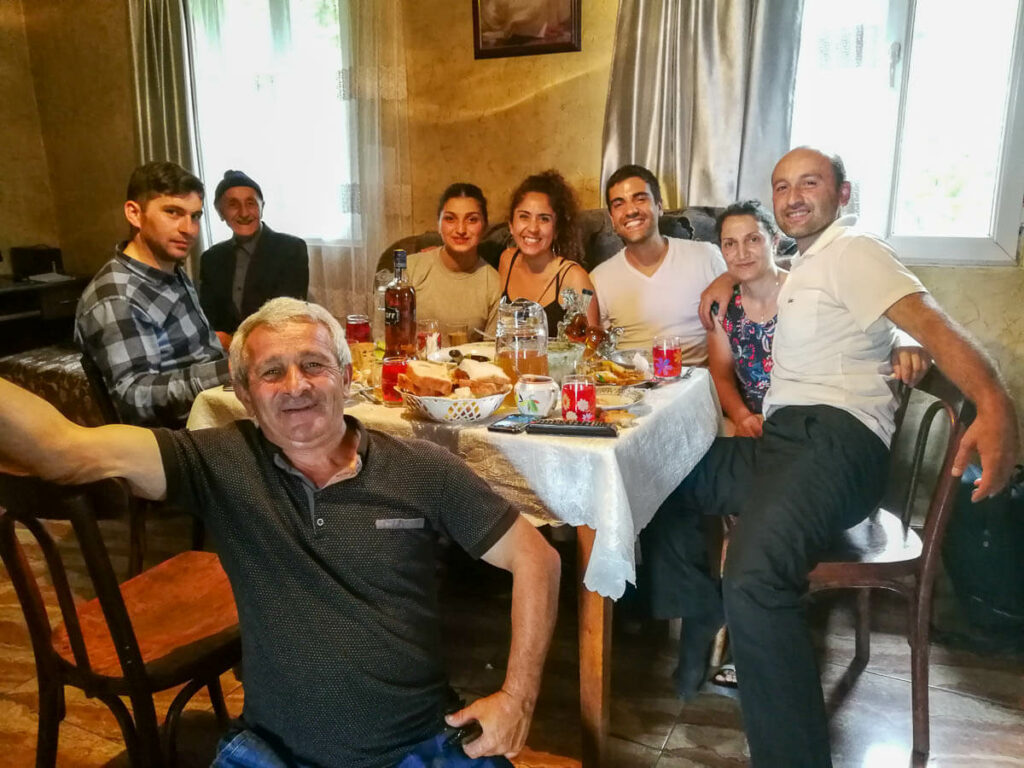 Beshumi
Beshumi is at the edge of Adjara province, after passing Goderji Pass and it is a small town which they are turning into a massive ski resort which is supposed to be bigger than Gudauri.
The village, however, is pretty, and the landscape here is more alpine than the wetlands of Khulo and Keda. We were supposed to spend one night here, but in the end, we decided to hitchhike to Akhaltsikhe.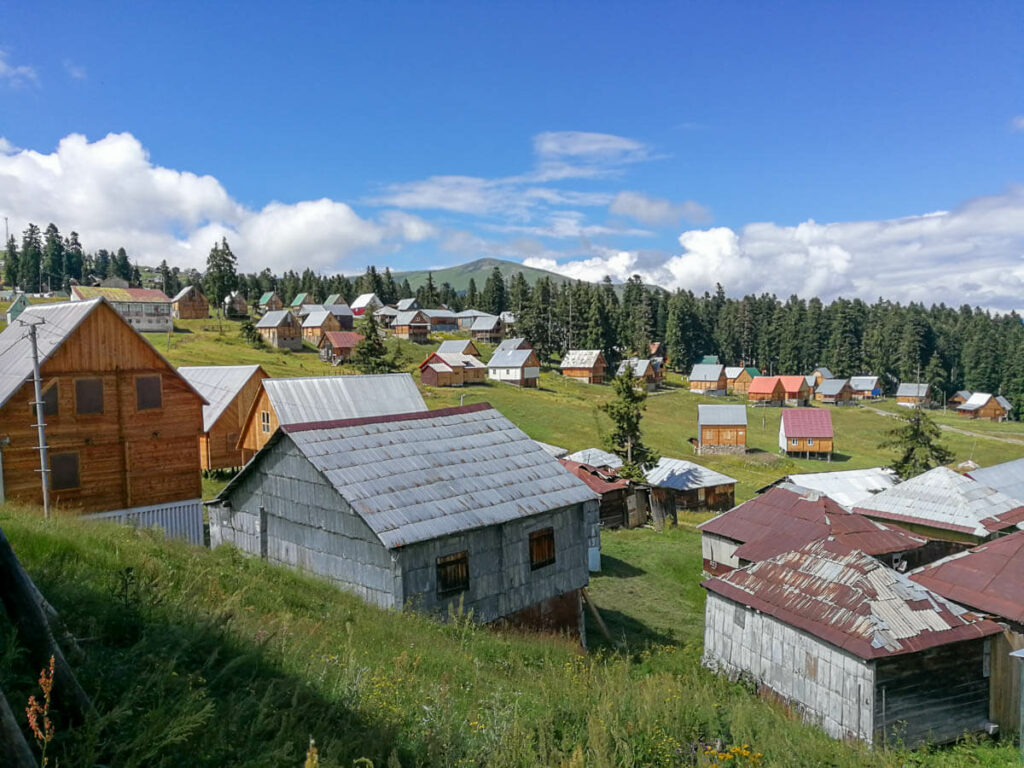 More information for visiting Adjara Mountains
Get travel insurance for trekking in Georgia
I strongly recommend IATI Insurance as it provides coverage for a very big bunch of adventure activities.
Get an exclusive 5% discount if purchasing via this link
Don't forget to check our travel guide to Georgia.
As well as all our Georgia articles: