Hawaii is a place that many people dream of visiting. With over 100 gorgeous beaches, 50 state parks, vast lush rainforest, and a genuinely welcoming atmosphere, a Hawaii bucket list vacation is nothing less than desirable.
So if you are finally getting to visit this stunning part of the world, you're likely wondering how to best spend your time.
PSSST. Your travel medical insurance can now cover COVID-19!
If you grab SafetyWing Nomad Insurance, it'll be covered just like other illnesses. I've been using it since 2019 and I can assure you it's the perfect solution for nomads like you and me.
Hawaii is a lovely place to recharge and appreciate a slower-paced life. You can enjoy long and lazy beach days and top-quality pampering at the lavish spa resorts.
However, the islands offer so much more than relaxation, so it makes no sense to not explore at least some of the top sights. To help you understand the must-do activities, we're sharing our epic Hawaii bucket list.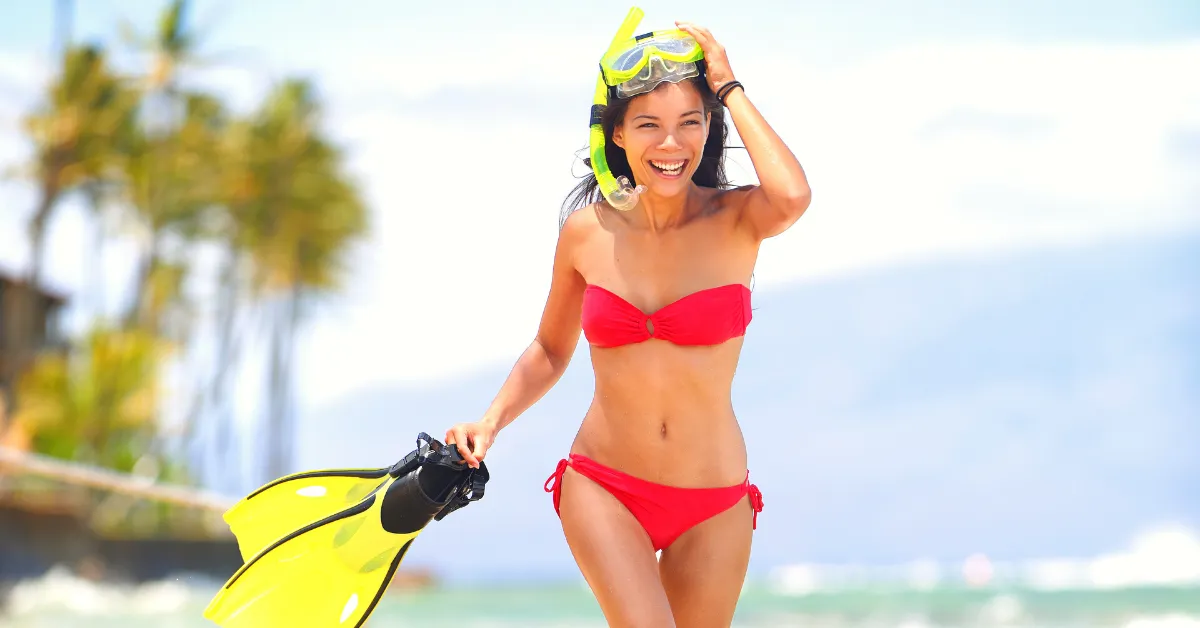 1. Check Out Some Of The Best Snorkeling Spots
Hawaii is best known for its incredible marine life and snorkeling experiences.
The Hawaiian islands have tons of excellent snorkel spots for all levels. So, if you've never snorkeled before or are not a confident swimmer, you don't have to miss out on this iconic experience. 
Several beach parks and calm bays are dotted around the islands, perfect for beginner and family-friendly snorkeling and paddling.
In Hawaii, one of the most popular places to snorkel is in Oahu at Hanauma Bay. Here, the reef is close to the shore, the water is usually calm, and the beach is patrolled by lifeguards. 
The man-made snorkeling site at Lydgate Beach Park is another safe option to snorkel on Kauai island. Here, the rock wall keeps the water calm, and there are tons of tropical fish to see without swimming far out.
Off-shore snorkeling is also extremely popular. If you have your heart set on seeing green sea turtles, book a trip to Turtle Canyon.
Another one is Nualolo Kai, along the Na Pali Coast. It has a large barrier reef, so you'll see some diverse marine life and possibly even the endangered Hawaiian Monk Seals.
Many full-day snorkeling tours will take you to a handful of the best spots. 
2. See The Marine Life On A Glass-Bottom Boat Or Submarine
Along with snorkeling, boat trips offer the best way to explore the incredible marine life of Hawaii.
You will find many glass-bottom boat trips running from Waikiki. They will take you out to the best ocean spots, cruising over live tropical reefs and even one of Hawaii's shipwrecks.
Expect to see an impressive array of sea animals on an Oahu boat tour, such as sea turtles, eels, reef sharks, dolphins, and endless schools of tropical fish.
Alternatively, if you want to get even closer to the underwater world, you can choose a submarine adventure. On a Waikiki undersea adventure tour, you'll go 100 feet (30 meters) below the surface to get a closer view of all the marine life, plus you will likely spot some sharks too. 
3. Drive The Road To Hana
The Road to Hana, also known as the Hana highway, is a 64.4-mile (103.6 kilometers) stretch of Hawaii coastal roads on Maui island. The scenic drive runs along the eastern coast, from Kahului to Hana, passing endless ocean vistas on one side and lush rainforests on the others. 
As the route goes through two state parks, there are many sights to see along the way, such as cascading waterfalls and refreshing tide pools. Additionally, the drive features 620 curves, 54 one-lane bridges, and numerous beautiful beaches, such as Ho'okipa Beach and Hana Bay.
If you have your own vehicle, you can drive the highway yourself. Otherwise, there are plenty of sightseeing tours that will give you a full day to explore the gorgeous landscapes.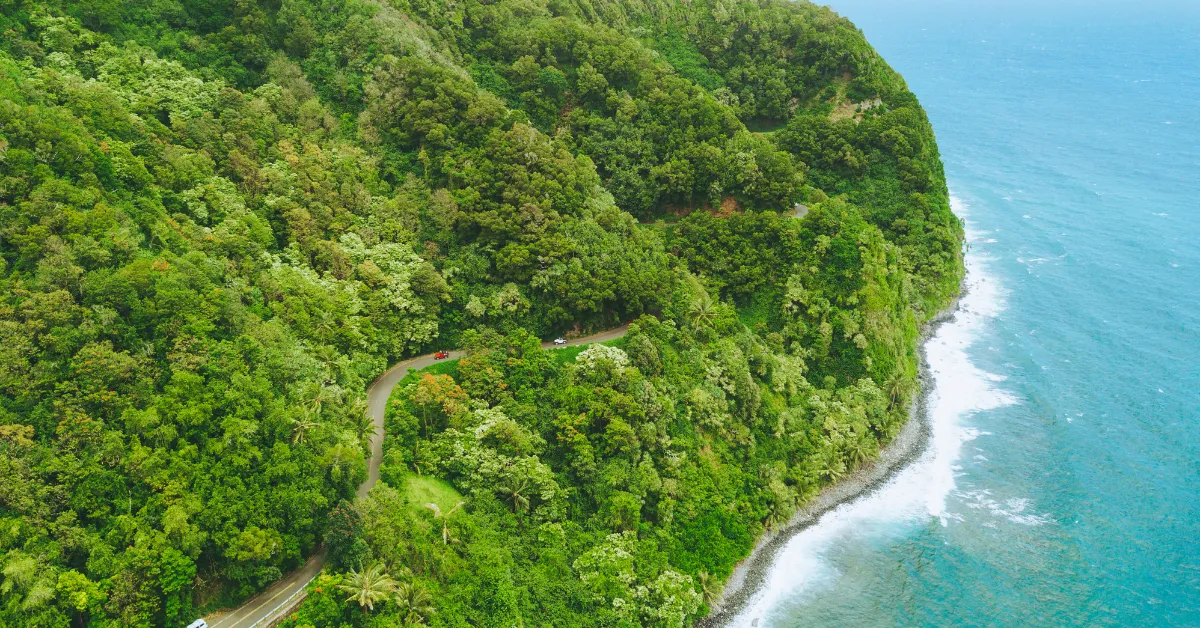 4. Visit The Active Volcanoes
The Volcanoes National Park in Kau is home to two of Hawaii's most visited active volcanoes, Kilauea and Mauna Loa. Its natural wonders have made it a designated International Biosphere Reserve and UNESCO World Heritage Site.
One of the park's biggest highlights is the Thurston Lava Tube, a 500-year-old cave formed by flowing lava that you can walk directly through. Seeing these natural wonders in action is a must-do while on the big island.
Many tour companies operate trips here, including guided hikes around Kilauea. Spending the evening in the national park is also spectacular.
If you stay after dark, you'll witness the orange and red lava glow lightening up the night's sky. Plus, it's an incredible spot for stargazing.
History buffs will find the national park even more fascinating. The Volcanoes National Park is a sacred landscape with many important historic cultural sites.
By exploring the national park, you can learn some of this volcanic region's stories, myths, and legends.
5. Experience A Traditional Luau Show
If you're looking to experience cultural activities in Hawaii, attending a Luau show should be at the top of your Hawaii bucket list. A Luau is a traditional Hawaiian party that features elaborate performances and rituals, music, and a huge dinner spread full of fresh seafood. 
These social events were traditionally held to bring together the people of a town in a time of celebration. However, today tourists can attend Luau shows all over Honolulu.
They are pretty expensive but attending a Luau is a super fun activity and an excellent way to learn more about the history of Hawaii. 
6. Discover Hawaiian Culture At Polynesian Cultural Center
Another way to learn about the history of the land is to visit the Polynesian Cultural Center, located in Laie, on the northern shore of Oahu.
The center is best described as a cultural theme park, full of fun cultural activities and sights. It features six authentic villages, where you can join in ancient games, rituals, and dances or learn island skills like how to fish without a net.
Frequent cultural performances happen throughout the center, including the famous Maori warrior dance, "the Haka." Be sure to stay for the evening too, where they put on mind-blowing "Breath of Life" shows and Luau banquets.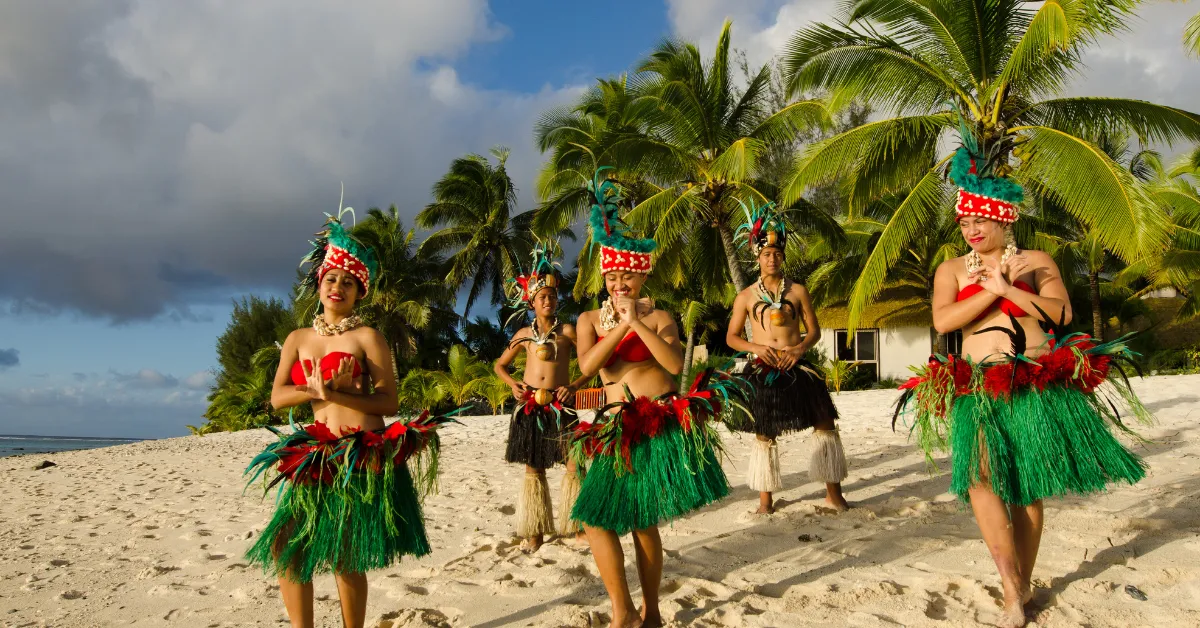 7. See The Breathtaking Wailua Falls
The four islands of Hawaii boast over 100 waterfalls combined. Still, Wailua Falls on the island of Kauai is perhaps the most visually stunning.
The twin 173-foot (53 meters) falls are located on the South Fork of Wailua River but are viewable from the road, 3 miles (4.8 kilometers) up Maalo Road. It is also possible to reach the bottom of the falls.
However, this involves a strenuous 3-mile (4.8 kilometers) hike, so it is not recommended for beginner hikers. 
8. Hike To Manoa Falls
If you're looking for a more leisurely waterfall hike, walk the Manoa Falls Trail in Honolulu.
This 2.5 km (1.6 mi) round-trip is gentle, scenic, and accessible for all fitness levels. The fall is smaller than the Wailua Falls, but the setting is spectacular as it is hidden amongst a lush bamboo forest. 
The giant trees here are up to 100 years old, and the area has become pretty well-known since it was used as a filming set for Jurassic Park and the TV series Lost. What's more, the 100-foot-high (30-meter) waterfall is always gushing as it gets rainfall all year round.
9. Explore Waimea Canyon State Park
Waimea Canyon State Park is one of the most distinct regions in Hawaii. The top sight is the colorful 3,600 feet (1,097 meters) deep and 10-mile (16 kilometers) long Waimea Canyon, also known as the "Grand Canyon of the Pacific."
The green and pink canyon walls create a gorgeous landscape, which you can view at one of the several viewpoints around the park.
While you can see the sights by driving through the state park, many hiking trails are available. On foot, you'll be able to explore deeper corners of the park you cannot see on the roadside.
For example, the 3-hour Canyon Trail hike leads to the stunning 800-foot (244 meters) Waipo'o Falls. However, if you don't feel like hiking, you can easily spend a couple of hours exploring this state park via car.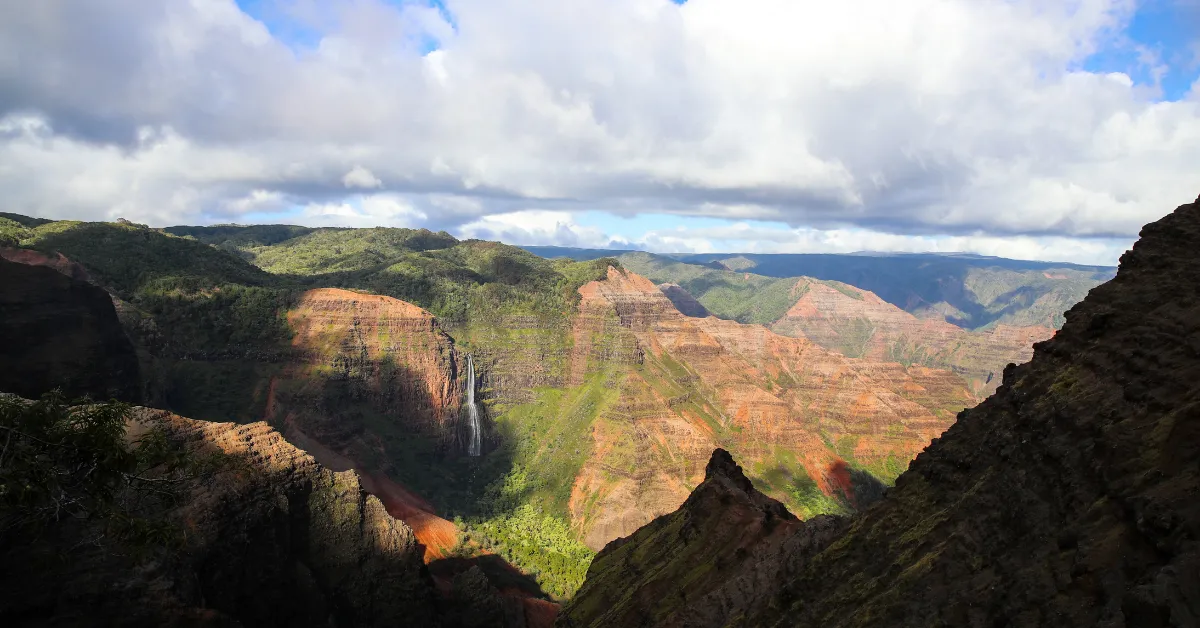 10. Visit Pearl Harbor
No Hawaii bucket list is complete with a trip to one of America's most historical sites, Pearl Harbor. Here is where​​ the Japanese carried out a surprise air attack on the United States, leading to their involvement in World War II.
You'll find this famous landmark in Central Oahu, 30 minutes from Waikiki. Once you arrive at the visitor center, you'll take a boat ride to the USS Arizona Memorial.
Aside from the somber memorial visit, you can partake in virtual reality experiences to see what it was like being there on the day of the tragic event.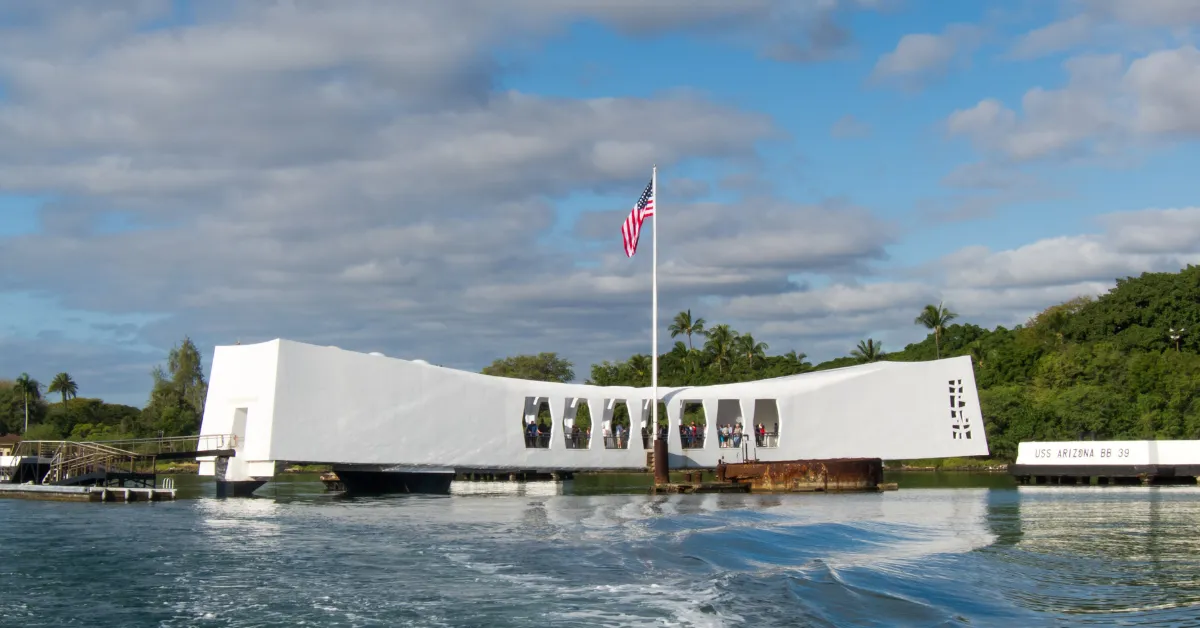 Final Thoughts On Hawaii Bucket List Experiences
Hawaii is full of beautiful nature, both on land and in the ocean. However, the islands have a rich culture and history, making a trip to Hawaii a once-in-a-lifetime experience.
The above Hawaii bucket list includes the most popular activities and sights, but you'll find a broader range of sightseeing opportunities on each of the four islands. 
Visiting Hawaii soon? Read one of the following guides: