By guest contributor Kat Smith
Kotor in Montenegro is a pretty sight, flanked by the Bay of Kotor on one side, and the mighty Mount Lovćen on the other. Within the fortified walls of Old Town Kotor lies a cobbled maze of restored medieval stone houses, Baroque palaces, markets, churches, museums, lively squares, and charming cafes. Whitewashed laundry flutters overhead on window lines in quiet alleys and singers' music fills the squares, while the town's many cats saunter over to café tables with confident curiosity.
I've quickly fallen in love with Montenegro. As part of a trip through the Balkans, while I work online and travel from one country to another, Montenegro has really stood out. In particular, the shining jewel in my eyes has been Kotor Bay, in which the lovely town of Kotor sits with its charming Old Town.
Kotor Bay is a pretty large, oddly shaped bay in Northern Montenegro, just south of the border with Croatia. Although, when I say large, you have to take that with a grain of salt. Montenegro is a teeny tiny country so size is certainly relative here. But make no mistake, with beautiful beach towns, quaint villages, wineries and farms, and lush national parks that cover nearly 10% of the country, there are plenty of incredible places to visit in Montenegro.
Although transportation around the Bay of Kotor isn't the smoothest, especially in summer, it's relatively quick and easy to get anywhere on the bay, so long as the bus actually comes.
Before traveling to some of the best places in Albania, Montenegro wasn't on my radar. I'm not even sure if I knew Montenegro was its own country. To be fair to me, Montenegro has only been independent since 2006 so compared to the rest of the world, it's brand spanking new. Previously it was part of Yugoslavia and after that dissolved, it was part of Serbia, until finally gaining its own independence.
Before I share the juicy details in this Kotor travel guide, one big thing to note is there is Kotor and there is Kotor Bay (also called Bay of Kotor or, locally, Boka Kotorska). Around the bay, there are a handful of small towns, one of which is Kotor itself. Recognizing this distinction will help you to better plan your trip.
While the entire bay is incredible, for this guide, we'll focus primarily on Kotor, the town not the bay in general. The rest of the bay is spectacular though, and you, like me, might actually prefer staying in one of the small towns and just pop into Kotor when you're looking for some entertainment. I'll leave that choice to you though- you can't go wrong either way.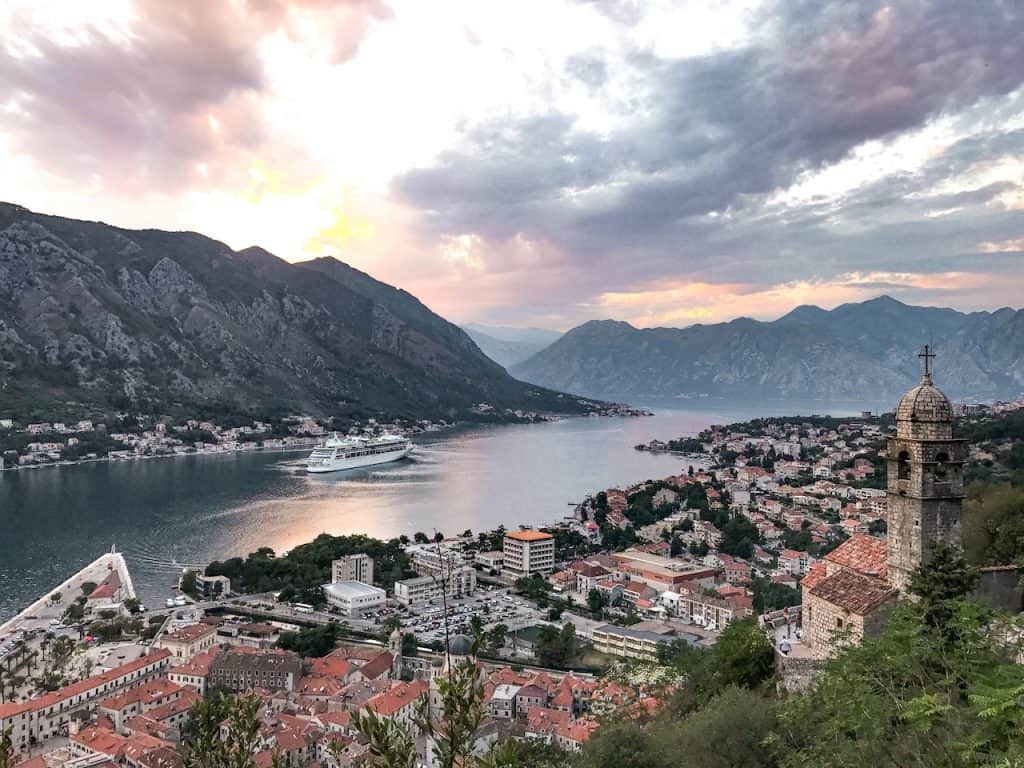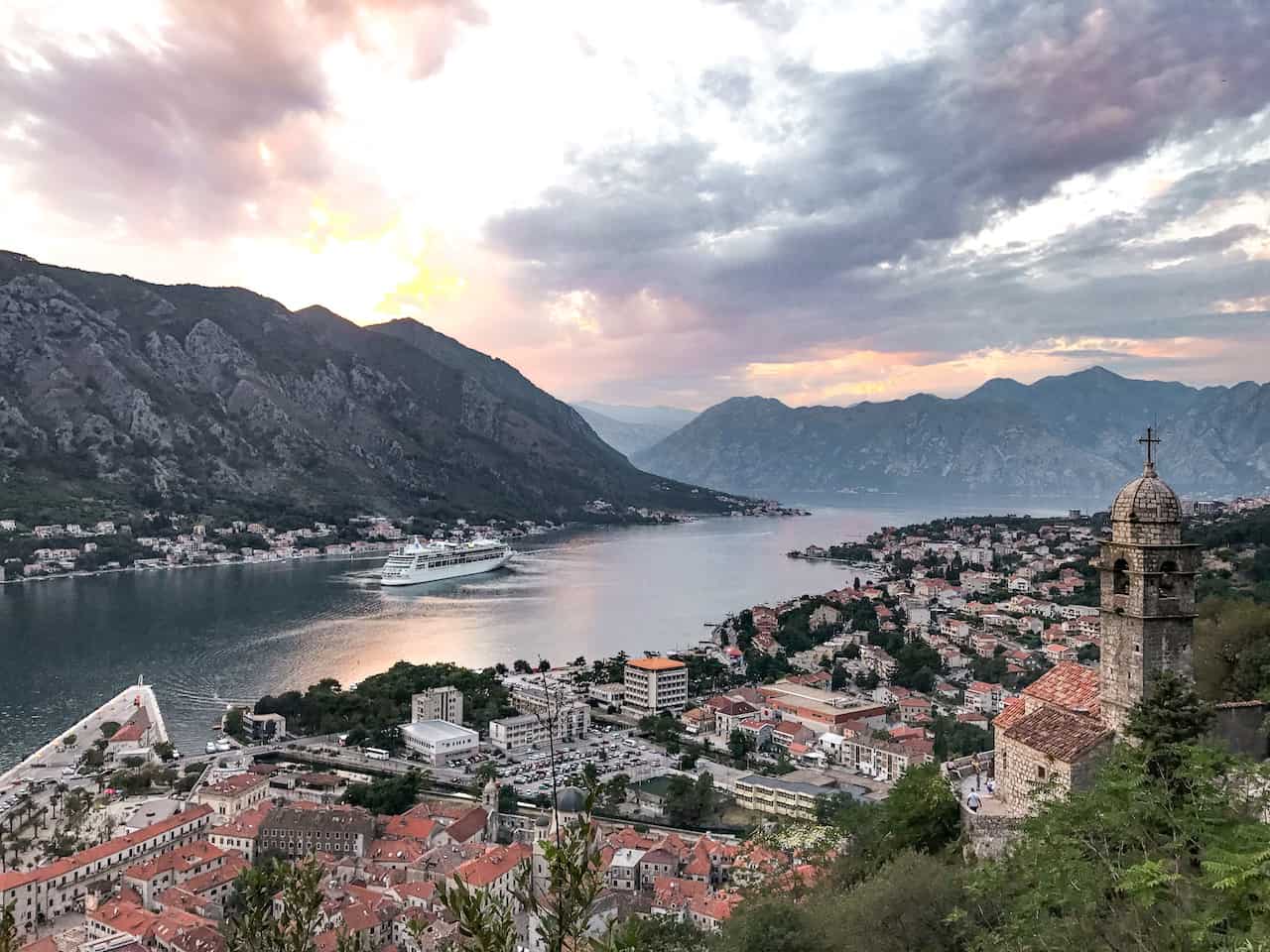 So, let's dive right into this Kotor travel guide so I can share why I'm so in love with this place and convince you that you need to visit, as well.
How to Get to Kotor, Montenegro
You can get to Kotor, Montenegro by bus or car from bordering countries, by bus, car or boat from nearby cities, or by air if flying directly to Montenegro.   
By Air: 
If you're flying directly to Montenegro, you would arrive at the nearby Tivat Airport and get a bus or car (rental or taxi) from there. The drive from Tivat Airport to Kotor isn't too long—just around 8km and it takes about 15 minutes (considering a bit of traffic), if you take the cut-through road in the mountains. 
Or, you can go around the bay, which would take about 40 minutes. There is a bus station in Kotor, a few minutes' walk from Kotor Old Town, and another in Tivat.
By Car:
For driving, you'd most likely be coming from the north (Dubrovnik, Croatia) and will drive south through Herceg Novi. The drive from Dubrovnik is less than 3 hours.
You'll need to get your car on the ferry but it's very straightforward and you won't even need to get out to buy tickets. The ferry runs continuously and only takes about 10 minutes from one side to the other. It's free for pedestrians but only a few Euros for cars. 
Otherwise, you could come from the south, either from Podgorica or Albania. That'll take you along the coast and you can either cut inland directly to Kotor or through Tivat. The drive from Podgorica is less than 2 hours.
By Bus:
There are buses to Kotor from many cities in neighboring countries such as Dubrovik and Split in Croatia, Sarajevo, Mostar and Trebinje in Bosnia & Herzegovina, Tirana and Shkoder in Albania, and Belgrade in Serbia. 
The coastal views on the journey from Dubrovnik are absolutely wonderful. 
Flixbus buses are great—they're comfortable, clean, and you can book tickets online in advance. Just be sure to have your passport handy for checks at border control. 
Here are some travel times on buses from nearby cities:
Dubrovnik, Croatia to Kotor, Montenegro – 2 hr 20 min

Split, Croatia to Kotor, Montenegro – 7 hr 10 min 

Mostar, Bosnia & Herzegovina to Kotor, Montenegro – 6 hr 10 min 

Trebinje, Bosnia & Herzegovina to Kotor, Montenegro – 5 hr

Tirana, Albania to Kotor, Montenegro – 7 hr 45 min 

Shkoder, Albania to Kotor, Montenegro – 4 hr 40 min 
By Ferry:
There are no ferries directly to Kotor. If you're traveling from Italy, you can take the ferry but will need to go to Bar, a city on the coast, first and make your way to Kotor from there.
There are no trains going to Kotor.
When to Visit Kotor
Montenegro gets four seasons, so your trip will greatly change based on the time of year you decide to visit.
Kotor in Summer
Kotor Bay thrives in the summer, so if you want to see Kotor with everything open and lively, this is the time you'll want to visit. It's obviously the most popular time as well, so you will see your fair share of tourists there, too.
Kotor is also a popular stop for cruise ships, so you can expect extra crowds when a ship docks. Weirdly enough, the boats don't seem to follow any sort of schedule so on some days you'll see up to three boats in the bay, whereas on other days there won't be a boat in sight.
Kotor in Any Other Season
Kotor in any other season will be a greatly different experience. The shoulder months around summer, think May and September, will also be great times to visit, but you should expect that not everything will be in open.
The rest of the year, October thru April, will be quiet. If you're looking for a picturesque escape full of rest and relaxation, you'll still love your visit here. In Kotor Old Town, you'll still find plenty of places open, so you certainly won't go hungry, but if you stay elsewhere in the bay, it's best you're content cooking.
The Best of Kotor Old Town
Now on to the good stuff!
Kotor itself is slightly larger than its designated Old Town but not by much. Outside of Kotor's Old Town, you'll find the marina, grocery shops, some other small stores, and a variety of restaurants. While many of these places are more practical than fun, the marina is where you'd catch a boat or sailboat for a tour of the bay.
Also, along the beach, heading in the direction of Dobrota towards the Maritime Museum, there are places to sunbathe and swim and a waterfront promenade full of great restaurants.
But the heart of Kotor is certainly within the confines of the walls of Kotor Old Town. While it might look small from the outside, it feels bigger once you're wandering the maze-like alleys. 
From the moment you walk through the Sea Gate, it's easy to get lost and turned around but give in to it. Let the alleys lead the way, instead of you trying to. The city is walled on three sides and a mountain on the other, so I'm certainly using the word "lost" lightly. Rest assured you can explore freely without worrying about any real consequences.
Things to Do in Old Town, Kotor
Wander around Kotor Old Town
Within Kotor's Old Town, the best things to do are: eat, drink, shop, and aimlessly stroll through the old town visiting squares, churches, boutiques, cafes, and markets, along the historical housefronts or the outskirts of the fortress. Outside of the walled city, you'll get more variety in your to-dos, but within the walls, this is the best of Kotor's Old Town.
Take a walking tour of Kotor Old Town or for a self-guided walking tour, head to St Tryphon's Cathedral which was reconstructed after destruction during earthquakes- there are two baroque bell towers, of which one still remains incomplete. Step into the Romanesque interior to admire a glorious, silver altar screen, see what's left of Byzantine frescoes, and visit a museum with paintings and other artifacts. 
Other churches to visit include St Luke's Church, St Nicholas' Church, and St. Mary's Collegiate Church. 
The Maritime Museum of Montenegro is housed in an 18th-century palace, and it showcases Kotor's history as an important maritime town on the Bay of Kotor through photographs, paintings, and other maritime memorabilia.
The history is rich, the cats are plentiful (Kotor is nicknamed the 'City of Cats'), and the architecture will leave you wanting to walk around slowly, careful not to miss an inch.
Hike to the Castle of San Giovanni
Once you've gotten your fix of bars, restaurants, and cafes, it's time to go up. And the only way up is by walking. A popular hike in Kotor is up the fortress walls to an abandoned medieval castle—the Castle of San Giovanni—that overlooks Kotor. The walk is well worth the thousands of stairs and provides an amazing view of Kotor Old Town all the way across Kotor Bay from the top. 
For the best light and to beat the heat, start your walk around 6 pm or go early in the morning before the sun turns harsh. The hike up should only take around an hour. You'll be rewarded with a great view the entire time up and down but the ultimate vista is certainly from the top.
Best Places to Eat and Drink
Kotor is a great city to eat, drink, listen to live music, and have a good time on your trip. While there are plenty of great places to enjoy outside of the list, these bars, restaurants, and bakeries have become my favorites.
Niente Cafe Bar:

Don't let the name fool you, this cozy spot serves a unique and delicious cocktail, too.

(

85330 Ulica 2 (sjever-jug), Kotor)

The Nitrox Pub & Eatery:

This is the best place to get craft beer from all over the world.

(

263, stari grad kotor, Kotor 85330)

Bandiera:

Another bar, just near the 2 above, that has great prices. It's also a really fantastic place to stay put and people-watch.

(

CQFC+7MG, Ulica 2 sjever-jug, Kotor)

Pub "Old Town" Kotor:

Although certainly the least creative name, they make up for it with their cocktails. Their espresso martini is sweet but one of the best you can get in the area.

(Old Town, Kotor)

Bakery Mamma Mia:

For a slice of pizza or other baked goods, this is a good grab-and-go option.

(Old Town, Kotor)

Mon Bistro Cafeteria:

If you're a digital nomad like me, you can work from this small cafe. They have a few seats inside with air-con, which is a lifesaver on those especially balmy days. I wouldn't recommend staying all day but the staff was more than welcoming when I stayed a few hours.

(

Stari grad 310, Kotor 85330)

La Catedrale Pasta Bar:

A small spot that makes a mean pasta.

(Old Town, Kotor)

Cesarica:

The perfect spot for dinner to try local Montenegrin food. I highly recommend the "squids stuffed in traditional way."

(

375, Kotor 85330)

Moritz Eis:

This ice cream chain has locations throughout the Balkans. I first tried it in Budva and every time I've eaten it, it never disappoints. There are a lot of local ice cream spots as well that are good, too, but I would avoid the ones right at the Old Town Sea Gate entrance- they're expensive with small servings. At Moritz Eis, my go-to order is the activated charcoal with lemon.

(

293 Pjaca od salate, Kotor 85330)
Things to Do Around the Bay of Kotor
Now that you know how to make the most of your time within Old Town, you'll most likely be interested in exploring the area around Kotor. You're in luck, there's plenty to do and see in the surrounding area so you certainly won't find a lack of interesting sights.
Here are the best things to do around the Bay of Kotor.
Take a boat tour
There's an option for whatever you're in the mood for, from fishing tours on a sailboat to sunset tours with wine tasting, so pick the tour that most appeals to you. If you're feeling active, consider this kayaking trip in the Bay of Kotor or this stand-up paddleboarding tour. 
Most tours like this Kotor Bay Boat Tour go to the Church of Our Lady of the Rocks on an island off the coast of the beautiful town of Perast and to Mamula Cave. From there you can choose from an hour-long tour to an 8-hour tour. You can even opt for a private boat or sailboat.
Rent a scooter and drive the perimeter of the bay
To drive here, I recommend you have some experience behind the wheel. The roads are incredibly narrow and can certainly be intimidating if you're a first-time (or even experienced) driver. But, if you're up for it, it's one of the best ways to explore the area around Kotor. 
You can start your drive in Kotor and drive to Dobrota, Perast, and Risan, cross over with the ferry, and come back to Kotor via Stoliv and Prcanj. To add some extra stops and time to your journey, add a detour to Herceg Novi or Tivat, too.
Enjoy the "beaches"
I quote beaches for a reason here and that's because the Bay of Kotor doesn't have sandy beaches like you might be accustomed to. Instead, they have cement docks that make it easy to dive right into the water intertwined with small pebbly beaches for wading in. 
Personally, I don't think the beaches are great in Kotor. Given the amount of cruise ship and boat traffic and the fact that it's at the end of the bay, the water isn't as nice as other areas. But go further to Perast, and the beaches are quieter and much prettier. Dobrota, Prcanj, and Stoliv have the best places to swim, in my opinion.
Visit Perast
Perast is the town closest to the church of Our Lady of the Rocks on an island and is a popular place to stay and equally to visit. It's small, like everywhere in the area, but is filled with hotels, restaurants, coffee shops, boat tours, and a stunning waterfront. 
The town is filled with churches, chapels, Venetian palaces and former regal residences, so it's lovely to walk through. The Perast Museum is an interesting maritime museum on the waterfront which talks about the town's rich and illustrious maritime heritage. 
Spend some time in Prcanj
Prcanj is another teeny town that's extremely picturesque. There's a small promenade along the water that offers an incredible view of the mountains behind Dobrota and Kotor. Konoba Vila Marija is a great spot to grab a bite to eat and swim.
Take a day trip to the Adriatic Sea
There are a handful of great places to choose from on a day trip to the sea but Budva, Bar, and Sveti Stefan are among the most popular.
Take a longer trip to the mountains
While you'll most likely want to stay longer than just a day, Durmitor National Park is only around 2 hours away and has great hiking. Crno Jezero or the Black Lake is a gorgeous lake within the national park and you can hike around the lake in just a few hours. Likewise, Prokletije National Park is another great place for trails, nature, and cooler temperatures.
Go to Lake Skadar
Lake Skadar is the largest freshwater lake in Southern Europe and the Balkans, with two-thirds of it located in Montenegro and the rest in Albania (where it's called Shkoder). Lake Skadar National Park is located in the country's interior, but with a driving time of just 1 hr 20 min from Kotor, it makes for a great day trip from the city.
Tours to Lake Skadar stop at the town of Rijeka Crnojevica, home to some 200 people, for the iconic horseshoe bend views at Pavlova Strana. Another photo stop here is a stone bridge, built in 1853, that makes for a pretty picture when it's reflected in the water. You can also go on a Lake Skadar tour with wine tasting. 
Where to stay in Kotor
Budget Stays in Kotor
Mid-range Stays in Kotor
Luxury Stays in Kotor
Basic Travel Tips for Montenegro
Alright, now that you have the what to do, where to go, and how to get there but there are a few things you'll want to know to make your Montenegrin getaway as magical as possible.
Nearly everything closes on Sunday, including the supermarkets. Plan for your Sunday to be restful and relaxing.

Know that there's a lot of history to unpack in such a small amount of land. Their independence is still really fresh, so be careful not to lump them together with Serbia. Many people are good-natured, friendly, and will answer your questions, but be respectful that everything in this county is "Montenegrin" not "Serbian."

Buses are unreliable in the summer. I know I mentioned this in the beginning but I just want to drive it home so it really sticks. In general, a bus leaves Kotor and Tivat every hour, going along the bay simultaneously, usually crossing each other's paths in Prcanj. This is how it should work but given the increase in traffic, sometimes a bus will be late, sometimes it won't come.

Taxis are also tough to flag down in the smaller areas. Just outside of Old Town Kotor, getting a taxi is usually a breeze. That though is pretty much the only place it's easy. Even Tivat can sometimes be tough unless you know a number to call. In the smaller towns, it's really just luck of the draw if one drives by.

The internet can be less than reliable. If you're working online from here, do yourself a favor and get a local SIM card with data. This will come in handy since the WiFi isn't always the best. Or you can also

get an Airalo e-Sim

so you won't have to keep changing your SIM card repeatedly. 

The power might go out often. This is especially true in smaller towns but can just add to the

realities of the digital nomad lifestyle

that you'll need to also be prepared for a few hours without access to power.

The language can be confusing. Montenegrin is the official language here but if you go to Google Translate, you'll realize that isn't an option. It's incredibly similar to Serbian (except they use the Roman alphabet), Croatian, Bosnian, and Slovenian. We've been practicing Croatian on Drops, a really cool app for language learning, and it's been doing the trick.
With this, you're ready to enjoy an unforgettable trip to Kotor, from the Old Town to the surrounding area. As far as I'm concerned, I've found my slice of paradise. Let the slow days guide you, give in to the relaxing environment, and soak up the nature all around Kotor- from the sea to the mountains, I'm sure you're going to love it here.
Author Bio: Kat Smith, founder of A Way Abroad, has been based in Kotor Bay for the past 2 months. She's been abroad for the past 10 years, working online for the past 4. She started as a solo traveler but now travels with her husband, dog, and cat
Some links in this post are affiliate links. If you book tours or accommodation using them, I get a small commission, at no extra cost to you, that goes towards running this site. That said, I never recommend accommodation or tours that I haven't booked or wouldn't book myself, and spend a considerable amount of time finding the best deals and value-for-money tours and accommodation rates.