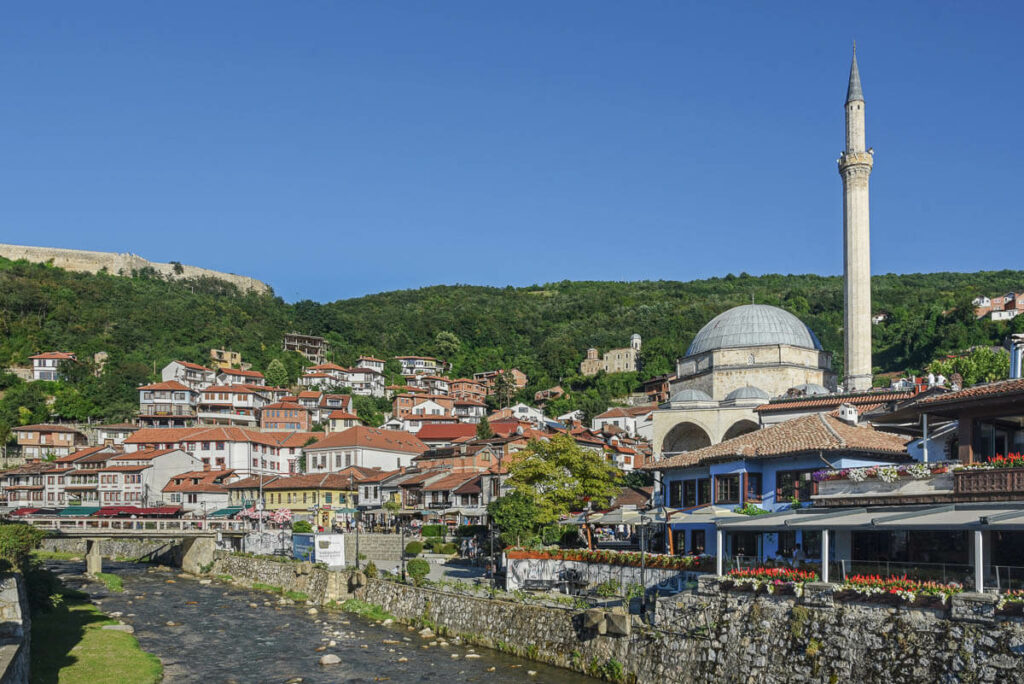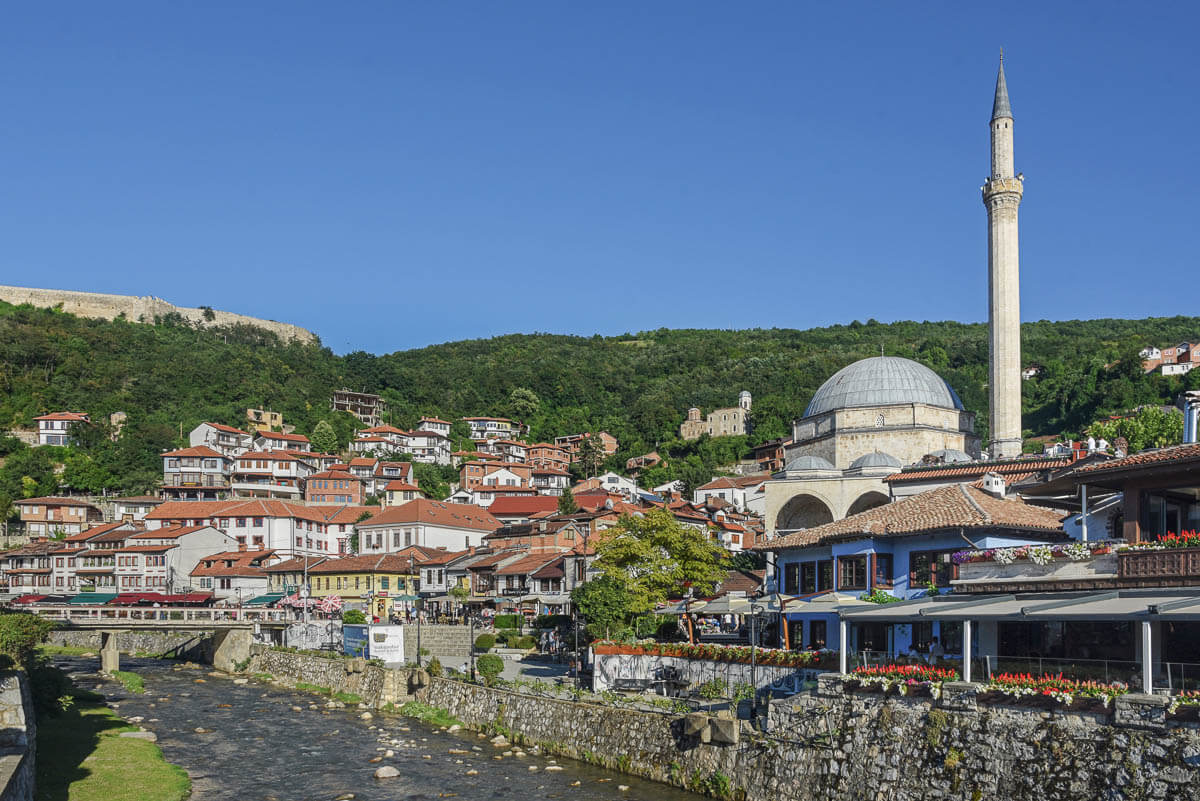 This travel guide to Kosovo contains everything you must know to visit one of the youngest countries in the world, including safety, moving around, top experiences, best time to visit, historical context and more.
Only independent since 2008, Kosovo is a partially recognized country that split from Serbia, putting an end to many years of an unfortunate conflict.
This landlocked country was part of our 2-month road trip across the Balkans, and it was one of our favorite parts.
Along with Transnistria, and perhaps Belarus, Kosovo might be the least visited country in Europe, home to a pretty authentic and untouched culture that chaotically combines their love for rakija (local liquor) with the large presence of mosques, a gorgeous Ottoman architecture and a strong coffee culture, not without forgetting the occasional Serbian villages filled with Orthodox churches.
Intrepid travelers wishing to get off the beaten track – outside of Pristina and Prizren – will be able to live local experiences rarely seen in Europe, like when we visited the remote, barely visited southern corner that belongs to the Dragash region, composed of green, rolling hills dotted with tiny villages, where we were blessed with doses of unprecedented European hospitality, like if we were traveling in the Middle East.
We enjoyed this tiny country like nowhere else in the continent, and this guide will tell you everything about traveling to Kosovo.
Check more guides to unrecognized countries.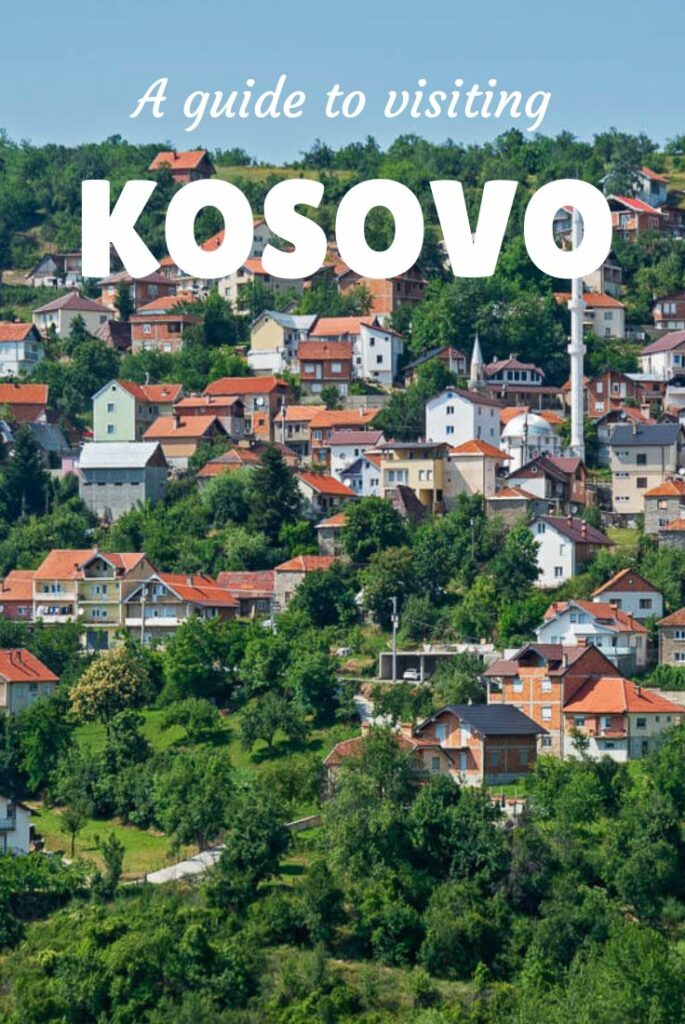 Get travel insurance for traveling in Kosovo
I recommend IATI Insurance, budget plans and good for multi-country backpacking.
Get an exclusive 5% discount if purchasing via this link
COVID-19 restrictions for traveling to Kosovo
As of today, no Coronavirus-related restrictions apply for entering Kosovo.
However, remember that your airline might require it so, either a vaccine certificate or a PCR.
We didn't fly to Kosovo, but we overlanded from Albania, and no proof of anything was asked.
How to get a visa for Kosovo
A visa is not needed for traveling to Kosovo.
Upon arrival, you'll just get a friendly stamp which is valid for 3 months.
If you like collecting stamps, note that they don't always stamp it, but you need to specifically ask for it.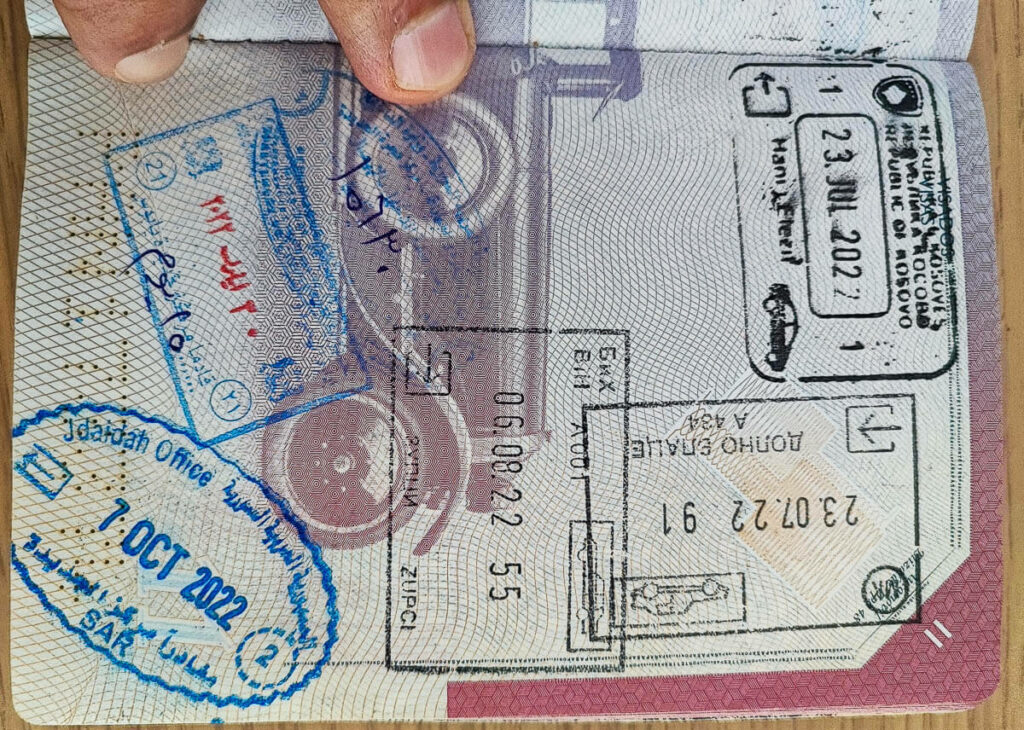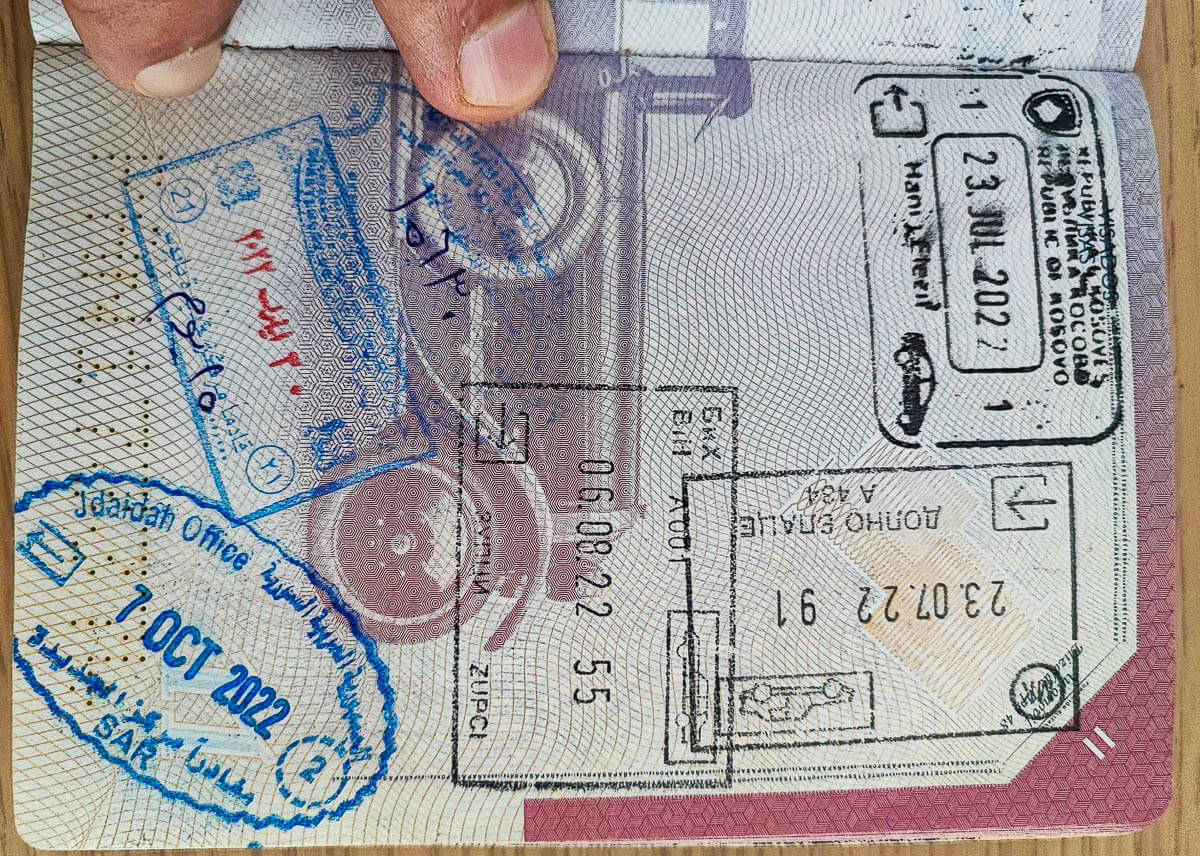 Need to know before traveling to Kosovo: the current situation
Note that this is a brief summary that only aims at giving you a minimum perspective.
Why does Kosovo want to become independent?
Kosovo is a country, or region, mainly composed of Serbians – who are Christian Orthodox – and Albanians – who are Muslims.
The first thing you need to know, however, is that the nation of Kosovo doesn't exist.
Since 2008, Kosovar is a nationality, but it's not really a nation. It's a region where both Albanians and Serbians coexist, both being Kosovars.
To make it extremely simple, the reason why the Kosovo became an independent state was because those Muslim Albanians didn't want to be part of Serbia.
Why does Serbia claim Kosovo?
Until the 15th century and, for 250 years, Kosovo had been part of Serbia.
Not only that, but it was their spiritual homeland, home to the holiest churches and monasteries for the Serbian Orthodox.
In 1455, however, the Ottoman Empire took over today's region of Kosovo, where they ruled for nearly 500 years.
The Ottoman Empire officially collapsed in 1912, time when Serbia affirmed to have both the moral and ethnic right to claim Kosovo back.
After WWI, Kosovo was annexed to Serbia and Yugoslavia was founded.
The wake of Kosovar nationalism and independence
However, five centuries of Ottoman rule had shifted Kosovo's demographics, the vast majority now being Muslim Albanians, so a period of Serbian colonization began under the recently formed Yugoslavia.
The following decades were characterised by several different episodes of repression against the Albanian population.
Albanian nationalism kept growing until the 90s, time when things escalated into an armed conflict that eventually turned into the Kosovo war of 1998-99, a war that came with a death toll of 12,000 people. 
The war, however, didn't solve Kosovo's status and in fact, tensions and occasional clashes between Serbs and Albanians kept increasing. For example, the Kosovo Liberation Army (UÇK) took advantage of the Serbia military withdrawal by burning Serbian churches and even doing arbitrary killings.
Given all those tensions, the resolution of Kosovo couldn't wait for any longer and that's why eventually, the UN came up with a plan and an agreement that would eventually allow Kosovo to become an independent state in 2008.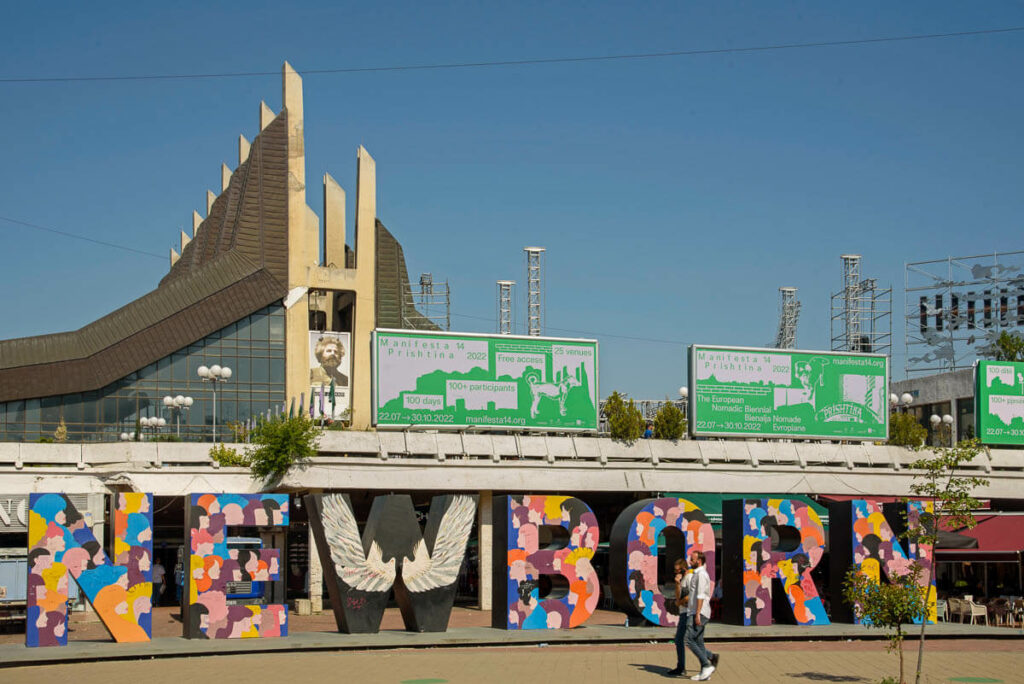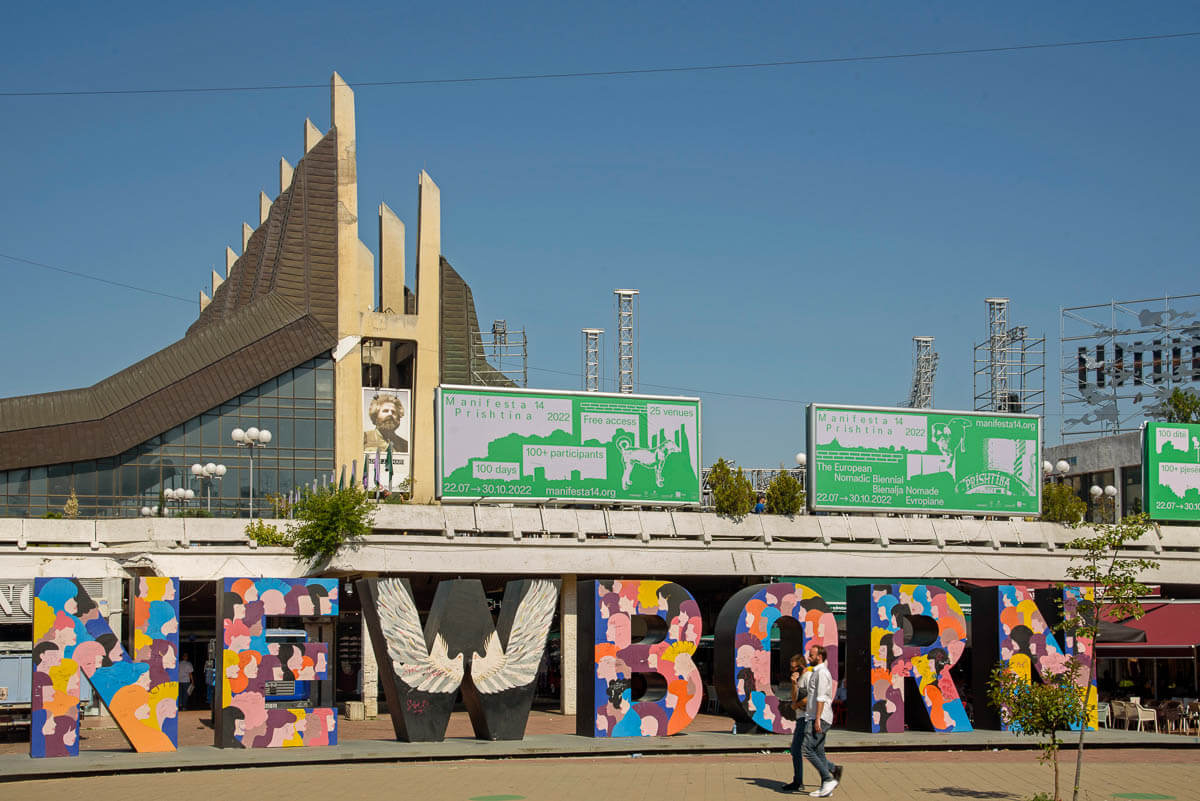 Who recognizes Kosovo?
Kosovo is one of the 9 unrecognized countries today found across the world, along with Western Sahara, South Ossetia, Abkhazia, Nagorno Karabakh, Transnistria, Northern Cyprus, Somaliland and Taiwan.
As of today, Kosovo is recognized by 97 out of 193 UN countries.
The USA, Australia, Canada and most countries in the EU do recognize Kosovo, except for Spain, Cyprus, Greece, Romania and Slovakia.
Russia doesn't recognize Kosovo either due their strong ties with Serbia.
Travel insurance for Kosovo
Remember that for travel insurance that covers travel in Kosovo, you must select Serbia.
For this, I strongly recommend IATI Insurance:
Full COVID-19 Coverage
Multi-country coverage and up to 1-year trips
Covers senior citizens too.
5% discount for being a readers of this blog
Recommended books for traveling in Kosovo
Kosovo travel guide by Bradt
Super complete and updated, this is the most comprehensive travel guide to Kosovo available for sale, packed with practical information, tips and itineraries.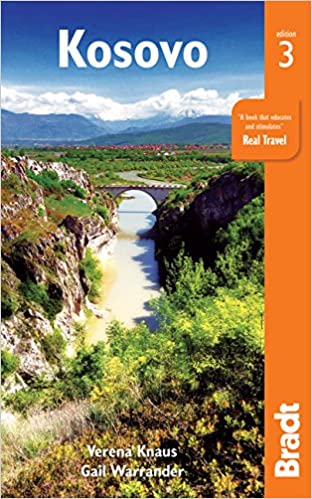 Kosovo: What Everyone Needs to Know
An easy-to-read history book, in which Tim Judah tries to answers all the conflict-related questions any traveler visiting Kosovo should wonder. However, the book is written from a pro-Albanian stand-point, and it often omits the atrocities committed by Albanians in the 90s.
Best time to visit Kosovo
Like most countries in Europe, Kosovo is a year-round destination but obviously, some seasons are better than others.
Read: Useful tips and how to travel to Ukraine
Traveling to Kosovo during spring and autumn
The best time to travel to Kosovo is during this season, when the weather is pleasant but the main attractions aren't overrun by crowds of tourists.
Traveling to Kosovo in summer
While this might seem the most ideal season to visit the country, the truth is that it's the high season for the Kosovo diaspora – Kosovar nationals living abroad – who like to spend the holidays in their homeland.
Note that the Kosovo diaspora is nearly 50% of the total population.
Traveling to Kosovo in winter
Winter are cold in Kosovo, with many areas covered in snow but if you don't mind the freezing weather, it could also be a great time to visit the country.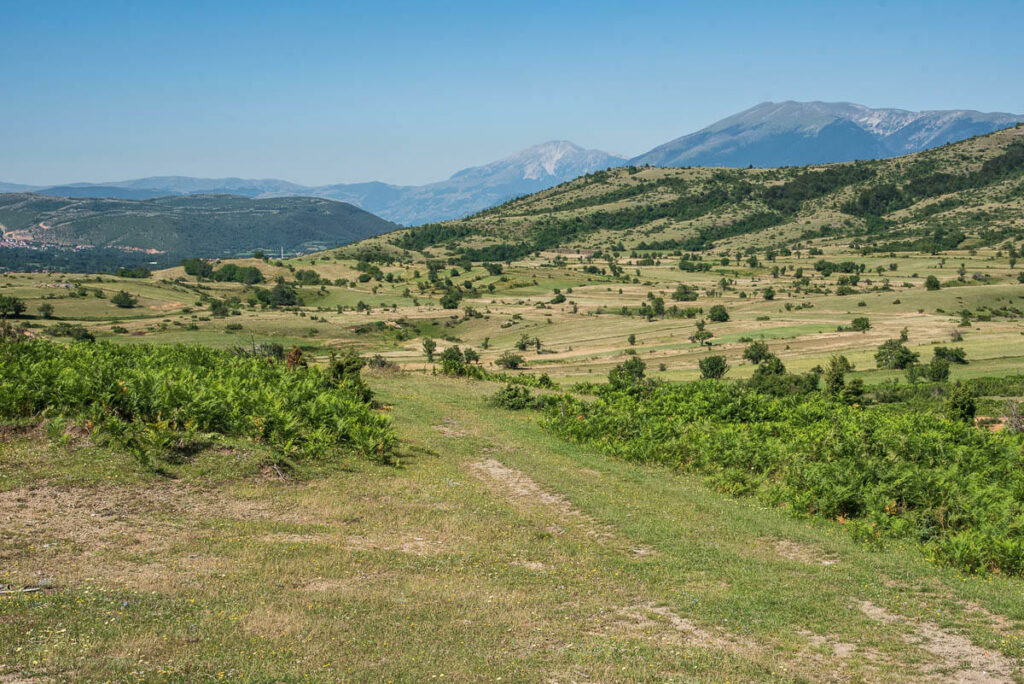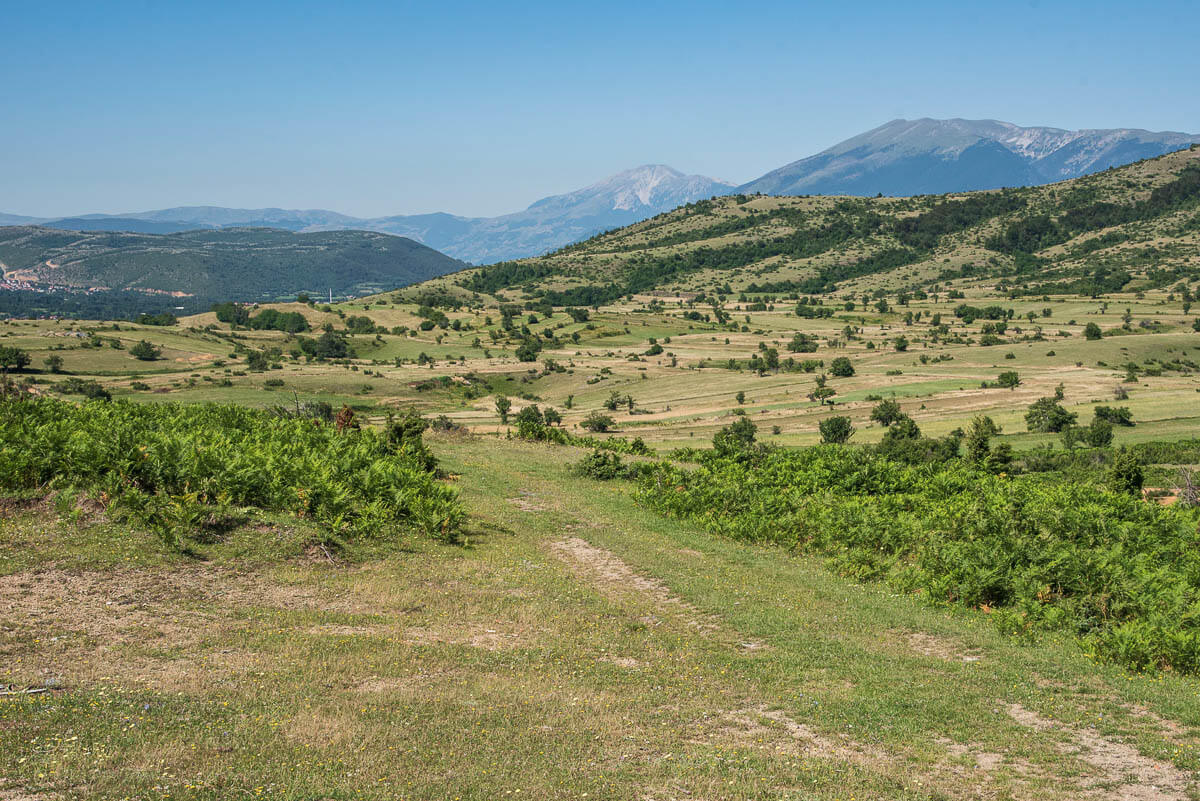 How to travel to Kosovo
Get travel insurance for traveling in Kosovo
I recommend IATI Insurance, budget plans and good for multi-country backpacking.
Get an exclusive 5% discount if purchasing via this link
Traveling to Kosovo by air
Pristina (PRN) has an international airport with connections to many European cities, especially with those countries with a large diaspora population, including Germany, Switzerland, Austria or Norway.
Common stopovers to Pristina are Vienna, Frankfurt, Geneva, London, Munich or Istanbul.
Lufthansa, Austrian Airlines, EasyJet, Wizzair, Pegasus or Turkish Airlines, among many others, are the most common airlines.
Traveling to Kosovo by land border
Your trip to Kosovo might also include neighboring Balkans countries, so you will be likely to either enter or exit through one of its many borders.
We actually traveled to Kosovo via Albania and left via North Macedonia.
Currently, Kosovo shares a border with, Serbia, Montenegro, Albania and North Macedonia.
All of them are easy, and pretty straightforward, except for Serbia.
Traveling to Kosovo from Serbia
The border is open, anyone can cross, but be aware that tensions between both countries still exist.
Occasionally, if crossing by bus, you'll be escorted by a car from the Serbian Army for the first few kilometers of no man's land but, other than that, you should be fine.
Traveling from Kosovo to Serbia
Serbia doesn't recognize the international borders of Kosovo so, in the eyes of Serbia, if you enter Kosovo from either Montenegro, Albania or North Macedonia, you'd enter Serbia illegally.
If that was the case, your entry to Serbia will be denied.
However, if you travel to Kosovo from Serbia and then decide to come back, you'll be allowed to enter.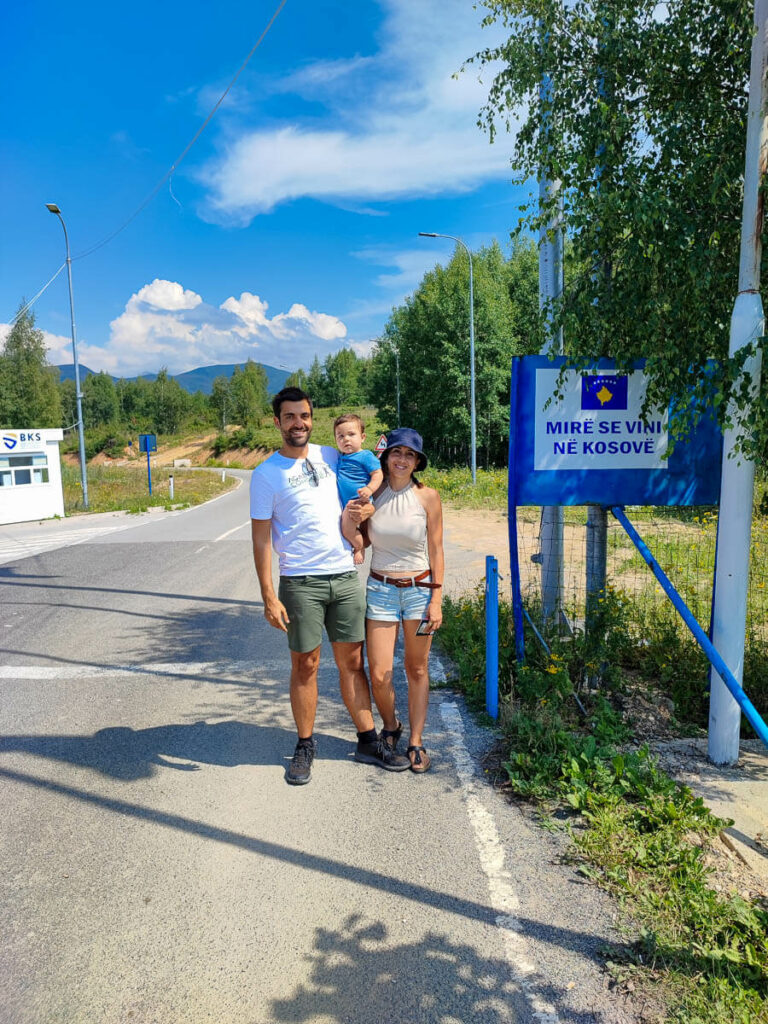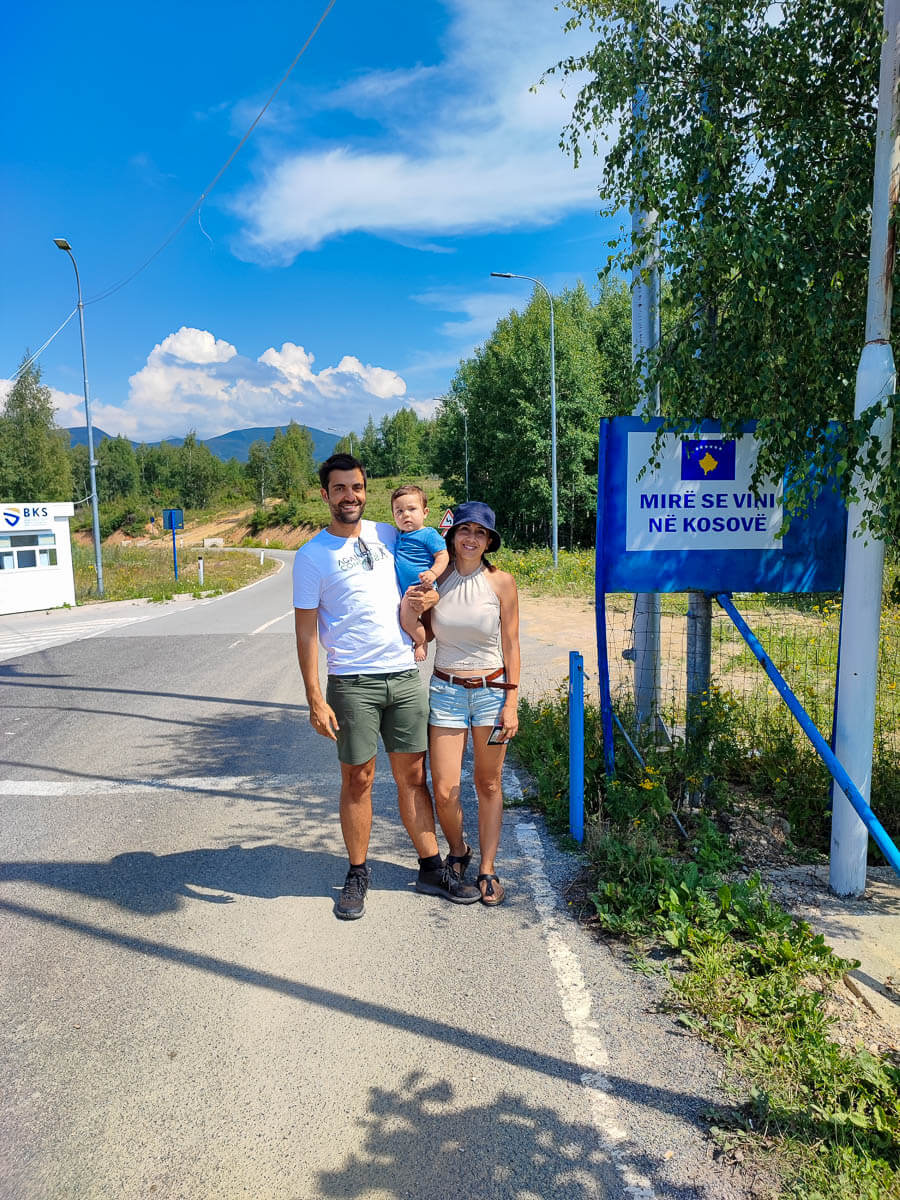 Is it safe to travel to Kosovo?
Despite a relatively recent conflict, Kosovo is a safe country to travel.
There's little petty crime compared to other European countries and, while tensions between Serbs and Albanians keep occurring – like it happened in 2022 – it shouldn't really affect your travels.
NATO Presence
Kosovo isn't a member of NATO, but there's a large NATO presence across Kosovo.
You are likely to see their tanks and armoured vehicles, especially when you visit Serbian Heritage sites, like Dečani Monastery.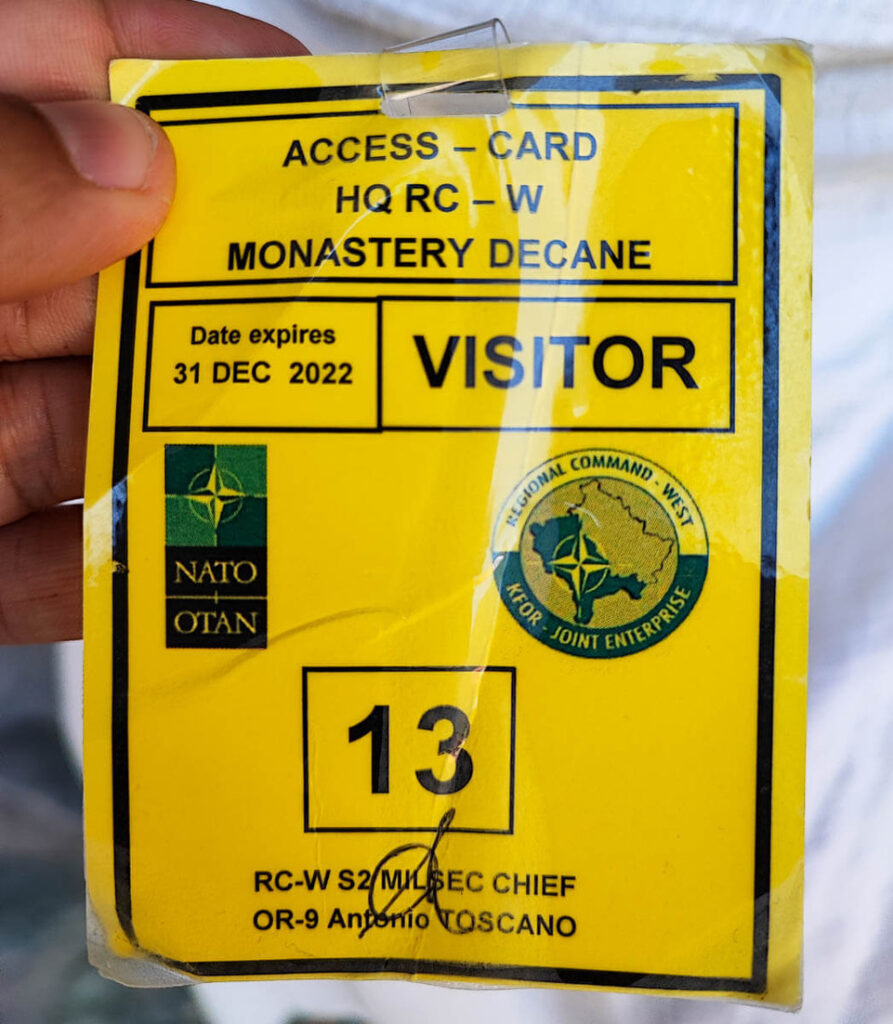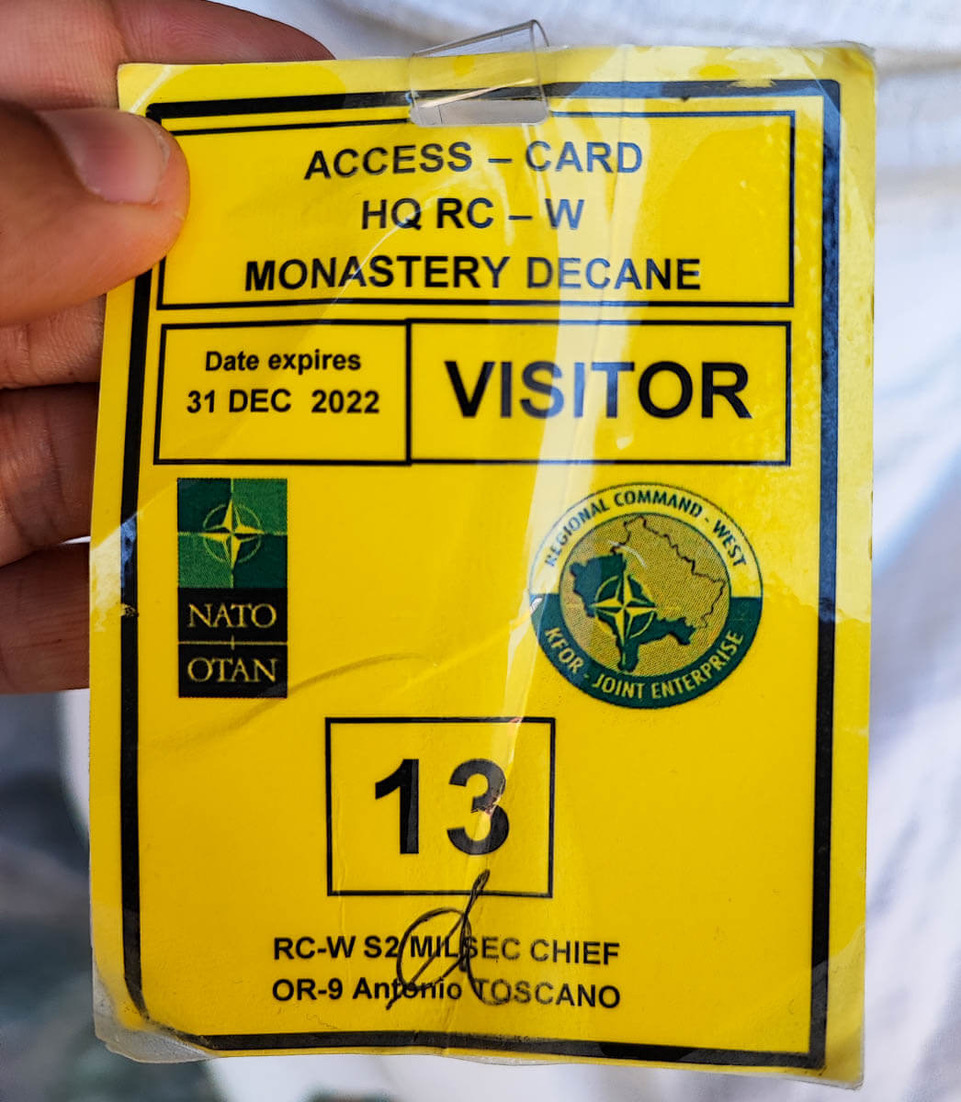 Top experiences in Kosovo
Anyone traveling to Kosovo shouldn't miss:
Visiting the most low-key capital in Europe, Pristina
Years of war and conflict left an impoverished country with little money to invest in monuments and make things pretty.
Something that really surprised me about Pristina is that the buildings from the city's downtown, like the ones located in the main square, could easily be the buildings from the suburbs of a secondary city near Madrid, very low key.
However, among all that decadence, there are little oasis composed of chic cafés serving the best coffee I had outside of Italy.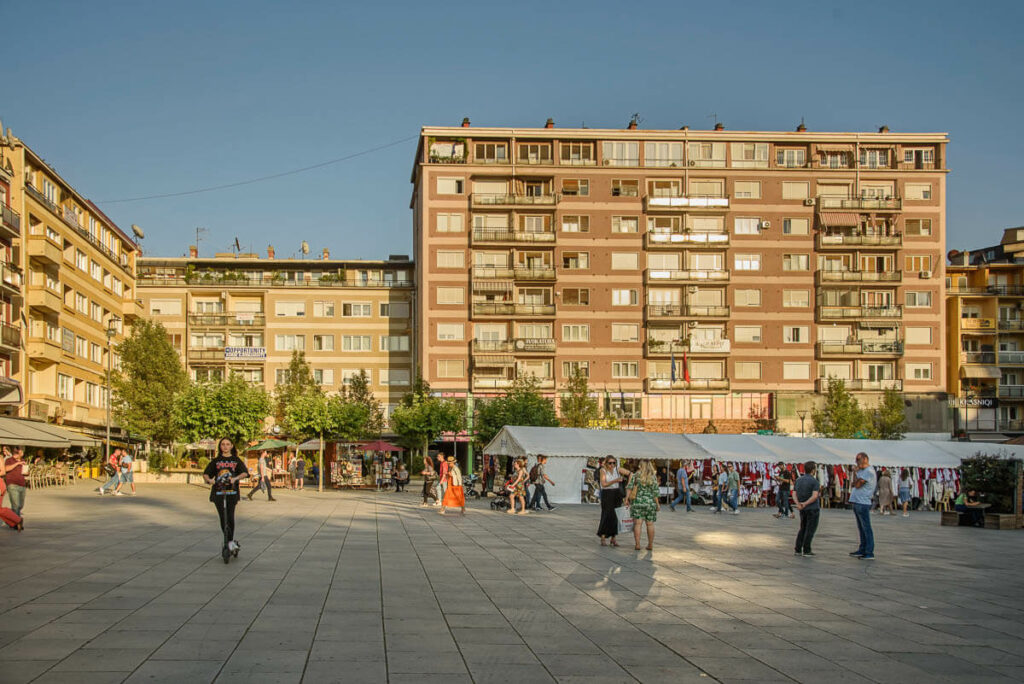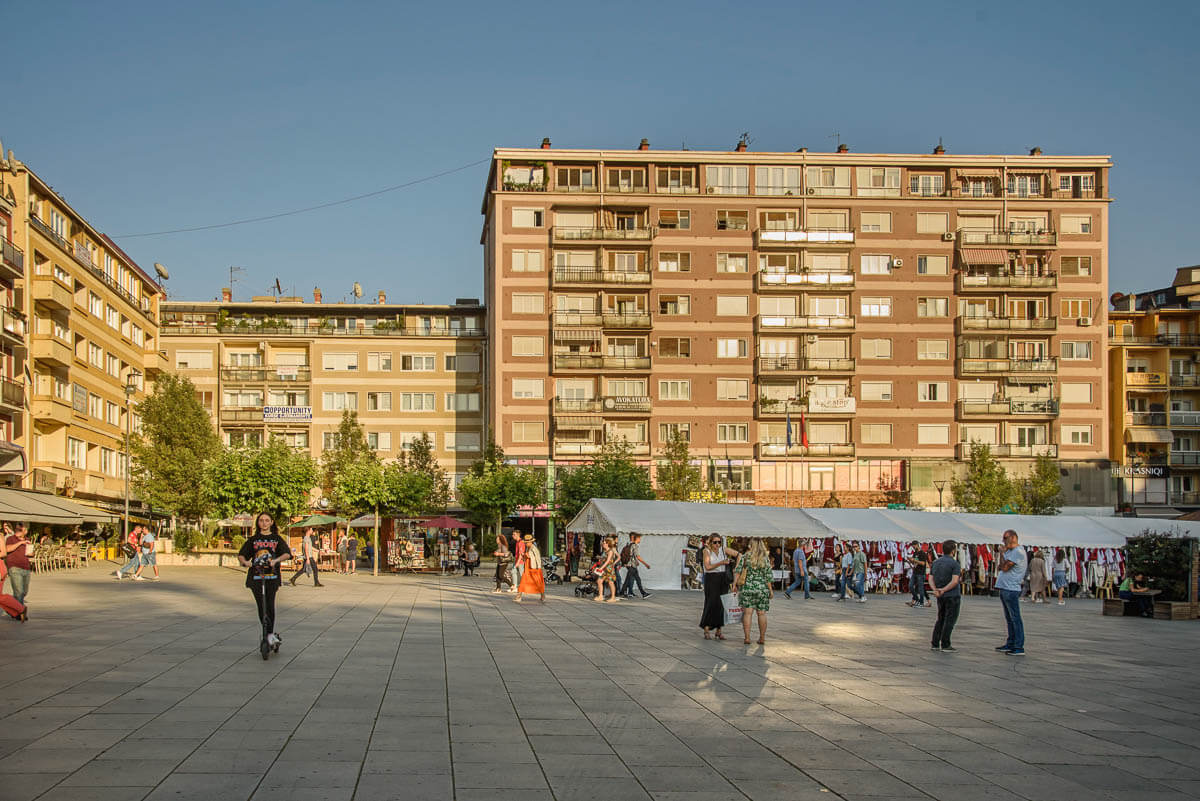 Understanding the Serbian population by visiting a Serbian village
Anyone visiting Kosovo should add one or two Serbian-majority places in the itinerary, since Serbs have been living here for tens of generations, and they are also part of the unfortunate recent history.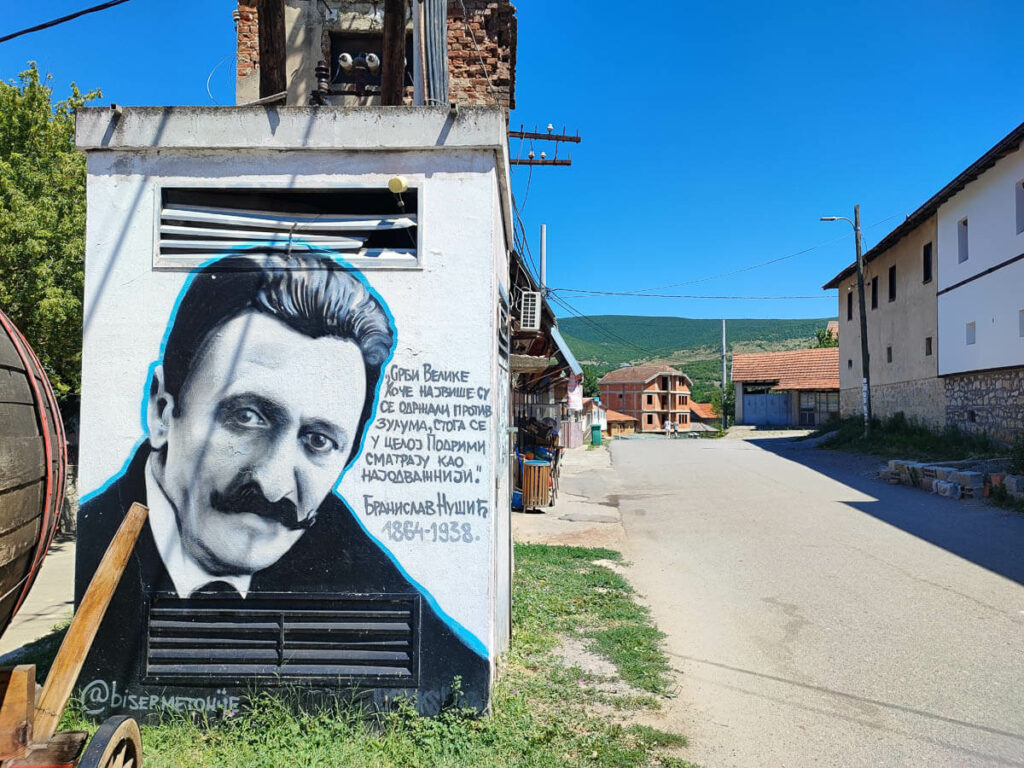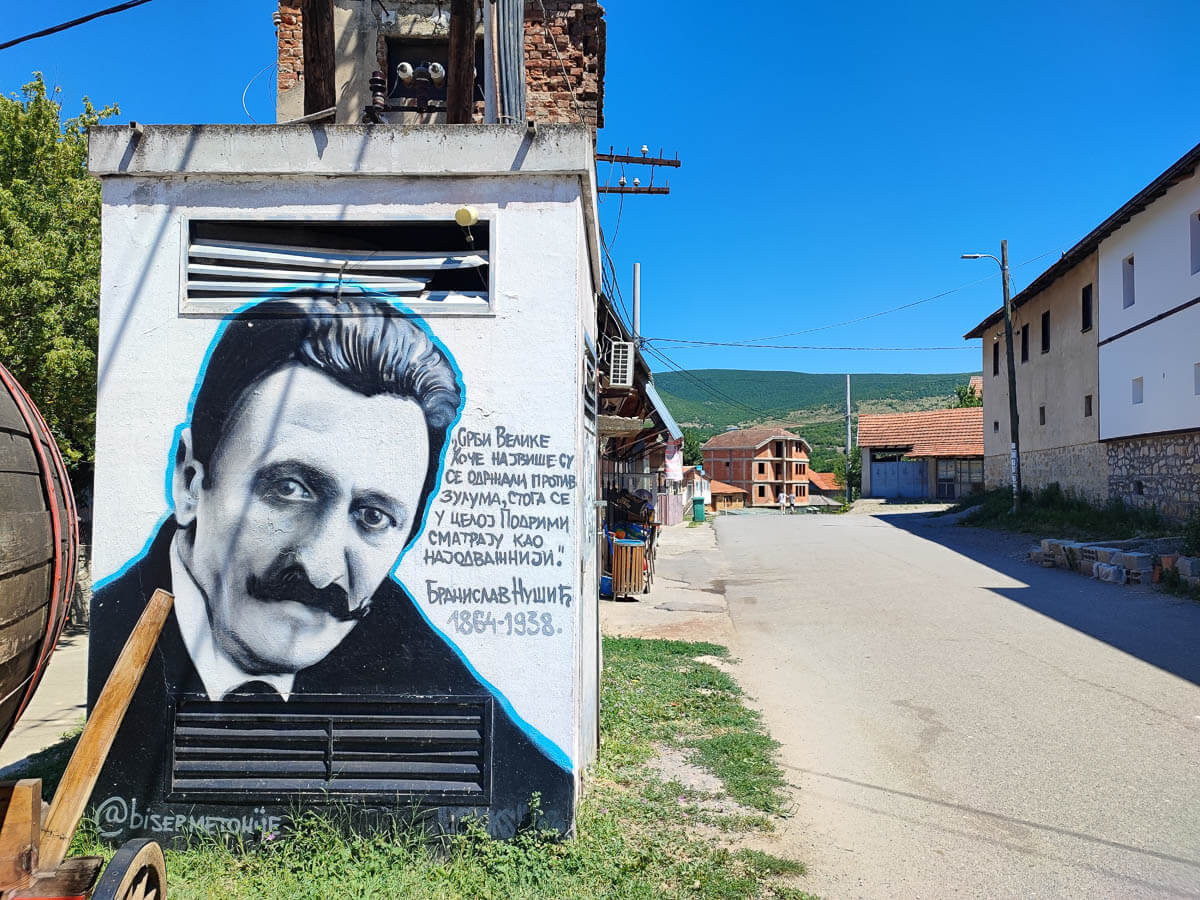 Checking out some pretty gorgeous Ottoman architecture, like in Prizren and Djakova
The Turks ruled over Kosovo for 500 years, leaving behind a very tangible cultural heritage, including some epic architecture.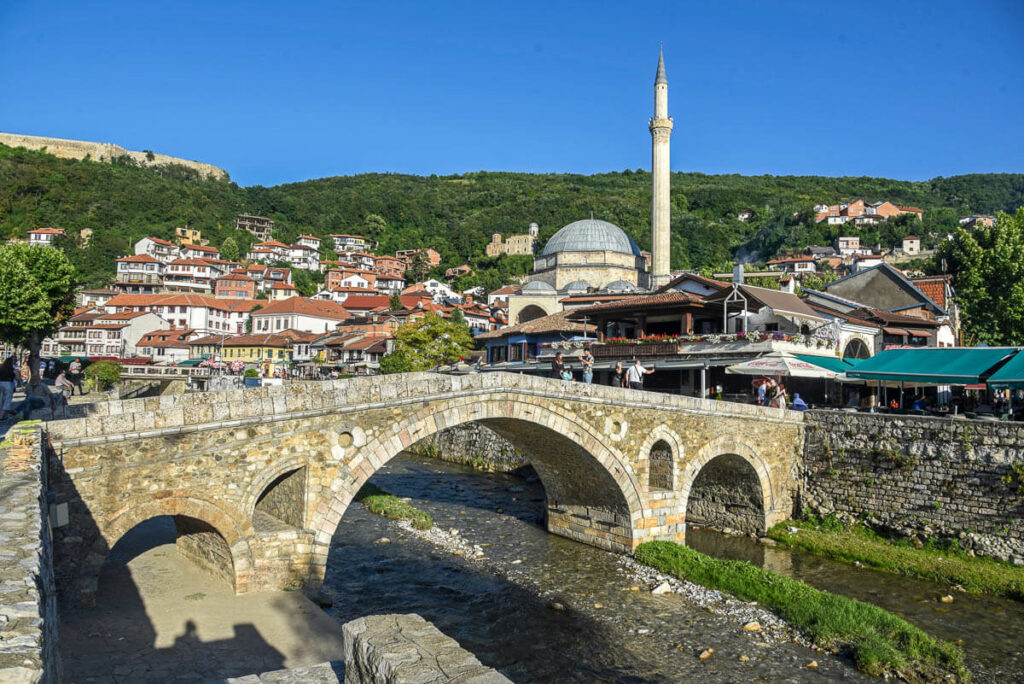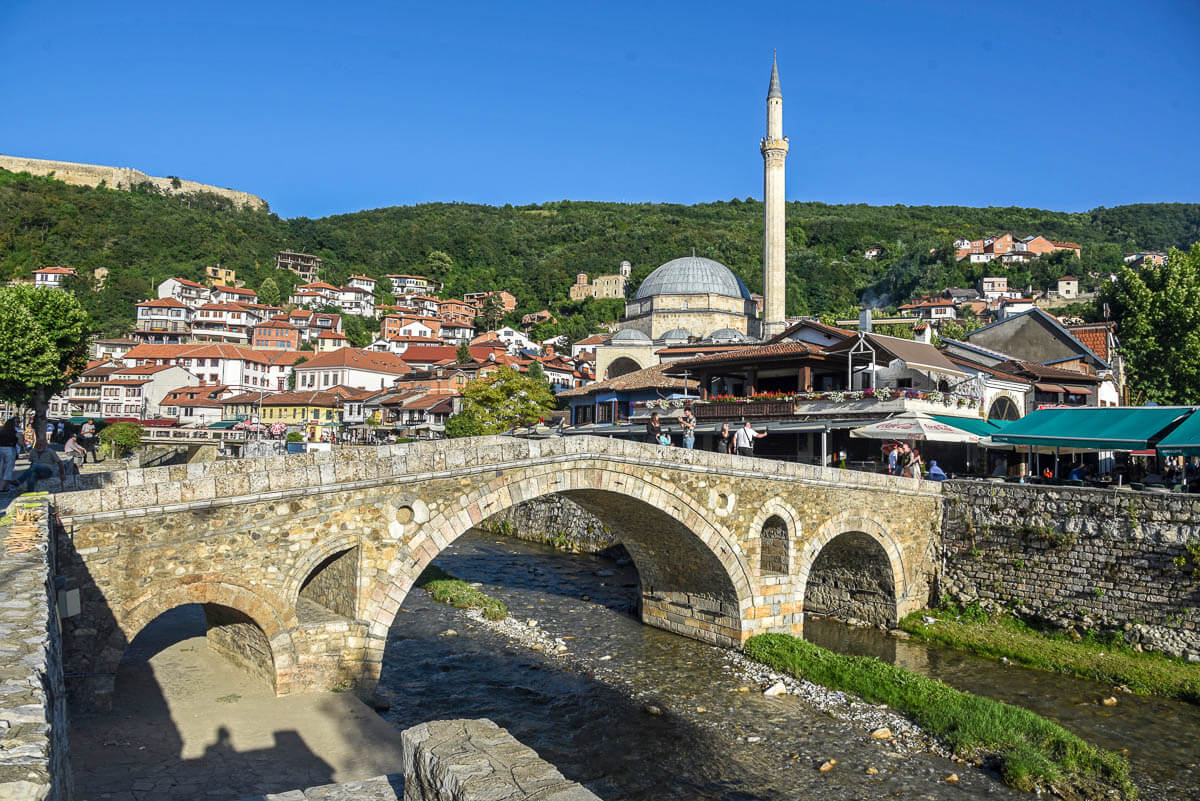 Exploring the rolling hills and villages of the barely visited region of Dragash
We really liked this area, and not only because it was pretty, but also because we had the best local experience in the entire Balkan Peninsula, people who would randomly invite us to their house to have some tea, like in Pakistan.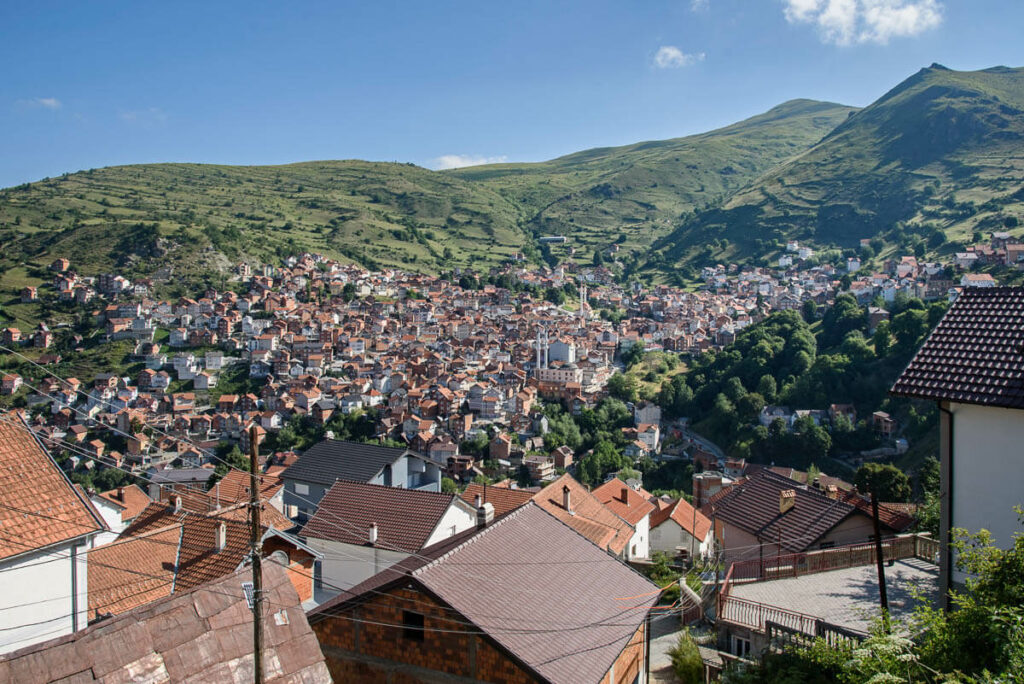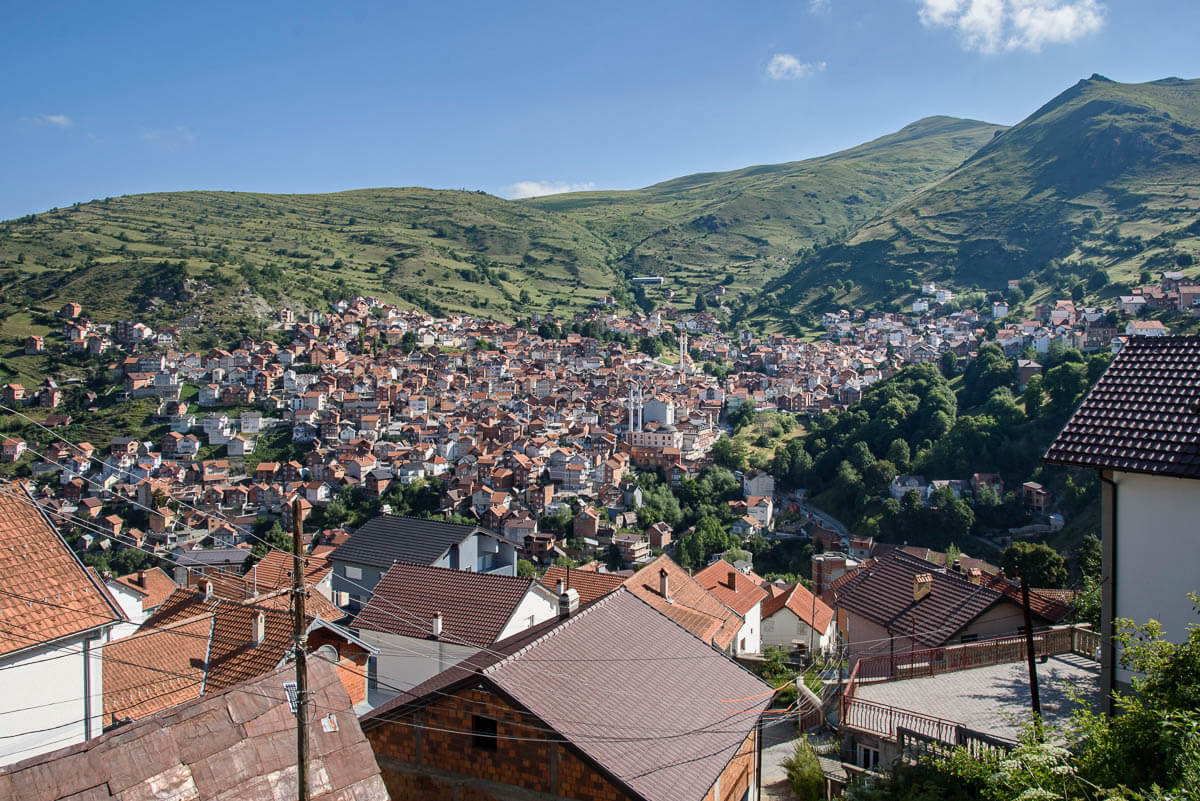 Discovering a traditional Albanian city in Peja
Peja is a big city, as per Kosovar standards, and we liked it because it was really authentic, an authentic Albanian city with little foreign influence, unlike Pristina, where one can already feel some cosmopolitanism.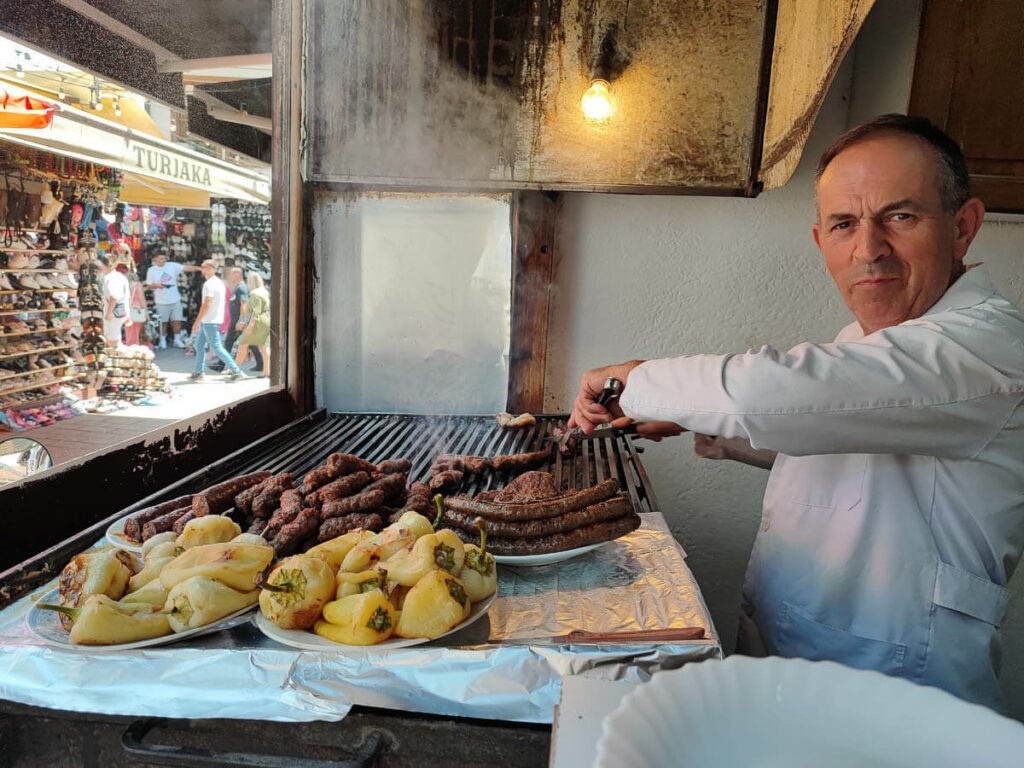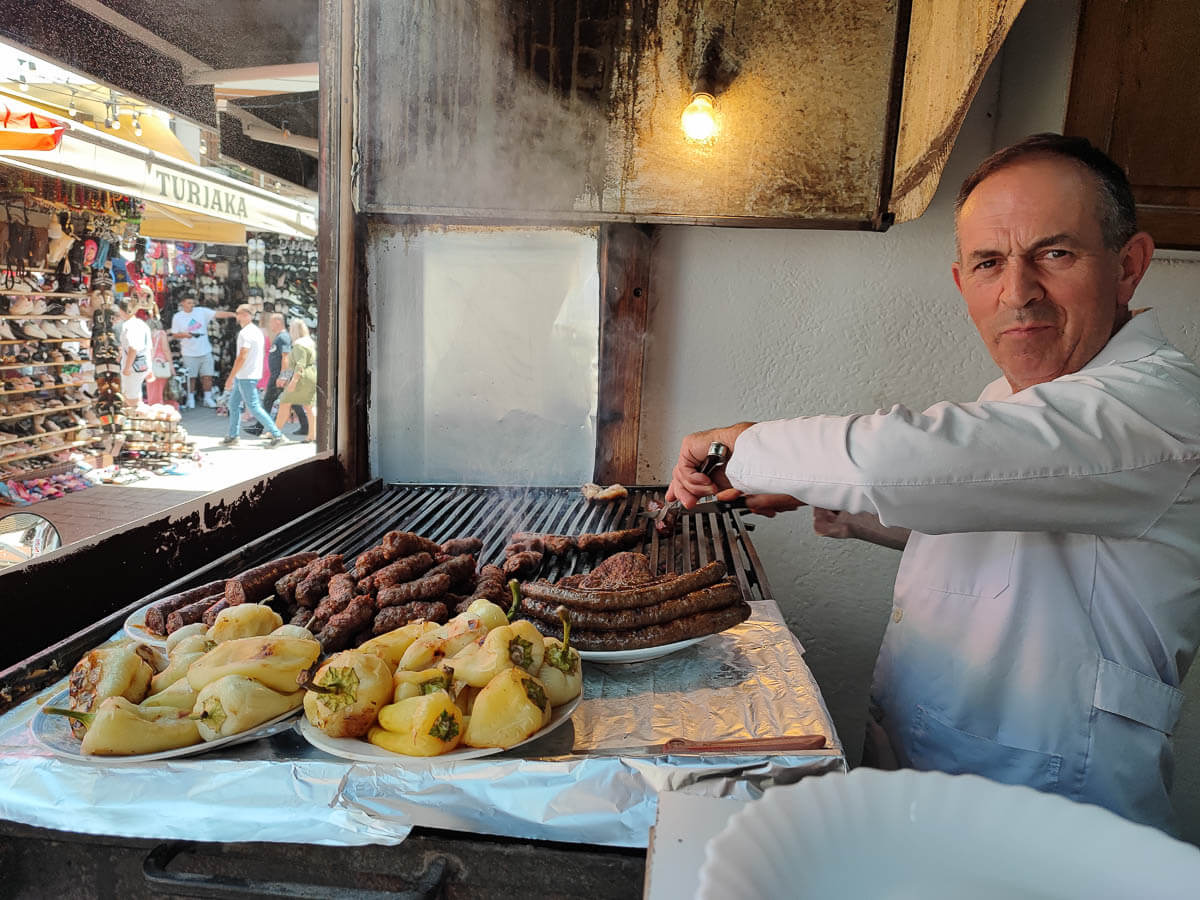 Budget and money
Surprisingly, the official currency in Kosovo is the euro (€).
They adopted it unilaterally without permission from the EU back in 2012.
Everything is quoted in €, you can't use other currencies. Banks give € too.
In a majority-Serbian village, however, I saw that prices were quoted in Serbian Dinars, but € were accepted too.
ATMs and credit cards
In Pristina, you can pay by debit card in many restaurants and hotels but it's always convenient to have some extra cash just in case.
Outside of the capital, you might be able to pay by card in certain fancier hotels but do bring cash for the rest.
How much does it cost to travel in Kosovo?
Kosovo is by far, the cheapest country in the world that uses the €.
Outside of the capital, sometimes we paid 40 cents for a magnificent espresso. In the capital, you'll pay up to 1€, in a fancy coffee house.
Eating out is surprisingly cheap too. In the most touristic street of Prizren, we paid 14€ (2 people) for a 2-meal course and 3 beers.
In local eateries, expect to pay no more than 3 or 4 euros for a meal.
Regarding accommodation, you can easily find a budget dorm for less than 10€, while a double room in a simple guest house will cost 20€ or 25€.
Beses are cheap too, the bus from Pristina to Prizren costing around 5€.
Kosovo: the country, culture and people
As mentioned in the beginning, Kosovo is a region composed of Albanians and Serbians.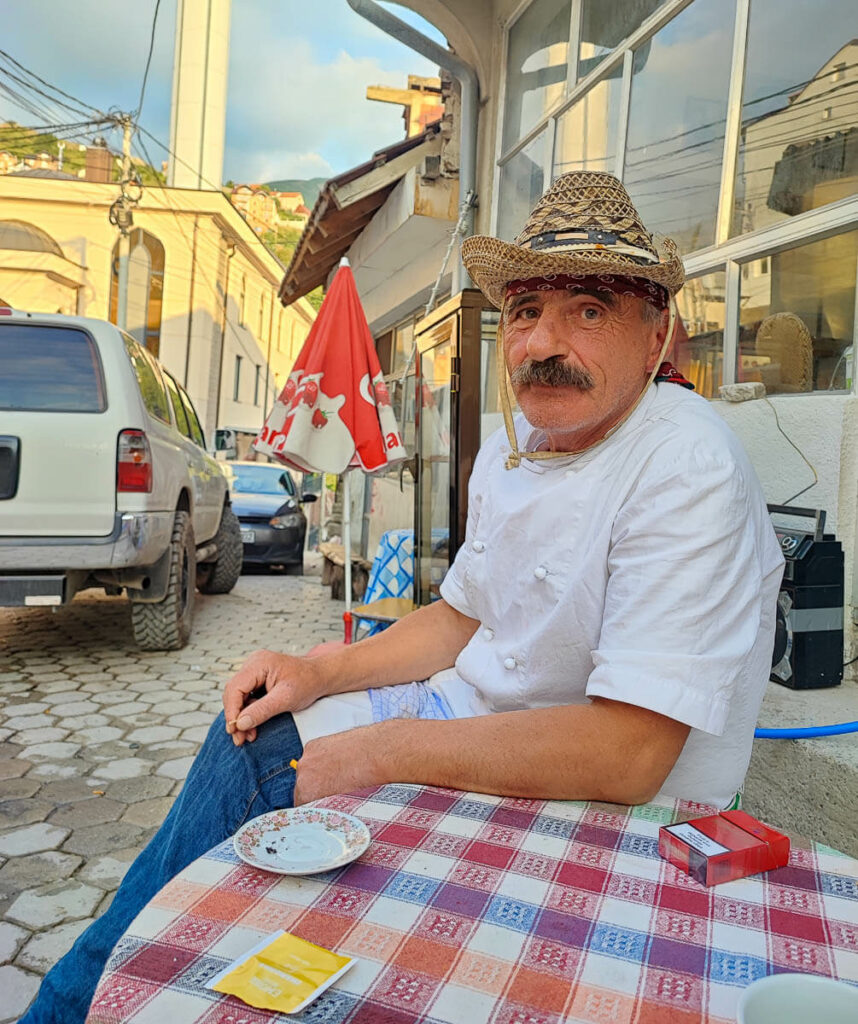 Serbians are Christian Orthodox and speak Serb, while Albanians are Muslims and speak Albanian.
Both languages are official and road signs tend to be bilingual.
There are other minorities too. For example, in Restelica, we had the chance to meet Gorani people, a Muslim Slavic group. While this might not sound very exciting to you, you should know that being Slavic and Muslim at the same time isn't very common.
As mentioned in the beginning, the Kosovar nation doesn't really exist so instead, most Kosovar Albanians have a strong Albanian identity, visible in the large number of Albanian flags that abound across the country.
Do Serbians and Albanians still hate each other?
From a military standpoint, the tension is pretty obvious but, what about the people?Is there an ethnicity segregation? Well, first of all, you need to know that today, only a 10% of the Kosovar population are Serbs, and they tend to live in separate areas, like in Serbian villages. The only place where there's actual tension is in the city of Mitrovica, a big city half Serbian, half Albanian. Due to the increasing tension, the city is being guarded by the carabinieri (the Italian police). Like in all worldwide ethnic conflicts, hate will always exist, it will never go away – think about Israel and Palestine – but today, most of the current hate is concentrated among extremists and people with a lower education.  If you talk to any well-educated person in either Pristina or Prizren, you'll realize that most people wish to put an end to such pointless, race disputes.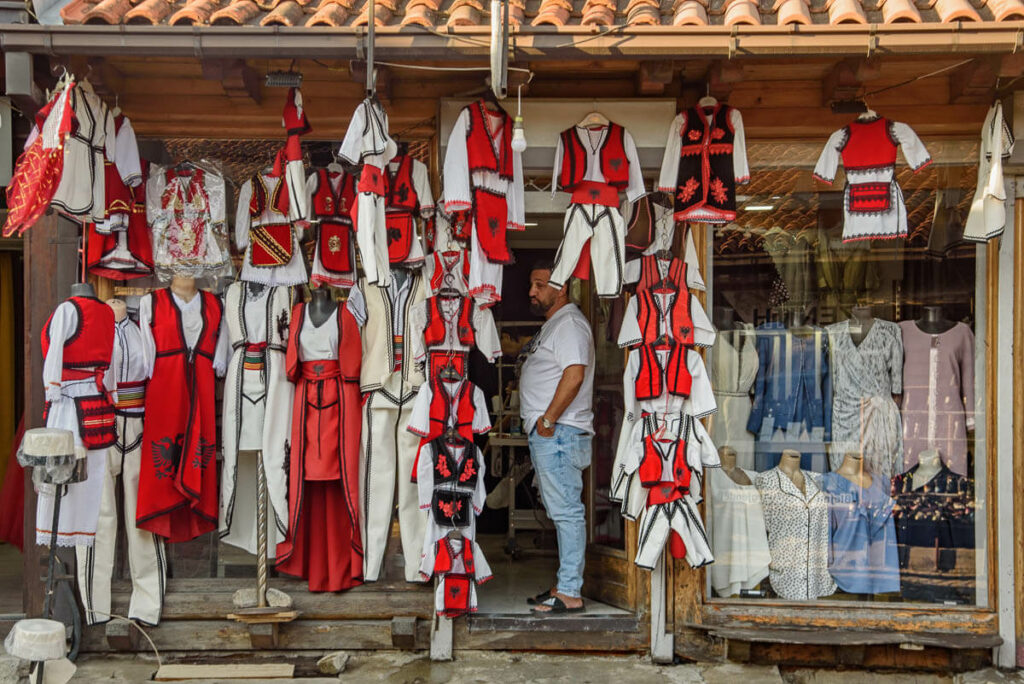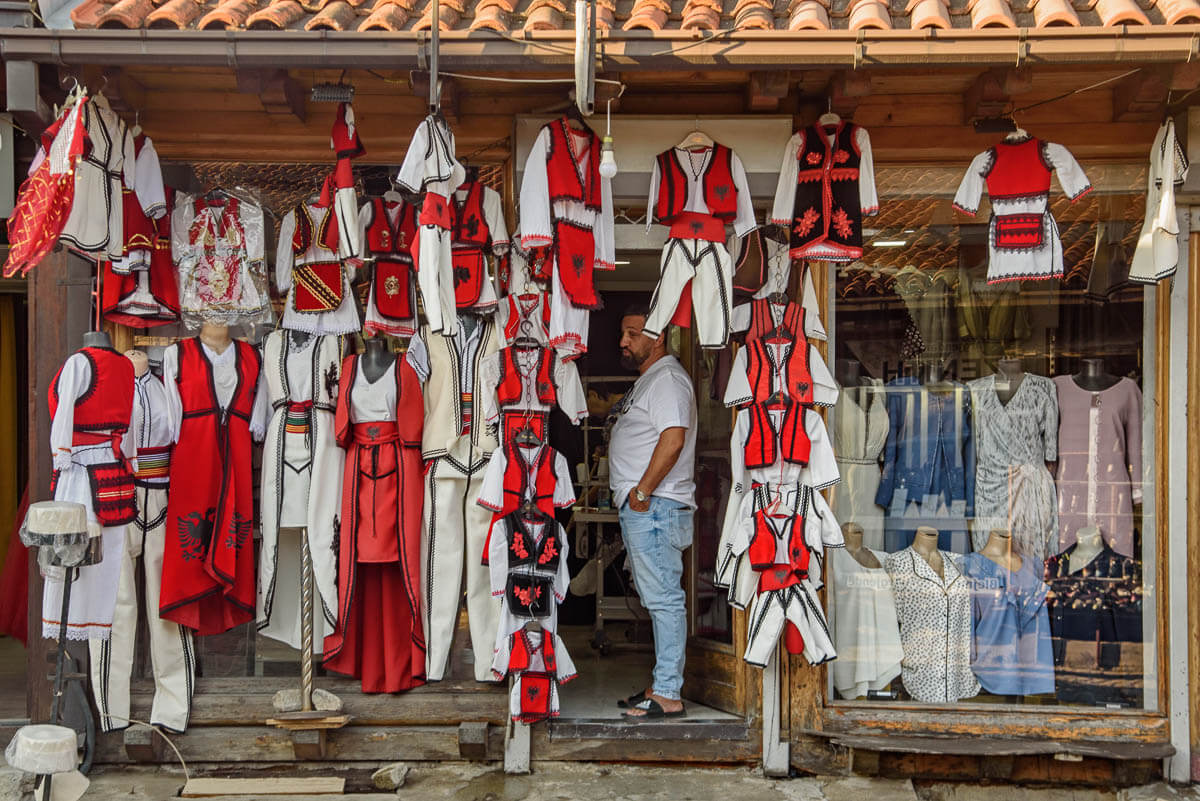 Cuisine in Kosovo
The food in Kosovo is similar to the one in Albania but you don't find as much of Greek and Mediterranean flavours, like no olive oil, for example.
Instead, I found Kosovar food to have a higher Turkish influence, and more meat-based than neighboring Albanian.
The staple food in Kosovo are grilled kebabs, generally eaten in local eateries named qebaptore, and something you must try for a local experience.
Do go to a qebaptore for breakfast, and you are likely to find many locals.
Other typical Kosovar dishes include:
Suxhuk: a spicy sausage, usually eaten cold. It's sold everywhere.
Tavë Kosi: baked lamb with yogurt. If you eat this in the right place, it's incredibly delicious
Sarma: rolled cabbage leaves, typically eaten in all former Ottoman countries, but each country having its local twist
Byrek: pastry layers filled with minced meat, spinach or cheese. This is also a staple, and sold in all bakeries, usually washed down with ayran (drinkable yogurt with salt)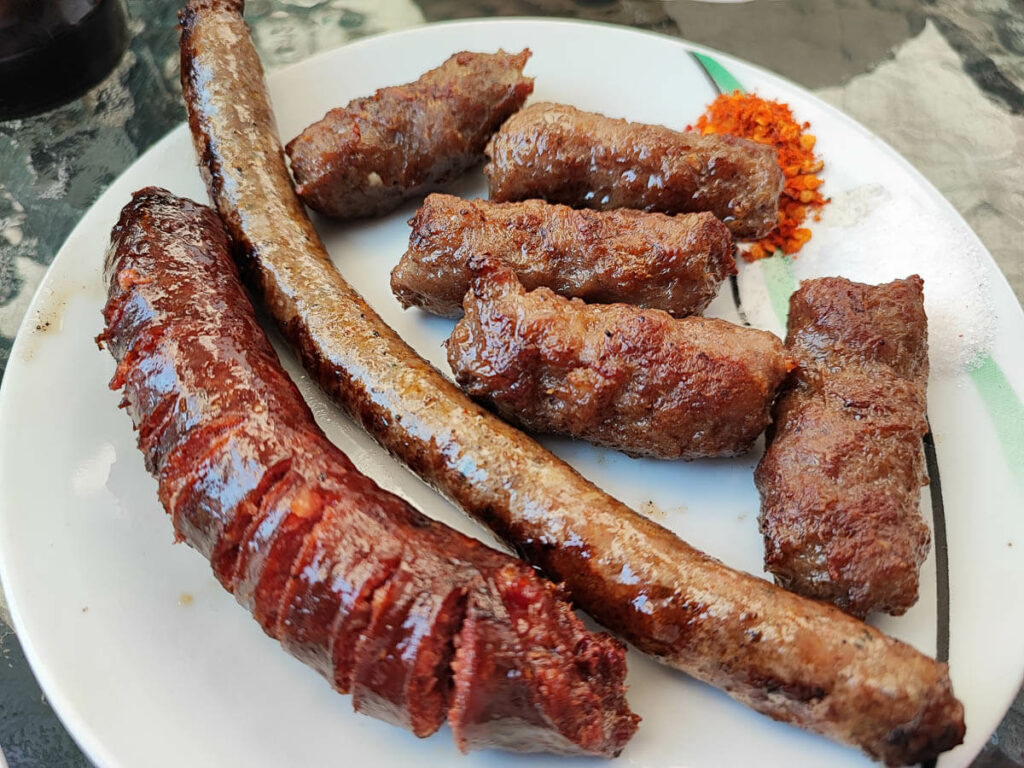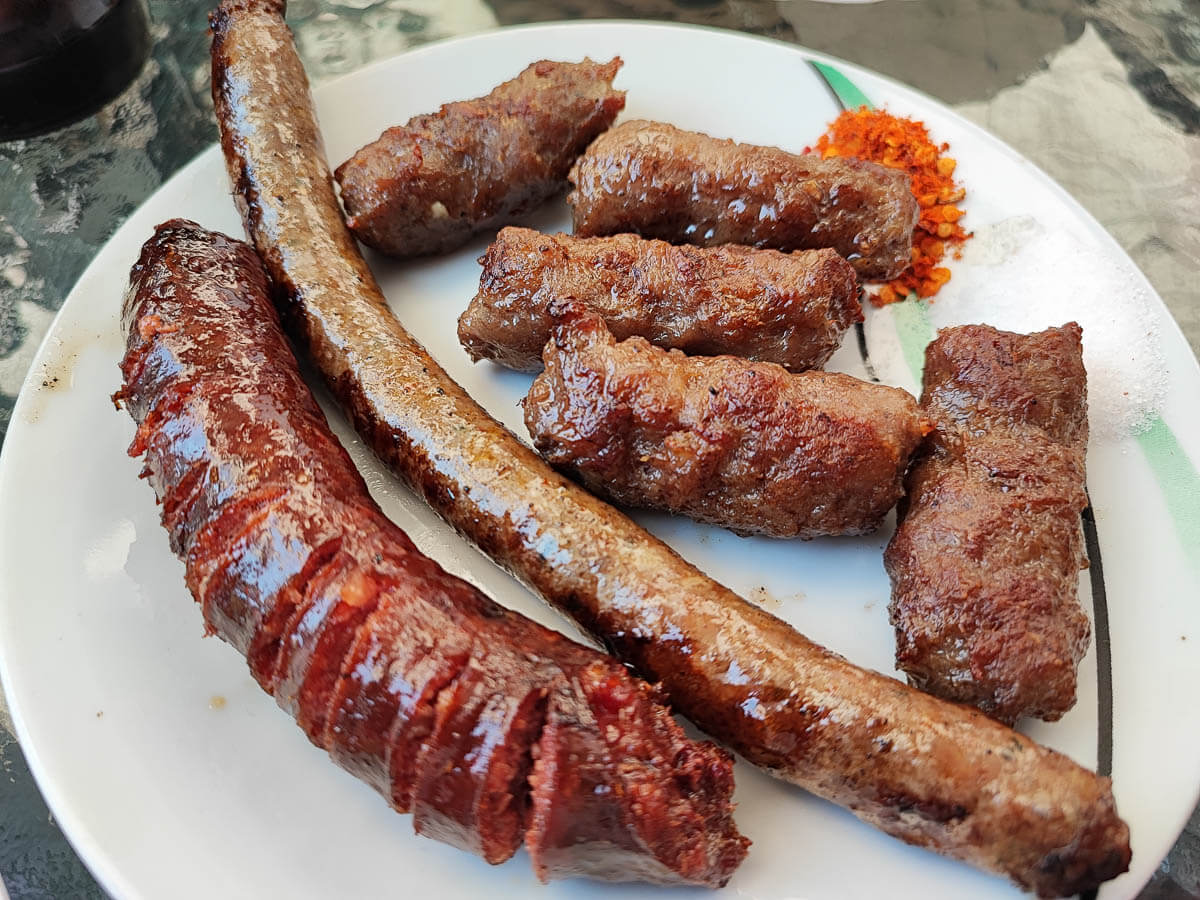 Alcohol in Kosovo
Despite being a predominantly Muslim country, Kosovo is mostly secular, can buy beer anywhere, and it's always cheap, never more than 2€ for a bottle.
In fact, something that really surprised me about Kosovo is the large quantity of beer ads popping up everywhere.
Peja is by far, the most available ordinary lager.
There's a tiny craft beer scene as well, the most popular brewery being Pivdzan Craft Brewery.
Moreover, like in all the Balkans, rakija is popular too, a local liquor usually homemade containing typically between 40% and 50% of alcohol.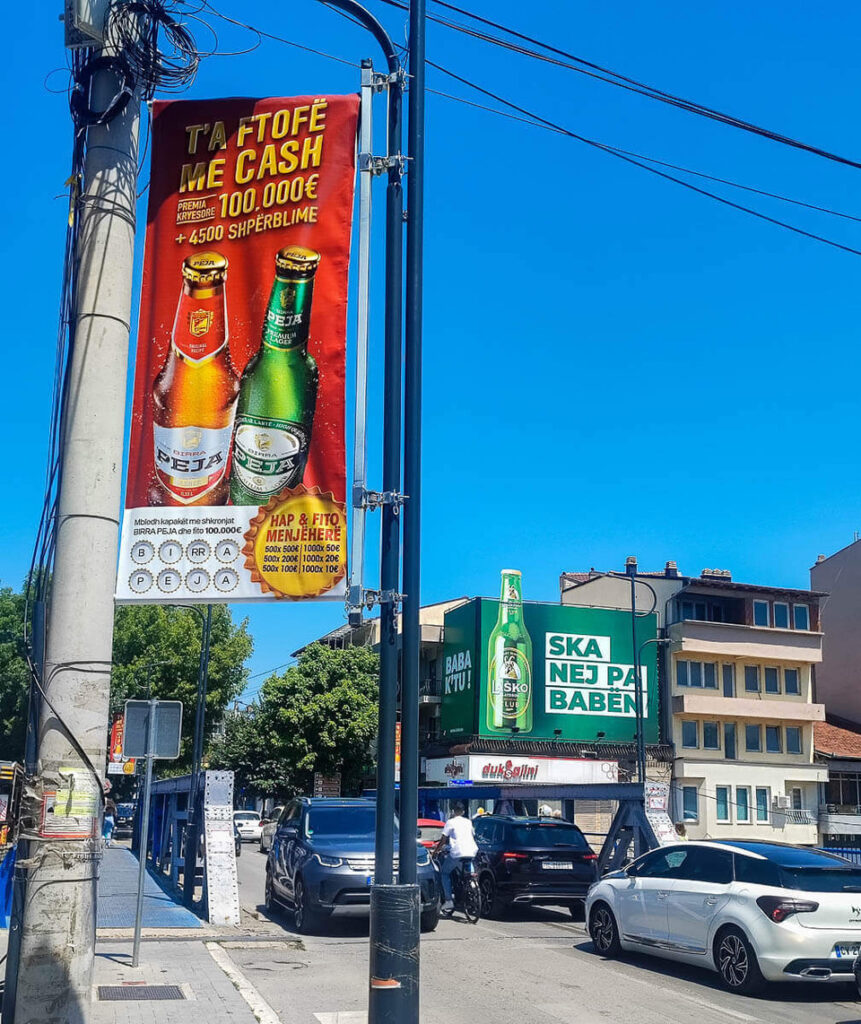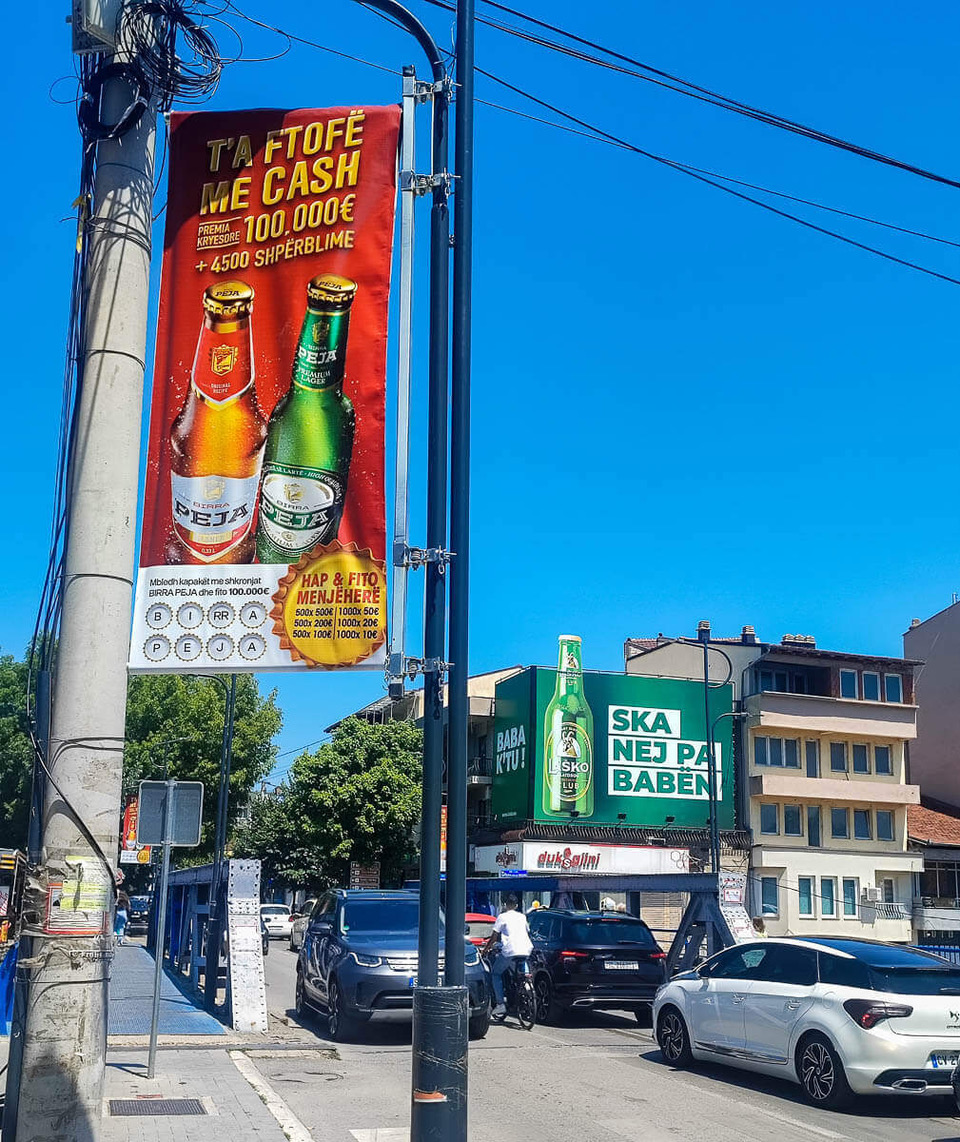 Coffee in Kosovo
Similarly to neighboring Albania and, as part of the short Italian colonization, the coffee culture in Kosovo is a strong one, they do excellent coffee, and having slurping an espresso, while talking to their friends is their way to socialize.
Even in the smallest village, you are likely to find a café serving a really good espresso, or macchiato, and all for no more than 40 50 cents.
Accommodation: Where to stay in Kosovo
From budget hostels to guest houses and premium hotels, Kosovo is well-sorted of accommodation, you won't have any problem trying to find a hotel.
We spent at least one night in Pristina, Prizren, Djakova, Peja and Restileca.
We did have problems finding accommodation in Restileca (Dragash region) but that's because there's no tourist infrastructure, and in the end, someone rented us a room in his house, for like 20€.
Transportation: How to get around Kosovo
We did hire a car, so we didn't take any public transportation, but we met several backpackers that were traveling by bus.
There's no train, but all cities are well-connected by buses, and they are really cheap.
Expect to pay no more than 5€ for the bus journey between Pristina and Prizren.
More Travel Guides to Other Unrecognized Countries
Get travel insurance for traveling in Kosovo
I recommend IATI Insurance, budget plans and good for multi-country backpacking.
Get an exclusive 5% discount if purchasing via this link