Brier Island, Nova Scotia is a small island at the entrance to the world-renown Bay of Fundy, at the end of the long, narrow Fundy Spit. Even though it's just 90 minutes and a couple of short ferry rides from Digby, you'll feel like you've been transported back in time to a place that has stayed true to its seafaring roots. The island may not have all the guest services you're accustomed to, but it more than makes up for it with its natural beauty, complete with an amazing variety of both flora and fauna – along with one of the most productive marine habitats in the world. 
In hindsight, I wish we'd had another night or two so we could walk every trail on the island and enjoy a slower pace of life – cue getting lost in a book on a beautiful sandy beach for a day or two. Learn from me and book several nights so you can fully appreciate this Nova Scotia gem.
This post includes some affiliate links. If you make a qualifying purchase through one of these links, I will receive a small percentage of the sale at no extra cost to you. Thank you very much for your support.
How to Get to Brier Island
Getting to Brier Island requires two ferries so advance planning is a good idea. Allow about 90 minutes to travel the 68 km from the town of Digby to Brier Island, including ferry crossings.
Take exit 26 into Digby from Highway 101. Once in Digby take Route 217 for 45 km to the East Ferry on Digby Neck. Take the Petit Passage ferry to Tiverton on Long Island. Continue on Route 217 for 18 km to the far end of Long Island. Catch the Grand Passage ferry to Westport on Brier Island. 
Both ferries run once an hour – and both ferries are free.
If you're driving from Digby, plan to do the following, assuming no stops.
Leave Digby at half past the hour and drive about 45 minutes east to reach the East Ferry. That will take about 45 minutes.
At half past the hour catch the ferry from East Ferry to Tiverton. It's only a 5-minute ferry ride.
Drive 15 minutes from Tiverton to Freeport.
Catch the ferry from Freeport to Westport on Brier Island on the hour for a 7-minute ride across. 
Brier Island Nova Scotia location map
Pick up some food in Digby before you head for the island
There aren't many places to buy food on the drive to Brier Island so John and I bought a decadent picnic lunch (heh – we're on vacation) – mouthwatering lobster rolls and large slices of coconut cream pie from the Crow's Nest on the main street in Digby before we took off for Brier Island. It was a memorable meal. 
Where to stay on Brier Island Nova Scotia
You don't have a lot of options when it comes to accommodation on Brier Island. A B&B that used to offer lovely rooms has closed – so the only thing John and I found was the Brier Island Lodge. The rooms were simple, but the dining room exceeded our expectations, the views over the water were great, and the staff were especially friendly.
If you want to visit Brier Island as part of a day trip, you could stay on the mainland near the East Ferry at Whale Cove Inn, Cottages & Cabins.
You could also check out VRBO and Airbnb.
Where to eat on Brier Island, Nova Scotia
There are only a couple of places to eat on Brier Island. We enjoyed a dinner of fresh scallops and a pancake breakfast at the Brier Island Lodge Restaurant. The Lighthouse Café near the ferry is another good choice, especially for lunch because they close by 7 PM. You'll find lobster in various forms on the menu and an impressive selection of baked goods.
Whale Watching on Brier Island, Nova Scotia
According to Captain Roy of Brier Island Whale and Seabird Cruises, "the Bay of Fundy is one of the best places in the world for whale watching." He tells us that "a series of underwater ledges grabs nutrients from the ocean floor and moves them around. That causes plankton to move in followed by small fish and then whales."
John and I had high hopes for our morning whale watching tour. But the reality was we got close to being skunked. One small minke whale and a few dolphins was as good as it got, probably because it was a windy, wavy, foggy kind of morning. Normally one would see humpback whales, perhaps fin whales and if you were very lucky, right whales.
However, there is always a bright side. It was very pleasant being on the ocean and we did get a chance to see the Brier Island Lighthouse near the western end of the island, from the water. The whale-watching company was kind enough to provide everyone with a free ticket for another whale watching tour – and it was totally transferable to anyone we wanted to give it to.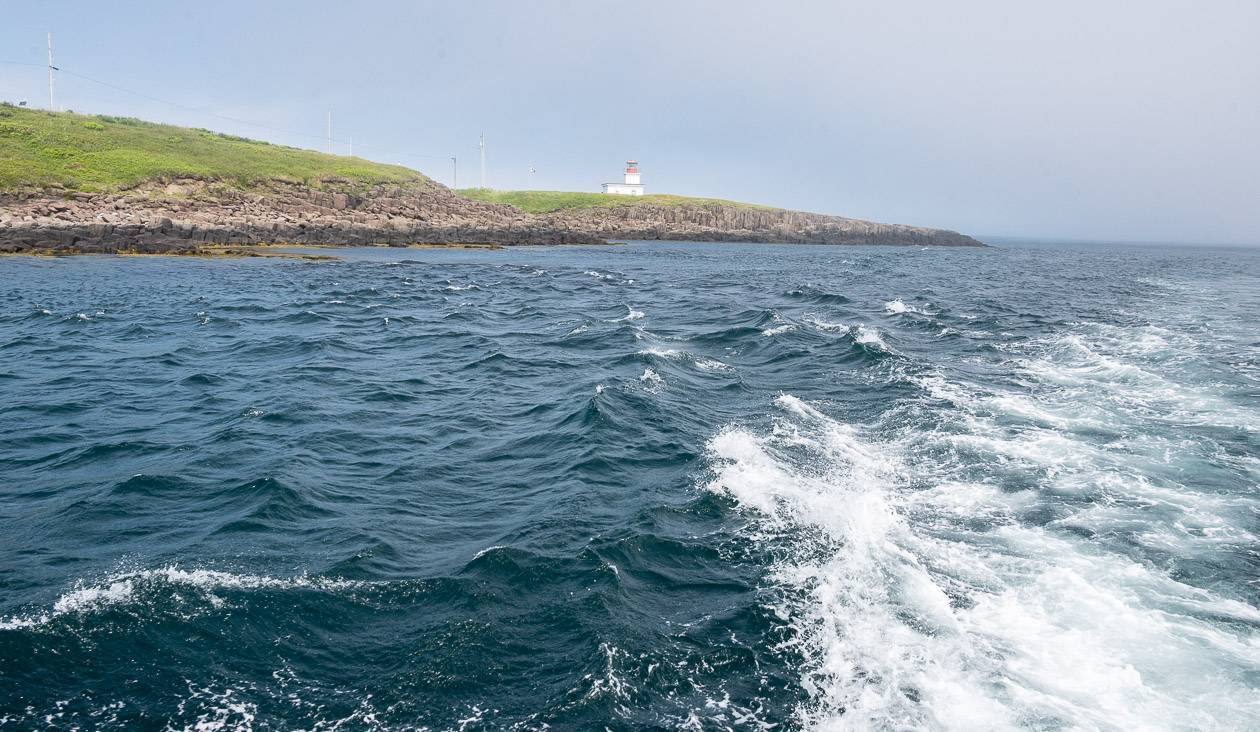 Brier Island, Nova Scotia Nature Preserve Coastal Trail Hike
Enjoy a walk in the Nature Conservancy of Canada's Brier Island Nature Preserve. Created in 1988, it has a mandate to preserve 1,200 acres that is home to numerous sensitive habitats and species. It's both a great place to go hiking and birding, especially during the migration. At that time, it's possible to see thousands of hawks, songbirds, seabirds, shorebirds, and waterfowl.
There is a 4 km one-way hike that takes you around Big Pond Cove, past Whipple Point to end on a road by the Western Lighthouse. The trail offers gorgeous views of the Gulf of Maine and of course the highest tides in the world as seen in the Bay of Fundy. Enjoy beautiful wildflowers – including up to 21 species of orchids, Michaux's dwarf birch, and if you're very lucky, the endangered mountain avens. You'll need 30 minutes to three hours if you choose to do the 8 km return hike. It's certainly a beautiful hike, especially in the evening light and well worth your time.
Read more: Hirtles Beach Gaff Point Trail Hike (a fantastic outing near Lunenburg)
Catch a sunset – and enjoy a bonfire
The Brier Island Nature Preserve is a particularly good place to catch the sunset. Someone has thoughtfully made some pallets into seats – and there's a sizable fire pit. A tarp covers a good supply of dry wood, so if you've got the time, bring some matches, perhaps even a picnic, sit back and watch the sun go down. It feels like a special place.
Visit the Joshua Slocum Monument
There is a short, easy hiking trail – the Joshua Slocum Monument Trail – from the eastern end of Water Street. I'd recommend the hike up at least as far as the monument. The views over to Peter's Island are quite lovely.
Joshua Slocum (1844 – 1909), who was from Brier Island, became the first person to sail around the world alone in 1898. He left in 1895 in a 37-foot, gaff rigged oyster sloop. On his return, he wrote Sailing Alone Around the World. He sounds like one gutsy guy to me.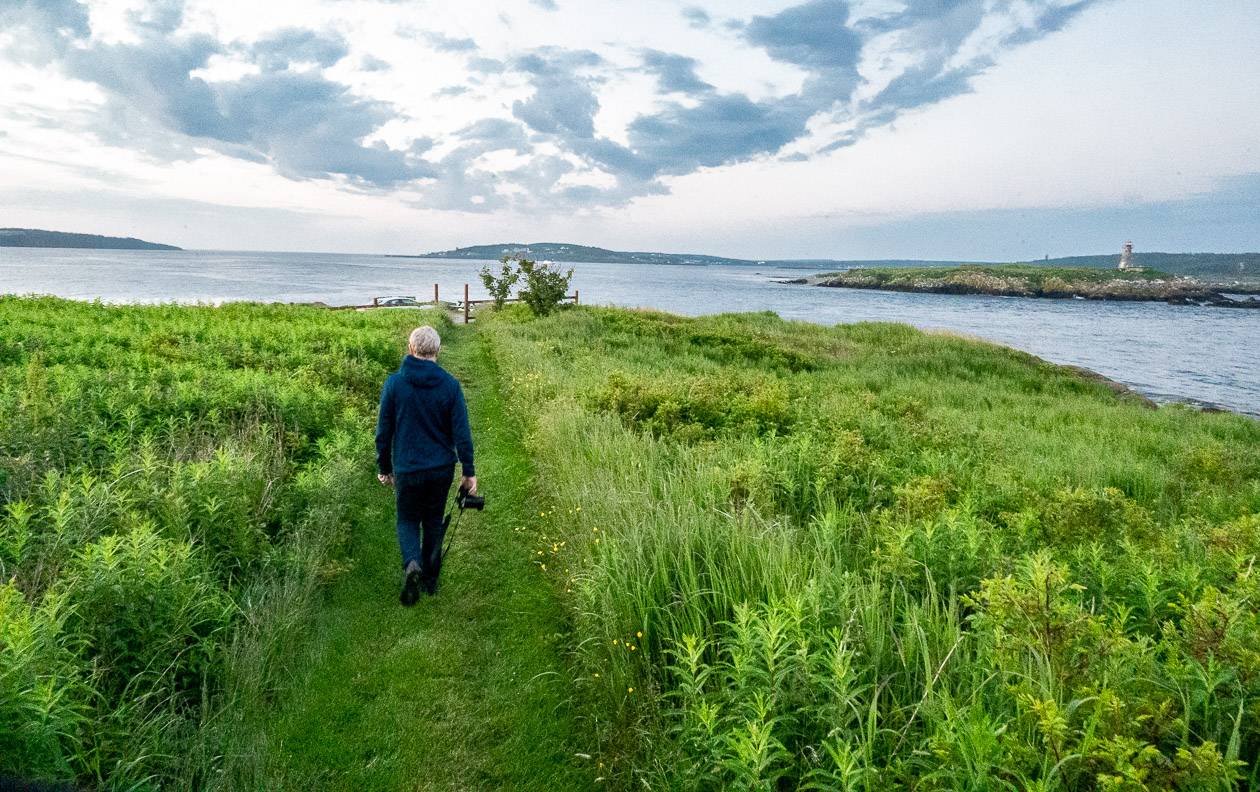 Things to do on the way to Brier Island, Nova Scotia
Balancing Rock Hike on Long Island 
If you've got 45 – 90 minutes, I highly recommend a hike on the Balancing Rock Trail on Long Island. The well-signed trailhead is just a 7-minute drive from the ferry in Tiverton. The Balancing Rock, a vertical basalt column, has been called Nature's Time Post. It is the most-photographed basalt formation on Long Island – and for good reason. It's hard to imagine how twenty tonnes of rock stays so precariously perched above St. Mary's Bay. I hope you won't be that person, that thinks you should climb on it – something that we didn't see but heard talk about doing. 
It's an easy hike starting from the large parking lot on the Balancing Rock Trail. Enjoy a mix of boardwalk and gravel-dirt paths with lots of interesting signage, particularly about the bog plants and vegetation, along the trail. The final section of trail descends over 250 steps to a spacious cliffside viewing platform.
Balancing Rock Trail details
Location: 5 km from Tiverton, Long Island
Distance: 2.5 km return hike 
Level of difficulty: Easy
Elevation: 70 metres elevation gain; there are 250 steps down (and up) that lead to a viewing platform over St. Mary's Bay
Time needed: 45 – 90 minutes
Dog-friendly: Yes, but they must remain on-leash.
Notes: Trail is a mix of boardwalk and gravel paths.
Fundy View Trail Hike on Long Island
If you've missed the ferry to Brier Island or you just want to stretch your legs, head to the Islands Historical Society, a kilometre east of the Brier Island ferry on the north side of Highway 217.  You can park here.
Take an hour (or less if you're trying to catch the next ferry) and do the 2.6 km return hike on the grassy Fundy View Trail. There are benches, wooden bridges and viewing platforms along the way. Near the water, enjoy great views of Grand Passage, the northern end of Brier Island and of course the Bay of Fundy. There is the option to continue a short distance east to Beautiful Cove.
Further reading on things to do and see in Nova Scotia
Click on the photo to bookmark to your Pinterest boards.