Last updated:
The Valley of the Five Lakes hike is a popular outing, especially for families, largely because it's easy and close to the Jasper Townsite. It's perfect for the shoulder season when there is snow at higher elevation but it's also a pleasant after-dinner or stretch-your-legs kind of hike from late spring to fall. There are a couple of ways to lengthen the hike, including adding in a loop around the first lake or doing an out and back hike from Old Fort Point. But the hike to and from Old Fort Point might get a bit tedious because you're in the woods so much, so consider biking it instead.
Valley of the Five Lakes Hike Summary
The short loop is 4.5 km long and should take you 1.5 to 2 hours. The First Lake loop is 7.3 km and will take 2 – 3 hours. There is the option to do an 18 km return hike to and from Old Fort Point, though it would be more fun on a bike.
The five small lakes are the best part of the hike.
You can swim in the lakes at your own risk. Swimming is a popular activity on hot summer days.
Aim for morning or evenings in summer to beat the crowds.
This post includes some affiliate links. If you make a qualifying purchase through one of these links, I will receive a small percentage of the sale at no extra cost to you. Thank you very much for your support.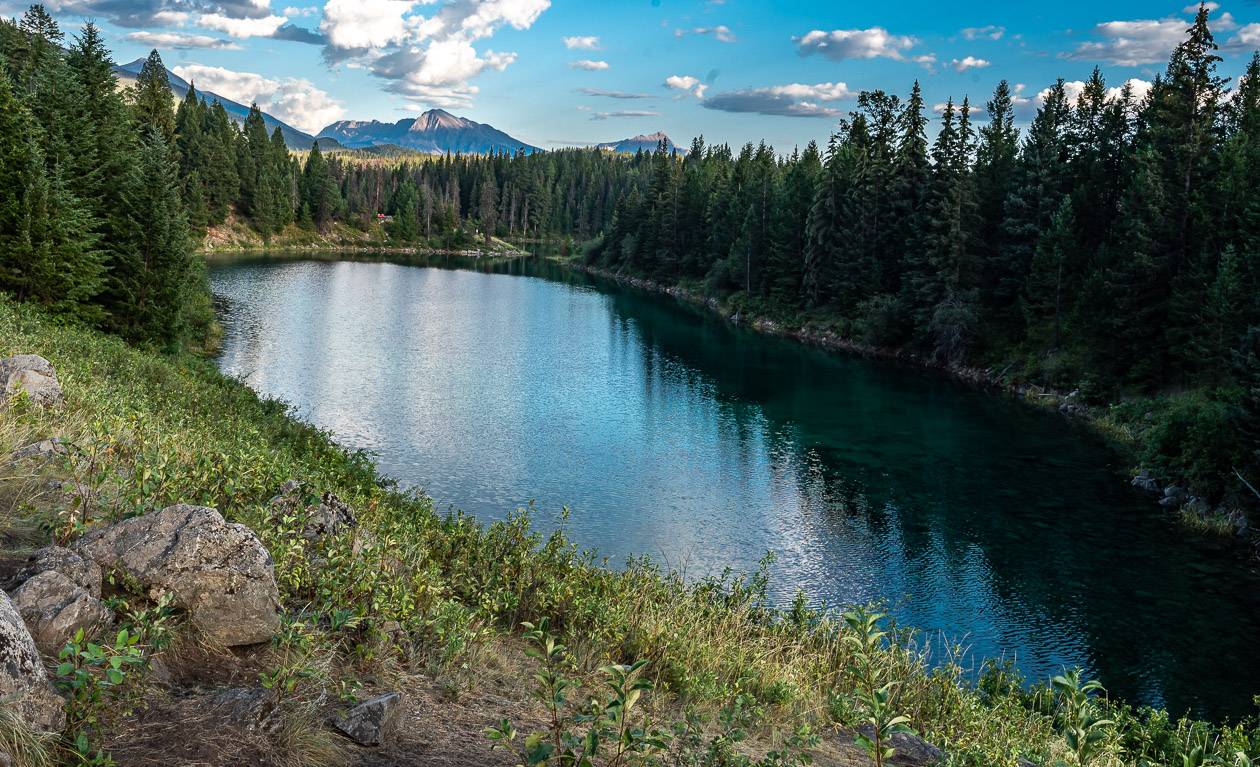 Valley of the Five Lakes hike details
Distance: 4.3 km for the shortest circuit but there are options to walk around the first lake (7.3 km return) or start by Old Fort Point and make it into an 18 km return hike
Elevation gain: 80 metres for the circuit
Difficulty: Easy and family friendly but NOT stroller friendly
Time needed: 1.5 – 2 hours unless you do more that the loop five lakes loop; 2-3 hours for the First Lake loop.
Location: The trailhead is 9 km south of the Jasper townsite, just north of a winter gate.
Dogs allowed: Yes, on leash.
Map needed: Gem Trek – Jasper and Maligne Lake
Don't forget: Your bathing suit and towel if its a hot day.
Before you go: Check Jasper National Park trail reports.
Best time to hike: This is a year-round hike. In winter, it's a popular snowshoe trail.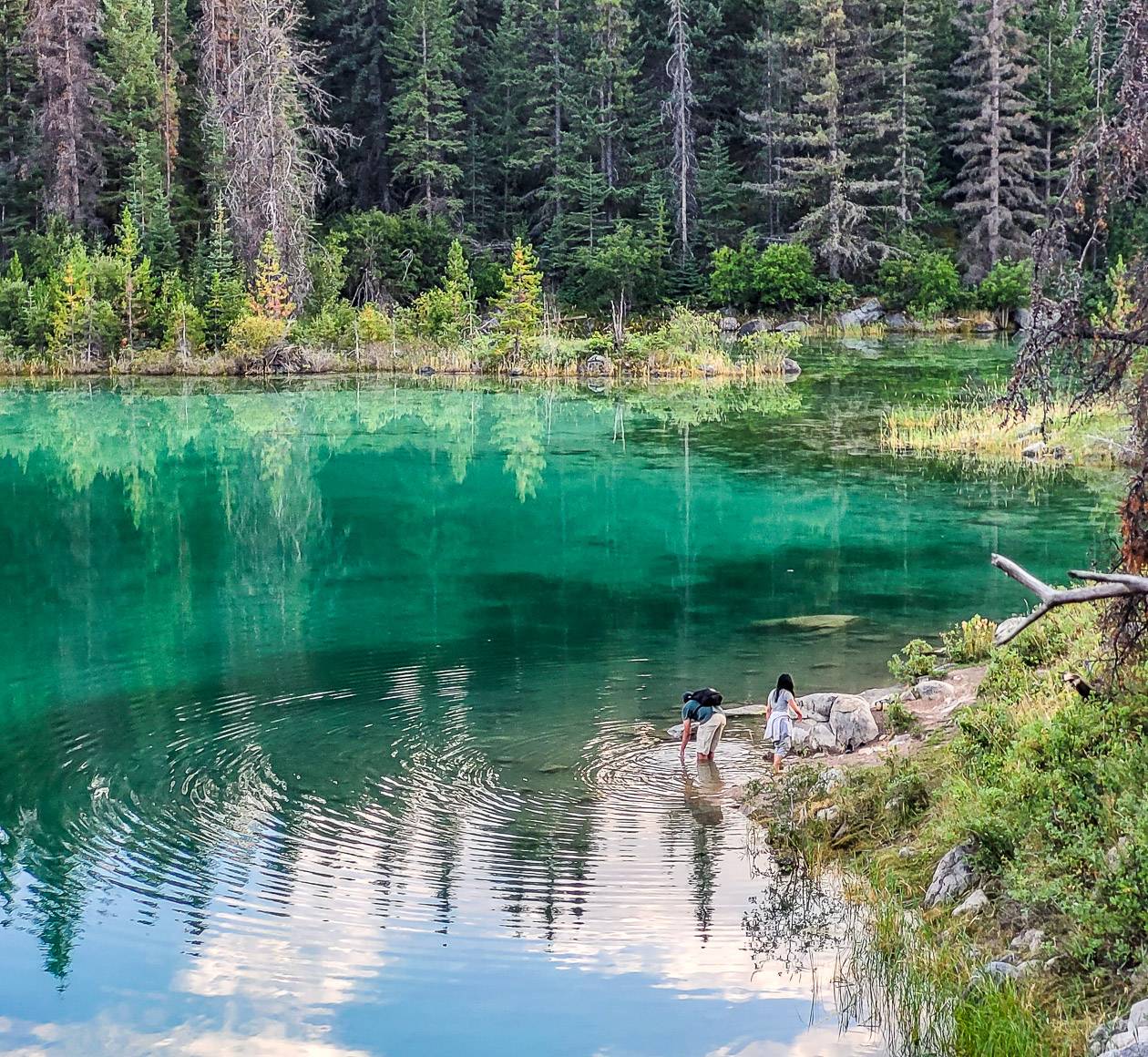 Location map of the hike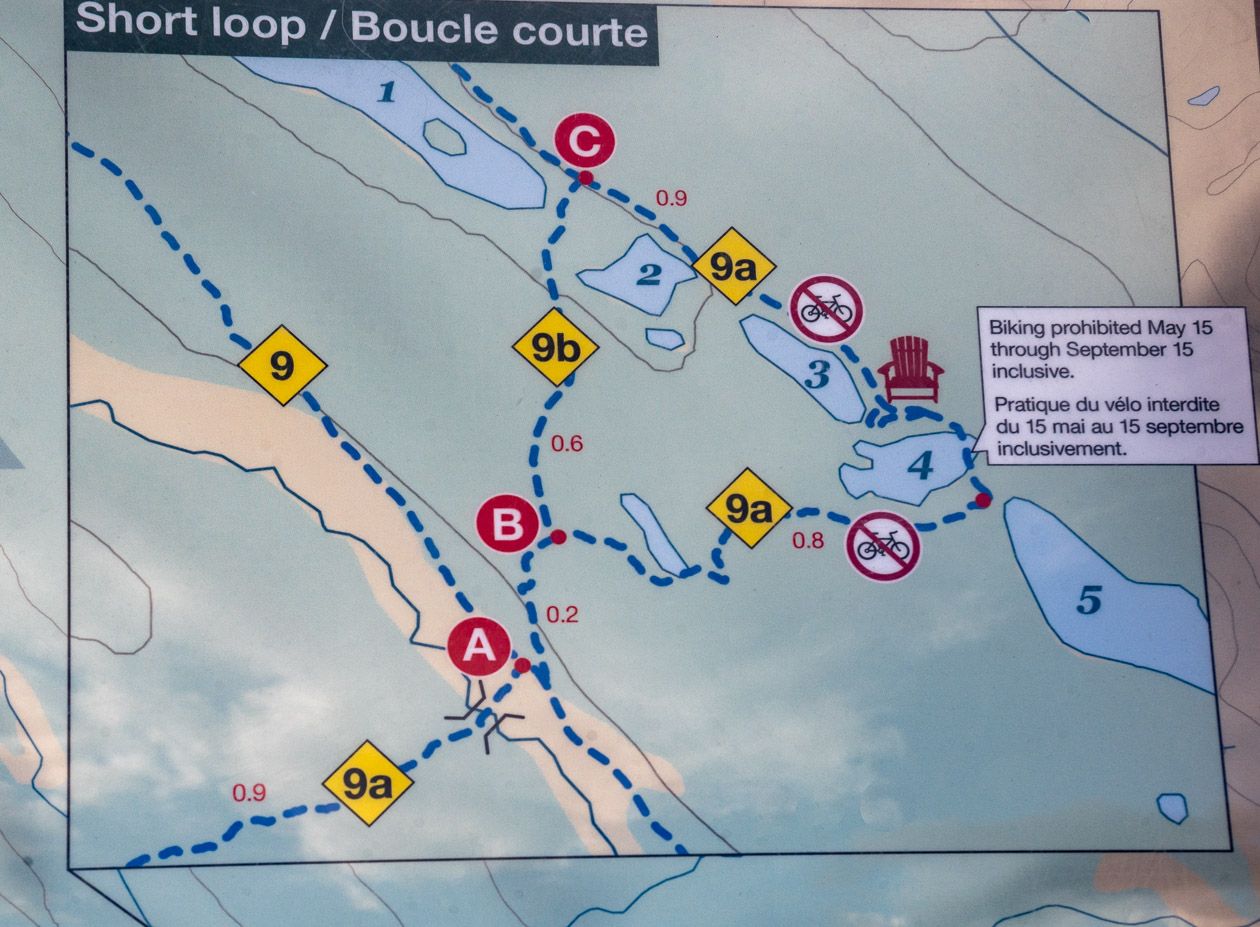 Valley of the Five Lakes hike description
From the trailhead parking lot off Highway 93, head for the outhouse, located in the northwest corner of the parking lot. The Valley of the Five Lakes hike starts near it. You'll be on Trail 9a initially as it meanders through a forest of lodgepole pine. After 0.9 km reach a boardwalk across the Wabasso Creek wetlands. This is a pretty spot and one where you might see beavers and/or ducks.
Continue up a slope (don't crosscut to prevent erosion) and cross a flowery meadow to reach a four-way junction. Take note of a massive Douglas fir at the top of the slope.
Continue on trail 9 if you want to walk all the way around the first lake or if you want to hike 7.8 km to reach Old Fort Point. For those of who you plan to hike the short circuit, continue on trail 9a/9b to reach another intersection in 0.2 km. To continue clockwise around the circuit take trail 9b.
Trail 9b descends to reach the southeast end of the first lake – the largest of the five lakes. Continue to a T-junction and go right on trail 9a to stay on the circuit. (If you went left at the T-junction, you could continue counter clockwise around the first lake or head for Old Fort Point. ) The second lake comes into view shortly, followed by the third and fourth lakes. The depth of all these lakes is different, as is their colour – a compelling hue of blue green.  When you're walking along here, you should also be able to see Mt. Edith Cavell to the south. Don't forget to enjoy a red chair moment at the end of the third lake. This section of three lakes is my favourite part of the hike. 
The fifth lake is on your left. There's a small dock and a good place to wade in the water on a hot summer's day. To complete the loop, stay on 9a. You'll reach the intersection with trail 9b at the 3.3 km mark. You should recognize where you are now. Head down to the boardwalk and back through the woods to complete the hike. 
I think it's a terrific hike first thing in the morning or after dinner when the lighting is good. It can be a very busy hike from late morning to late afternoon.
Where to stay in Jasper
The Fairmont Jasper Park Lodge is in a beautiful location but you'll have to decide if the rooms warrant their hefty price tag. It is located about 7 minutes outside of Jasper. You can count on loads of amenities and lots of activities either on their grounds or close by.
Another excellent choice is Bear Hill Lodge. And for easy access to a beautiful lake and all the activities around Pyramid Lake, head for Pyramid Lake Resort.
Some useful items on the hike
Always carry the 10 hiking essentials.
Carry a can of bear spray and know how to use it. It should be easily accessible via a holster or a clip at the front of your pack.
For lunch time breaks I recommend a soft blow-up cushion.
In summer a pocket guide to wildflowers is a great addition. 
Don't forget bug spray and a few energy bars.
More reading about things to do in and near Jasper
Click on the photo to bookmark to your Pinterest boards.