If you plan on visiting Morocco you are probably already thinking about what to buy when shopping in this exotic country. After all, who would ever resist strolling through the souks of Morocco without buying a few souvenirs? The wealth of arts and crafts that floods these markets is absolutely incredible!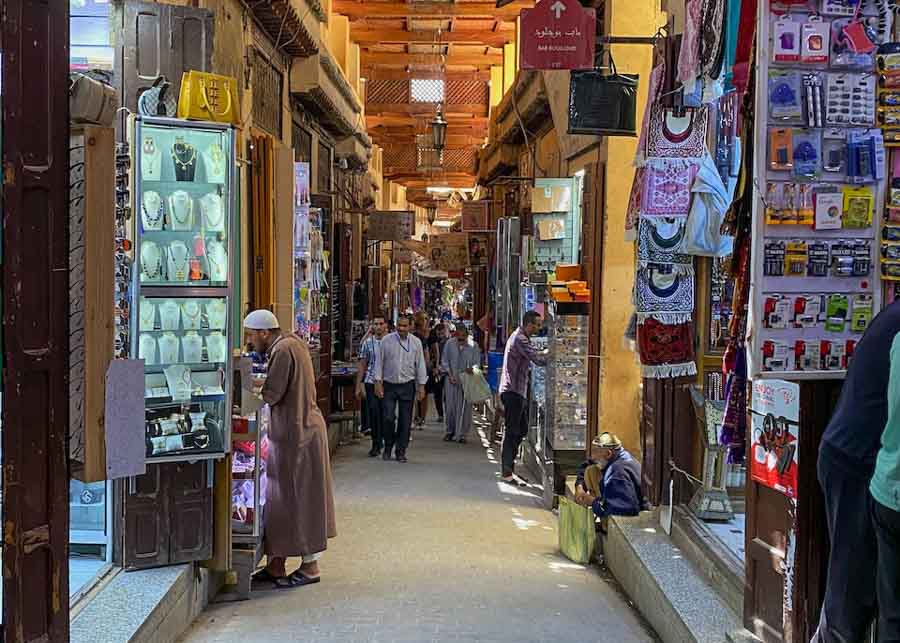 Buying souvenirs from Morocco is not only an attraction but also a great cultural experience, similar in many ways to shopping in the Grand Bazaar of Istanbul. The rich tapestry of sights, smells and sounds is an assault on all senses. Packed wall-to-wall with glistening pottery, colorful textiles and aromatic spices, the souks in Morocco are the best place to experience the spirit of this country.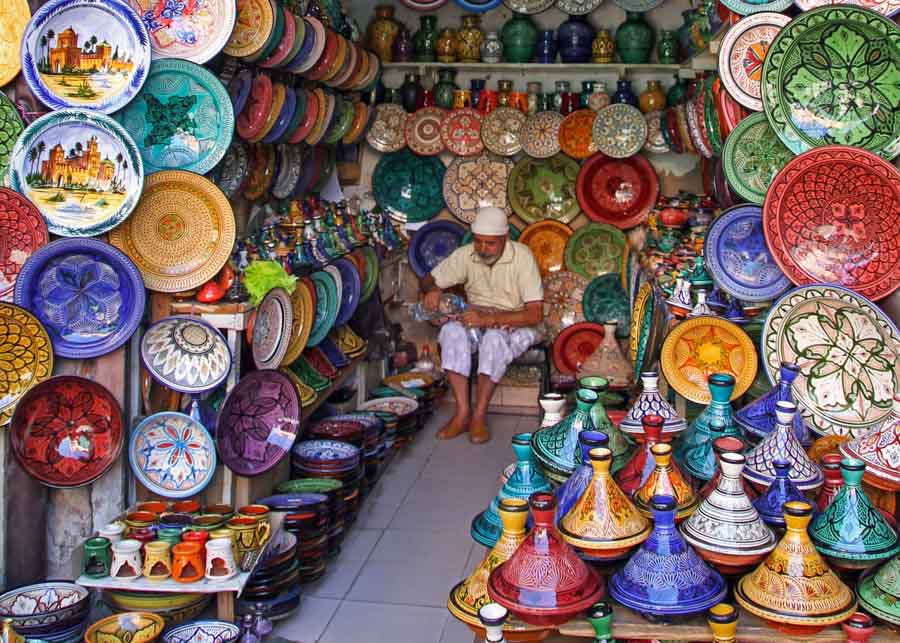 In these markets you'll find a wide range of skillfully handcrafted goods of varied colors, shapes and textures. From carpets, mirrors, fabrics, pottery, and bamboo crafts to jewelry, fossils, clothing, spices, perfumes, nuts and so much more, you'll find temptations on every turn.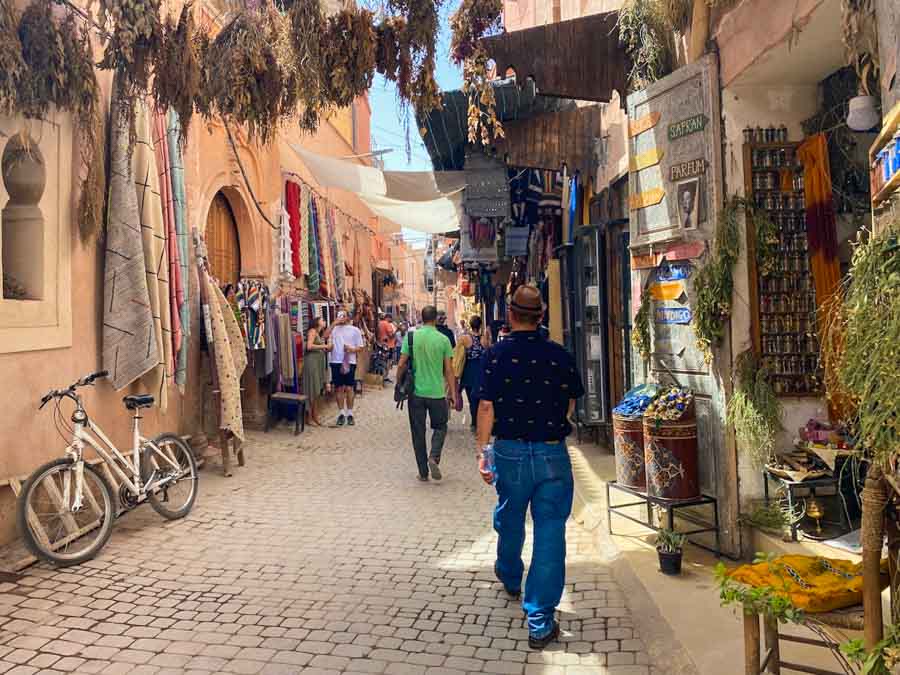 But before you reach for your wallet to buy some of these beautiful souvenirs, there are a few things you should know about Morocco's shopping culture.
How to Haggle in Morocco
Buying crafts and souvenirs from Morocco is not going to be your shopping mall experience. If you want to purchase anything here you'll have to be prepared to do a lot of negotiating. And if you come from a country that doesn't have a bargaining culture, you'll most likely feel intimidated by this process.
In Morocco everything is negotiable, so haggling is an old tradition. There are no prices listed on any items. Therefore, when you ask the merchant he will inflate the price many fold in order to leave room for negotiation.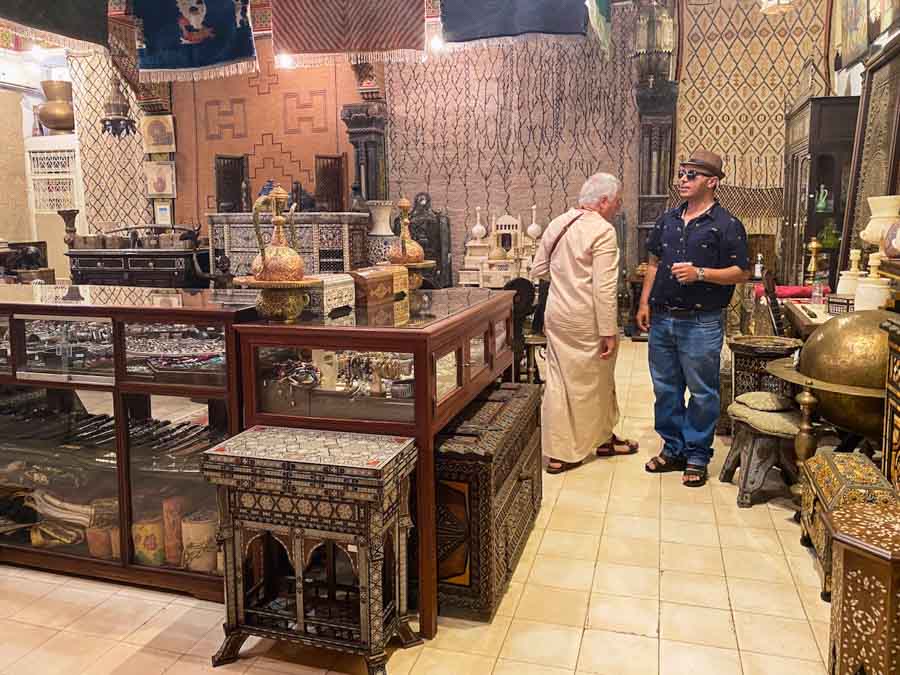 To get an idea of what it means to bargain, think of the process that takes place when you buy a car, or a house in the United States. Unfortunately, for most westerners having to negotiate a price can be very stressful. But it shouldn't be. There are a few common sense rules that apply and if you are aware of them you'll be in a much better position.
Rules That Apply in the Bargaining Process
1. Know the market value of the objects before you come to buy.
2. Don't show enthusiasm for the item you want to buy.
3. Decide how much you are willing to pay for it and wait for an offer. Don't speak first!
4. If the merchant doesn't accept your counter-offer, wait for another offer or walk away.
Remember that unless you agree on the price, you don't have to buy anything. But if the merchant accepts your offer, then you have an obligation to buy. Therefore, if you are not planning to buy anything, don't engage in a conversation with the merchant.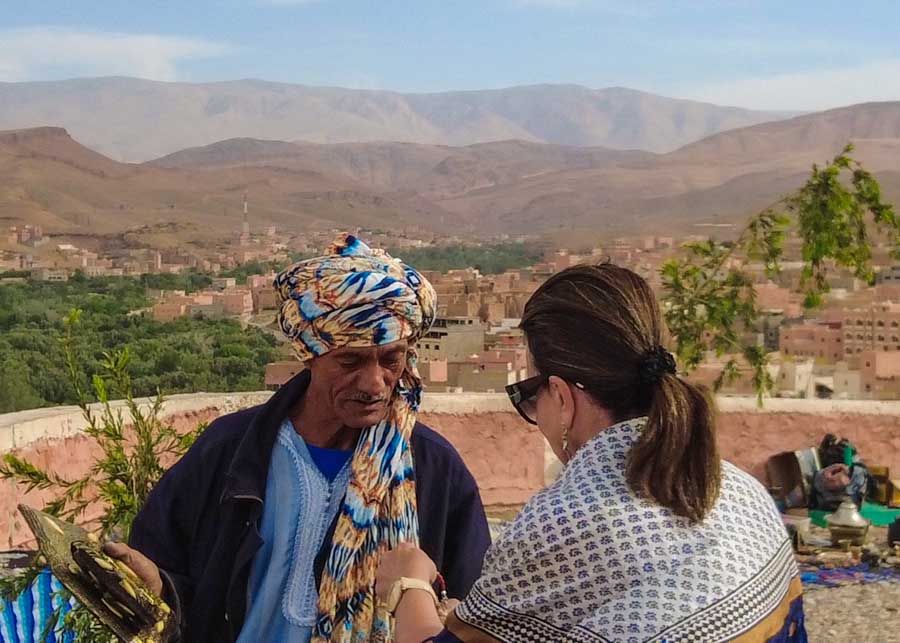 Never underestimate the vendors: they are smarter and think faster than you, when it comes to negotiating a price. They will pay you lots of compliments and may even offer you a cup of their famous mint tea, to lure you into their shop. If you accept, they will believe you are looking to buy and it will be very hard to back out. If you don't intend to buy anything, try to decline the invitation and avoid the chat with a polite "no, thank you."
Moroccan Currency
Morocco is mostly a cash-based society, so you should always expect to pay in cash. The country's currency is the Dirham, but they accept Euros and US dollars as well in most places.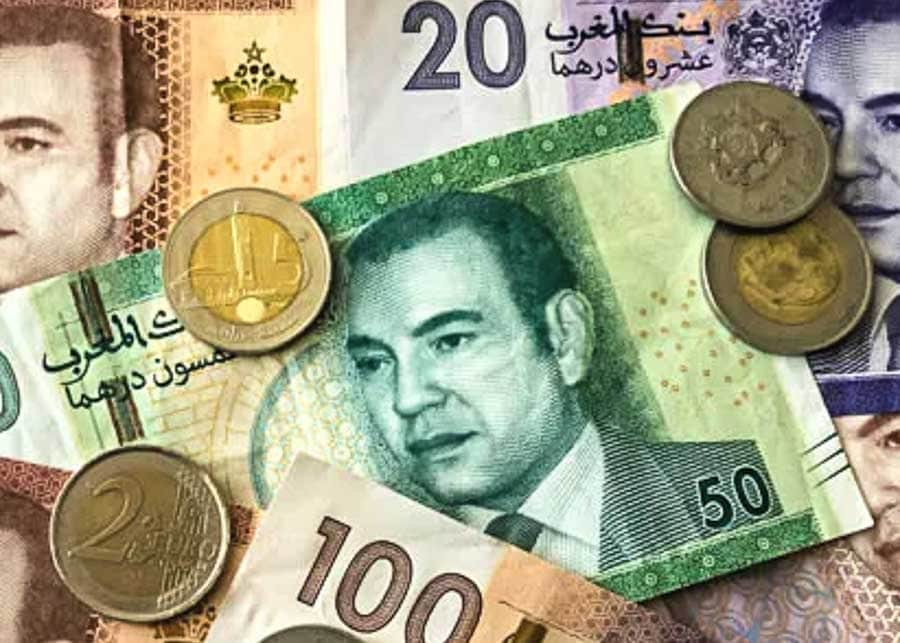 The current rate of exchange is 10.7 Dirham for 1 USD. The price in Dirhams may sound big, but if you divide it by 10 you'll realize it's actually not so big. That's just a thing to consider when you are negotiating.
Where to Buy Cheap, Authentic Souvenirs in Morocco
While you can buy mostly anything anywhere in Morocco, some goods are specific to different regions and therefore they will be cheaper where they are produced. Like for instance, Argan oil will be cheaper in the Souss-Massa-Draa region, in the southwestern part of Morocco, because that's where the Argan trees grow. Or if you are interested in buying leather goods, plan to shop in Féz, where the world renowned Tanneries are.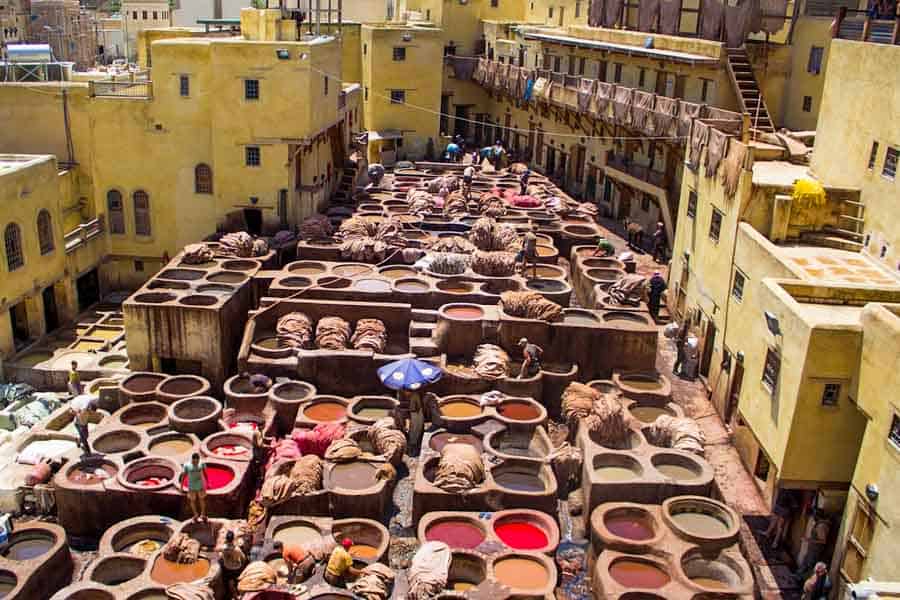 Although you'll find shopping malls and fancy boutique stores in the new part of every big city in Morocco, you shouldn't shop there. The best deals are made in the Medina, the old part of the city, where prices are much lower. 
We loved shopping the souks of Marrakech, Essaouira, Meknes, and in Fés el Bali, where we found every form of Moroccan art and craft we could think of, and a gluttony of choices.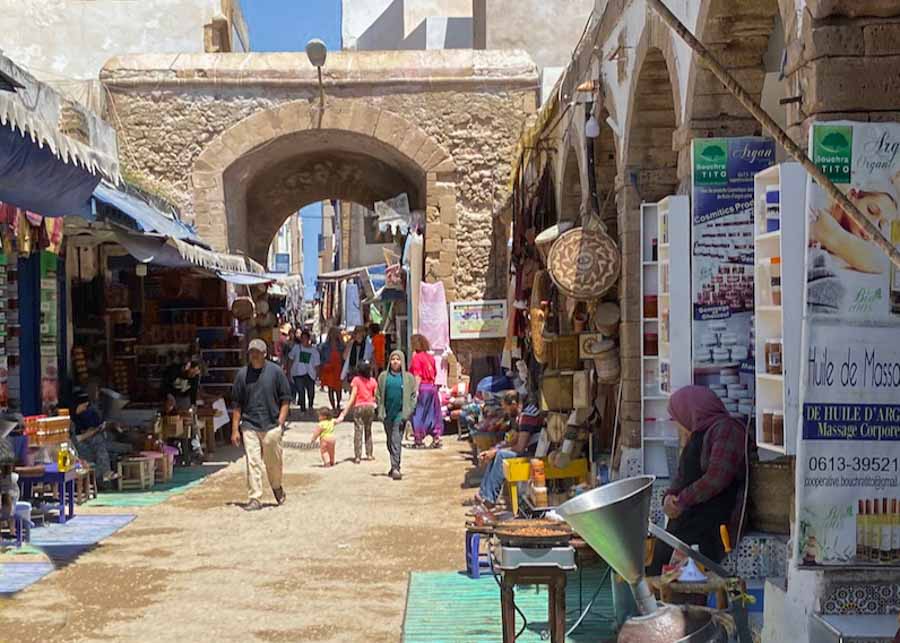 Also, keep in mind that smaller medinas always have much lower prices than famous tourist destinations, like Marrakech. We loved Essaouira's Medina which is an eclectic mix of art galleries, jewelers and shops selling everything from local woodcrafts to Argan oil-based products and leather goods.
But perhaps the best deals we made were in the small kasbahs we visited on our Morocco itinerary.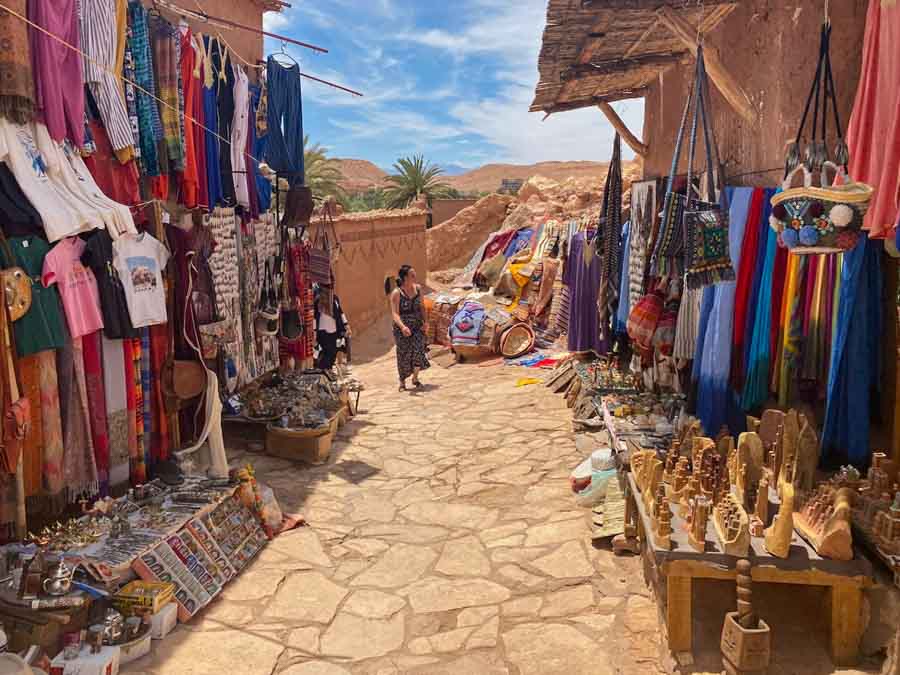 The abundance of handicrafts, gifts and souvenirs you'll find in these villages is amazing! Plus, the merchants aren't as pushy as in Marrakech or Fés.


WHAT SOUVENIRS TO BUY FROM MOROCCO
One thing to remember when shopping for souvenirs is that many of these crafts are not actually made in Morocco. You'll be able to spot the fakes and counterfeits because they are of dubious quality. However, the fakes will be more difficult to detect when buying spices like saffron, or Argan oil.
1. Berber Jewelry
I have a weakness for jewelry! Especially, the old traditional pieces made from stones, coral, and beads. You can buy a lot of beautiful, authentic Berber jewelry in Morocco, so if you are like me you'll probably have a blast here.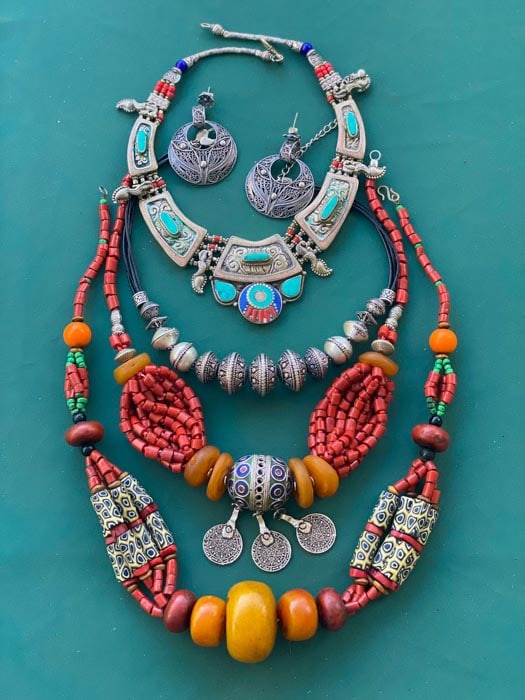 Berber (meaning "free people") is a commonly used term for the indigenous inhabitants of North Africa, who occupy today the territories of Morocco, Algeria, Tunisia, Libya and Egypt. The Berbers lived here since 2000 BC and their jewelry making tradition is just as old as they are. Some of the bracelets and necklaces you'll find in these shops are true pieces of art!
2. Tagine Clay Pots
For travelers to Morocco, a tagine pot is pretty much an essential souvenir. I know some people argue that the delicious tagine dishes can also be cooked in pressure cookers and crockpots. But if you ever tried a slow-cooked tagine in Morocco, you'll agree with me that there's something special about the namesake pot.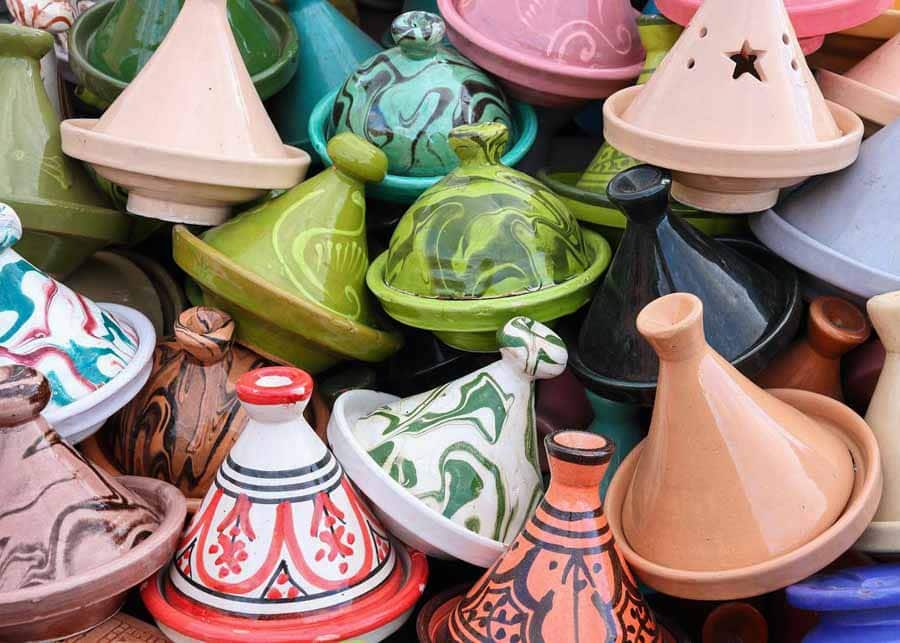 The clay itself imbues its own flavor into whatever you're cooking. Also, the conical lid is designed to return condensation to bottom of the pot, keeping the delicious flavors of spices and herbs from evaporating into the air.  
NOTE: One thing to remember when buying a tagine pot is to check if the two pieces fit together snuggly. Open and close the lid a few times to make sure there is no wiggle room or gaps along the edge.
3. Moroccan Slippers (Babouches)
One of the best handicrafts to buy in Morocco are the leather slippers. My favorite ones are the pointy-toed (known as babouches and belghas). These are made from the finest calf and goatskin. They come in many shapes and colors. Some are simple and elegant, while others have very intricate embroidery and sequins.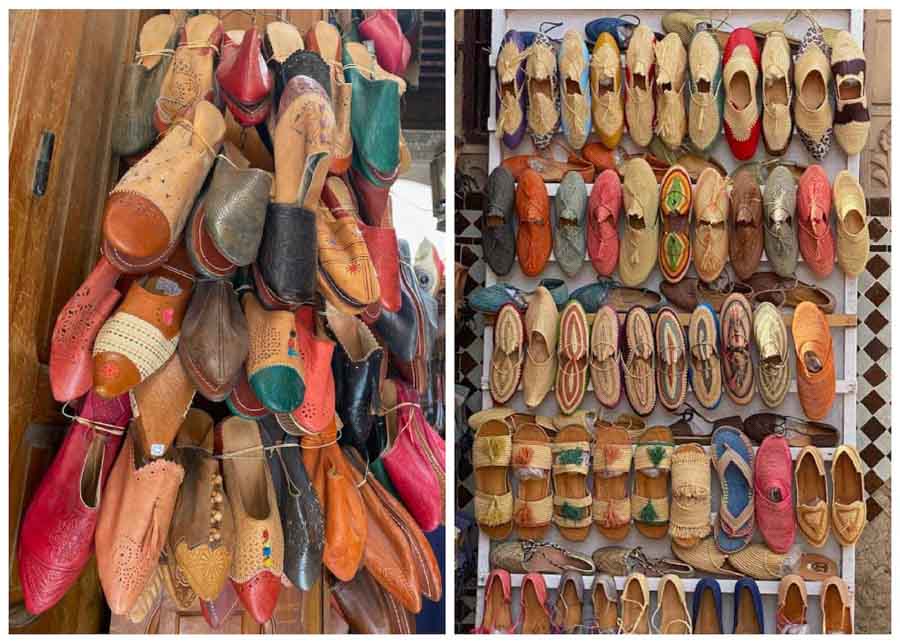 Some slippers are meant to be worn indoors, while others have strong soles and can be worn outside.
4. Spices
There is a huge variety of spices whose aromas will tickle your nostrils as you pass through the souks of Marrakech, or Fés. From turmeric, cumin and ginger, to cinnamon, anise and nutmeg, you can buy the most sophisticated condiments in this world!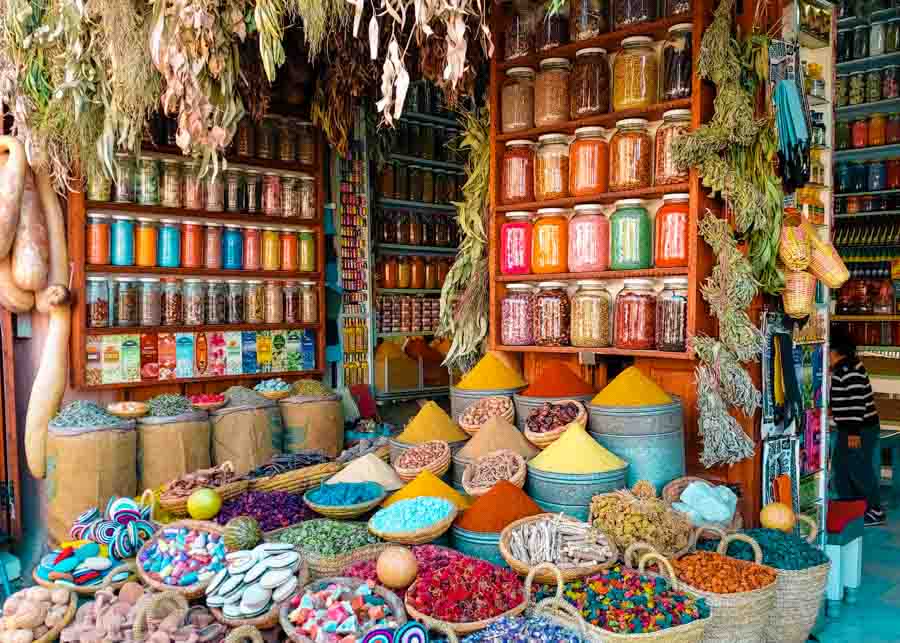 But perhaps the most valuable spice that you can buy in Morocco is the saffron, which is extremely subtle and fragrant. The slightly sweet taste is tricky to describe, but it's easily recognizable in the Moroccan dishes.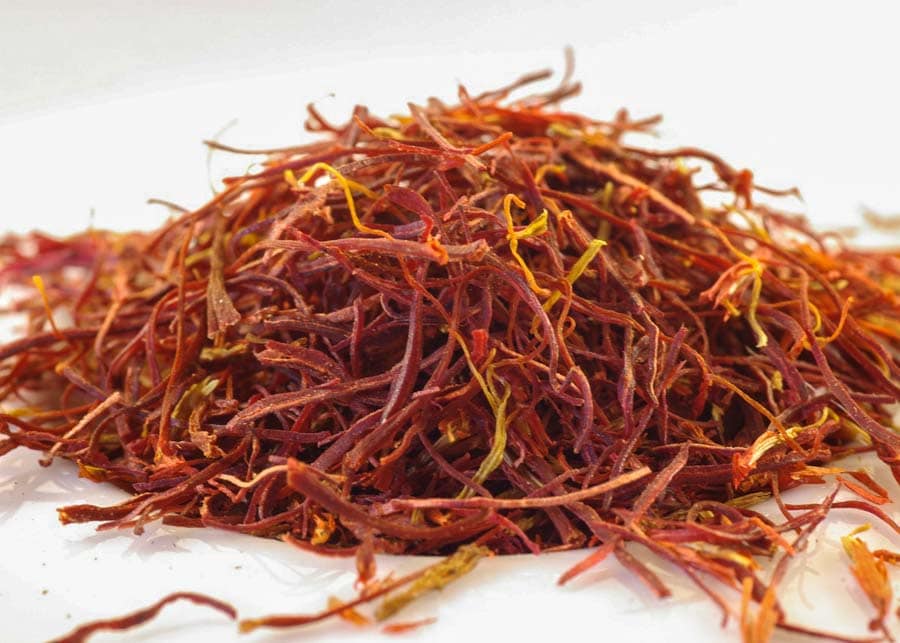 Saffron is the world's most costly spice and it's sold by weight. Expect to pay around $6/gram in the medina, but the higher quality stuff may sell for over 4 times that price. However, take care when choosing it as it is the most counterfeit food product!
5. Felt Handicrafts
If you are looking for a more unusual souvenir, then you should buy a felt bag, a felt hat, or a felt pair of slippers. Felting is an old art in Morocco, so you'll find many artisans who do these kind of crafts in Marrakech.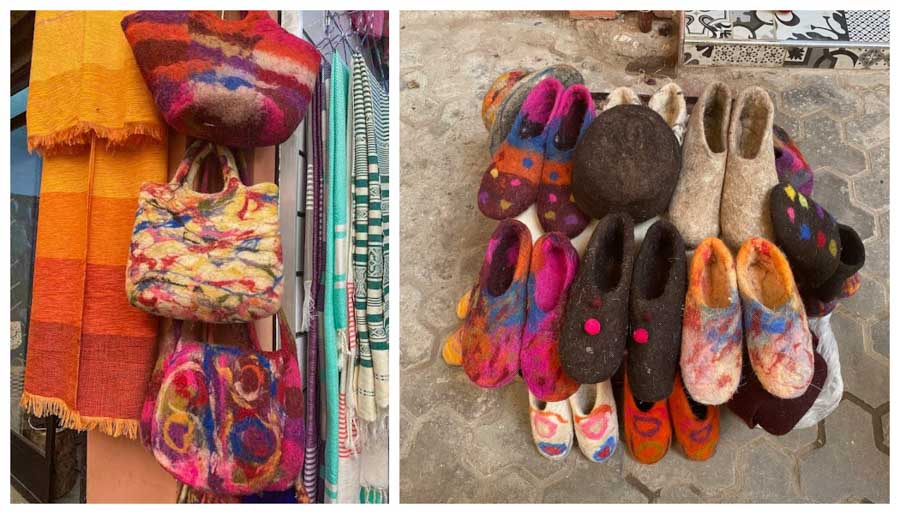 What is Felting? Basically, it is the process of turning sheep wool, or alpaca, mohair, yak, etc. into a piece of fabric by connecting the individual fibers. Felting is done by hand, using soapy water. After the fabric is ready, the artisan models it into different useful items, like hats, sleepers, bags, prayer rugs, etc.
6. Fossils
Morocco is home to numerous fossil deposits, some of which date to the pre-Cambrian period. If you are fascinated by geology, Morocco is a great place to buy some fossil souvenirs. But where in Morocco can you find them?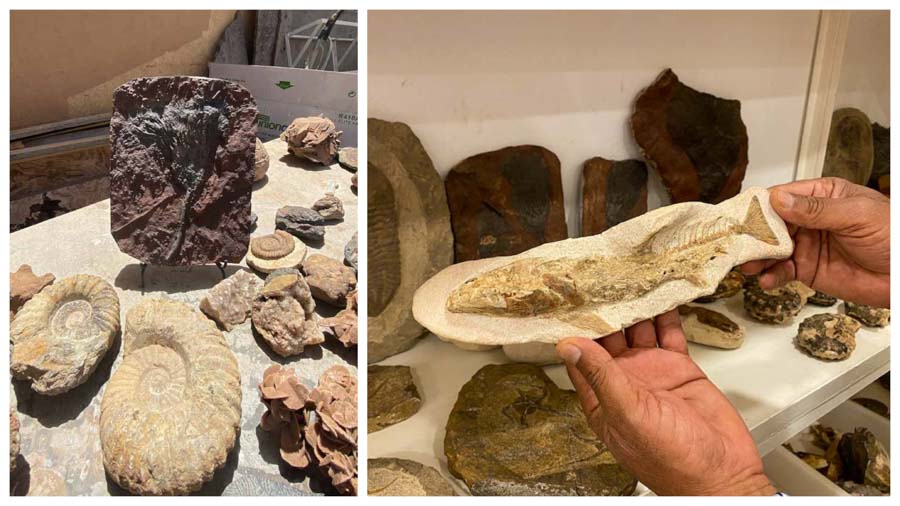 The Sahara Desert, which begins in Morocco, was at some point a 50-meter deep ocean. As a result, marine life fossils can now be found in the desert sediments. The best place to go shopping for fossils in Morocco is in the town of Erfoud, which is close to the Erg Chebbi Desert.
7. Moroccan Wicker Bags
One of the most useful things to buy in Morocco is a wicker bag. They come in many shapes. Some are cross-body style and resemble purses, while others have handles to hold on to and look more like baskets.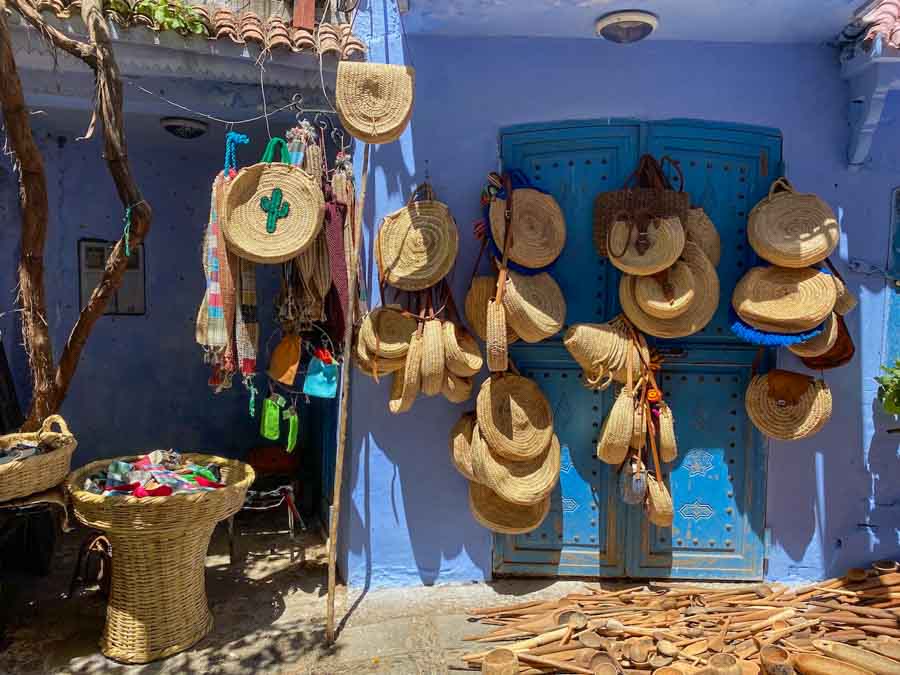 Moroccan straw/wicker bags are very much in style these days and they may be helpful for storing all your new finds in. They are versatile and useful for so many things. You can take them to the beach, or when you go shopping at the market. Some are really small and elegant, so you may wear them in the evening.
8. Fez Hats
 Fez hats are popular souvenirs to bring home from Morocco, and you'll easily find them in any market or gift shop. Originally, the fez was an accessory used by Ottoman elites and soldiers, but soon after it became a high fashion item among stylish European men.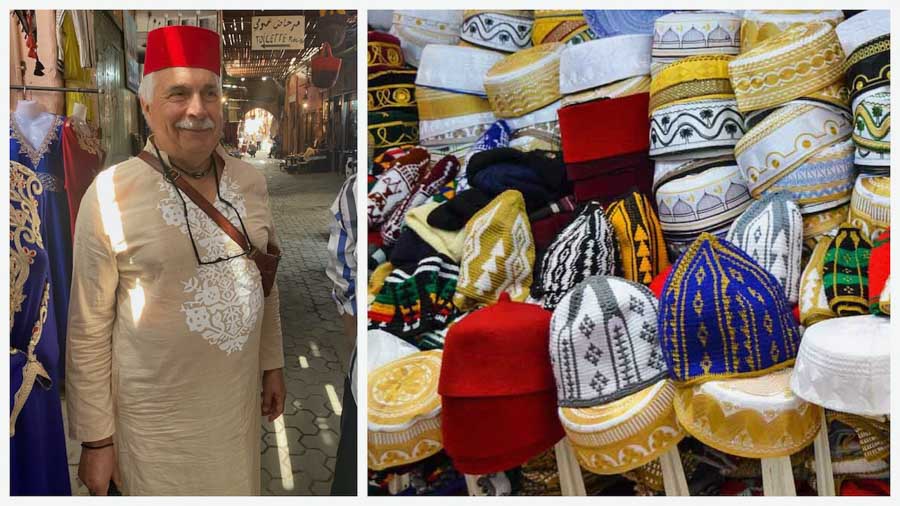 There are two kinds of fez hats. One that is shaped like a truncated cone made of red felt. The other is short cylinder made of kilim fabric. Some fez hats have a tassel that is attached to the top part.
Today, fez hats are very popular in many Muslim countries like Morocco where they are worn by service staff in tourist establishments and also by the rural population.
9. Argan Oil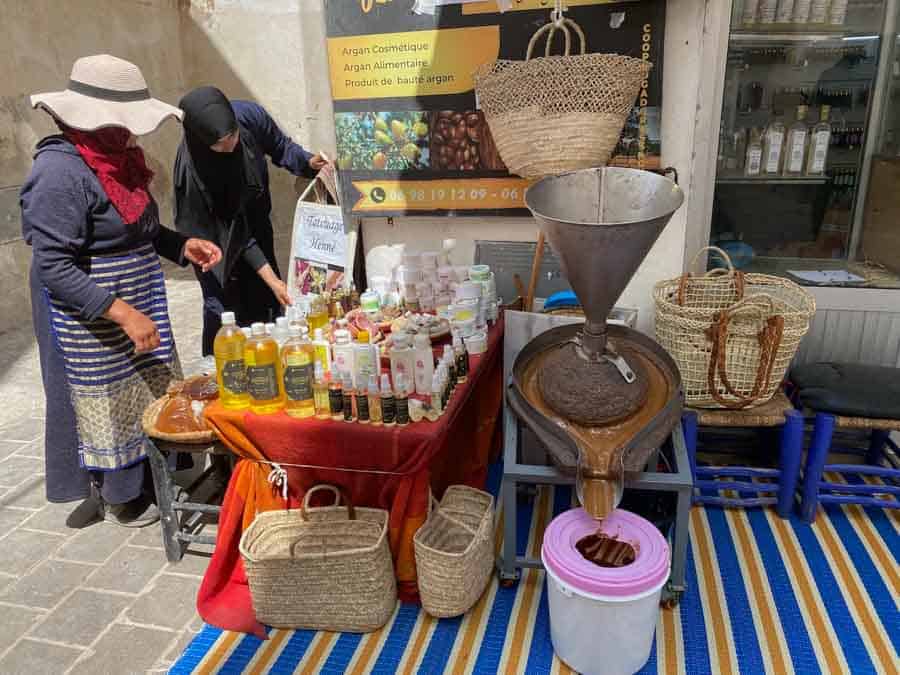 10. Moroccan Carpets
One of the most popular things to buy in Morocco are the handwoven Berber carpets, decorated with geometric or abstract designs. Even though Moroccan (or Berber) carpets have a practical utility in Morocco, many people throughout the world enjoy decorating with them which is why they make great gifts and souvenirs.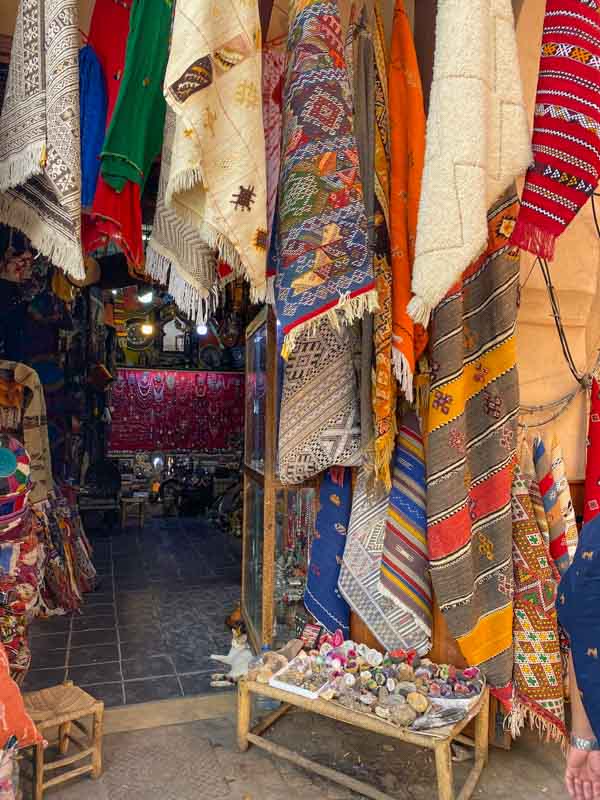 Why are the Moroccan rugs so popular? These handwoven carpets are much plusher and softer than your average area rug. They are made from the wool of sheep kept at high elevations, which has an especially thick and warm fiber.
Although they are now being mass produced by big companies, if you compare them up close you'll see the difference between the real deal and a mass-produced carpet.
11. Moroccan Decorative Dishes
Creating hammered metal plates and dishes is an old tradition in Morocco. Some of these pieces are so artistically decorated that you'd expect to see them in a museum than in small shop in the souk.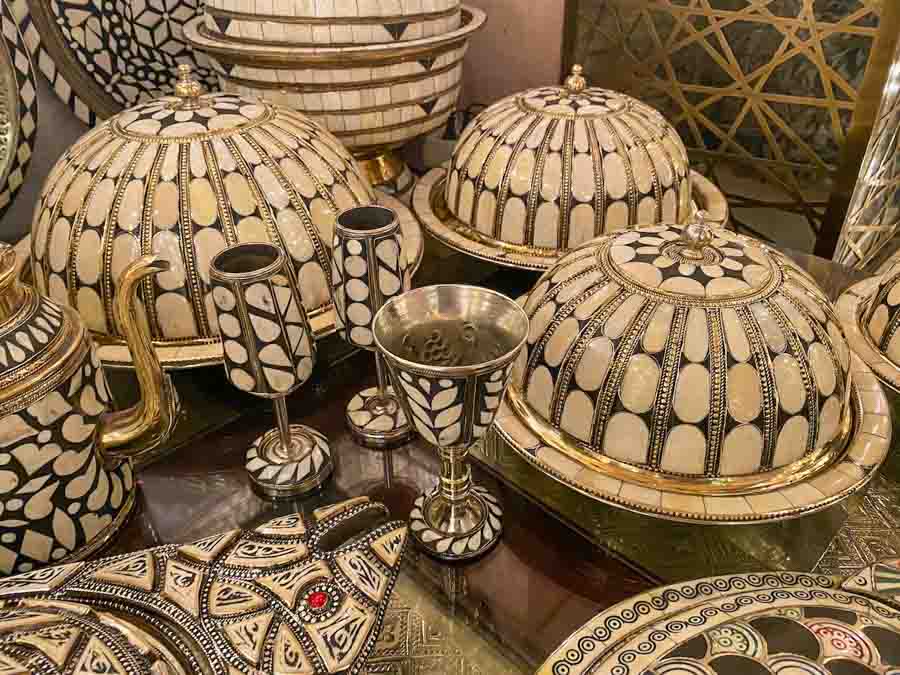 These metal vessels inlaid with camel bone and gold trimmings are worthy to decorate the royal tables, but they may very well find a place on your dinner table as well. It's hard to resist buying at least a teapot or some small goblets.
12. Black Soap
Moroccan Black Soap – also known as Beldi soap (Arabic for "traditional") – is a plant-based soap made from olives, rather than animal fats. This thick black soap is traditionally incorporated into the hammam spa ritual.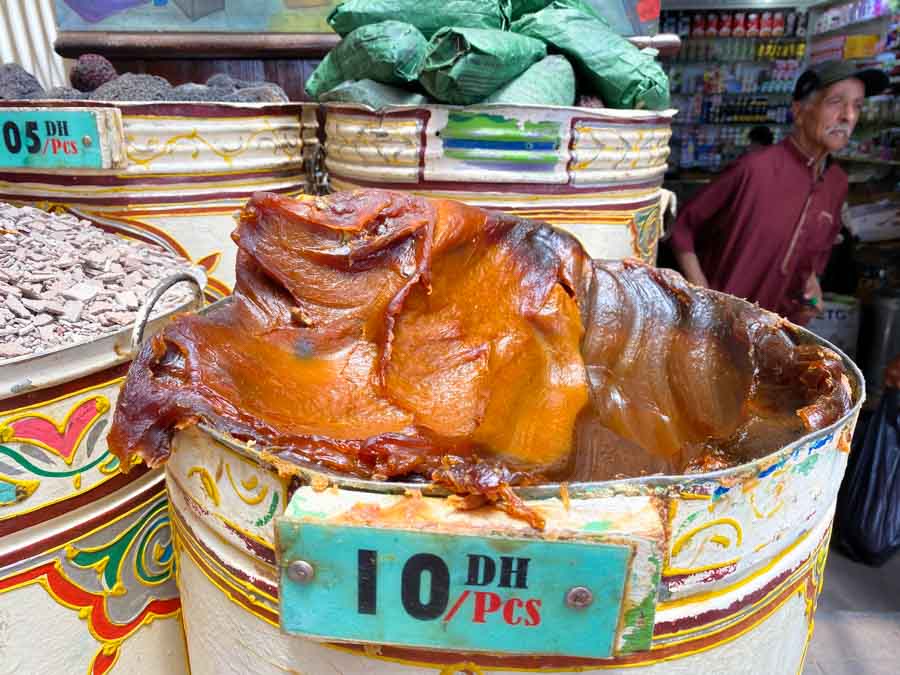 Why is the Moroccan black soap so special? Apparently the soap penetrates the skin removing the dry, dead cells from the surface, leaving your skin soft and smooth. The soap is made primarily from olive oil and macerated olives and has a butter-like consistency. The locals say that black soap is good not only for the body, but for cleaning and polishing brass, too!
13. Headscarfs (Touareg Turbans)
Even before visiting Morocco I dreamed about having a turban. I even tried improvising one, but nothing looked as good as in the pictures I saw. That's because the secret of a turban lies in the length of the fabric. To obtain the look that you see in the pictures below you need a very long (7-10 meters) hand woven fabric of cotton.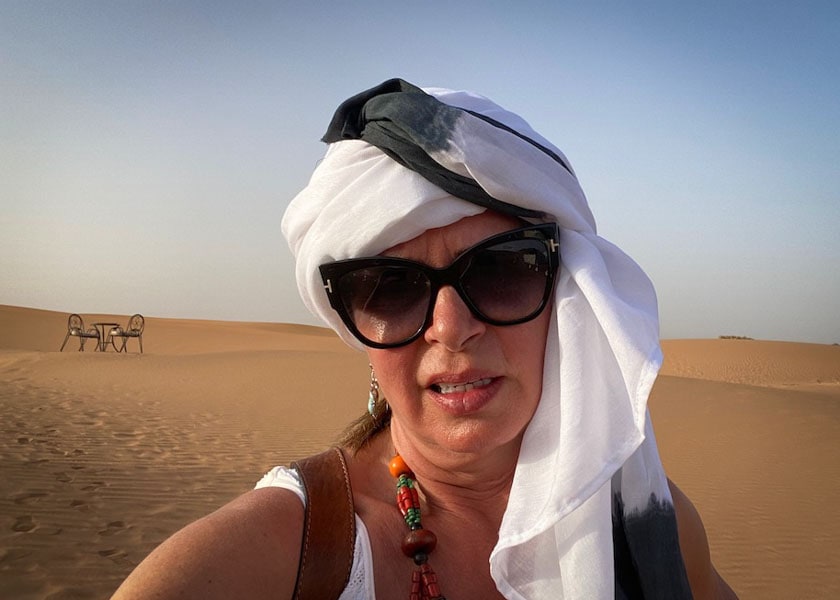 Headscarfs can be tied in many ways, but men in the in the south of Morocco and the Erg Chebbi desert tie them up like the Touareg turbans.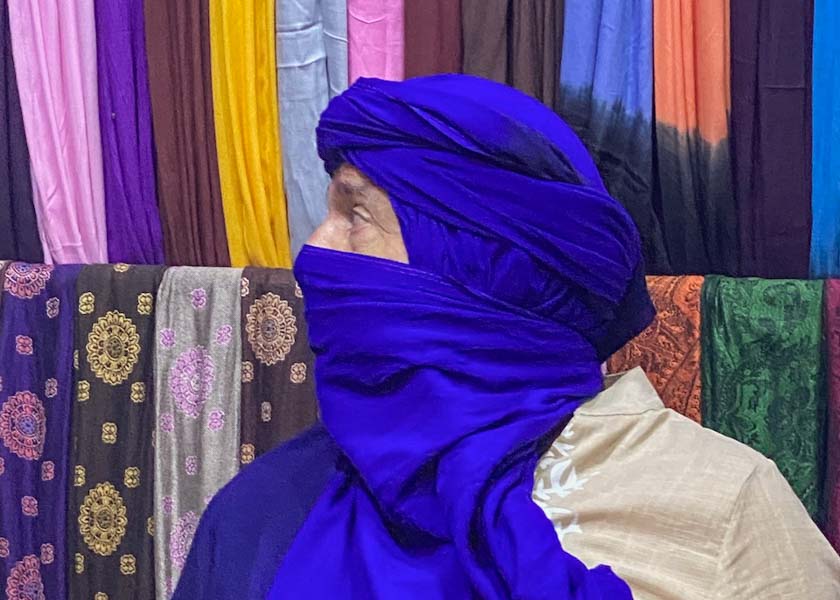 You'll find headscarfs everywhere in the souks of Morocco and in any fabric store and when you buy them, the store owner will teach you how to tie them up. It's not difficult and turbans are a lot of fun to wear, especially if you go to the desert where they will protect you from sun and dust.
14. Claypot Lip Stain
One of the strangest souvenirs you can buy from Morocco is the clay pot lip stain. This traditional Moroccan makeup is handmade using the same ancient recipe that women in North Africa have been using for centuries.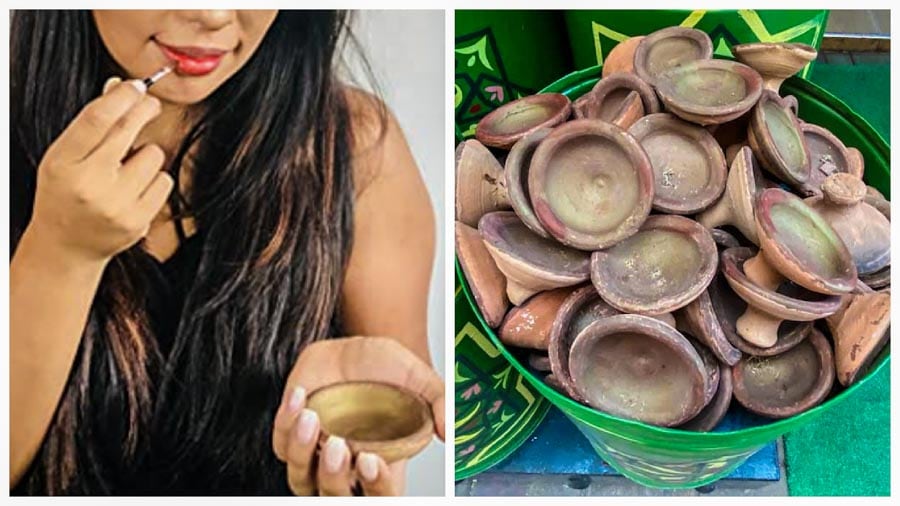 This lip stain comes from a botanical blend of pomegranate bark & dried poppy petal sunbaked in a terra-cotta pot. To use it, you simply wet your finger, rubbing the clay pot and apply the color to your lips. The clay pot lip stain makes a very nice gift for Moroccan women.
15. Moroccan Kaftans
In case you didn't know, a kaftan is a long, loose-fitting robe or tunic worn by both men and women in North and West Africa. A true kaftan is embellished with elaborate embroidery and has full sleeves, but today there are all sorts of styles. This type of garment originated in Ancient Persia and was introduced in Morocco at the end of the 11th century, becoming the traditional attire. Today every Moroccan woman has at least one kaftan in her closet.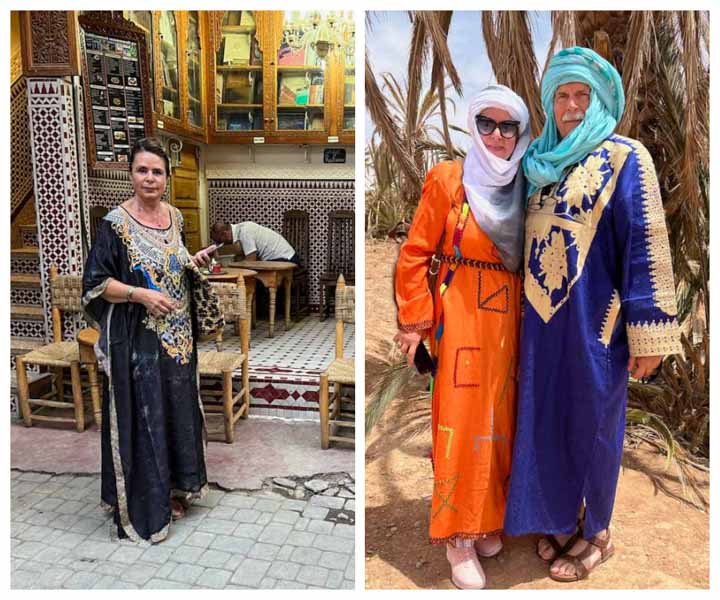 Until the 1960s, in Europe and North America authentic kaftans were a rarity, worn only by a small number of travelers who brought them back from exotic expeditions. But when French couturiers like Christian Dior began incorporating this loose-fitting evening gown into their creations, the kaftan became the must-have garment of most women in the US. No wonder kaftans make the best souvenirs from Morocco!
Shipping Souvenirs from Morocco
From small trinkets, soaps and jewelry to large rugs, lamps, and pottery, you can shop for all sorts of arts and crafts in Morocco. Some of these items you may be able to fit into your luggage, but the large ones will have to be shipped.
You can ship anything anywhere from Morocco. Just do not let the shops offer to do it for you. Some are honest, but far too many goods have gone missing (or were never sent) for this to be a reliable method.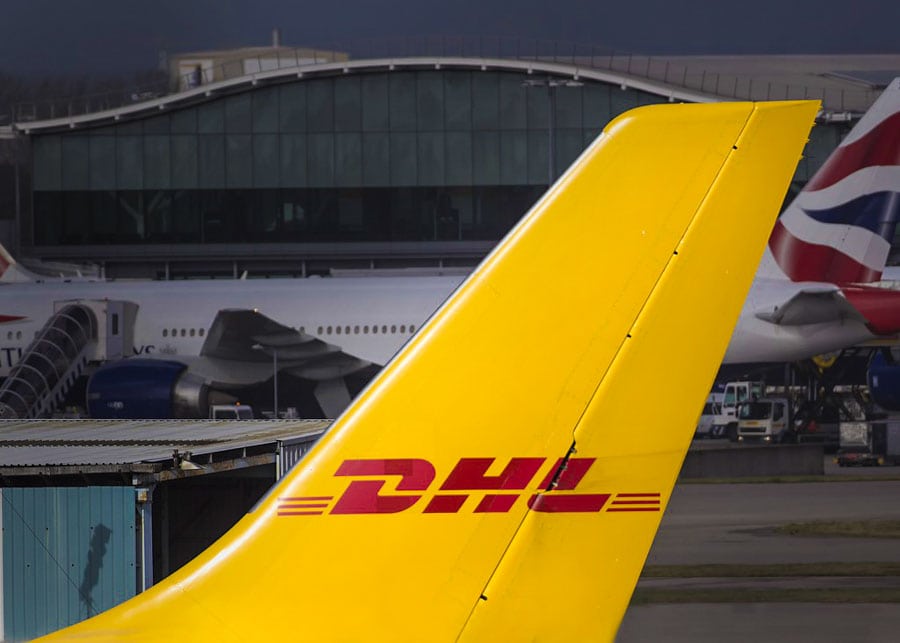 DHL and other international carriers operate in Morocco, so locate their office wherever you are and ask them for advice, terms and costs. You can also walk into a Poste Maroc office and get a price on sending mailing something back home. First get the dimensions/weight exactly of the item you want to buy (before you buy it), then go to the Post Office and check the price for sending such an item.
However, shipping may be expensive. So if you want to save money on postage, just bring a couple of empty suitcases with you and check them in when they fly back home. If you choose this option and are from the West Coast, make sure you don't change flights in the US when returning from Morocco. It's better to choose a flight that has a stop over in Europe. This way you'll avoid having to retrieve your luggage to go through Customs/Immigration and then hike from International to Domestic terminals.
A Final Word
There were a couple of things that I found quite overwhelming when shopping in Morocco. One was the abundance of goods that you see in the bazaars. The area occupied by the souks is huge and seeing so much stuff in one place makes it really difficult to decide what to buy.
The other problem I encountered was the insistence of the merchants. Every other vendor is trying to pull you into their shop. And the ones who are not, are trying to at least attract your attention somehow, which is very tiring.
But even so, it's hard to resist the temptation of buying at least a few souvenirs when you travel to Morocco. So leave some room in your luggage for them. In our case, the room we left wasn't enough, so we ended up buying an extra suitcase for our new treasures.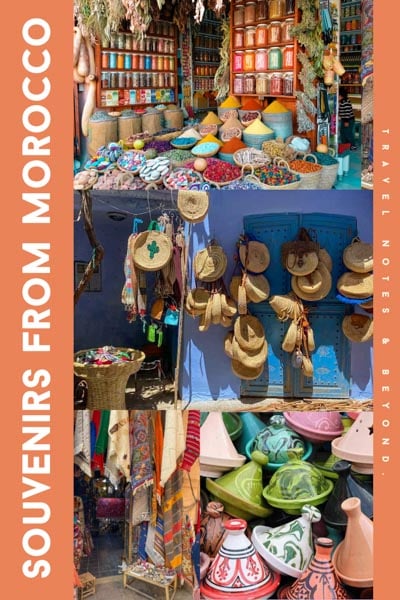 MOROCCO TRAVEL RESOURCES
> Morocco Itinerary – How to Spend 10 Days in Morocco
> All You Need to Know Before Visiting Morocco
> The Mystery of the Tree-Climbing Goats in Morocco
> The Magic of Chefchaouen, the Blue City of Morocco