Planning a trip around Bali and searching for the coolest things to do in Uluwatu in 2022? Well, you've come to the right place, as I just spent the last 3 months living in the Uluwatu area – and it's easily my favorite area of Bali! 
There's this really unique and relaxing vibe down there that is hard to explain, but it aligns perfectly with the laid-back surfing culture you'll encounter while exploring Uluwatu.  There are so many incredible Uluwatu attractions, restaurants, bars, beaches, spas, and hotposts that you could easily spend weeks soaking up the paradise life.
Renting a moto and exploring all the different beaches is a must, but a personal favorite is being constantly amazed at the jaw-dropping sunsets that occur most night down in Uluwatu! 
With the relaxing atmosphere, incredible dining options, luxurious beach clubs, and so many other amazing things to do in Uluwatu – I guarantee you'll fall in love with this Bali destination just as much as I have! 
While you could easily spend weeks down in Uluwatu, you really can see and do just about everything here in 3-4 days!  If you've been there recently, and have any recommendations you think I need to add to this list – shoot me a message on Instagram!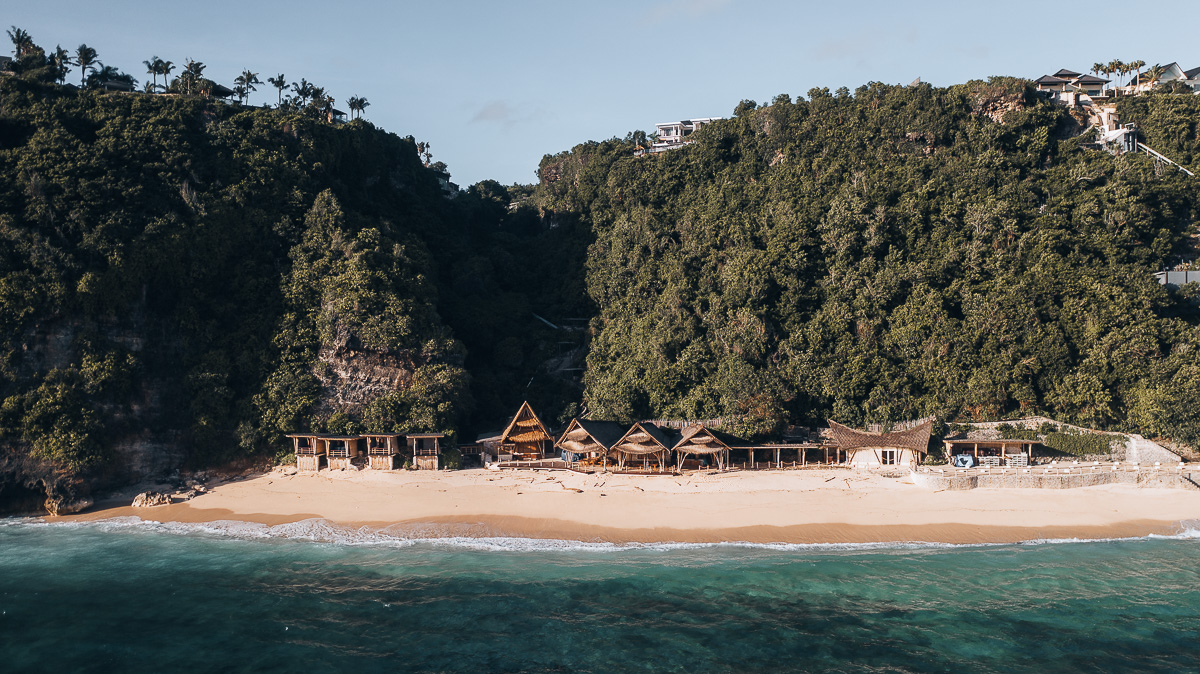 ---
Best Places to Stay in Uluwatu
First things first, let's talk about accommodation.  You really shouldn't do Uluwatu just as a day-trip, so please stay down there for a few days to explore everything the south of Bali has to offer!
ALSO READ: The ULTIMATE BALI ITINERARY | How to Plan The Perfect Bali Vacation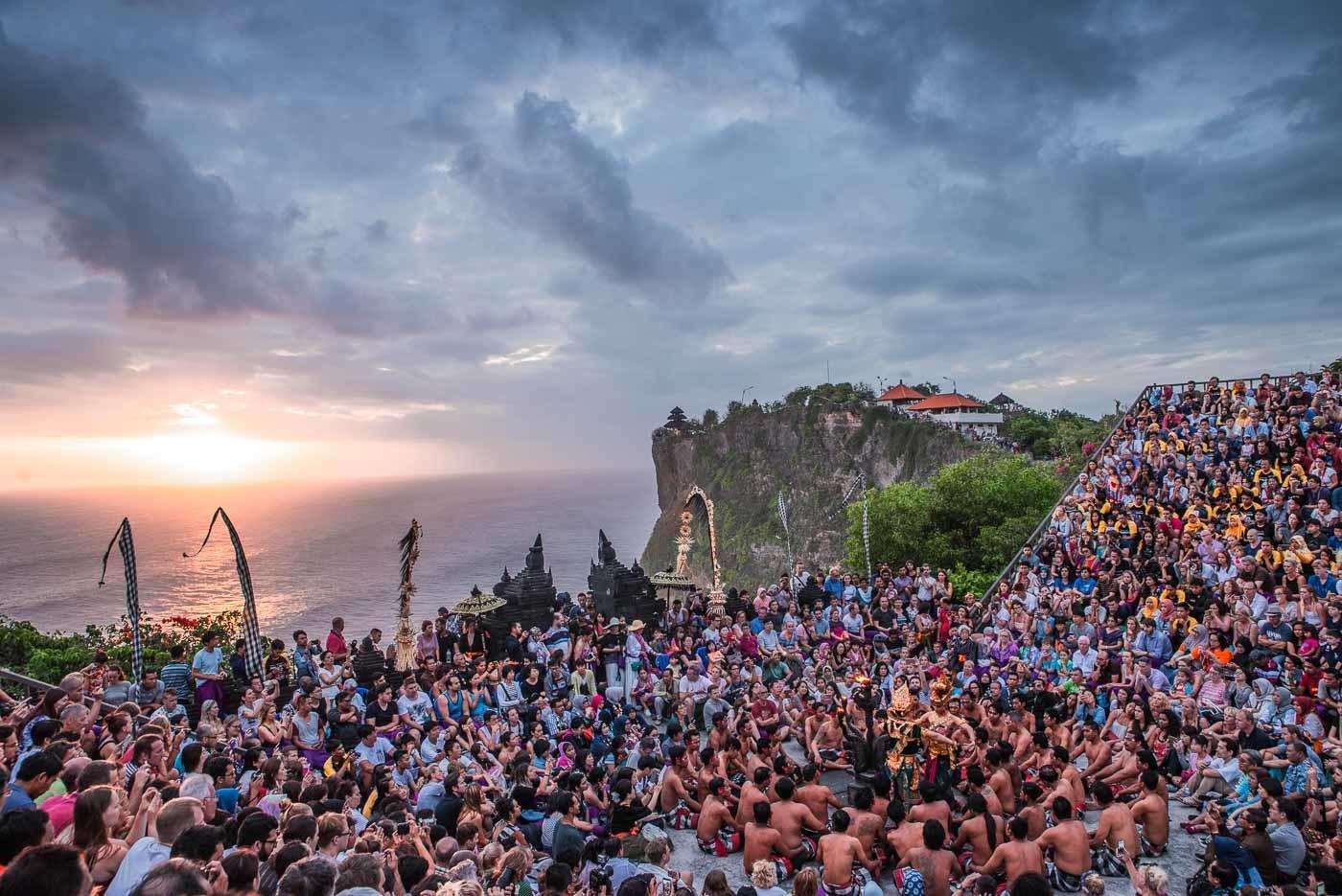 ---
Top 25 Things To Do In Uluwatu
Alright, let's break down what all my favorite things there are to do and see in the area! Originally when I wrote this article I only had a Top 10 list, but since returning I've updated it to include a TON more. While it may be difficult to visit ALL of these places, it's definitely worth a shot! 
---
1) Surfers & Sunsets at Pantai Suluban
The most popular and lively part of Uluwatu is Suluban Beach, which offers tons of restaurants, bars, and surf shops. 
You simply can't go to Ulutwau without watching the insanely talented surfers from up above from one of the many bars/restaurnts.  You'll be blown away about the size of the waves, but even more blown away by the beautiful sunsets every night. 
There are tons of epic viewpoints to choose from, but probably the most popular spot would be Single Finn (see below).
---
2) Sunday Sessions at Single Finn Club & Restaurant 
There's arguably no better place to be on Sunday in Bali than at the legendary Single Finn in Uluwatu! It's located at the very top of Suluban Beach, and is the prime spot to watch the talented surfers from above while destroying a delicious meal and cold beer. 
As the night progresses, the music gets louder, and the party vibes are seriously amazing! It's free entry, there's always a good turnout, and the music tends to be quality house music!
Travellers in Bali all flock down to Uluwatu for the Sunday night parties at Single Finn, and you're guaranteed to meet a ton of awesome people. The food and drinks are great (albeit a bit pricey for Bali standards).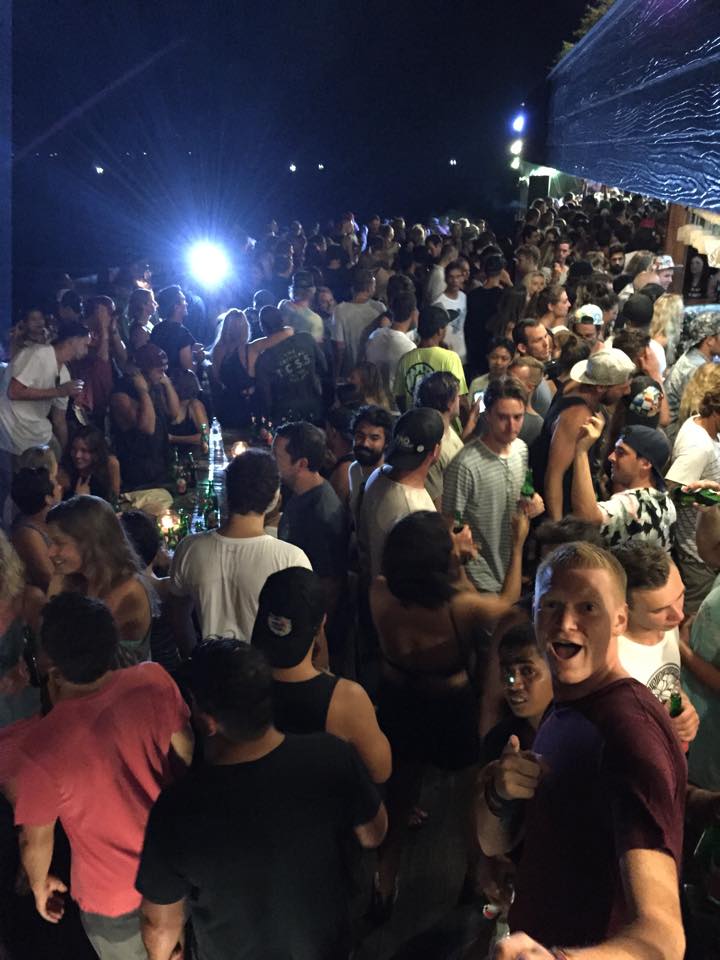 ---
3) The Istana
The Istana quickly became one of my favorite places to visit in Uluwatu, mainly for their Sauna / Steam Room / Infrared Sauna + Cold Plunge spa experience. It's such a refreshing and rejuvenating experience that always makes me feel like a million bucks. 
It's also at an absolutely stunning location with panoramic Uluwatu cliff views that will leave you speechless. 
They also offer a ton of other activities like yoga, guided meditation, cryotherapy, massages, and so much more! It's become a Uluwatu must-visit in the past couple years!
---
4) The Cashew Tree
The Cashew Tree is hands down my favorite place to eat in Uluwatu! It's located really close to Bingin beach, so you'll definitely need to swing by for a delicious meal and one of their healthy smoothies.
Every time I go to Uluwatu I eat here as much as possible, and my mouth is watering just thinking about their refreshing smoothies, entrees, and desserts. 
They've been offering weekly specials recently, so go their once and check out what the week's menu is. Last time I was there I got a delicious curry for only 50K IDR (which is about $3.50 USD).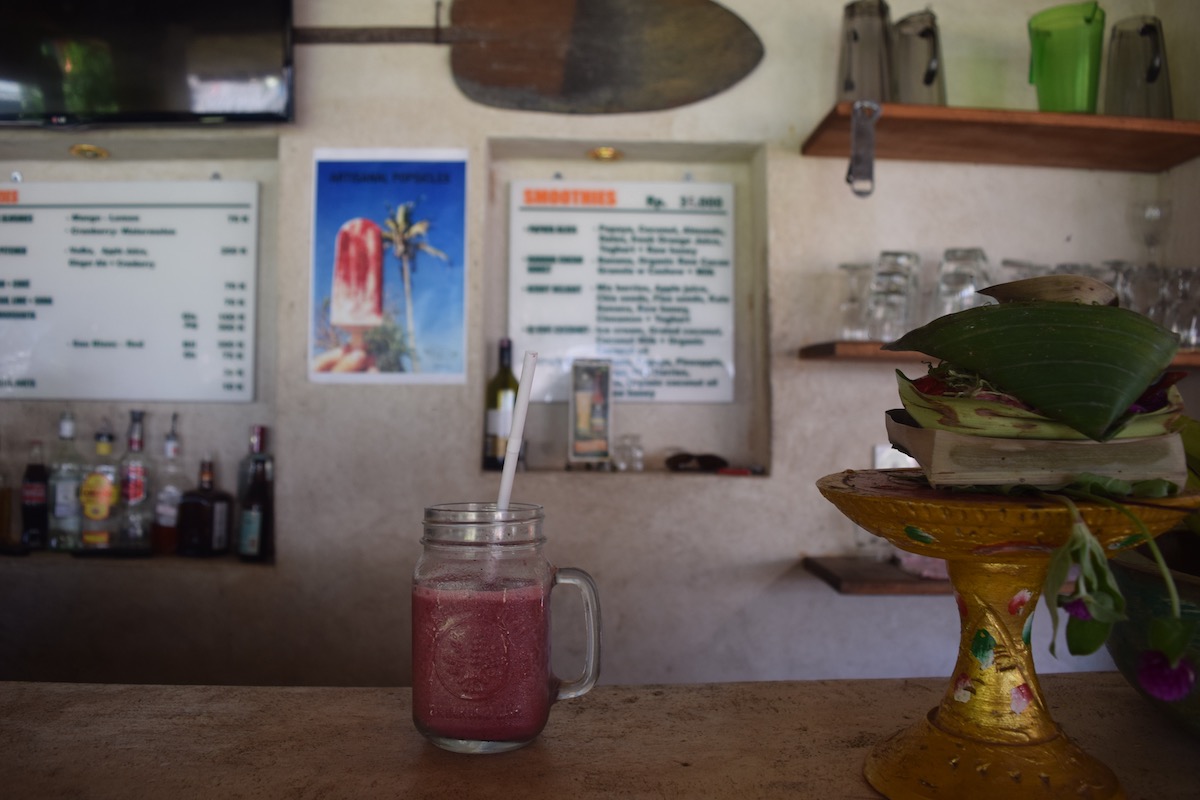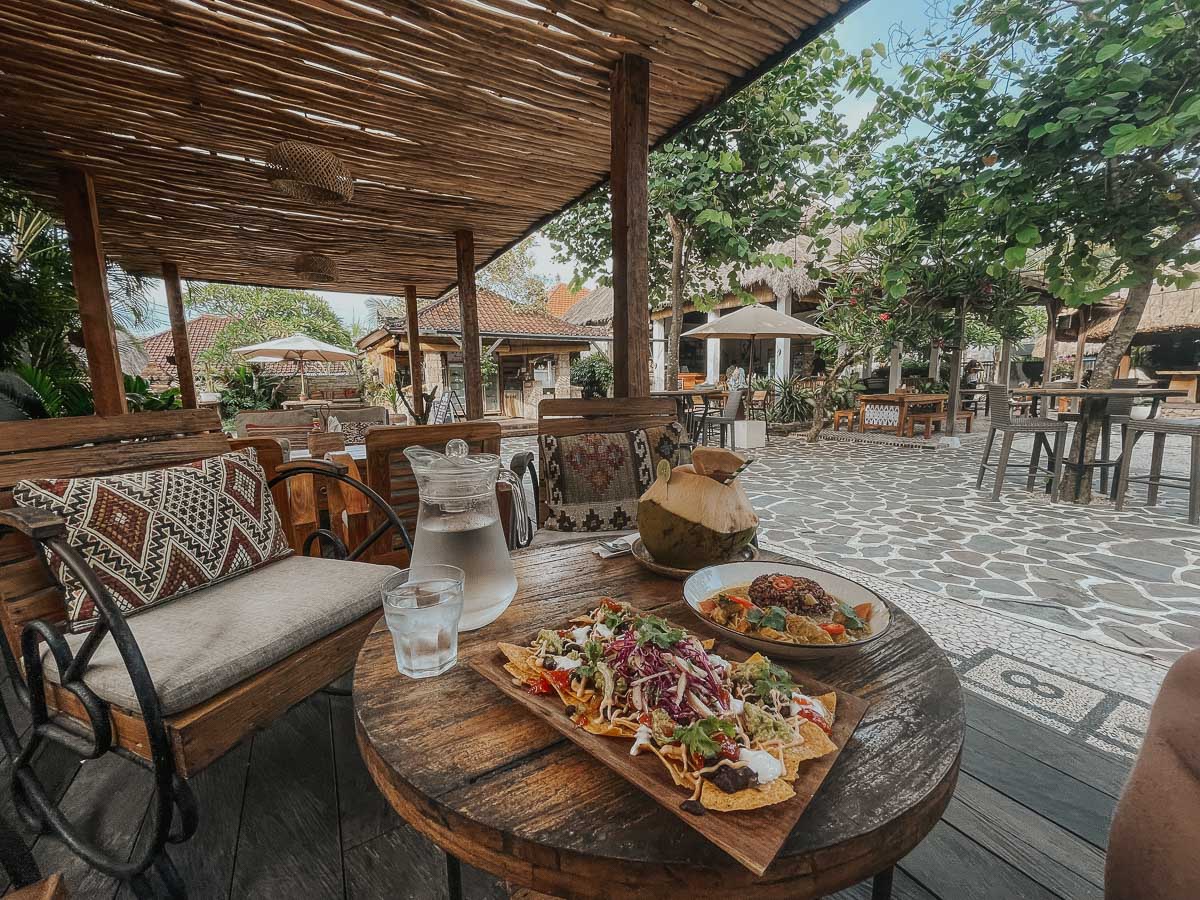 ---
5) Infinity Pool Sunset Bliss at Mu Bungalows
During my first trip down to Uluwatu – I was lucky enough to have friends tell me about this place.
The infinity pool will blow you away, there's a jacuzzi perfectly located to watch the sunset, and it's one of my favorite boutique hotels in Bali! 
Every time I take people to Uluwatu, I make sure I take them for an infinity pool sunset swim at Mu Resort!  It's also a really amazing options if you want a nicer / more luxurious stay in Uluwatu. 
Review Rates & Read Reviews:  TripAdvisor | Booking.com |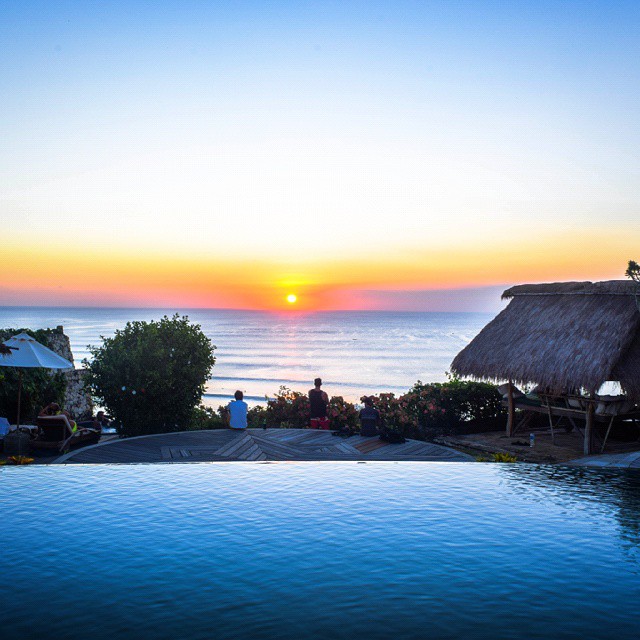 ---
6) Sunday's Beach Club
2022 Update: After two years of being closed, Sunday's Beach Club is finally back open! 
I was fortunate enough to spend a day at Sunday's Beach Club during my first trip to Bali, and it completely blew my mind!
Yes, it is a bit expensive for Indonesian standards, but it's worth every penny.  The beach is amazing, the food is incredible, and it's simply a fantastic way to spend a day.  There are dozens of incredible resorts and hotels nearby, there's also a decent happy hour selection, and nighttime bonfires.
There is an entrance fee, but that goes towards your food and drink. 
Read Reviews & Check Availability:  TripAdvisor | Booking.com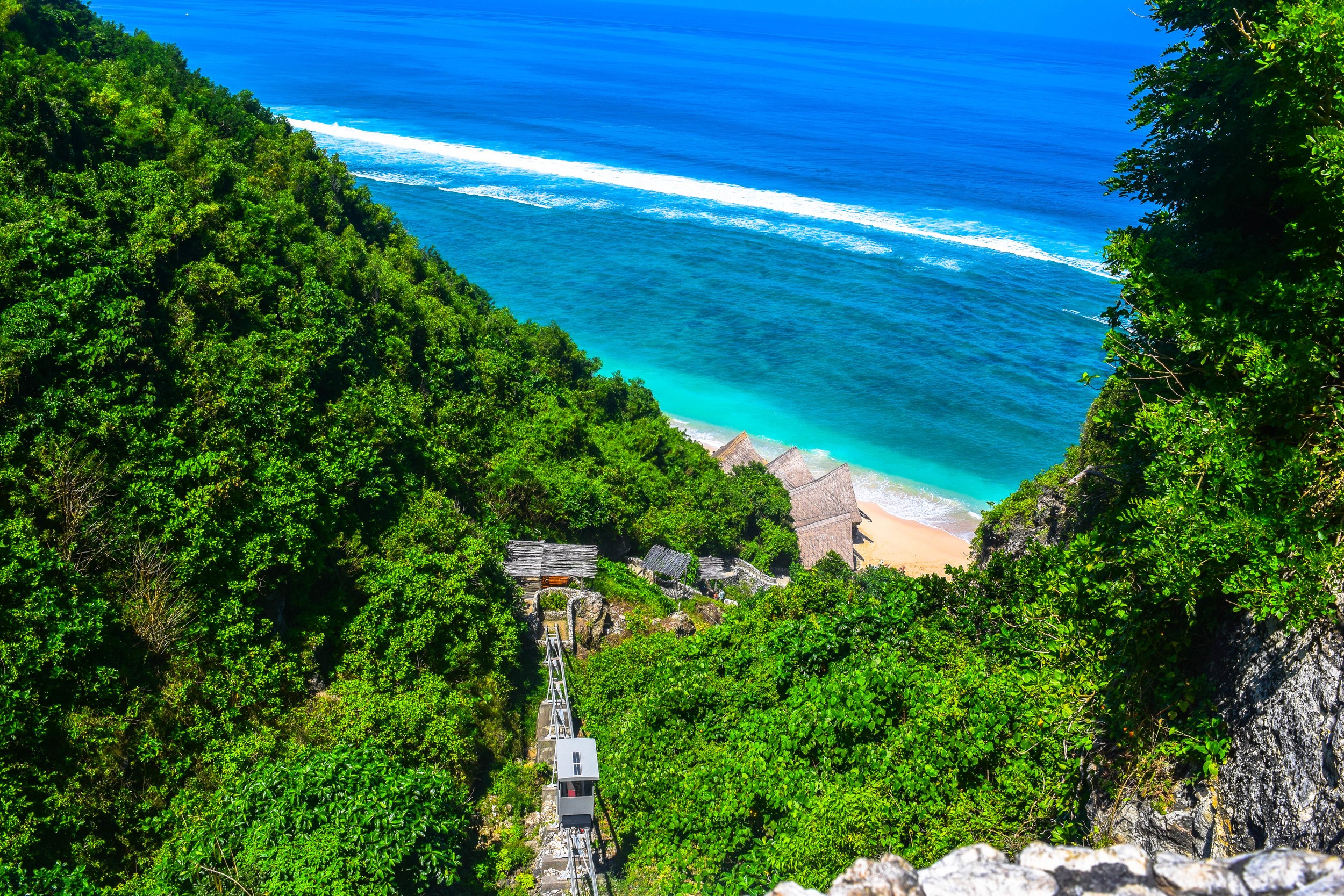 ---
7) The Edge in Bali
If you've been on Instagram in the last five years, chances are you've seen this famous Bali hotspot! 
Known for it's infinity pool alongside the cliffs of Uluwatu, The Edge in Bali is a hotel/resort, but guests can also come and experience the pool on a day pass as well. While there is an entrance fee (that goes towards the purchase of food) and prices are quite expensive, it's worth every penny to swim in the pool and admire the epic Uluwatu coastline views.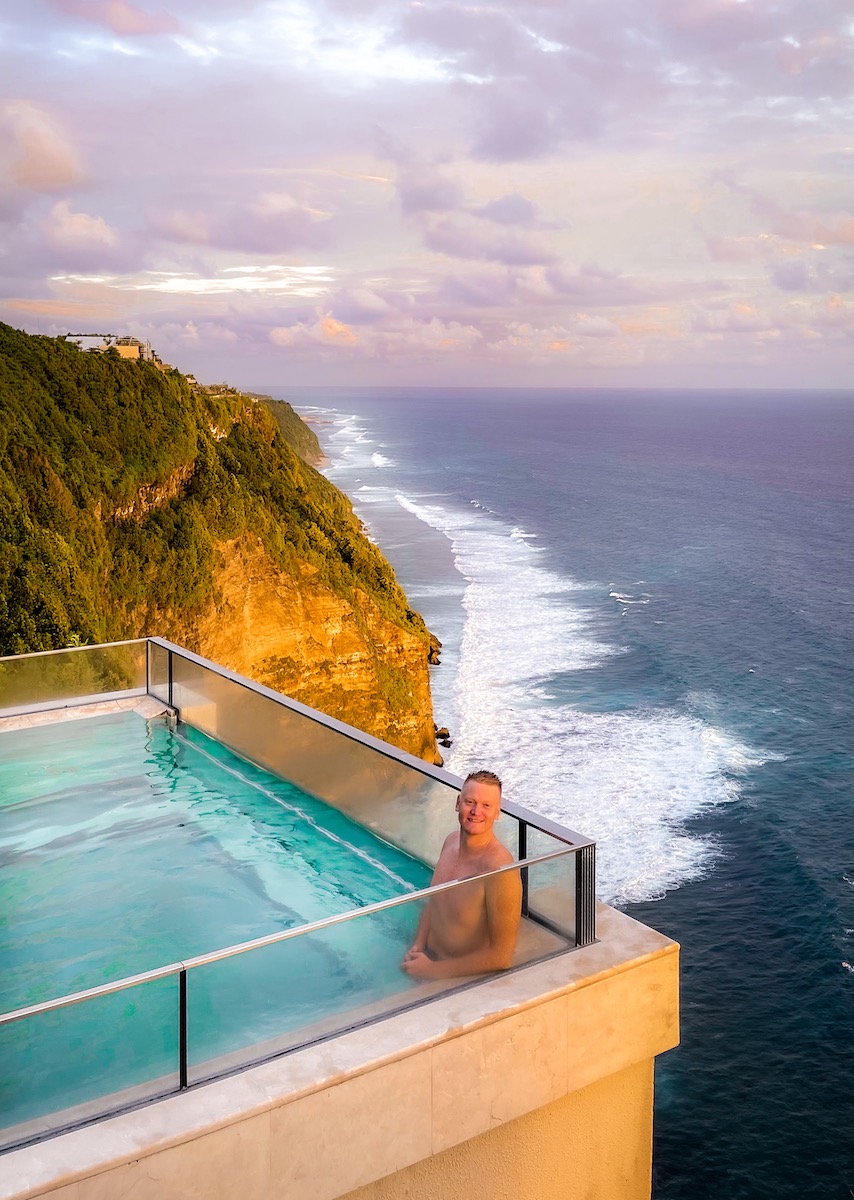 ---
8) Savaya Bali
While there are tons of places to enjoy some nightlife in Uluwatu (and Bali), I'd argue that Savaya is the most beautiful and EPIC club on the entire island. When the biggest DJ's and artists from around the world come here, THIS is where they play. 
It has everything you look for in a club – epic views, sunsets, lights, production, swimming pools, bottle service, tasty food, drinks, and so much more. Check out their parties on the weekends for an incredible experience.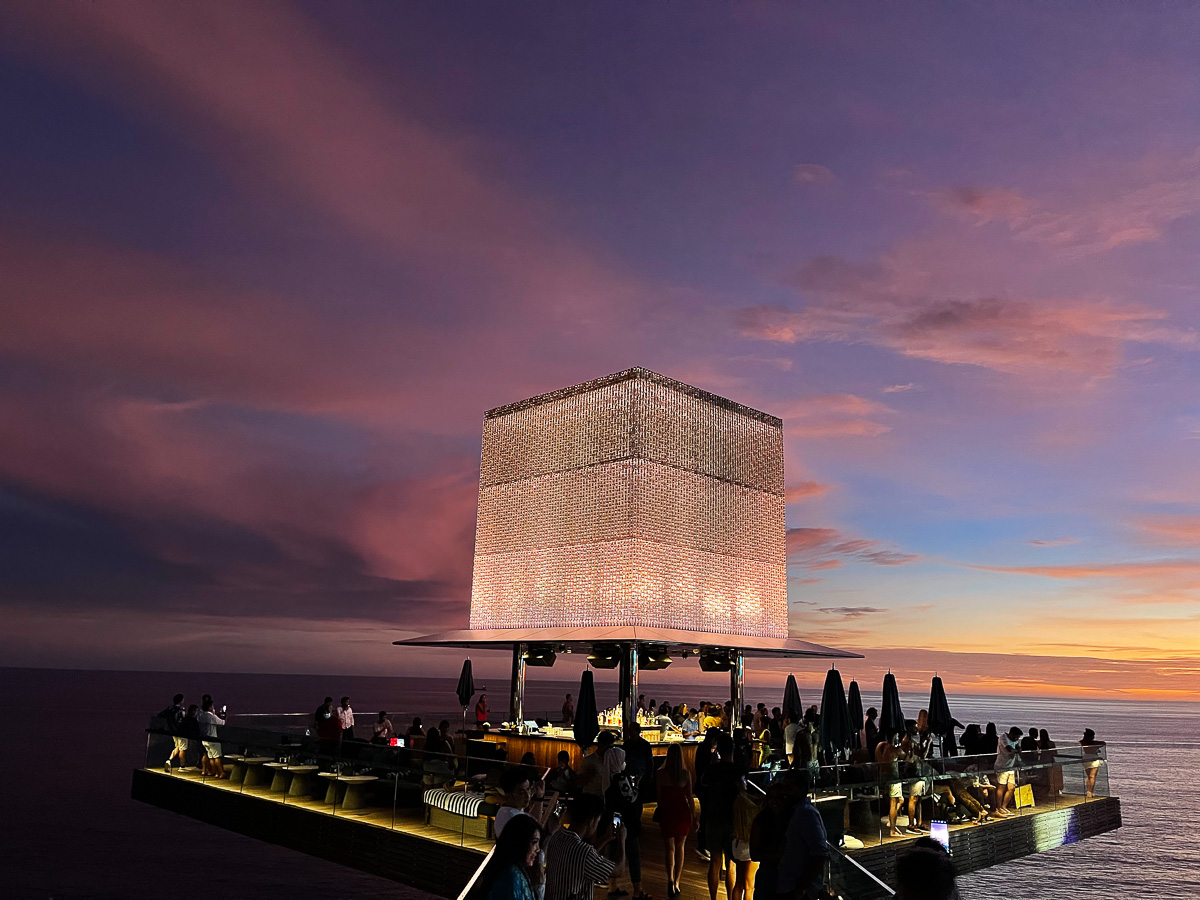 ---
9) Saturday Night Party at Padang Padang Beach
Padang Padang Beach is one of Uluwatu's most beautiful and iconic beaches, but it's also home to one of the best parties on the whole island!  Bali is one of the best party islands in Southeast-Asia, and you definitely need to check out the weekly event at Padang Padang every Saturday night!
While it wasn't happening when I was living there recently, events are starting to pop back up again!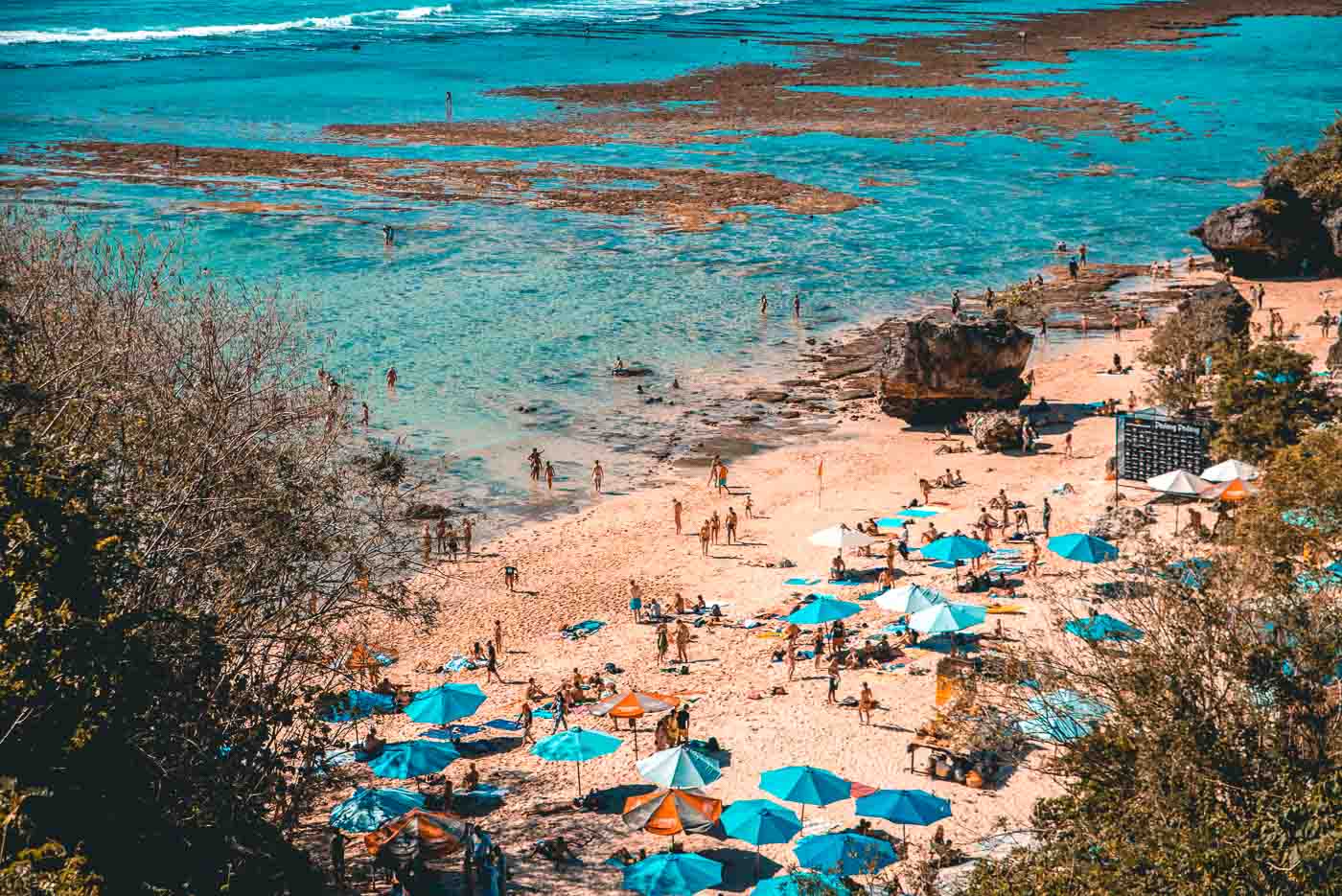 ---
10) Rent a Moto & Explore All The Uluwatu Beaches
Whether you're backpacking through Bali or enjoying a stay at some of the best luxury resorts in Uluwatu, the best part of your stay should be the gorgeous beaches. Each and every one of them is picture-perfect and should be added to your Bali Instagram checklist.
While some of them are great for swimming, others provide the perfect waves for surfing. But all of them can offer a fantastic beach day with stunning scenery and crystal clear waters.
And having your own moto to is pretty much essential when visiting Uluwatu (or else you'll be spending a ton of money on taxis/ Gojeks) and wasting a bunch of time. Uluwatu is a fantastic place to learn how to ride a moto though, and renting one should only cost about $5-6 USD per day. 
The Best Beaches in Uluwatu include:
Suluban Beach
Tegal Wangi Beach
Padang Padang Beach
Bingin Beach
Dreamland Beach
Nyang Nyang Beach
Nunggalan Beach
Melasti Beach
Green Bowl Beach
Pandawa Beach
All of these are fantastic beaches and worth a visit! If you don't have your a moto, what you could do is hire a driver for the day (which is super affordable in Bali), and you could do a full day of beach hopping. All of these are within a 15-20 minute drive max from the main area of Uluwatu. 
Travel Advice | PLEASE make sure you have proper travel insurance coverage if you rent a moto and drive around Bali.  Unfortunately, accidents do happen (especially when people drink & drive), and you want to make sure you are covered if something happens.
I personally suggest HeyMondo due to their extensive range of cover for all situations and trip lengths, their fair pricing, and their handy app which allows you to not only manage any claims within the app, but also access free assistance online so you don't need to rack up an expensive phone bill while abroad!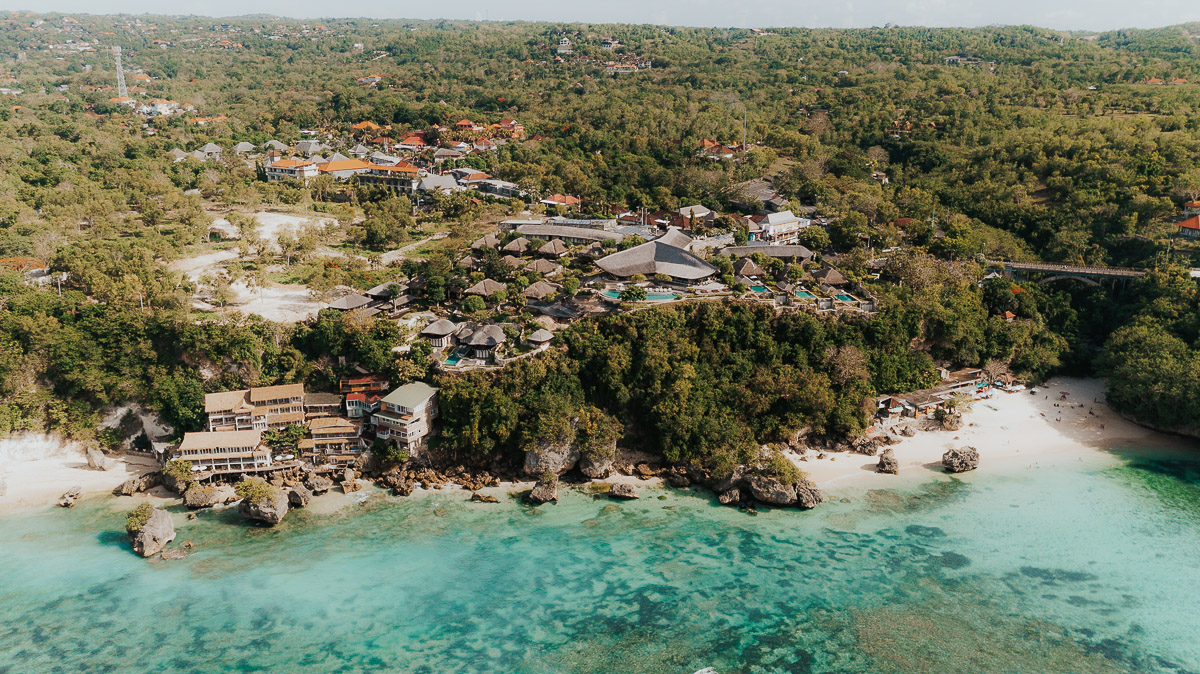 ---
11) Visit Uluwatu Temple
Exploring this Balinese Hindu sea temple is one of the most amazing Uluwatu things to do. It's built on the edge of a 230-foot sea cliff, providing tremendous views from the temple. Most of the temple was constructed by Empu Kuturan during the 11th century, so you can be sure there's plenty of history to learn about.
Don't be surprised by the number of Macaque monkeys that inhabit not only the cliffs but the temple itself. It's best to leave all your jewelry at home as these monkeys have a knack for thievery. The monkeys have also learned the skill of bartering, so if your jewelry does happen to get pinched, offering them some fruit may earn you your belongings back.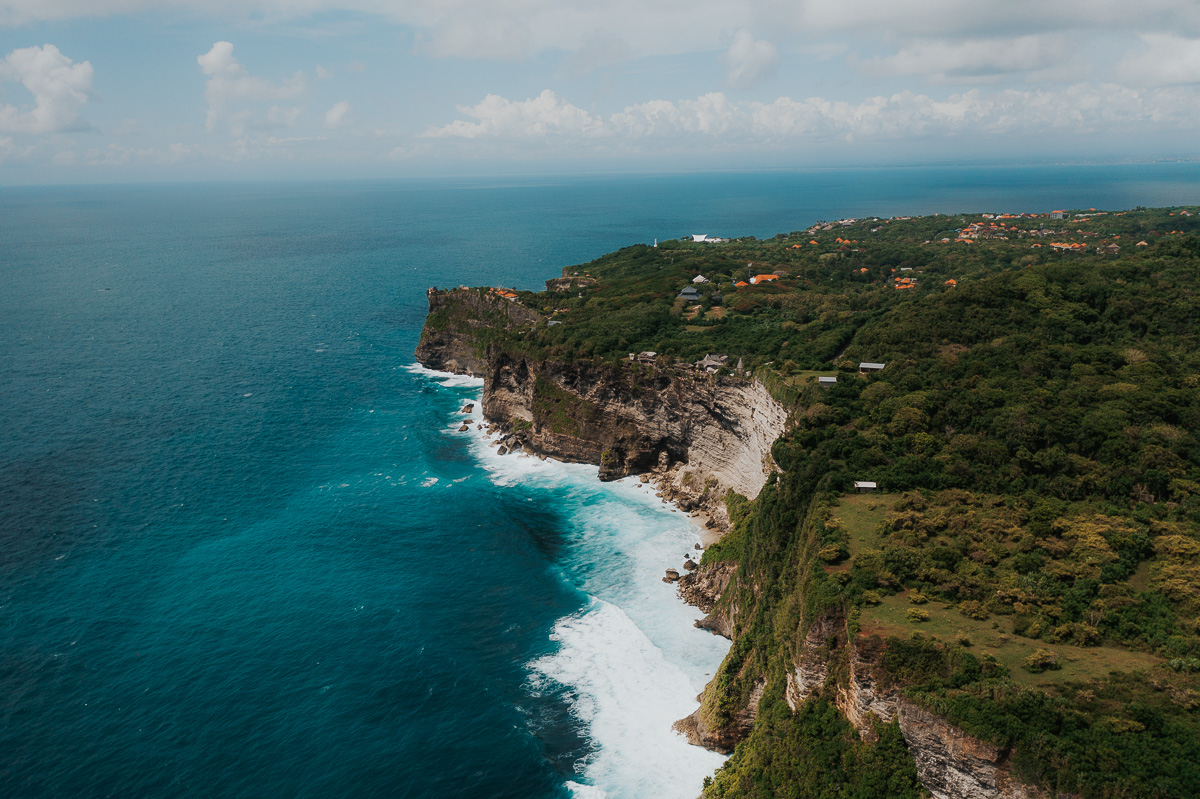 If you stay on into the evening you'll get the chance to witness the traditional Kecak Fire Dance. It involves dancing, chanting, elaborate costumes and loads of excitement. All this takes place in the temple while the setting sun acts as a beautiful backdrop. It's a cultural experience in Uluwatu not worth missing out on.
You could also book this tour if you're looking to do Uluwatu as a day-trip from other parts of Bali
Bali Sunset: Uluwatu Temple, Kecak Dance and Jimbaran Bay: "Watch the sunset over the Indian Ocean during an awe-inspiring evening on the southern tip of Bali. Attend a traditional "kecak" dance performance at Uluwatu Temple, perched on the cliffs above the sea. Savor an optional seafood dinner at Jimbaran Bay."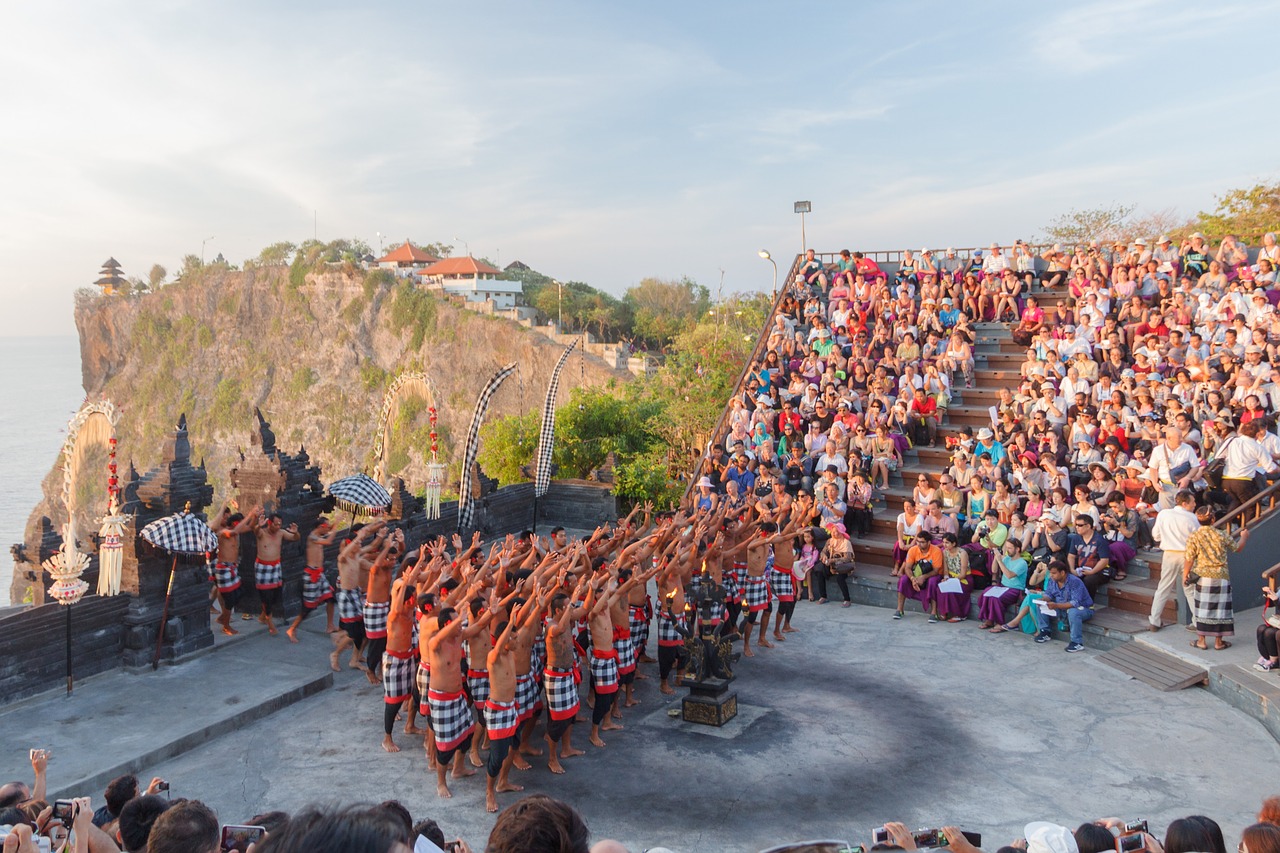 ---
12) Ulu Cliffhouse 
Ulu Cliffhouse is a relatively new beach club located on the edge of a cliff overlooking the ocean, and it's simply an Uluwatu must visit! 
They have a pool with plenty of loungers, so prepare to feel pampered in this stunning location. Order cocktails while you relax by the pool, or head down to the private beach at the end of a narrow pathway.
The views from Ulu Cliffhouse are unrivaled and provide some wonderful photo opportunities. This is one of the Uluwatu attractions that you'll want to document for 'the Gram'.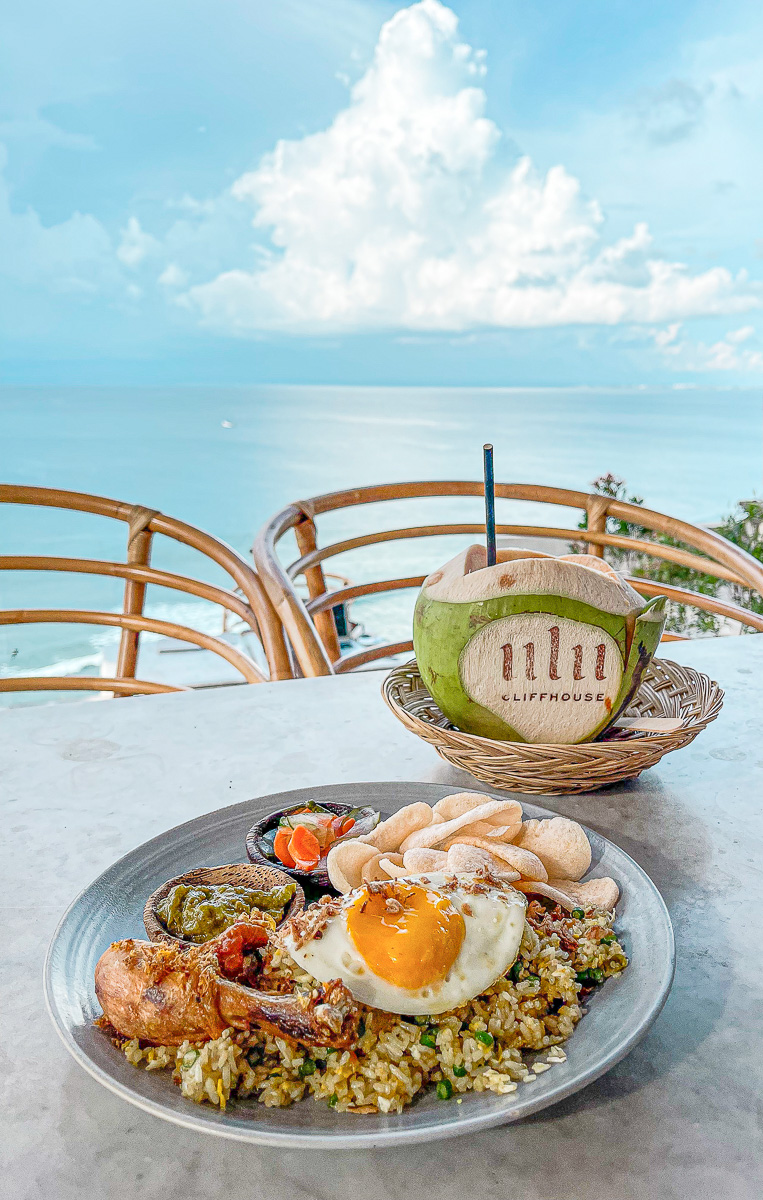 ---
13) Tuesday Cinema Night at Ulu Cliffhouse 
One of my favorite things to to do in Uluwatu is watching a movie every Tuesday night! They transform the chic beach club into a movie theater and offer the same menu for dinner and drinks. 
It's my new favorite way to watch a movie, and I went at least 5 or 6 different times when I was living in Uluwatu. Movies start around 7PM, but I'd recommend getting there a bit early to enjoy a fresh coconut or bintang and watch the sunset.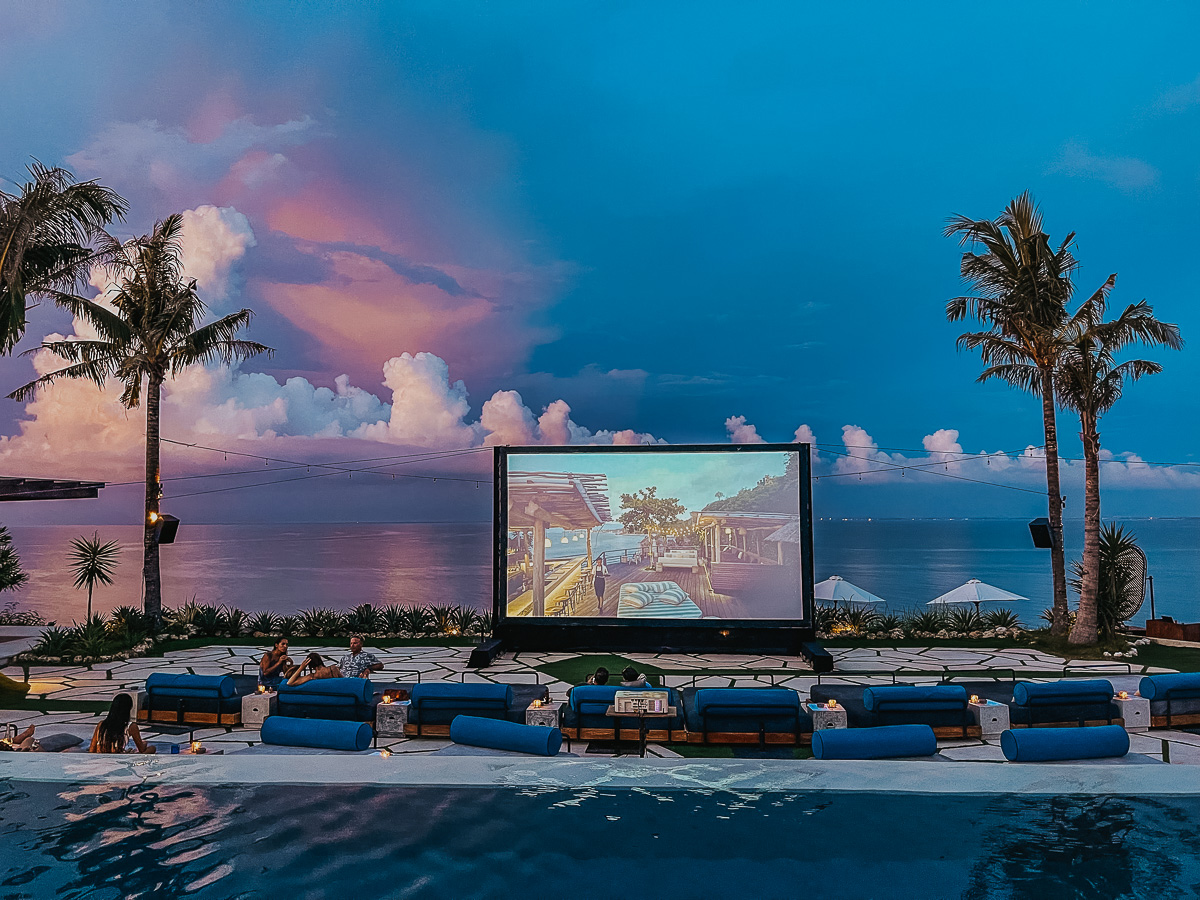 ---
14) Enjoy Panoramic Views at Balangan Viewpoint 
Just to the right of Balangan Beach, you'll find the stunning Balangan viewpoint, situated on top of a cliff. It's easy to get to and provides panoramic views of the beach, ocean, and coastline.
It's a beautiful place to take photos, but be warned that in the evening just before sunset the viewing point does get rather crowded. For this reason, it may be best to visit in the afternoon. After taking in the wonderful sights, head to the beach for a light meal at one of the beachfront restaurants.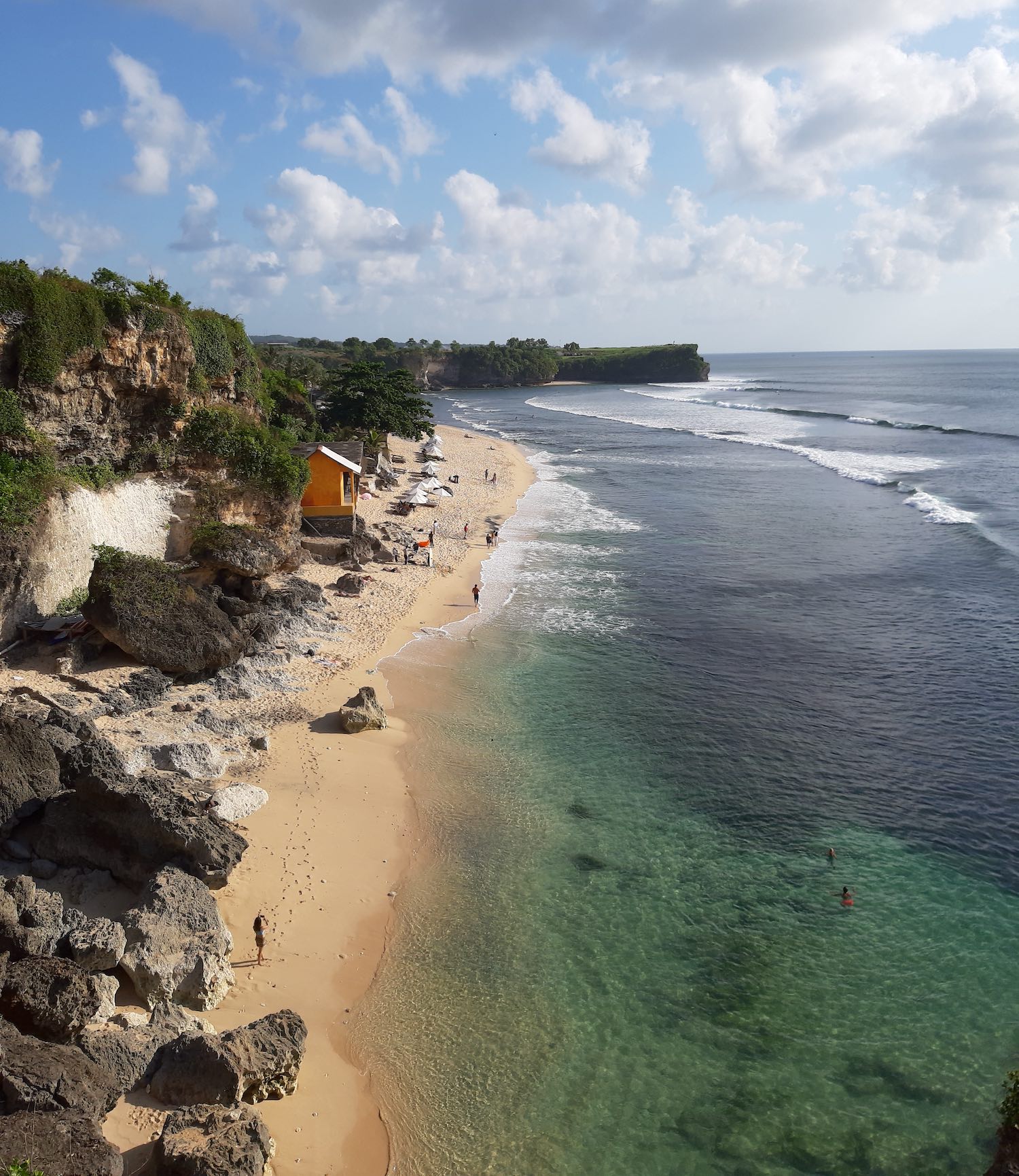 ---
15) Explore The Cave at Pantai Tegal Wangi 
The cliffs at Pantai Tegal Wangi are a popular sunset location. But breaking free from the crowds is often the best option. Take the small staircase down to the secluded beach and explore the small rock pools that line the shore.
There's also a cave on the beach which provides some great photo opportunities. Just be sure to check the tides before heading to the beach. It's important to visit at low tide as the beach becomes very small during high tide which can become dangerous.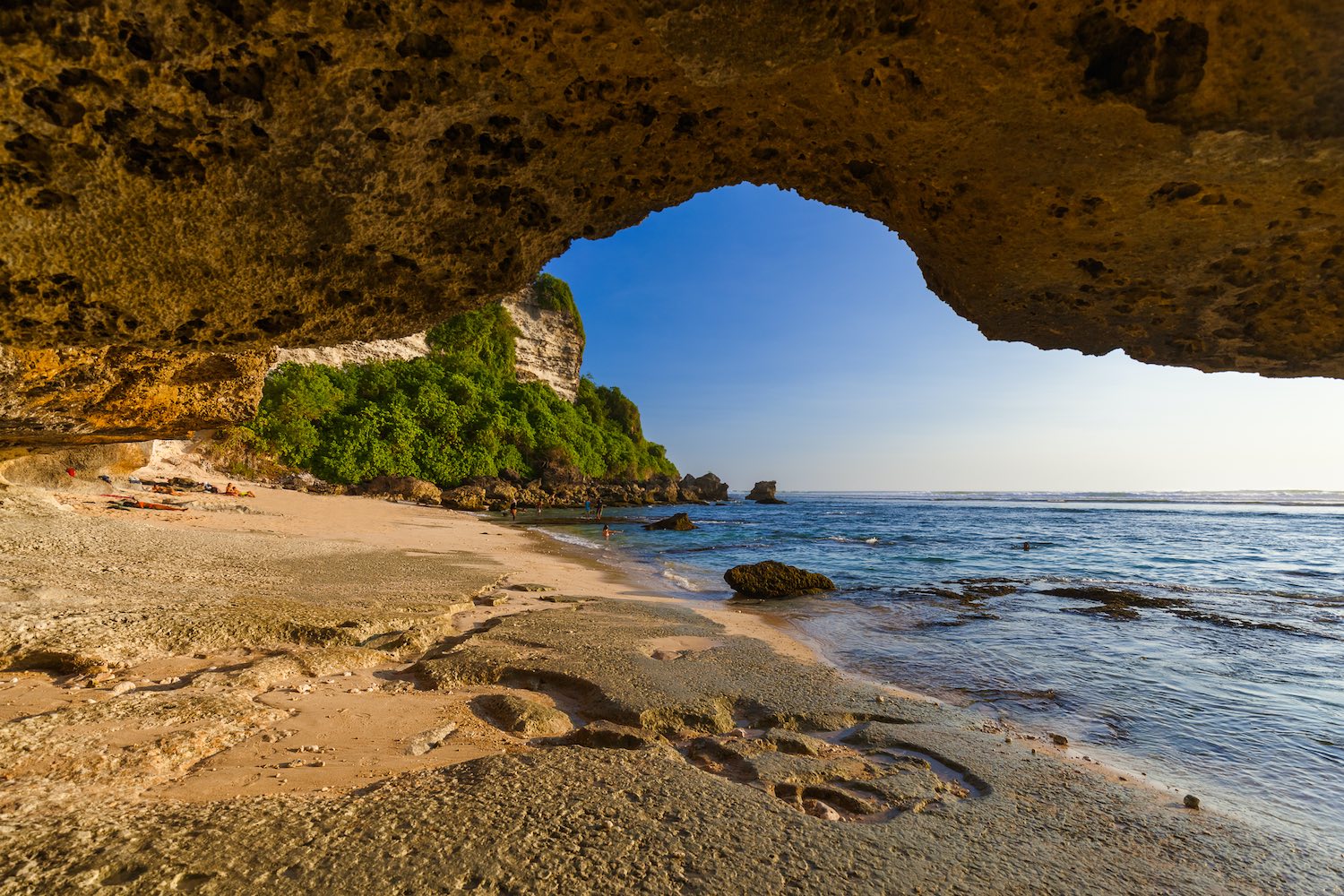 ---
16) Uluwatu Surfing
Surfing is by far one of the best things to do in Uluwatu! The locals have found some amazing spots, so whether you're an avid surfer, or just starting out, there's a surf spot suitable for you.
Padang Padang is one of the more popular surf spots in the area. The best part is it's suitable for both advanced surfers and wave seekers that are just beginning their surfing journey. The two breaks make this possible. If you've got a lot of experience under your belt, head to the famous left break and ride the barrels. If you're just starting out, surf the gentle beach break to the right.
Suluban, Bingin, and Dreamland Beach are other locations ideal for expert surfers. They're also wonderful locations to watch some pro surfing. So, if the waves are calling you, be sure to add surfing to your Uluwatu itinerary.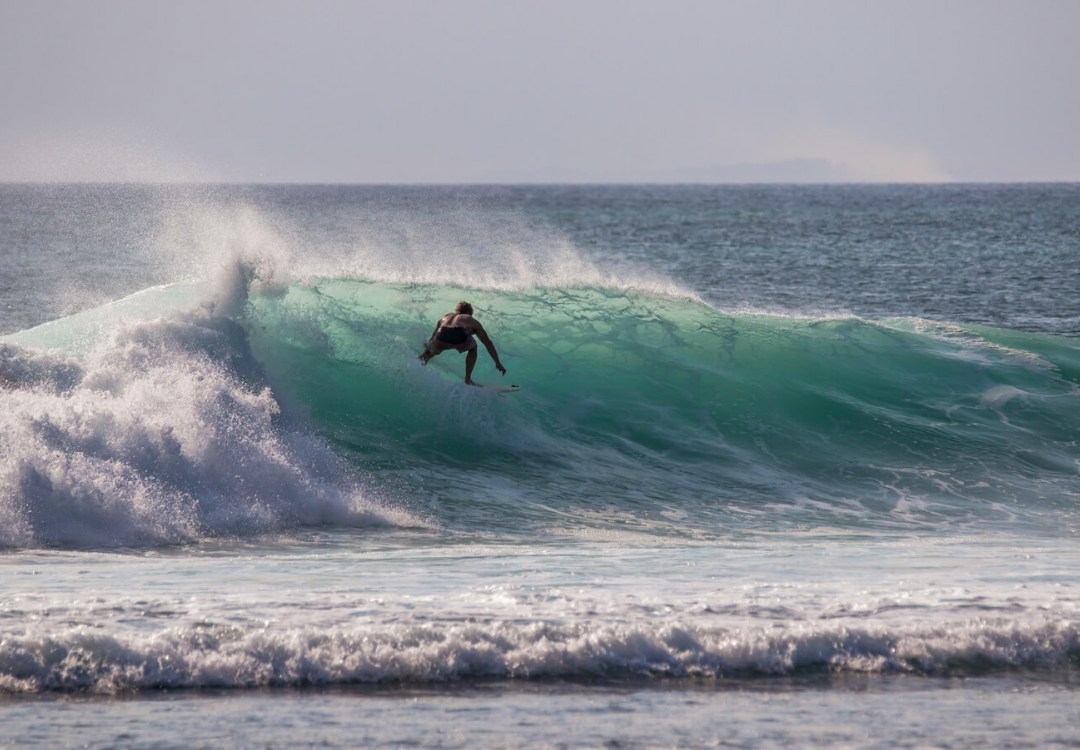 ---
17) Bali Paragliding 
For those adrenaline junkies looking to take to the sky, there are daily paragliding flights that take off from the cliff that overlooks Nyang Nyang Beach! I haven't personally gotten the chance to do this yet, but I've seen paragliders and it looks incredible! 
Make sure you're wearing closed shoes, as the company won't let you fly in slip-slops. It's also a great idea to bring a Go-Pro if you have one as you'll want to preserve these memories for as long as possible.
It costs around $100 USD for a 30-minute tandem flight – Contact the people at Bali Paraglide Tours for reservations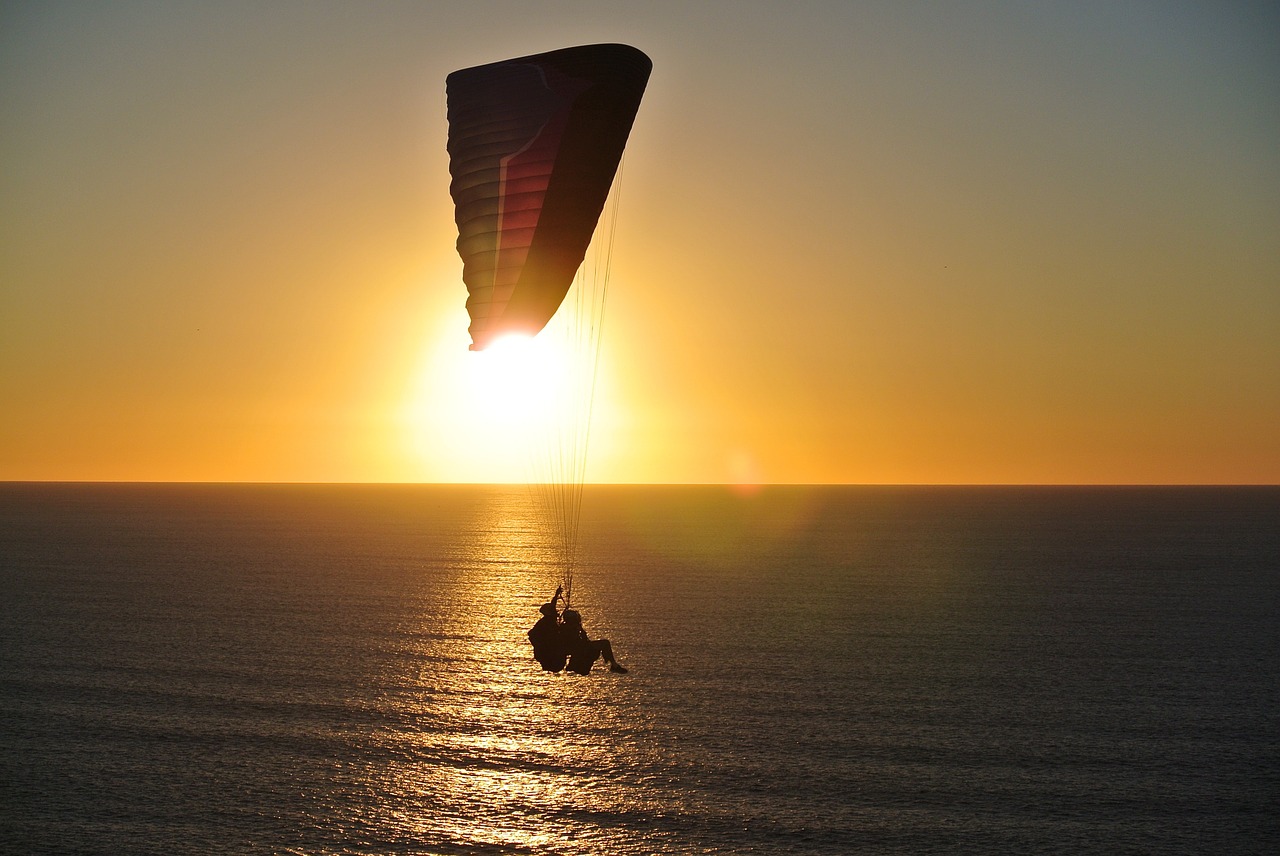 ---
18) GWK Cultural Park 
Garuda Wisnu Kencana Cultural Park is an impressive 240 hectares and features some incredible works of art. The main attraction at this cultural complex is a 492-foot statue of Vishnu, as well as one of the mythical bird Garuda. 
Apart from strolling the grounds and admiring the statues, you can also visit the on-site reflexology center, the souvenir store, and the theater. Often you'll be able to catch a performance by traditional dancers – this always takes place by the big statue of Vishnu. 
I've actually been fortunate enough to attend a music festival here, and it's such an awesome place to visit in Uluwatu! Just be sure to bring plenty of water, as you'll get tired exploring in the Bali humidity.
---
19) Treat Yourself to a Spa Day 
Beauty treatments in Bali are extremely cheap, and Uluwatu is no exception. It's not uncommon that you end up paying one-eighth of the price you would pay in the USA. You'll find nail bars, massage parlors, reflexology centers, and hair salons scattered all over Uluwatu. So, why not spend a day making the absolute most of them.
Taking some time off will allow you to recalibrate after all the exploring you'll be doing. This is one of the top things to do in Uluwatu for those wanting to relax.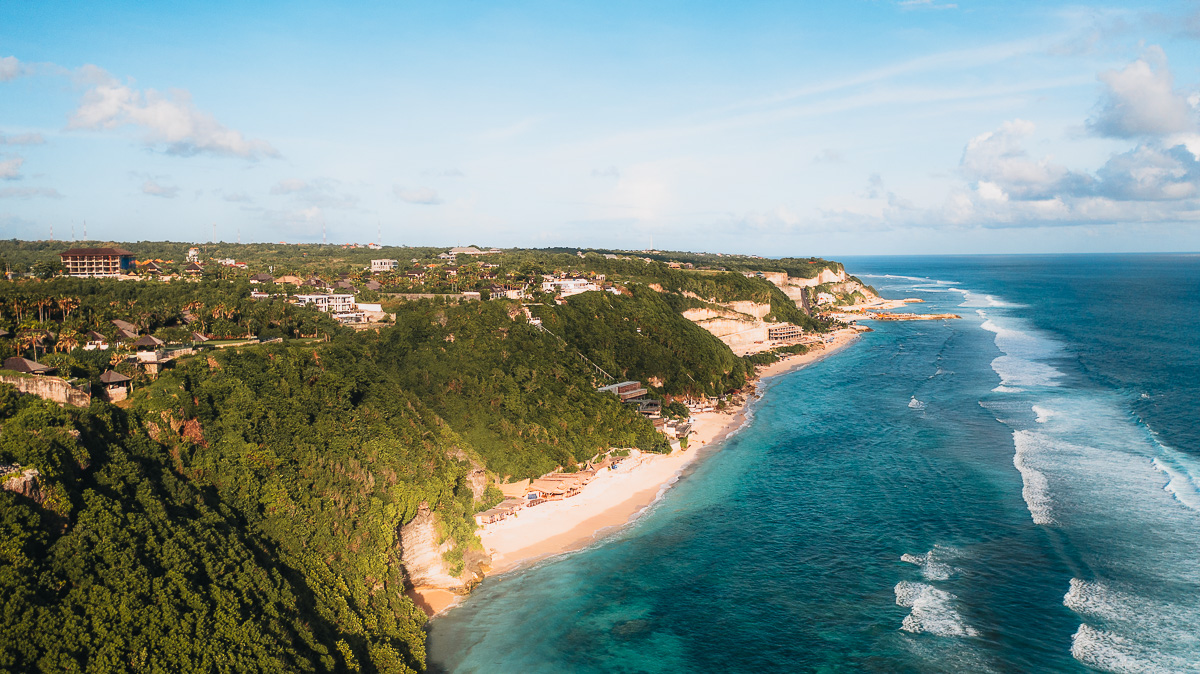 ---
20) Karang Boma Cliff 
Karang Boma Cliff offers spectacular views, similar to those at the viewing point near Uluwatu Temple but with far fewer people crowding the area. The viewing point is located between Uluwatu Temple and Nyang Nyang Beach – the turnoff is marked by a laminated sign. 
There are a couple of locals that have set up a toll gate of sorts to make money off the tourists. They don't charge much to get through but if you'd like to skip the informal payment make your way there earlier in the day. They only seem to set up shop in the afternoons when they know there'll be a fair amount of people wanting to visit. There is very little in the way of protection toward the edge of the cliff, so be careful and don't venture too close to the edge.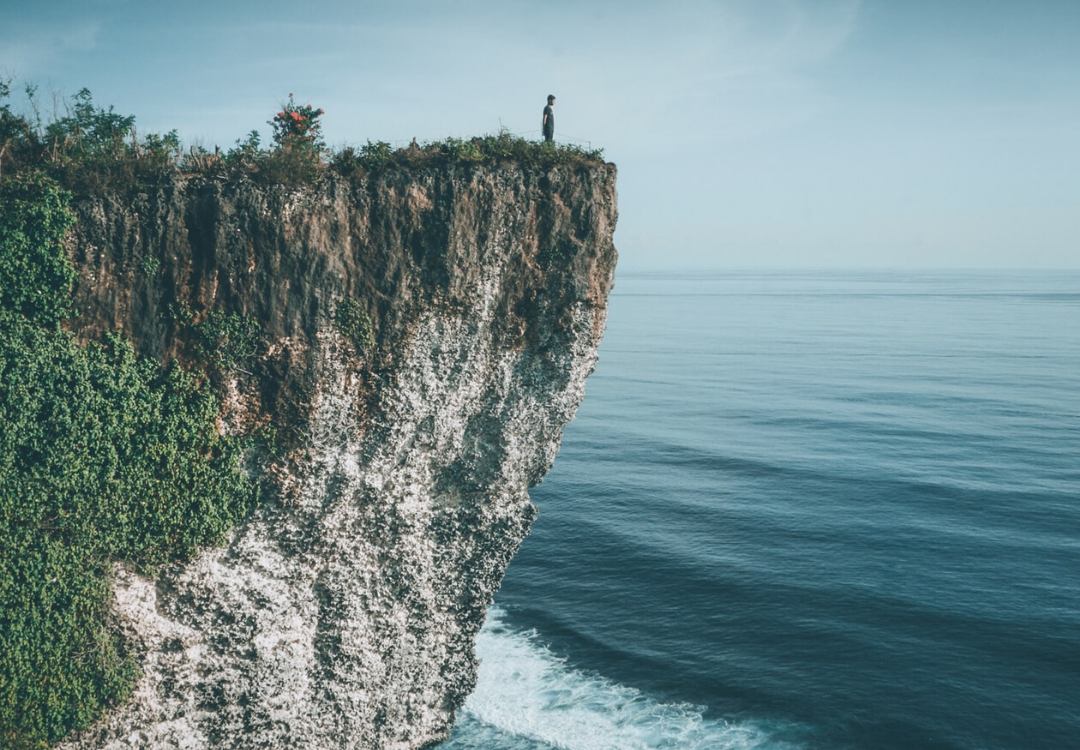 ---
21) Jimbaran Bay Beach Dinner
Not exactly in Uluwatu, but having dinner and watching the sunset go down in Jimbaran is an absolute must for all visitors to Bali.  Complete with deliciously fresh seafood, candle-lit ambiance, and cold bintangs…it's a perfect way to spend an evening.
Read all about the Best 10 Restaurants at Jimbaran Bay, and don't miss out on a gorgeous sunset dining experience.  I've tried a few of the restaurants on the list, and every one of them was incredible!  Oh, how I miss the food in Indonesia!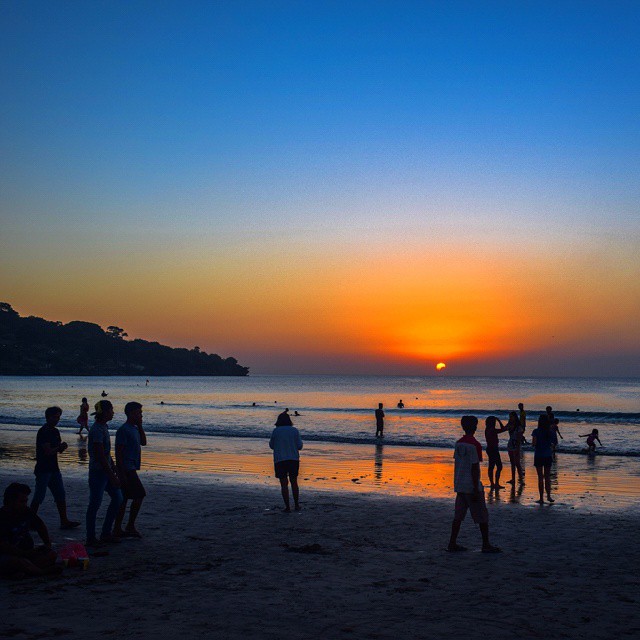 ---
22) Travel Photoshoot
Uluwatu is undoubtedly one of the most beautiful places in Bali, so where better to hire a photographer and document the most picturesque moments of your vacation or honeymoon.
There are many photographers all over Uluwatu, so sourcing one is never difficult. They'll be able to take you to the most stunning locations in the area. As well as having a photographer, they'll act as a guide to hidden locations you wouldn't have otherwise have discovered.
You'll end up with a stunning collection of photographs to remember your trip by, and have an awesome time creating those memories. Set aside at least one day of your trip to go on a photo mission. If one of your fellow travel companions knows what they're doing with a camera, this can even become a free activity.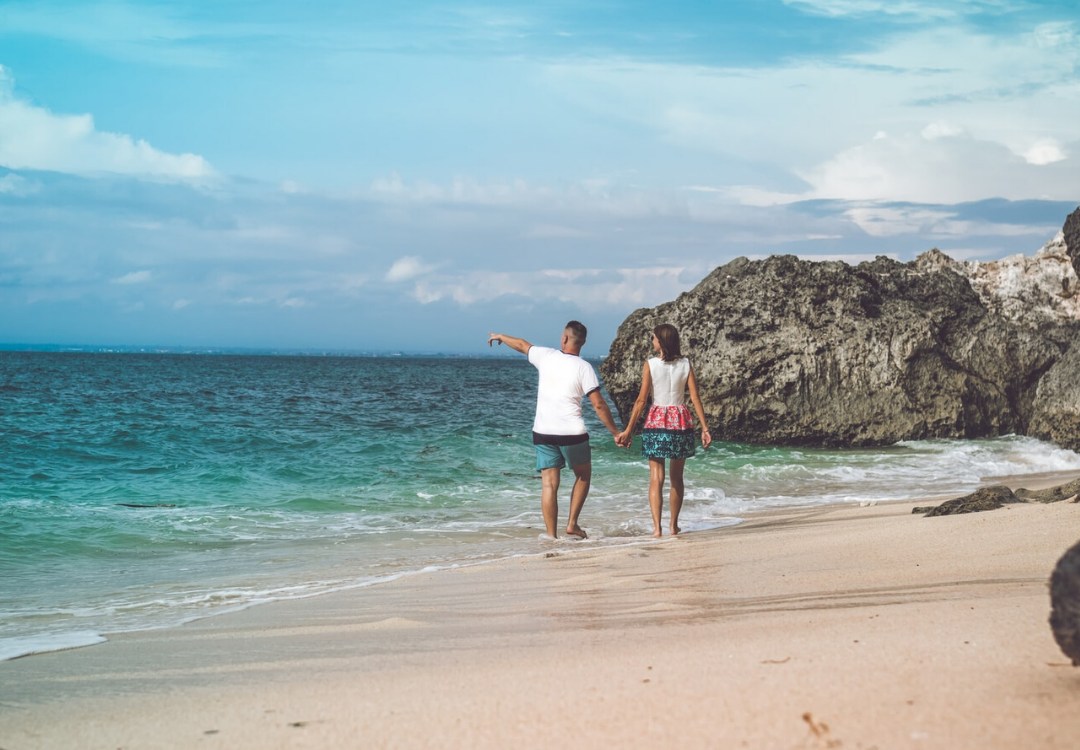 ---
23) Pre-Game / Afterparty at a Mart Party
Before and after the major club events, parties, and festivals down in Uluwatu – all the party-goers head to one of the Mart's to have some drinks.  It might sound a bit funny, but these can be so fun and get pretty wild!  I brought my portable music player there several times, and had kick-ons for hours!
It's a younger/ backpacker crowd full of international travelers and surfers, and some nights can be hit/miss, but if you're there during a good mart party, you'll love it!
---
24) Relax in the Sea Jacuzzi Pools 
There are incredible natural 'jacuzzi' pools at Tegal Wangi Beach. It's not a very popular beach amongst the locals, so you'll often find it very quiet. Wedding photographers seem to be the only locals interested in this hidden gem.
It's a great place to relax on the beach during the day, and you'll have access to the 'jacuzzi' pools as soon as the tide is low enough. The sunset is also absolutely magnificent from this spot, like most other places in Uluwatu. But the privilege of being able to watch it without a crowd around you is a rare treat.
Spend the day lazing in these natural pools for a free spa-like experience. You'll also be able to take some unique photographs in the pools, especially if you have a waterproof camera to make use of.
---
25) Never Miss A Sunset
Last, but not certainly not least…I personally think that Uluwatu is simply best place in Bali to watch the sunset.  There are so many amazing viewpoints to choose from, but my favorites are Uluwatu temple, Uluwatu Beach, or Mu Resort.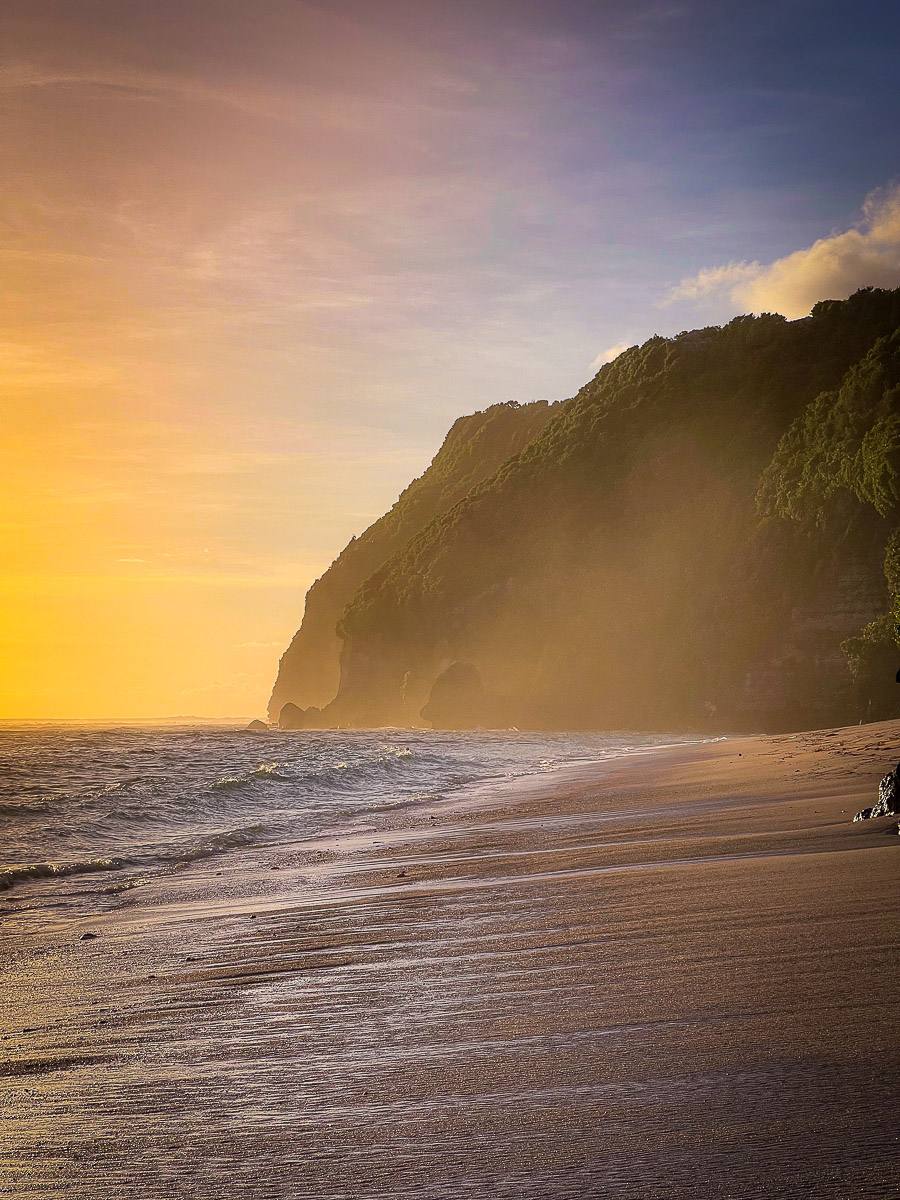 ---
Am I Missing Any Epic Things To Do in Uluwatu…?
I revisited Uluwatu in January 2019, but unfortunately I only had a couple days down there as I was attending a music festival!  I'm sure there are so many more epic things to do in Uluwatu that are on this list, and would love to keep this article updated with the best information!  So let me know if you think I need to add any awesome activities to this list!  
---
Planning a trip to Bali?
I've written lots of helpful articles about this beautiful island, so make sure you check them out before you get there!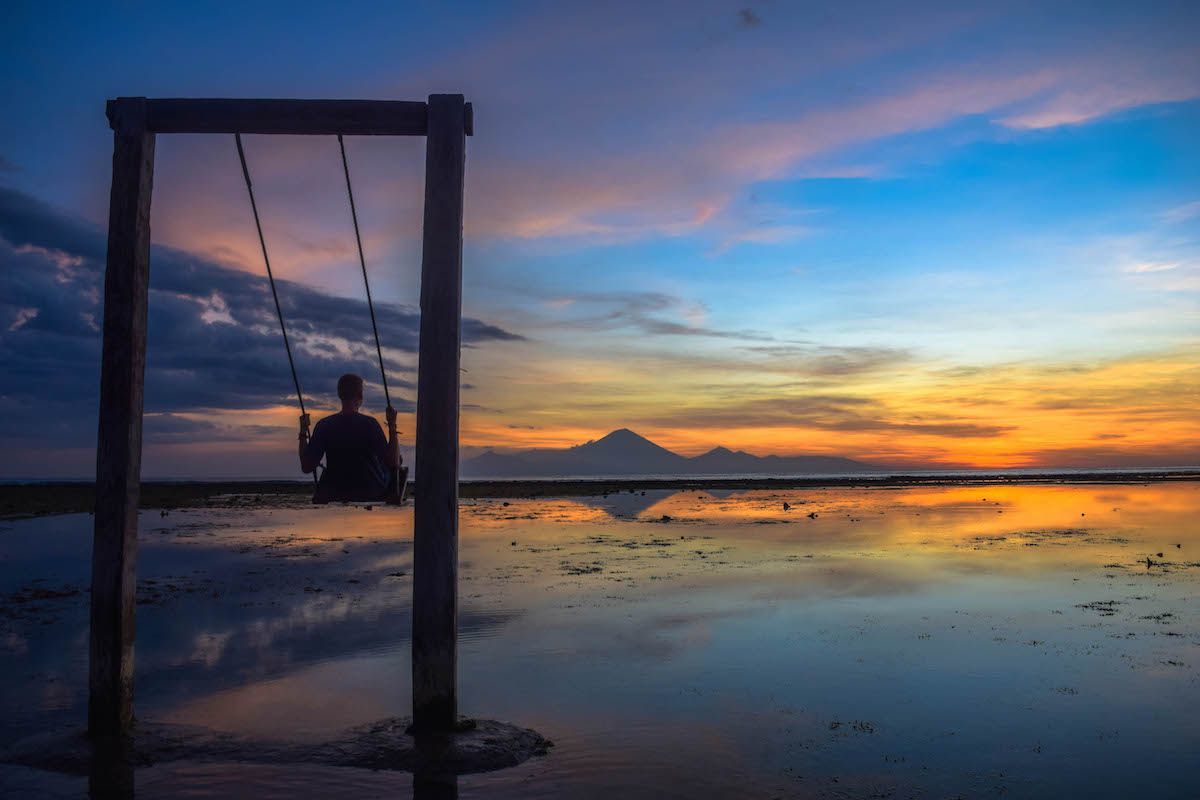 ---
Thanks for reading the best things to do in Uluwatu!
Share the Uluwatu Love with your Bali Travel crew!
Pin me for later…