Are you trying to find great activities and attractions in Steel City? Our guide to the best things to do in Pittsburgh is all you need to plan the perfect trip!
Widely known as "the Steel City," Pittsburgh, Pennsylvania, is not only home to over 300 steel-related businesses, but it is also home to the Pittsburgh Steelers, the World Champion major-league professional American Football team. 
And that's not the only sports team either! Pittsburgh is also the home of two other World Champion major-league professional teams – the Pittsburgh Penguins hockey team and the Pittsburgh Pirates baseball team. So it's no surprise the city is a popular spot for sports lovers and athletes.
Pittsburgh is also known as the "City of Bridges." With 446 bridges and counting, Pittsburgh is filled with skyscrapers, two inclined railways, a confluence of three rivers and historical significance. 
Travelers come from all over the world to explore the arts, culture, history, and attractions of this encapsulating city that many call home as one of the top most livable cities in the United States. 
And you can experience what Pittsburgh has to offer as a travel destination and city through each listed top things to do in Pittsburgh. So pack your bags and make room for plenty of photos on your phone. It's traveling time! 
Don't forget to check out our list of the best things to do in Philadelphia!
The Best Things to Do in Pittsburgh, Pennsylvania
We're here to help you figure out what to do in Pittsburgh, Pennsylvania. This list combines only the most fun things to do, including riding a historic cable car up to a lookout over the city, exploring Market Street and downtown, catching a sports game, and more. 
1) Soar To Distant Galaxies At The Carnegie Science Center
Boasting the 2003 National Award for Museum Service, the Carnegie Science Center is committed to connecting science and technology with everyday life while providing educational and scientific experiences. 
With four floors of interactive exhibits, the science center promises to engage and surprise its visitors with an experience like no other. 
Visitors can work on a space station in SpacePlace, take a walking tour of western Pennsylvania's history on the world-famous Miniature Railroad & Village, soar to distant galaxies in Buhl Planetarium, and much more!
Address: 1 Allegheny Ave, Pittsburgh, PA 15212
Hours: 10am – 5pm, closed Tuesdays
Cost: $20
2) Go On An Adventure At The Pittsburgh Zoo & PPG Aquarium
One of only six major zoo and aquarium combos, the Pittsburgh Zoo & PPG Aquarium first opened its gates for the zoo in 1898 and the aquarium in 1967. 
At the time of the aquarium's opening, it stood as the second largest aquarium in the United States and the only public aquarium in Pennsylvania. 
With 77 acres of space dedicated to spreading educational and interactive fun, guests can explore the habitats of unique animals like polar bears, otters, Visayan warty pigs, siamangs, and clouded leopards. 
Take in over 8,000 animals and 600 species homed at this incredible zoo and aquarium that brings together land, sea, and sky!
Address: 7370 Baker St, Pittsburgh, PA 15206
Hours: 9:30am – 5:30pm daily
Cost: $19.95 during peak season (April 1 – Oct. 31) and $15.95 during off-season (Nov. 1 – March 31)
3) Take On Downtown Pittsburgh 
Bustling downtown Pittsburgh is full of the best local attractions with loads of aesthetic eateries and top-notch restaurants, walking and cycling trails, and nightclubs to live it up during your stay!
Locals and tourists come to explore all downtown Pittsburgh has to offer, including the Pittsburgh Cultural District. This district is home to bars, nightclubs, performing arts centers, public art displays, restaurants, and more. 
Be sure to check out the historic Market Square. As a historical landmark, Market Square is a popular gathering spot and is the beating heart of downtown. 
As the economic center of Pittsburgh, downtown hosts many fun things to do, including attractions like Point State Park, a 36-acre National Historic Landmark fondly known as the Golden Triangle, and the Allegheny County Courthouse and Jail, one of two of the oldest standing buildings in the city. 
From eating to partying and exploring to learning about the history, downtown has plenty of fruitful activity options. 
To learn more about Pittsburgh's history, join this guided tour to learn about the legacy of the city's industrial past, notorious billionaire residents, and enigmatic architecture. 
4) Embrace Pop Art At The Andy Warhol Museum 
Honing an extensive collection of art, archives, and artifacts from Pittsburgh-native pop art icon Andy Warhol, this museum is the largest museum in North America dedicated to an artist. 
As the place of Andy Warhol's birth, it's no wonder that the Andy Warhol Museum is committed to celebrating the major icon. 
Andy Warhol was one of the most prolific artists of his time and gained notoriety for his well-known paintings of Coca-Cola bottles and Campbell's soup cans. 
Warhol often utilized familiar images from consumer culture to inspire his work, resulting in one of his most famous pieces consisting of 32 canvases of different varieties of Campbell's soup cans. 
At this unique museum, visitors can learn about the life and art of Andy Warhol, along with the impact they had on contemporary culture. 
Address: 117 Sandusky St, Pittsburgh, PA 15212
Hours: 10am – 5pm (Closes at 10pm on Fridays, Closed Tuesdays)
Cost: $20
5) Step Back In Time At The Fort Pitt Museum 
Step back in time to discover Pennsylvania's pivotal role in the French and Indian War and the American Revolution at the Fort Pitt Museum. 
Using interactive exhibits, artifacts, and realistic-looking historical figures, the museum is committed to educating others on Pittsburgh's vital role in forming the United States. This is done through exhibits like the Pittsburgh, Virginia, exhibition dedicated to the events of 1774. 
As an outdoor and indoor museum, the Fort Pitt Museum is located in a recreated bastion of Fort Pitt, which was built in 1758 and played a critical role in the French and Indian War. 
Head over to this museum to learn more about the roles Fort Pitt played during the Whiskey Rebellion, the American Revolution, the French and Indian War and the founding of Pittsburgh. 
Address: Point State Park, 601 Commonwealth Pl, Pittsburgh, PA 15222
Hours: 10am – 5pm daily
Cost: $8
6) Discover 250 Years Of History At The Senator John Heinz History Center
The Senator John Heinz History Center stands proudly as a Smithsonian affiliate with six floors of historical exhibits, artifacts, and archives. Discover 250 years of history at Pennsylvania's largest history museum, spanning 370,000 square feet. 
Presenting compelling stories of American history and the ties Western Pennsylvania plays, the Senator John Heinz History Center offers an interactive environment that welcomes and inspires all ages. 
You can also check out the Western Pennsylvania Sports Museum and relive the iconic moments of famous athletes. 
This is another one of the most fun things to do in Pittsburgh, particularly for those who love history. 
Address: 1212 Smallman St, Pittsburgh, PA 15222
Hours: 10am – 5pm
Cost: $18
For more ideas in Pennsylvania, check out this 3 days in Philadelphia itinerary!
7) Travel Back To The Time Of Carriages At The Car And Carriage Museum 
At this unique museum, visitors can travel back in time to witness the ages of carriages and the transition to automobile usage for transportation. 
Established by the well-off Frick family, the Car And Carriage Museum preserves the Frick family possessions to educate people worldwide. The museum collection features some of the first automobiles, like the awe-inspiring Rolls-Royce Silver Ghost. This vehicle cost $4,800 in Frick's age and now runs at around $125,000 today.
The museum allows free access to the public so that everyone can inspect and admire these luxurious carriages and automobiles!
Address: 7227 Reynolds St, Pittsburgh, PA 15208
Hours: 11am – 5pm (Closed Mondays and Tuesdays)
Cost: Free
8) Survey Art At The Miller Institute For Contemporary Art Museum 
Dedicated to promoting transformative experiences through contemporary art exhibitions and conversation, the Miller Institute For Contemporary Art Museum obliges free admission to the public for an open and welcoming space of art, education, and creativity. 
Split between three floors, the museum offers a range of interactive and non-interactive collections through rotating exhibits. 
This explores the creativity of artists of diverse backgrounds, cultures, art styles, etc. So look for yourself at this top-notch art museum!
Address: Purnell Center for the Arts, 5000 Forbes Ave, Pittsburgh, PA 15213
Hours: 12pm – 6pm (Closed Mondays)
Cost: Free
9) Watch The Pittsburgh Pirates Play At PNC Park 
The fifth home of the Pittsburgh Pirates of Major League Baseball, PNC Park settles along the shore of the Allegheny River. This location promotes scenic riverfront and downtown views at a one-of-a-kind urban sports venue. 
Known as one of the best ballparks in America, this spot is also one of the smallest ballparks in professional baseball. Some may think this is disadvantageous, but it is the opposite. PNC Park was designed with an intimate setting, meaning that every seat at the ballpark is a good seat!
Grab a seat to watch the Pirates play at one of the top ballparks with guaranteed prime seating, a stimulating atmosphere, scenic views, and great food and drinks at the inclusive bars and restaurants.
Check the team website to see when games are and how much tickets cost. 
Address: 115 Federal St, Pittsburgh, PA 15212
10) Indulge Your Senses At The Phipps Conservatory & Botanical Gardens 
Listed on the National Register of Historic Places, the Phipps Conservatory and Botanical Gardens offers a world-class garden experience to all who enter its grounds. 
Running since 1893, the botanical gardens are one of many unique Pittsburgh attractions that are a worthwhile visit during a trip to the city. 
Stretching across 15 acres, the Phipps Conservatory and Botanical Gardens combine 23 distinct gardens, a 14-room glasshouse, exclusive exhibits, seasonal flower shows, and the Tropical Forest Conservatory and the Center for Sustainable Landscapes, standing as one of the greenest buildings on Earth. 
The Tropical Forest Conservatory and the Center for Sustainable Landscapes use 40% less energy than traditional glasshouses thanks to state-of-the-art and unconventional design to save energy. 
This stunning glasshouse is 12,000 square feet and filled with ethnobotanical displays, vibrant greenery, and cascading waterfalls that will impress you. 
Address: 1 Schenley Drive, Pittsburgh, PA 15213
Hours: 9:30am – 5pm (Closes at 10pm on Fridays)
Cost: $19.95
Read next: The Best Things To Do In Harpers Ferry, West Virginia
11) Satiate Your Curiosity At The Children's Museum Of Pittsburgh
The Children's Museum Of Pittsburgh is a full-on hands-on interactive children's museum, 80,000 square feet of fun!
With the mission to inspire creativity, curiosity, and kindness for all learners, the museum connects with artists, neighbors, and community partners to transform education. 
Named one of the country's top ten best children's museums by USA Today's 2022 10Best Readers' Choice awards, the Children's Museum Of Pittsburgh uses interactive exhibits and experiences to engage curious minds. 
Address: 10 Children's Way, Pittsburgh, PA 15212
Hours: 10am – 5pm daily
Cost: $18 for adults, $16 for kids
12) Satiate Your Appetites At The Strip District 
Join the locals at the Strip District, where culture and style meet in an eclectic neighborhood!
Likened to a Strip mall but with the lid off, the Strip District dates back to the early 1900s as a wholesale produce district. Now the district is famous for its low prices and unique selections.
Pittsburgh's local and tourist favorite is stocked full of produce stands, fish markets, meat markets, sidewalk vendors, ethnic grocers, bakeries, coffee shops, and much more! 
A fun way to explore the area as well as other neighborhoods of Pittsburgh is by booking a guided bike tour. This 3-hour tour takes you through the city by bicycle so you can learn about the sights and Pittsburgh's rich history. 
13) Visit The Carnegie Museum Of Natural History & The Carnegie Museum Of Art
The Carnegie Museums of Pittsburgh consists of four uniquely different museums. These include the Carnegie Science Center, The Andy Warhol Museum, and the Carnegie Museum Of Art and Natural History. 
The Carnegie Museum Of Natural History stands among the top natural history museums in the country due to its exceptional and extensive collection of artifacts and scientific specimens. 
Generating new scientific knowledge and advancing science literacy, the Carnegie Museum Of Natural History inspires and educates guests of all ages in this outstanding museum. 
The Carnegie Museum Of Art remains in history as the first museum in the United States dedicated to contemporary arts as its primary focus. Connecting people through ideas, art, and each other, the Carnegie Museum Of Art features a collection of over 30,000 objects that include sculptures, prints, photographs, renderings, drawings, film, and more. 
These museums combine with The Andy Warhol Museum and the Carnegie Science Center to create a family of four immaculate museums that are guaranteed to open up inquisitive minds to the arts, history, and sciences and their impact on culture, history, and society! 
Address: 4400 Forbes Ave, Pittsburgh, PA 15213
Hours: 10am – 5pm (Closed Tuesdays)
Cost: $20
14) Soak In Fresh Air At Schenley Park 
Set on the National Register of Historic Places, Schenley Park is a historic district that was named one of "America's Coolest City Parks" by Travel + Leisure. 
Established in 1889, the park was donated by Heiress Mary Schenley and consisted of 456 acres. The expanse of the acreage includes trails, attractions, and plenty of woods to explore. 
Many people come to this famous park as a getaway from the hustle and bustle of city life, and it is a fond spot for active and outdoor enthusiasts to explore the trails with gusto. 
The park hosts major events like the Vintage Grand Prix and the Pittsburgh Race for the Cure. 
Other attractions include the Phipps Conservatory, Schenley Park Cafe, the PNC carousel in Schenley Plaza, the Bob O'Connor Golf Course, the swimming pool, and the Schenley Oval Sportsplex, that's popular for summer and ice skating sports. 
Either way, exploring Schenley Park is one of the best things to do in Pittsburgh!
Heading north? Check out our list of the best things to do in Boston!
15) Snag Scenic Photos Of The City At West End Overlook Park 
Offering stunning views of Pittsburgh in all its glory, West End Overlook Park boasts some of the best scenic views in all of Pittsburgh. 
Featuring head-on perspectives of Pittsburgh's skyline, at the park, visitors can also witness views of Pittsburgh's three rivers that include the Allegheny, Ohio, and the Monogahela. 
We highly recommend checking out the park around sunset or sunrise for picturesque views and to avoid the crowds at this popular Pittsburgh attraction. 
Grab a spot at the park to watch fireworks shows or simply bask in the undeniably gorgeous views of this encapsulating city.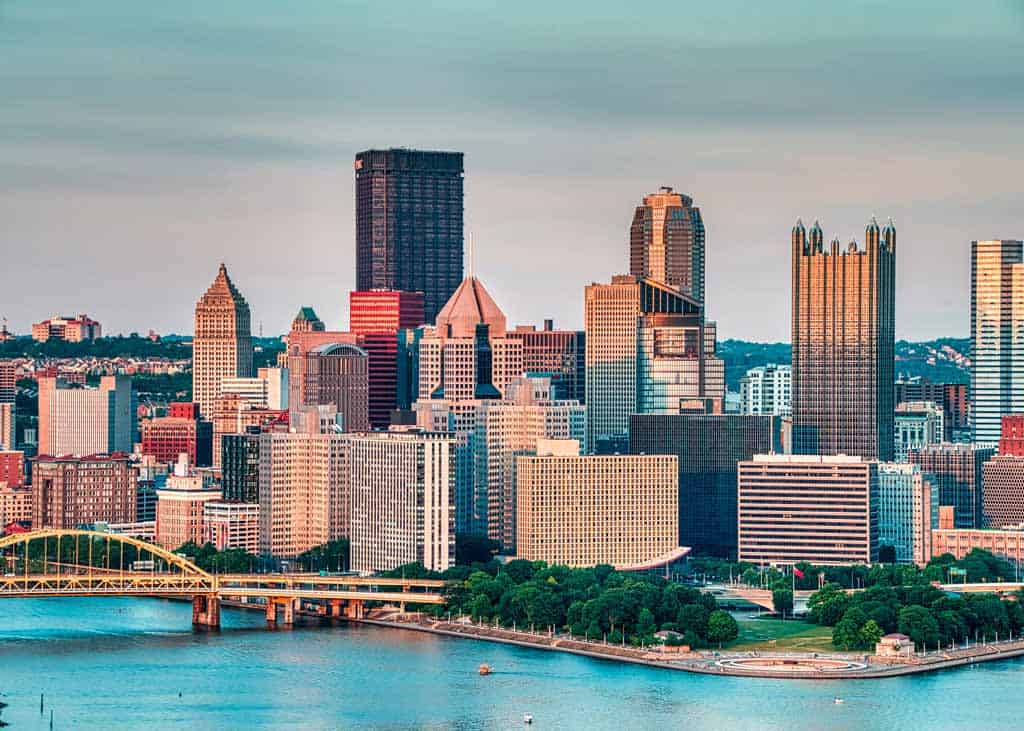 16) Explore Mount Washington
Another one of the top things to do in Pittsburgh is explore this lush neighborhood of Pittsburgh. 
Mount Washington actually refers to an entire area of the city that is packed with fun things to do. 
Head to Emerald View Park and stroll along the trails, check out the George Washington statue in Point View Park, or go out to eat at some of the local restaurants. 
The best activity in Mount Washington is riding the Monongahela and Duquesne Inclines up to Grandview Overlook. These funiculars are fun to ride and you get a spectacular view of the city at the top. 
17) Hand Feed Protected Species At The National Aviary 
The country's largest aviary, the National Aviary, presents an opportunity for visitors to interact with unique species and see free-flying bird habitats.
As the only independent, indoor, nonprofit aviary in the United States, the aviary homes more than 500 birds and 150 species. Many of these species are either endangered or threatened, encapsulating the true purpose of this enigmatic facility that conserves these birds and their respective habitats. 
The walk-through habitats promote a unique and interactive experience for visitors to witness these impressive species up close and personal. 
Guests can also get the chance to hand-feed and meet most of the species homed at the National Aviary for a memorable experience like no other. 
18) Travel The Three Rivers Heritage Trail 
Running parallel to the riverbanks of Pittsburgh, the Three Rivers Heritage Trail is an urban rail trail that promotes stunning views of the city. It's one of the best hiking and biking trails in the state. 
Designated as a National Recreation Trail, this 33-mile trail offers different segments on all three rivers that travel throughout Pittsburgh—Ohio River, Monongahela River, and the Allegheny River. 
Popular with outdoor enthusiasts and active goers, this trail is popular with locals and tourists, helping to promote an active lifestyle as trail goers traverse through Pittsburgh neighborhoods, attractions, and river town business districts. 
19) Take On The Outdoors At Highland Park 
Home to the Pittsburgh Zoo and PPG Aquarium, Highland Park is settled within a quaint residential area. At the park, visitors have plenty of activities and attractions to explore. 
In 1879 the park was opened next to a reservoir that offers drinking water for the city. Surrounded by spacious greenery, this park immediately became a hit and an iconic attraction in Pittsburgh. Popular with walkers, joggers, and runners, the Reservoir Loop is a hit with outdoor enthusiasts and those who wish to see the scenic views of the area. 
Visitors can access the reservoir through the Entry Garden, a picturesque Victorian-style gathering place with a reflecting pool, fountain, and gardens. 
In Highland Park, visitors can also explore other enticing activities such as the sand volleyball courts, swimming pool, bike track, and more.
20) Look Through The Lens Of History At The Photo Antiquities Museum Of Photographic History
The Photo Antiquities Museum of Photographic History is an independent store and gallery that presents vintage photographic equipment while offering educational and informative tours. 
At this museum, guests can step back in time to experience history through a camera lens. Using original photographic equipment and images, this museum preserves the history of photography. 
One memorable example of photography's impact is photographs of the golden age of flying. The era of aviation history began between 1919 and 1940. And during this period, bi-places soared through the skies of Western Pennsylvania, with many of the pilots being women. 
This is one of the coolest art museums in the city, and one of the best things to do in Pittsburgh. 
Address: 531 E Ohio St, Pittsburgh, PA 15212
Hours: 11am – 4pm (Closed Sundays and Tuesdays)
Cost: $10
Also check out our list of the best things to do in Washington DC!
21) Feel The Thrill At Sandcastle Water Park 
One of the best family-friendly Pittsburgh attractions, Sandcastle Water Park, is nestled between the wooded hillside and a boardwalk that overlooks the Monongahela River. 
With fifteen popular waterslides, a lazy river, two children's play areas, a Scenic Mushroom Pool, a Mon Tsunami Wave Pool, and more, Sandcastle Water Park is packed with family-friendly activities. Body slide down a seven-foot free fall. Feel the thrill on tube slides like Tubers Tower and Blue Tubaluba. 
Sandcastle Water Park welcomes all ages for a day packed with fun! 
Where to Stay in Pittsburgh, Pennsylvania
Now that we know the top things to do in Pittsburgh, it's time to see the best places to stay! There are options for every budget. There are no hostels in the area, but there are cheap accommodations available.
Best Cheap Hotel in Pittsburgh, Pennsylvania
Situated right in downtown, Stay Pittsburgh is near many of Pittsburgh's top attractions. During your stay, guests have the luxury of a private bathroom and free Wi-Fi for convenient accommodations to enjoy while living it up in the heart of Pittsburgh. 
Best Mid-Range Hotel in Pittsburgh, Pennsylvania
An all-suite hotel, Staybridge Suites Pittsburgh Airport, an IHG Hotel, features free shuttle service, a daily breakfast buffet, spacious suites with full kitchens, and free Wi-Fi.
Jump in the indoor pool for a relaxing swim or simmer in the hot tub to let loose after a day of exploring the most popular Pittsburgh activities. 
Best Luxury Hotel in Pittsburgh, Pennsylvania
Kasa South Side Pittsburgh is a stunning luxury hotel equipped to provide the utmost appealing accommodations to its guests. From the soothing garden to the indoor swimming pool, leaving this luxury hotel will take tooth and nail once your vacation to Pittsburgh is over! 
DISCLAIMER: Some of the links in this article are affiliate links, which means if you book accommodation, tours or buy a product, we will receive a small commission at no extra cost to you. These commissions help us keep creating more free travel content to help people plan their holidays and adventures. We only recommend the best accommodations, tours and products, and regularly review these. Thanks for your support, kind friend!