The rich volcanic soil and tropical warmth make St Lucia a haven for flora and fauna, where every patch of soil seems to burst with life. In the Caribbean, plants often have a medicinal as well as culinary use and gardens are treated as 'nature's pharmacy', with something to cure every ailment. Plantations that once grew sugar cane, coffee and cocoa are now open to visitors to walk among the plants of St Lucia and discover how life was lived in the past. Read on for the St Lucia botanical gardens and plantations that you'll want to visit, to soak up the island's natural beauty.
This article may contain affiliate links that provide commission on purchases you make at no extra cost to you. As an Amazon Associate I earn from qualifying purchases.
Top St Lucia botanical gardens and Plantations
Here's a quick overview of the best botanical gardens in St Lucia as well as some plantations that you can visit.
1. Diamond Falls Botanical Garden and Mineral Baths (Soufiere) – the island's best known botanical garden and home of the much photographed Diamond Falls which have featured in several films. You can also take a dip in the mineral baths fed by nearby sulphur springs.
2. Tet Paul Nature Trail (Soufriere) – an easy walking trail along a ridge, with plenty of interesting botanical plants and amazing views of the Pitons.
3. Fond Doux Plantation and Eco-resort (Soufriere) – a working plantation where cottages nestle among the foliage, a beautiful place to see botanical plants and trees as well as plantation crops like cocoa.
4. Morne Coubaril Historical Adventure Park (Soufriere) – the tour of this historic plantation covers activities such as processing sugar cane, cocoa and copra that were typical of life on the estate. They also offer zipwire experiences.
5. Maranatha Gardens and Prayer Sanctuary (Soufriere) – a small but beautifully planted garden on the hillside above Soufriere. Entry is free for this garden that's designed as a place of prayer and reflection.
6. Balenbouche Estate (Vieux Fort) – an unspoiled and authentic old plantation, now an organic farm and guest house. Take a self guided walk, to discover the atmospheric ruins of an old sugar mill and Amerindian rock carvings.
7. Rainforest adventures (Babboneau) – in the centre of the island, take the aerial tram through the rainforest, followed by a guided walk to learn about the forest flora and fauna. They also offer zipwire experiences.
8. Mamiku gardens (Micoud / Dennery) – a beautiful botanical gardens on St Lucia's east coast, set on a hillside overlooking Praslin bay. It's famous as the site of a battle with Brigands during the 18th century occupation by the English military.
9. Latille waterfalls and garden (Micoud) – a small garden with flowering plants and trees around the owner's house, with access to the Latille Waterfall and further natural pools downstream.
10. Project Chocolat at the Rabot Estate (Soufriere) – at Hotel Chocolat's Rabot Estate, take a 'bean to bar' chocolate tour that covers all aspects of cocoa growing and chocolate making, including the grafting of young cocoa plants and a walk in the plantation.
11. Anse Mamin Plantation (Soufriere) – a private plantation for guests of Anse Chastanet and Jade Mountain resorts, but also open to other visitors who book a mountain biking tour around the plantation paths and old estate buildings.
Diamond Falls Botanical Gardens and Mineral Baths
Diamond Falls Botanical Gardens is the most popular of the St Lucia botanical gardens. Located close to Soufriere, the 6 acre gardens are known for the scenic Diamond Falls, fed by the nearby Sulphur Springs, that have featured in films such as 'Romancing the Stone'.
The gardens are part of the Soufriere Estate that was granted to the Devaux family by King Louis IV of France in 1713. The working plantation once produced limes, copra and cocoa. Therapeutic mineral waters from the hot springs were channelled into open air baths, built for the troops of King Louis XI in 1784.
The Diamond Falls St Lucia are now privately owned by Joan Devaux, daughter of the plantation's owner Mr Andre du Boulay. It is Mrs Devaux who has restored and replanted the botanical gardens with native St Lucian plants and trees.
Read about 20 fabulous things to do in St Lucia
Our visit to the Diamond Falls Botanical Gardens took us along pretty pathways, lined with lush plantings of torch ginger, heliconia and ginger lily. They provided splashes of vibrant red, pink and yellow against the backdrop of shady green trees and creepers.
Through the gardens run the Diamond Falls River, coloured orange from the sulphur and other minerals such as iron, copper and manganese. The warm mineral waters are used in the public baths, with changing rooms alongside them, so bring your swimsuit and towel if you'd like to use them. There is also a private bathhouse built on the site of the original baths from the 1700s.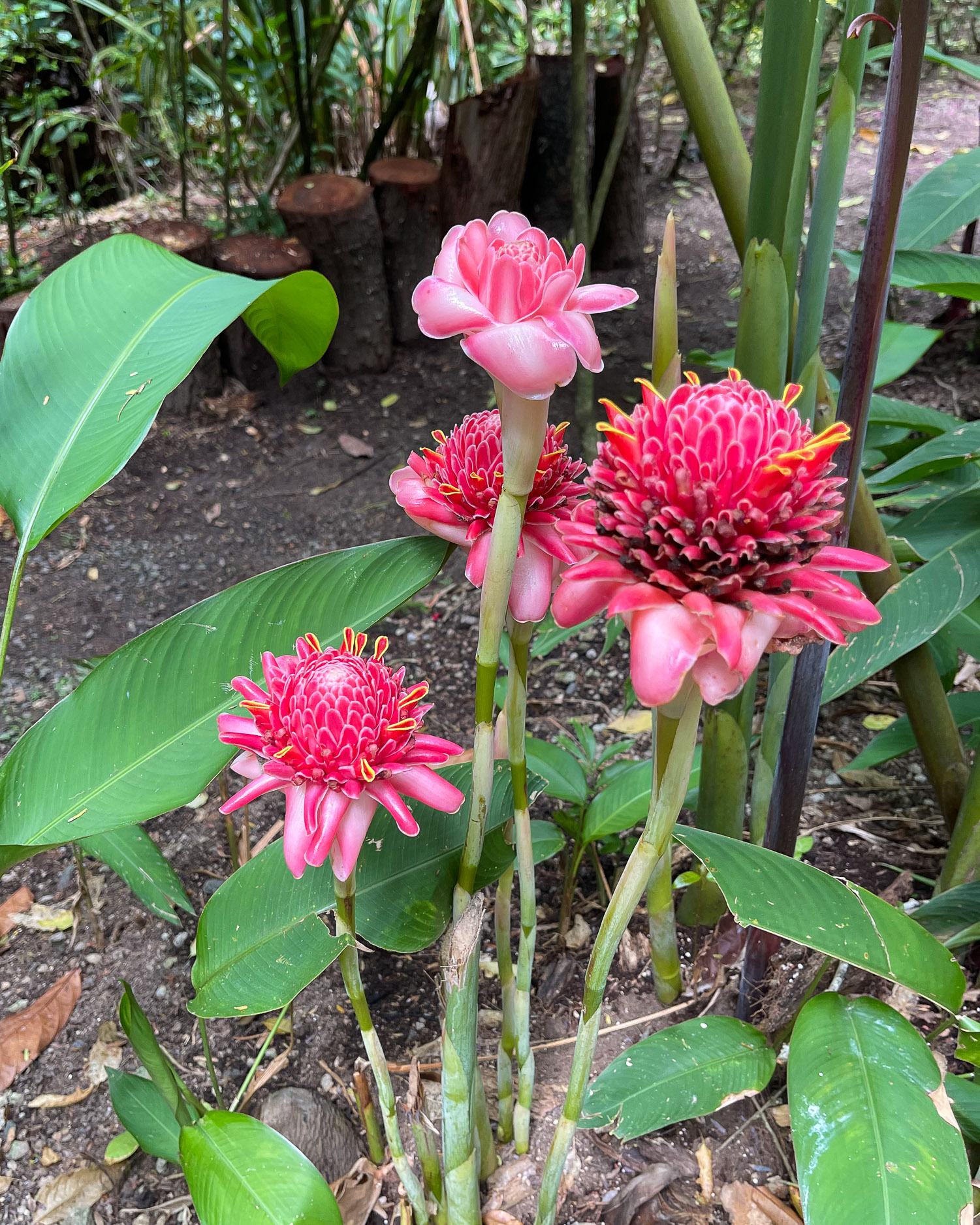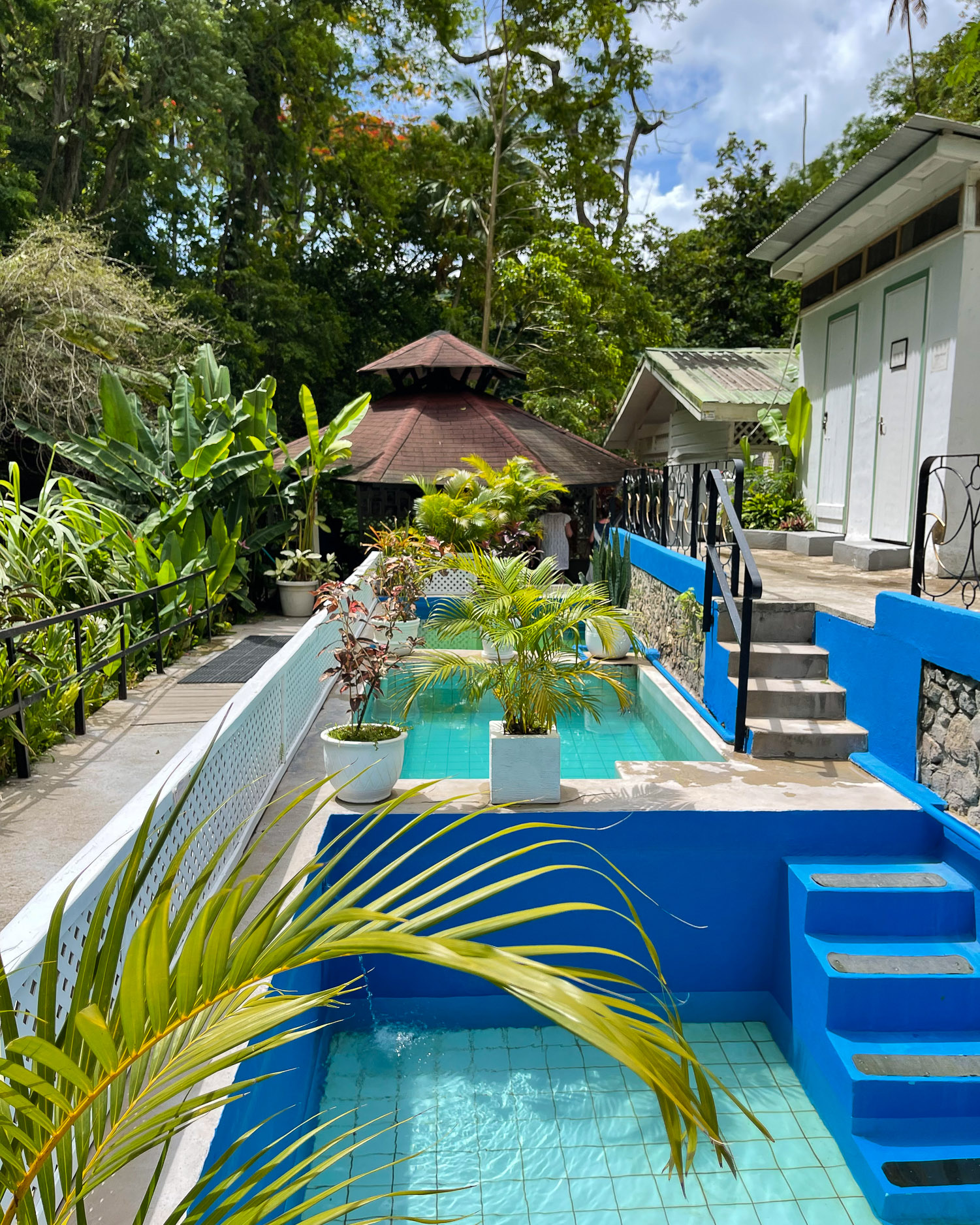 Continuing beyond the mineral baths, we arrived at the 17 metre high Diamond Waterfall. Natural minerals from the volcanic springs upstream colour the rocks an orange colour. Although there's a shallow pool here, you are not allowed to swim, so it's just a place for a photo stop in front of the falls. The return path takes you past a cafe and gift shop, then through more planted paths towards the exit.
At the garden entrance you can engage a guide if you'd like to learn more about the different plants and history of the gardens. There is no set fee for a guide but a tip is expected at the end.
Check the Diamond Falls Botanical Gardens and Mineral Baths website for opening times. Entrance $7 US and use of mineral baths an additional $6 US. Our visit took around 1 hour.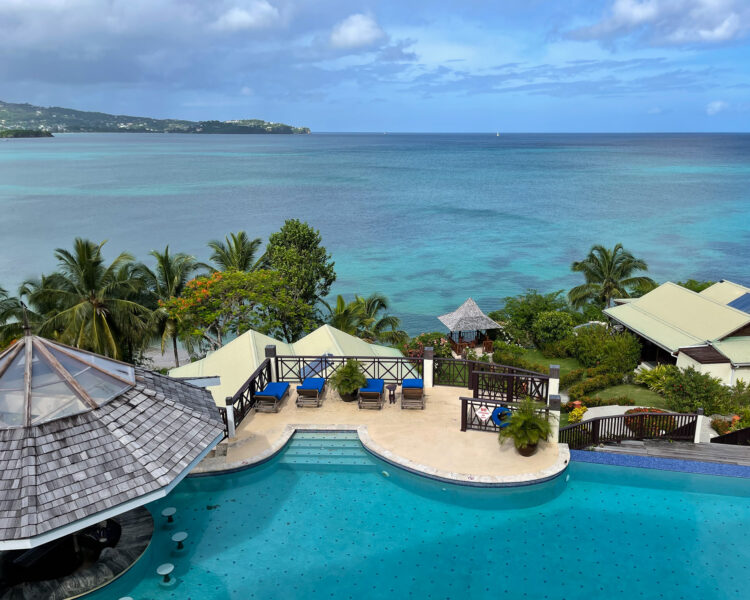 Tet Paul Nature Trail
Known as the "Stairway to Heaven", the Tet Paul Nature Trail near Soufriere is an easy walking trail that gives you maximum scenery for minimum effort. The walk runs along a ridge with views towards Choiseul and Vieux Fort in the south as well as Sugar Beach and the Pitons to the west. We took up the offer of a guide to accompany us on the trail, but you can easily make the walk on your own as it's difficult to get lost. A guided tour is included in the entrance fee but a tip is appreciated.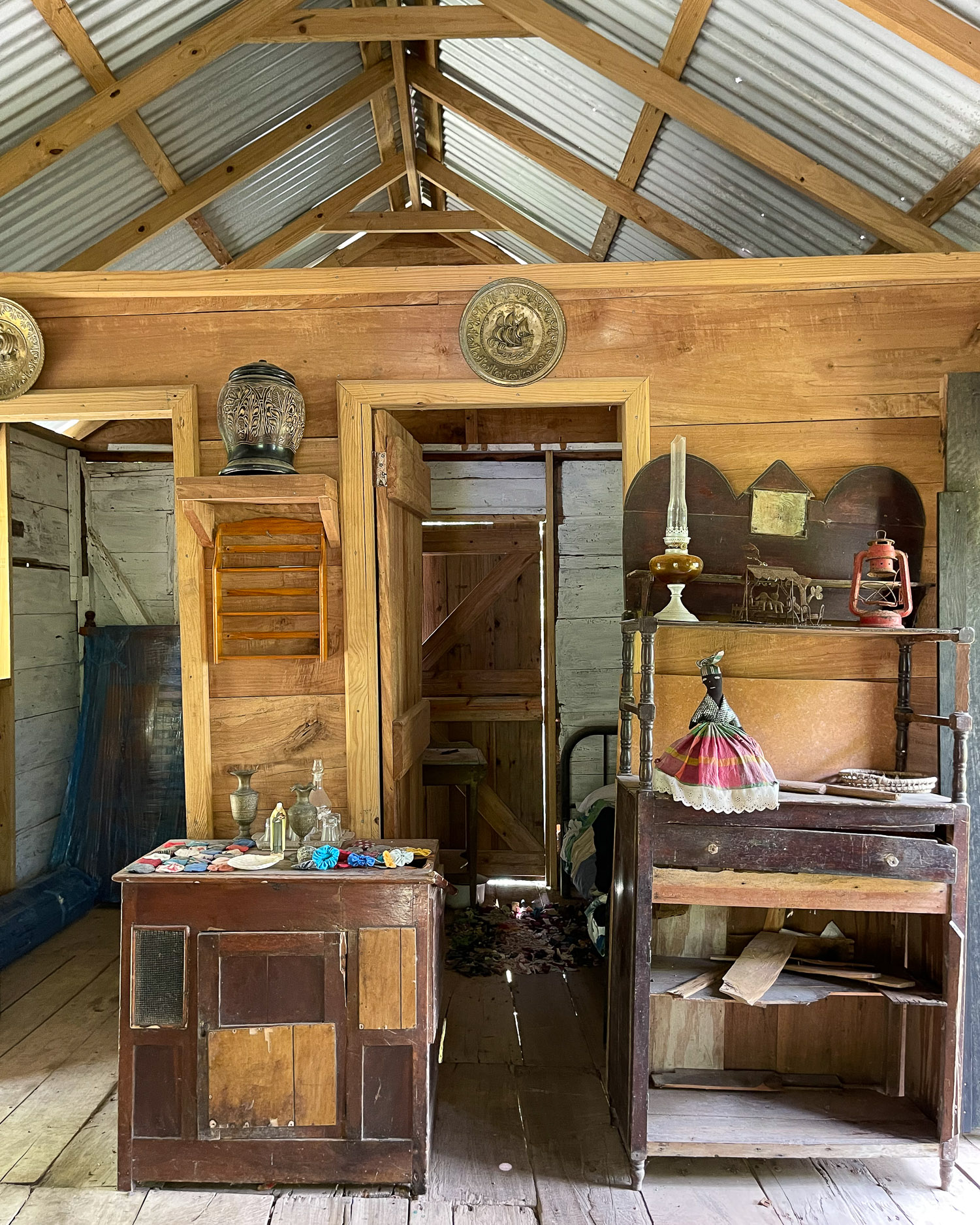 Close to the entrance is a Traditional House, showing the small wooden cabins where whole families would live while working on a plantation. In the living area were pots, pans and kitchen equipment while two small and sparsely furnished bedrooms would probably have housed parents and several children.
Nearby, an area with large copper pans is used to demonstrate how Cassava is prepared. The tubers are soaked to remove toxins, then grated and dried before being ground into a flour known as 'farine' for cooking.
Learn about the hiking, volcanoes and waterfalls in St Lucia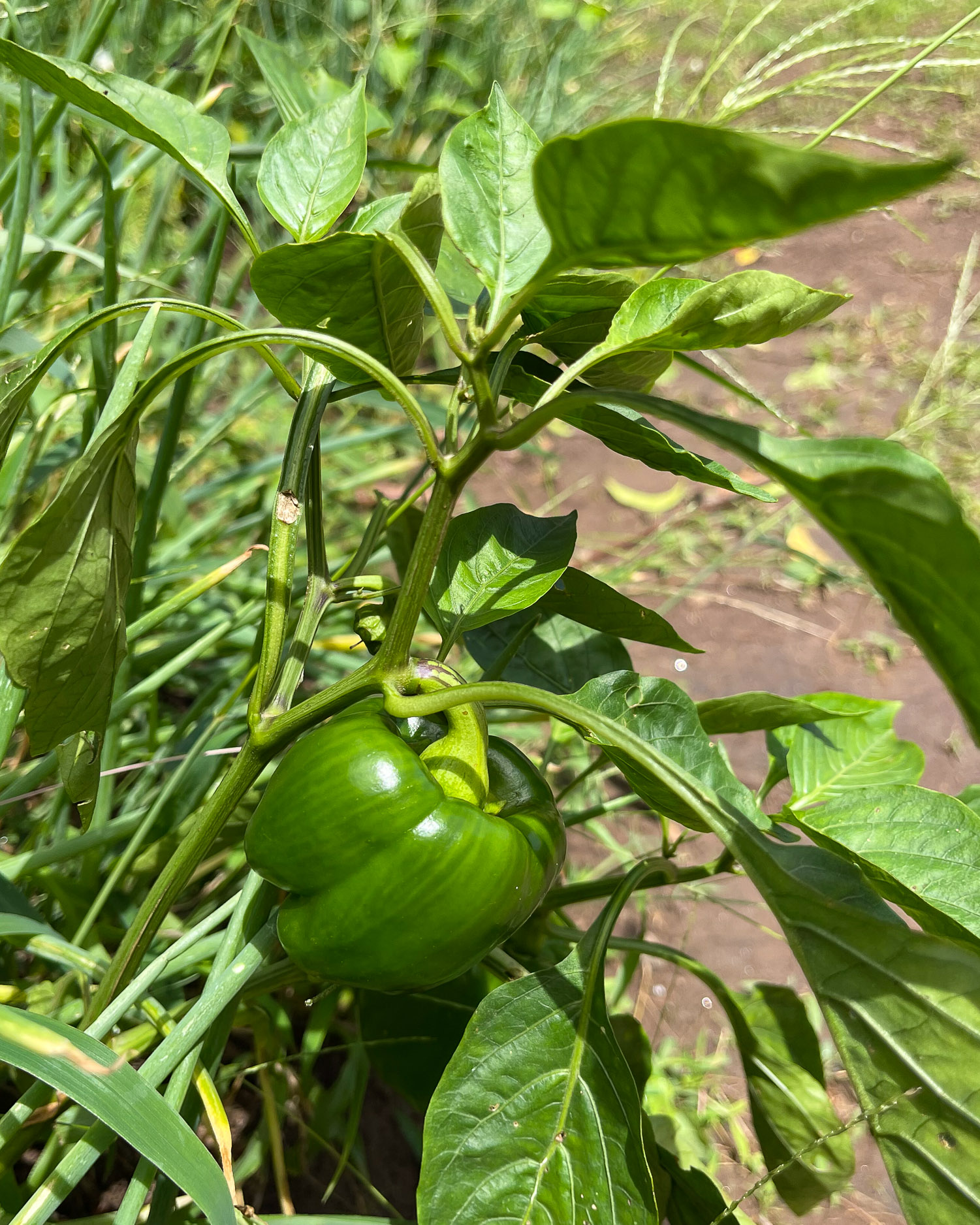 Our walk continued, with the guide pointing out many plants that are used for medicinal or culinary purposes, often both, since everything in the Caribbean seems to have multiple uses. We learned how papaya is used when green to tenderise meat, eaten as a sweet fruit when ripe, while the roots are useful for bladder ailments.
Sarsaparilla roots are made into a drink which is considered to have cleansing properties, the cooling juice of Aloe Vera is used for sunburn and mosquito bites.
Further up the path, our walk took us alongside a small organic farm, where crops such as spring onions and bell peppers were being tended. The Soufriere foundation works on many community projects such as this in the area, to promote sustainable tourism and business ventures, including organising local guides to hike up Gros Piton which start nearby.
The Tet Paul Nature Trail is a great place to see different culinary plants being grown, from a plot of spiky pineapple plants, to cashew nuts and palm fruit that are crushed to release oil.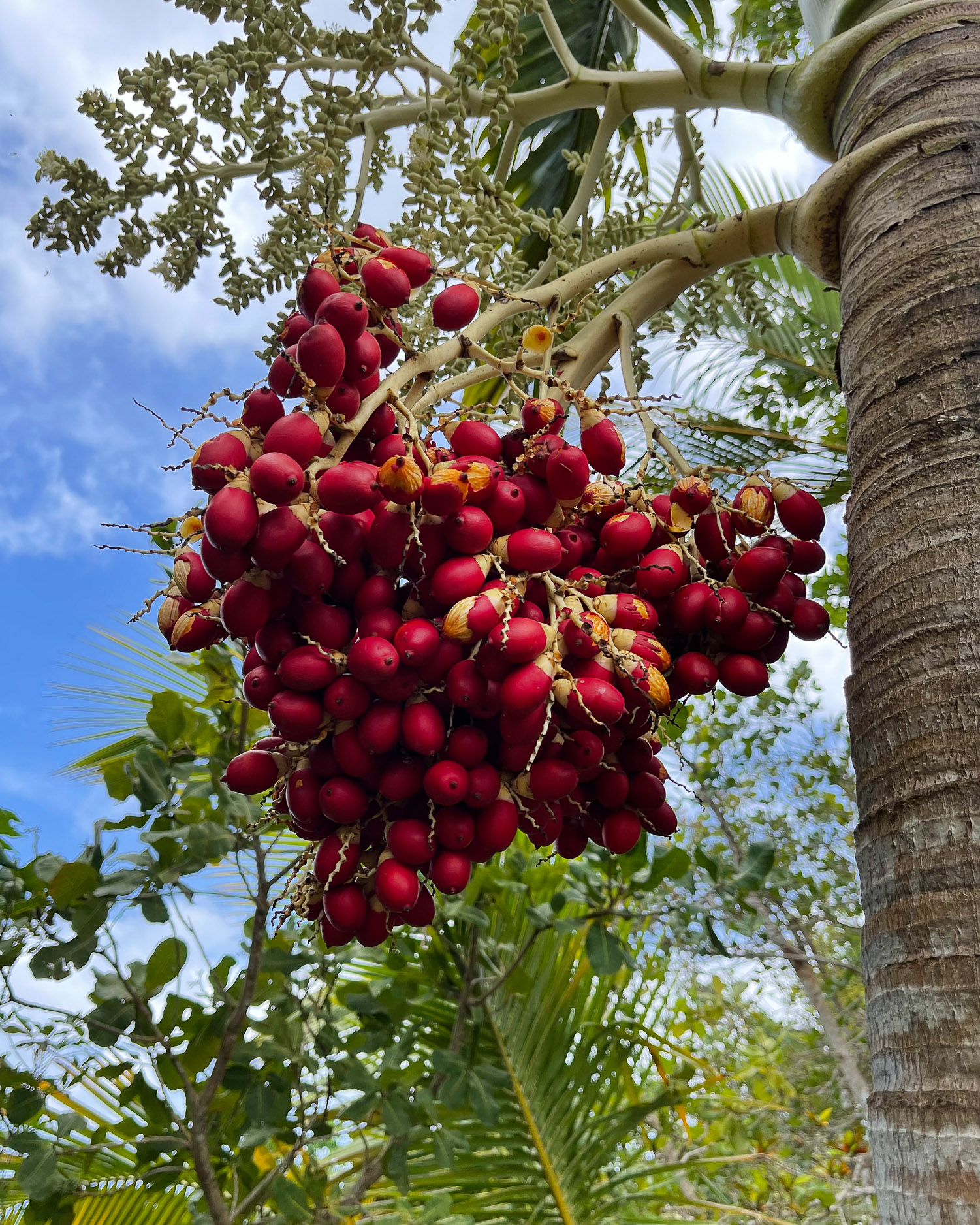 The best part of the visit comes at the end as you skirt back along a higher path, with platforms offering stunning views of the Pitons, twin volcanic peaks that are the best known landmark of St Lucia. This is one of the best places to get a selfie with the Pitons in the background. You have the choice of photographing both Gros Piton (the one with the broader base) and Petit Piton (the steeper and more pointed).
The advantage of having a guide is that they are expert at getting all those cheesy "pointing at the Pitons" shots. It was our guide's suggestion to take a fun panorama, with both Gros and Petit Piton (by running around the back of the photographer to appear at both ends of the shot). At the viewpoint there's also a convenient stall selling drinks and souvenirs, where we tried a slug of local spiced rum.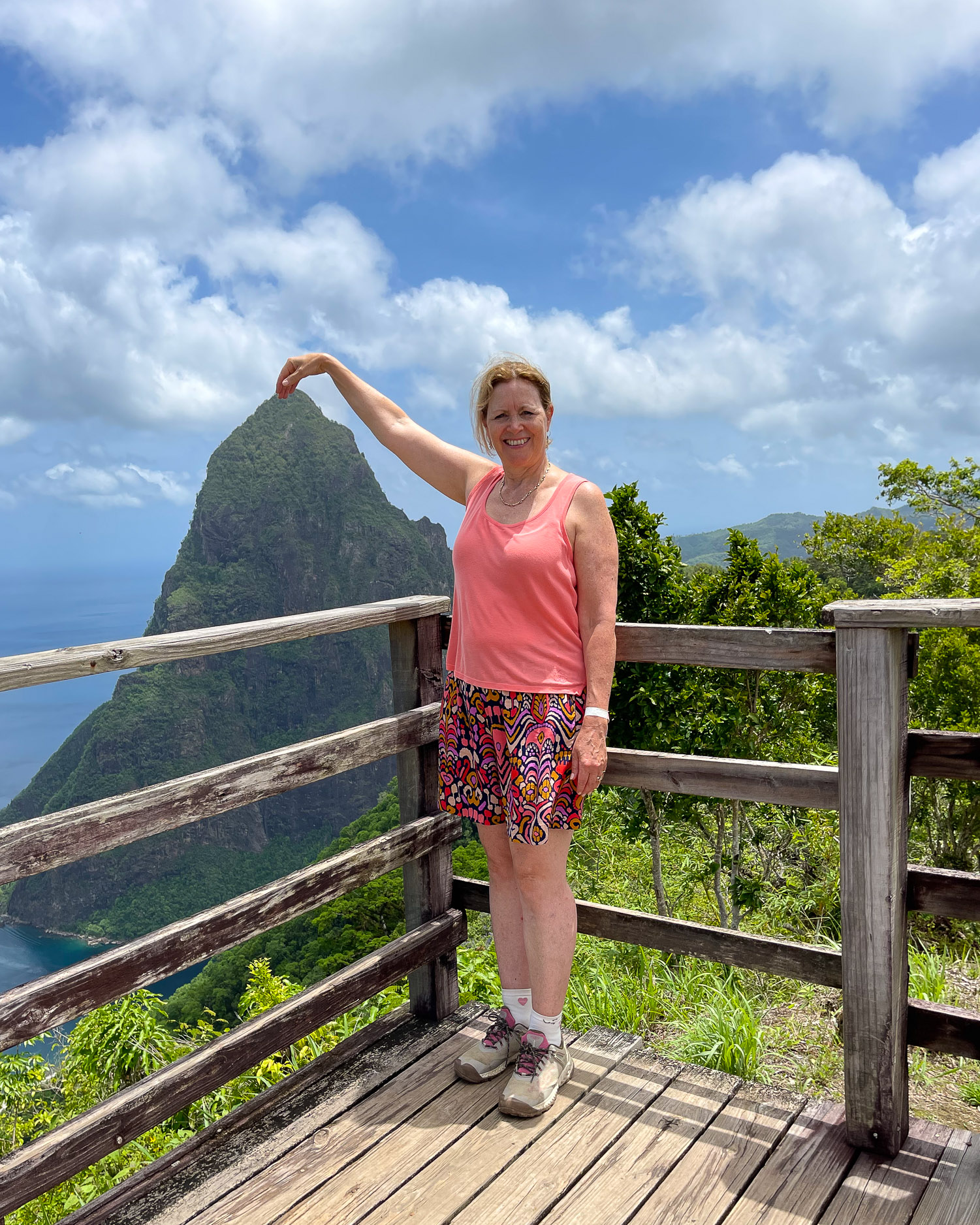 Although there are quite a few steps on the trail, none of them are especially arduous, so this is a great walk for families or anyone of moderate fitness. The package of cultural heritage, botanical interest and stunning views within a small area, makes this a great walk for all ages and abilities.
Tet Paul Nature Trail Entrance $10. Our visit took around 1 hour.
Fond Doux Plantation
Next door to Tet Paul Nature Trail is the Fond Doux Plantation and Resort, where an old plantation has been converted to an eco-resort with pretty wooden cottages scattered throughout the grounds. The name "Fond Doux" means sweet valley.
As one of the oldest working plantations in the Caribbean, the eco resort combines organic farming of plantation crops, with 16 luxurious cottages that have been constructed from traditional wooden buildings, rescued from around the island.
The Fond Doux eco-resort runs a number of different tours that are open to visitors, as well as guests at the hotel. We tried the Fond Doux Heritage tour, with a guide to take us around the 105 acre plantation and tell us about the different fruit trees, spices and medicinal plants that can be found in Saint Lucia.
We learned how Giant Heliconia collect water that attracts hummingbirds to come and drink, how lime leaf tea helps calm you before going to sleep, and saw Mimosa known as the 'sensitive plant' close their leaves at the lightest touch.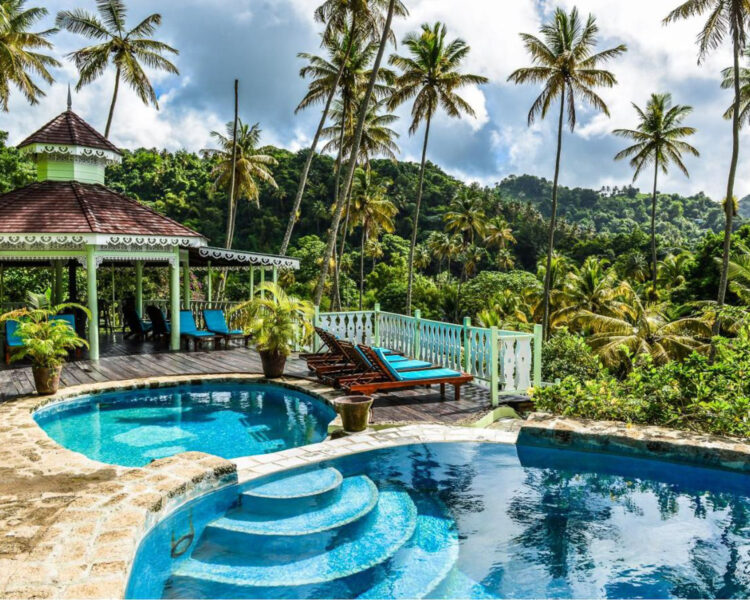 As we followed the paths that meander through the resort, we were able to taste fruits picked fresh from the trees, like the bananas, wax apples and star fruit that were in season. Round calabash as large as melons hung down from the branches, ready to be dried. They were used to make cups and bowls in the days before plastic was available. You can pre-book your private Fond Doux walking tour here.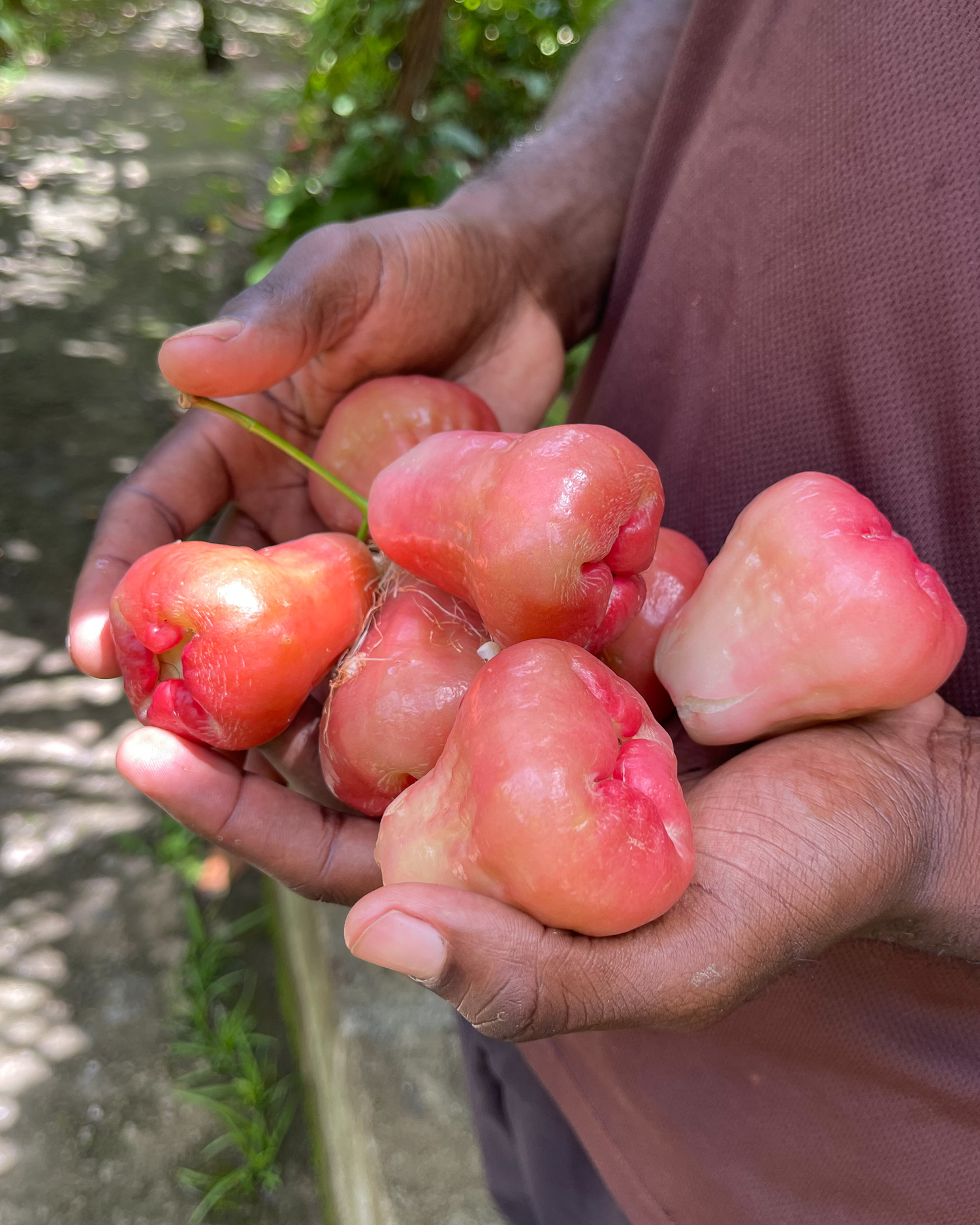 A big part of the tour explains how chocolate is made, starting with the rich red and yellow pods that grow directly from the branches and trunks of the cocoa trees. Traditionally cocoa, nutmeg and other fruit trees are grown in mixed plantations, in a symbiotic relationship where the different varieties provide shade or nutrients for each other.
Once a cocoa pod is split open, it reveals up to 50 seeds, surrounded by a membrane that has a tangy, fruity flavour. The "Jungle M&Ms", as the fleshy seeds are known, are great to suck – just remember not to crunch into the seeds themselves which have a bitter taste. On an organic plantation such as this, the outer husks of the cocoa pods are left to rot down and used to make compost, once the seeds have been extracted. You can pre-book your private Fond Doux walking tour here.
Our tour concluded with a visit to the cocoa house where the beans are fermented, before being dried in the sun and polished in a copper pot, a process using bare feet, known as the "cocoa dance". The beans have the shells removed and are roasted to make the cocoa nibs, which once ground and mixed with sugar are poured into moulds for the finished chocolate bar.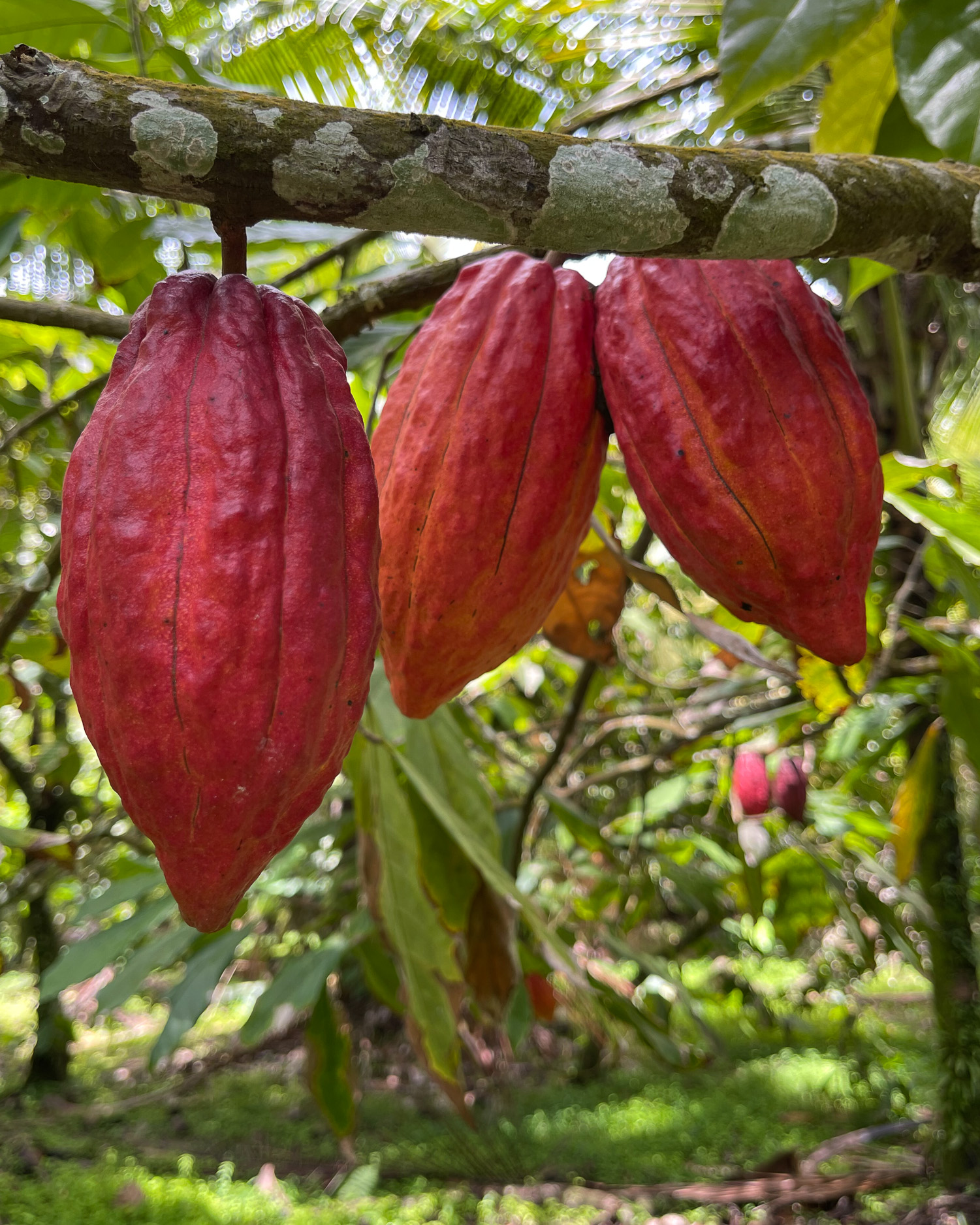 Although we didn't make our own chocolate bars, which is included in a separate chocolate tour, we visited the chocolate kitchen where the sweet cocoa mixture was being mixed and tempered, to make the estate chocolate that is sold in the gift shop.
Our Fond Doux Plantation Tour costs $25 US per person including snacks of fruit or $40 US including lunch. The tour lasted around 1.5 hours plus time for lunch. You can pre-book your private Fond Doux walking tour here.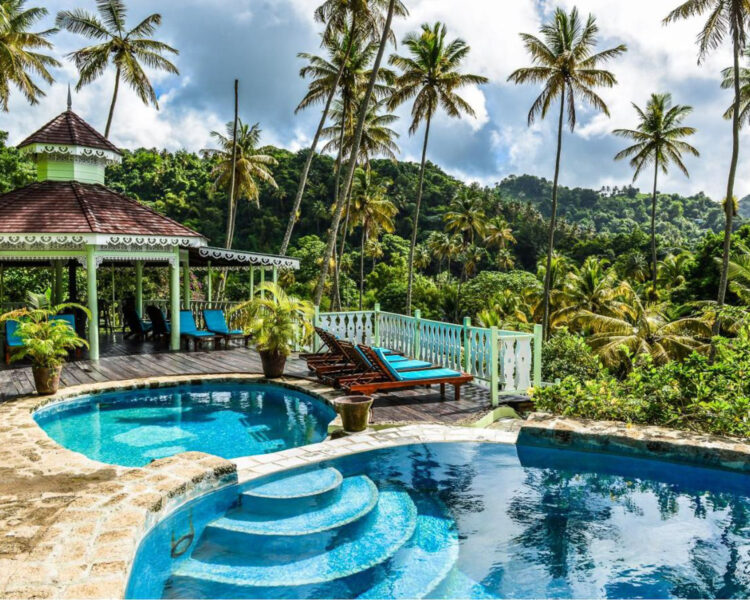 Morne Coubaril Historical Adventure Park
The Morne Coubaril Estate, close to Soufriere was owned by the Devaux family for over two centuries. In the 1740s, the De Vaux brothers moved from Martinique to St Lucia which was then administered by the French, taking a concession on the most fertile volcanic soil around Soufriere to establish a plantation. The estate passed down the generations, growing coffee, sugar cane, coconuts and bananas at different times, until it was sold in the 1950s to the Monplaisir family who still own it.
Cocoa, coffee and copra are grown here, as well as many tropical fruits that are used to make juices sold in the cafe and shop. The plantation house is used as the family's private family home and is rented out as holiday accommodation. Morne Coubaril Historical Adventure park now runs as a commercial plantation, combined with activities such as zip wire, historical and culinary tours.
The 'adventure' on offer is an adrenaline filled experience of zipping under Petit Piton peak, with views over Soufriere and the Caribbean sea. We decided to try the more 'historical' aspect of Morne Coubaril, in their Historical Estate Tour.
This tour gives an interesting overview of life on a Saint Lucia Plantation, starting with a visit to the small village area. Buildings have been reconstructed in traditional style to show how slaves and workers on the plantation would have lived.
Just beyond the traditional houses is a herb garden, where every plant has a medicinal use, used as 'nature's pharmacy' in the days before other medicines were readily available. Walking beyond the imposing plantation house, we stopped to see coconuts being de-husked and were offered a drink of the fresh coconut water from green coconuts expertly sliced open with a machete.
Book this tour that includes a catamaran trip from your hotel and a visit to Morne Coubaril plantation, with lunch and a visit to nearby Sapphire Falls.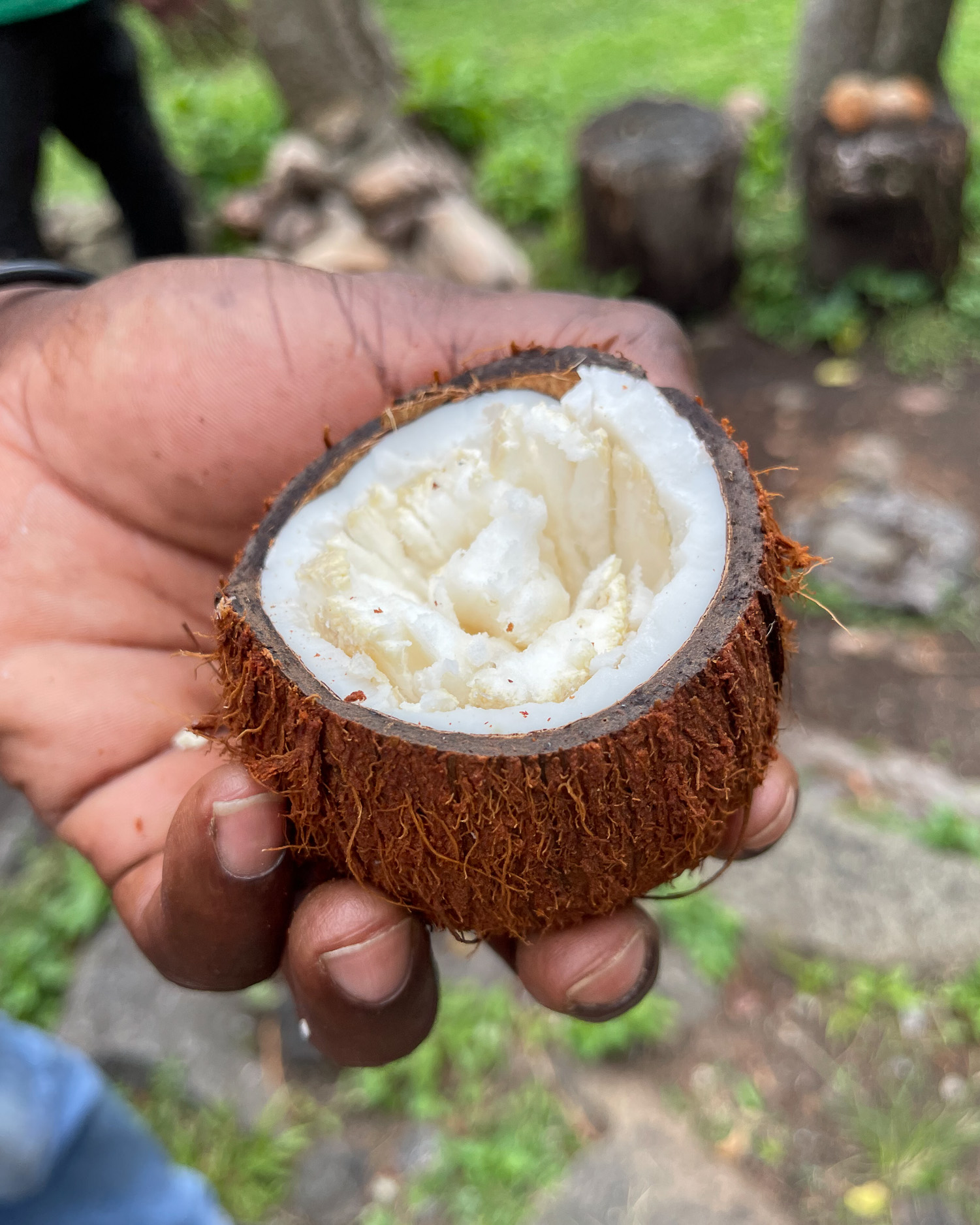 In the old days, coconuts that had been left on the ground were enjoyed like a sweetmeat, since the juice was absorbed to leave a jelly-like 'coconut marshmallow'. Nearby we could enjoy the viewpoint over the town of Soufriere, a spot where a battery of canons were located in the 1770s, to control and defend the town.
One of the old cane presses is used to demonstrate how juice was extracted from the sugar cane, powered by Noel the donkey, who received a treat of sugar cane for his efforts. In the cocoa house, we followed the process of cocoa beans being fermented, dried and polished in the 'cocoa dance'.
Book this tour that includes a catamaran trip from your hotel and a visit to Morne Coubaril plantation, with lunch and a visit to nearby Sapphire Falls.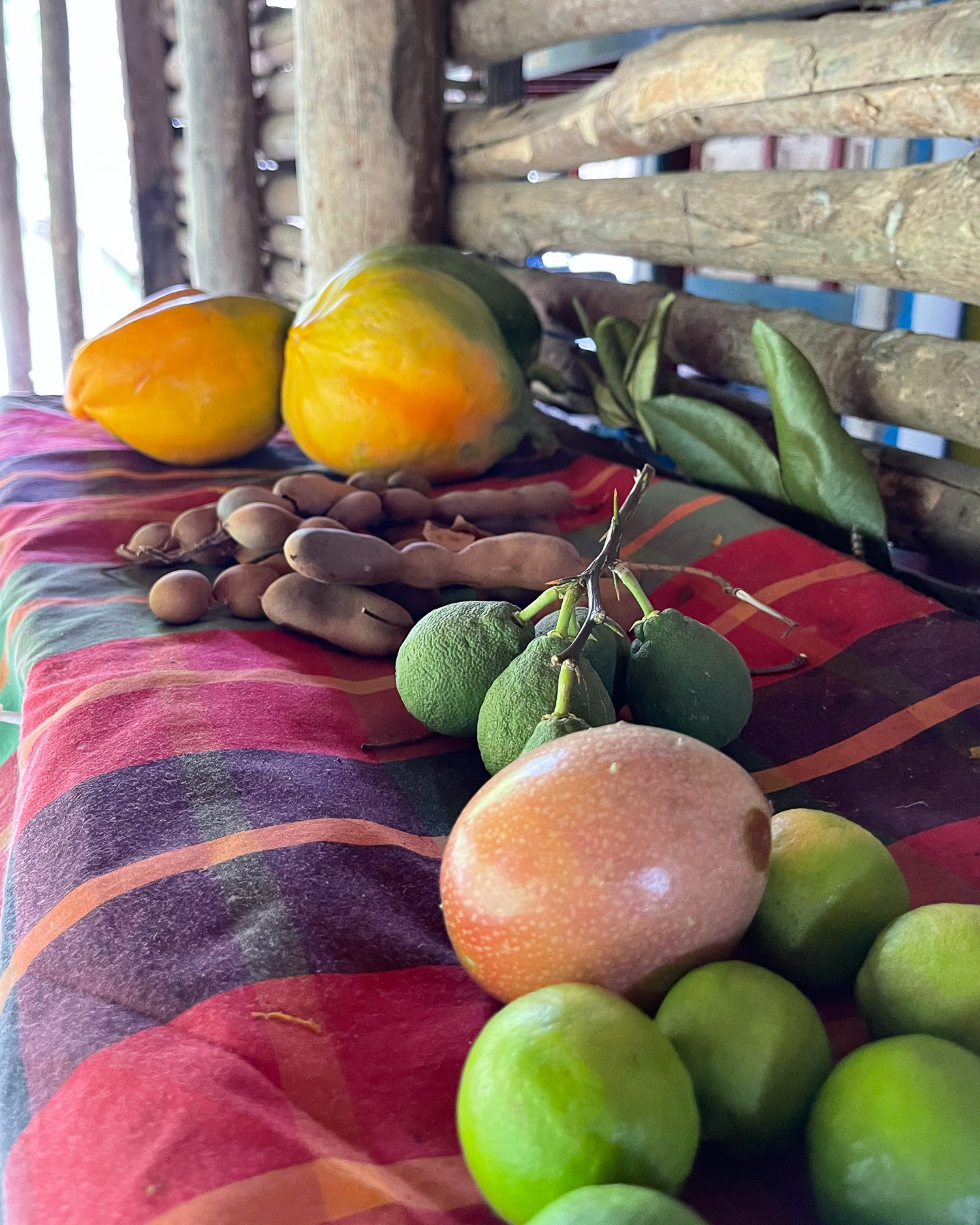 The Morne Coubaril tour gave us a good overview of the activities on this historic plantation. Each group gets their own guide and although larger groups should pre-book, we just turned up and were allocated a guide within a short time.
Morne Coubaril also offer a Rum and Chocolate tour which covers similar activities but includes chocolate and rum tastings in one of the traditional buildings. Other group tours are available that include lunch in the estate cafe by prior arrangement.
Morne Coubaril Historical Estate Tour costs $11 US, Rum and chocolate tour $35 US. The historical estate tour took around 1 hour.
Maranatha Gardens and Prayer Sanctuary
One of the most beautiful and peaceful gardens we visited in St Lucia was the Maranatha Gardens and Prayer Sanctuary, on the hillside above Soufriere. This compact garden is packed full of flowering shrubs and trees, with numerous places to sit and relax. Best of all it's free to visit. The name 'Maranatha' means 'Come Lord' and the garden was created by the owners of the nearby Beacon Restaurant as a place of prayer and reflection.
Discover Saint Lucia artists – where to find murals, galleries and artists in St Lucia
Scattered through the gardens are quotations from the bible such as "Delight yourself in the Lord and he will give you the desires of your heart", designed to aid with meditation and prayer. But even if you are not from a Christian tradition, there's plenty to enjoy at the Maranatha Prayer Garden.
We first walked through the upper part of the garden, leading to a viewing platform with a lovely view of the Pitons appearing above a canopy of trees. The path then wound down to a grassy terrace with shady wooden pergolas and seating areas, places that could be used to sit and enjoy the garden or for group activities.
On the lower level are water lily gardens made from copper boiling pans and a shallow pond. Steps lead up to a viewing platform entwined with flowering creepers. Unlike the busy town of Soufriere, there was no-one to bother us, and we appeared to be the only people enjoying the garden.
To visit the gardens, first locate the Beacon restaurant and park on the grass outside it. Then walk a short way down the hill and cross the road to the gardens, taking care of traffic as the road is steep and curves sharply at this point. The Beacon Restaurant is a good place to have lunch if open and is a popular stop for tour groups. The views of the Pitons from here are spectacular and the restaurant serves a St Lucian set price buffet at lunchtime.
Balenbouche Estate
If you want to explore a beautiful and less commercial plantation for an hour or two, head to the south of St Lucia to Balenbouche Estate which is located between Choiseul and Vieux Fort. We stayed at the plantation in one of the pretty wooden cottages and as guests had free run of the grounds. You can also visit independently and pay a fee of $10 US per person to wander around and explore in a self guided tour.
Explore St Lucia food – the best dishes, restaurants and food tours
The earliest inhabitants of this area were Amerindians and there are rock carvings at Balenbouche along the river banks. An estate was created in the 1740s to produce first coffee, then sugar and rum. It changed hands with different English and French plantation owners over the years, finally being acquired by the Lawaetz family in 1964.
Balenbouche Estate is now run by Mrs Uta Lawaetz together with her two daughters, as an eco-friendly guest house, organic farm and retreat centre. If you stop by at the Plantation House where the owners live, they can provide you with a plantation map, or if you book ahead, they may be able to guide you around in person.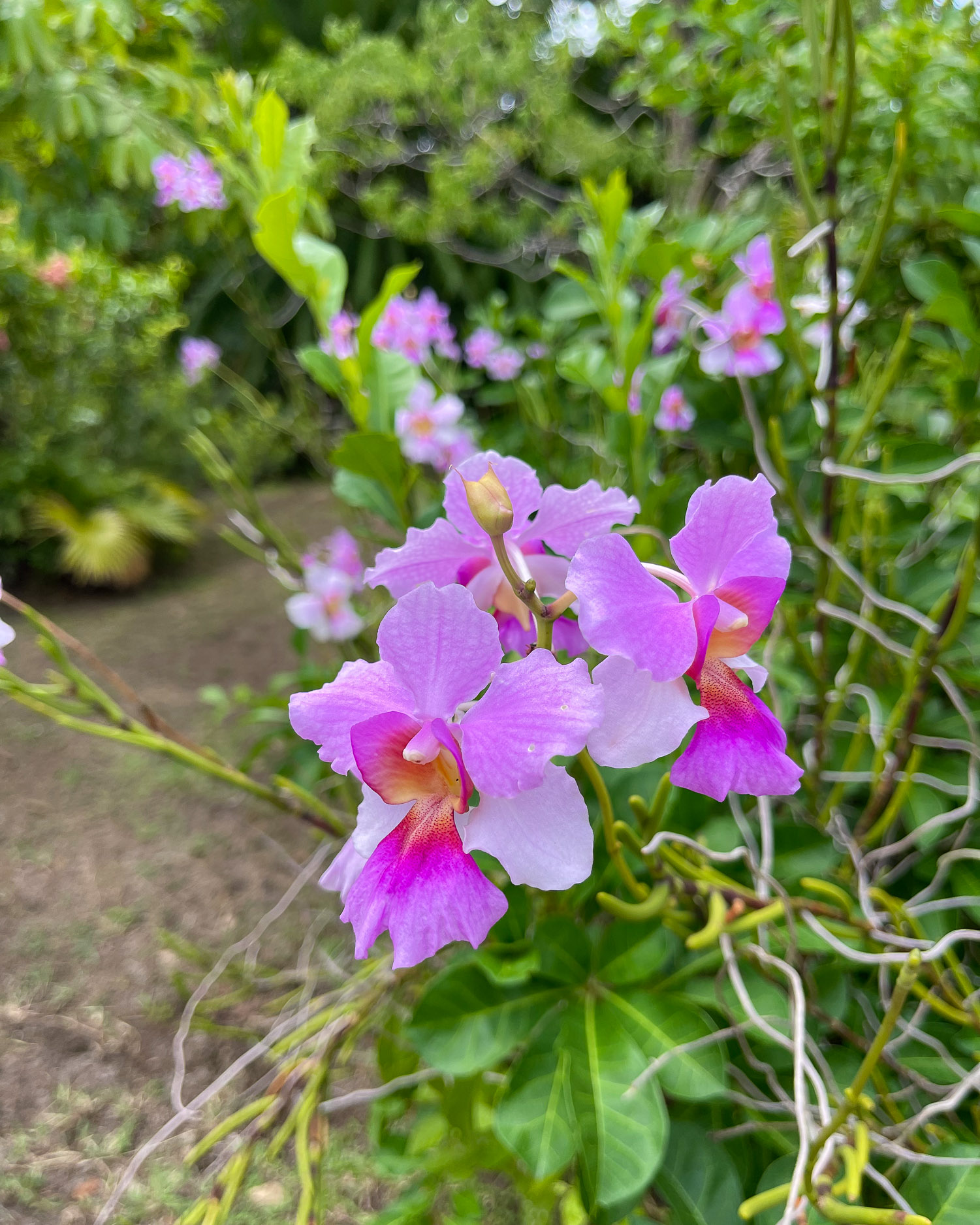 There are beautiful tropical flowers and grassy areas around the old Plantation House, which has been furnished by the family over the years with elegant antiques. The grounds extend past the old Banyan tree to a Cotton Barn that was used to store sea-island cotton and copra but is now available for events or yoga retreats. A stone sugar cane store is being restored to make an area where artefacts from the estate can be displayed.
The most atmospheric spot that we discovered was the remains of the ruined sugar mill, hidden among the vegetation on the side of the hill. Water was once channelled here via an aqueduct to turn the huge waterwheel that powered the mill and sugar cane presses. Clambering down to take a closer look, we noticed a rusty metal tool wedged tightly between the rollers of the sugar cane press – literally a "spanner in the works".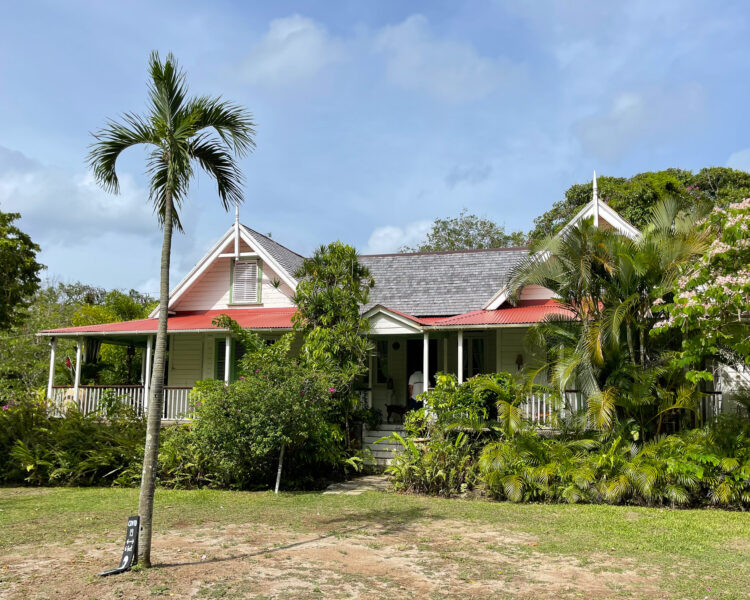 From the old sugar mill, a short walk down the hill brings you to Balenbouche Beach, a rocky cove with heavy surf, from where the barrels of rum were transported by boat. A second path leads to Middle Beach, another private cove that is more suitable for swimming.
Keep in mind that this is the windy coast of St Lucia, so the waves can be quite high. From Balenbouche Beach, the adventurous can wade along the course of the river into a shady wooded gorge, to look for the small bowls carved into rocks by Amerindians who were the original inhabitants of St Lucia.
Balenbouche Estate is a popular spot for locals to take wedding photos, you can also spend a few hours here exploring, or arrange a vegan / vegetarian lunch cooked by the owners using organic produce from the estate. We can also recommend staying in the guest houses of various sizes that are scattered around the estate (we stayed in Frangipani), designed for an eco-friendly stay.
Balenbouche Plantation Tours cost $10 US to visit independently or $20 US for a guided tour which should be booked in advance. Call in at the Plantation House to pay and pick up a plantation map.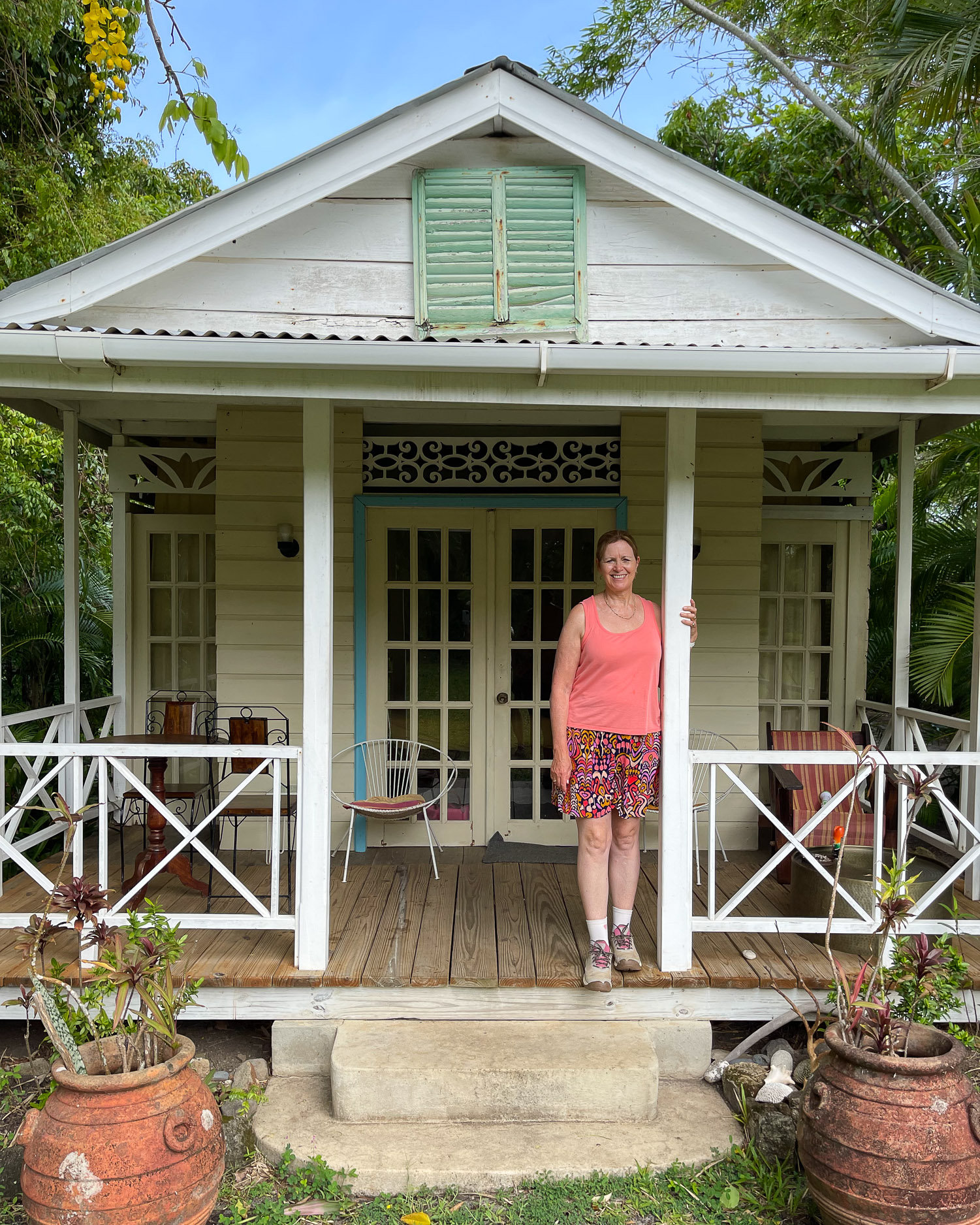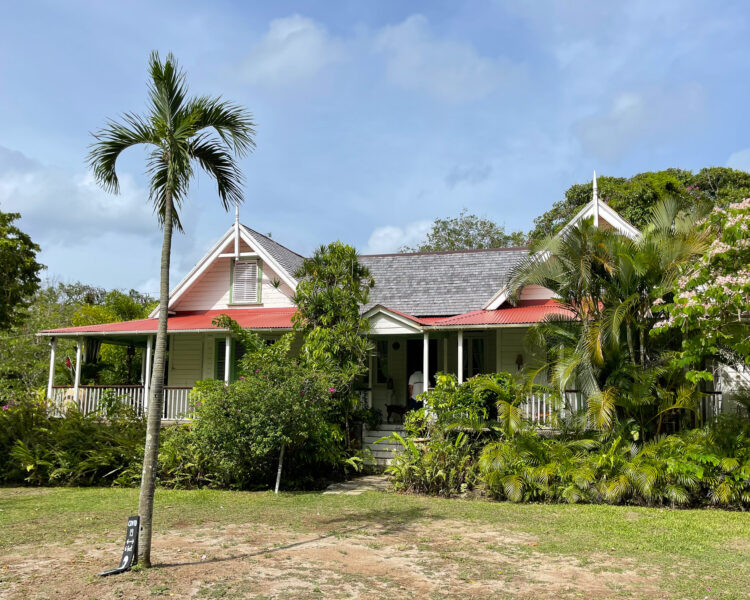 Rainforest Adventures St Lucia – aerial tram
Much of the interior of Saint Lucia is covered by rainforest and to experience this close up we took the aerial tram at Rainforest Adventures St Lucia in Babonneau. Boarding the shaded metal gondola in a group of 6 people, our naturalist guide gave us a commentary of the plants and trees we were seeing as we slowly moved up into the tree canopy.
The name of Babonneau means 'ridge of good water' and we saw plenty of small streams running down the hillside below us. This area was part of the Castries Waterworks forest reserve that originally supplied drinking water to the island's capital.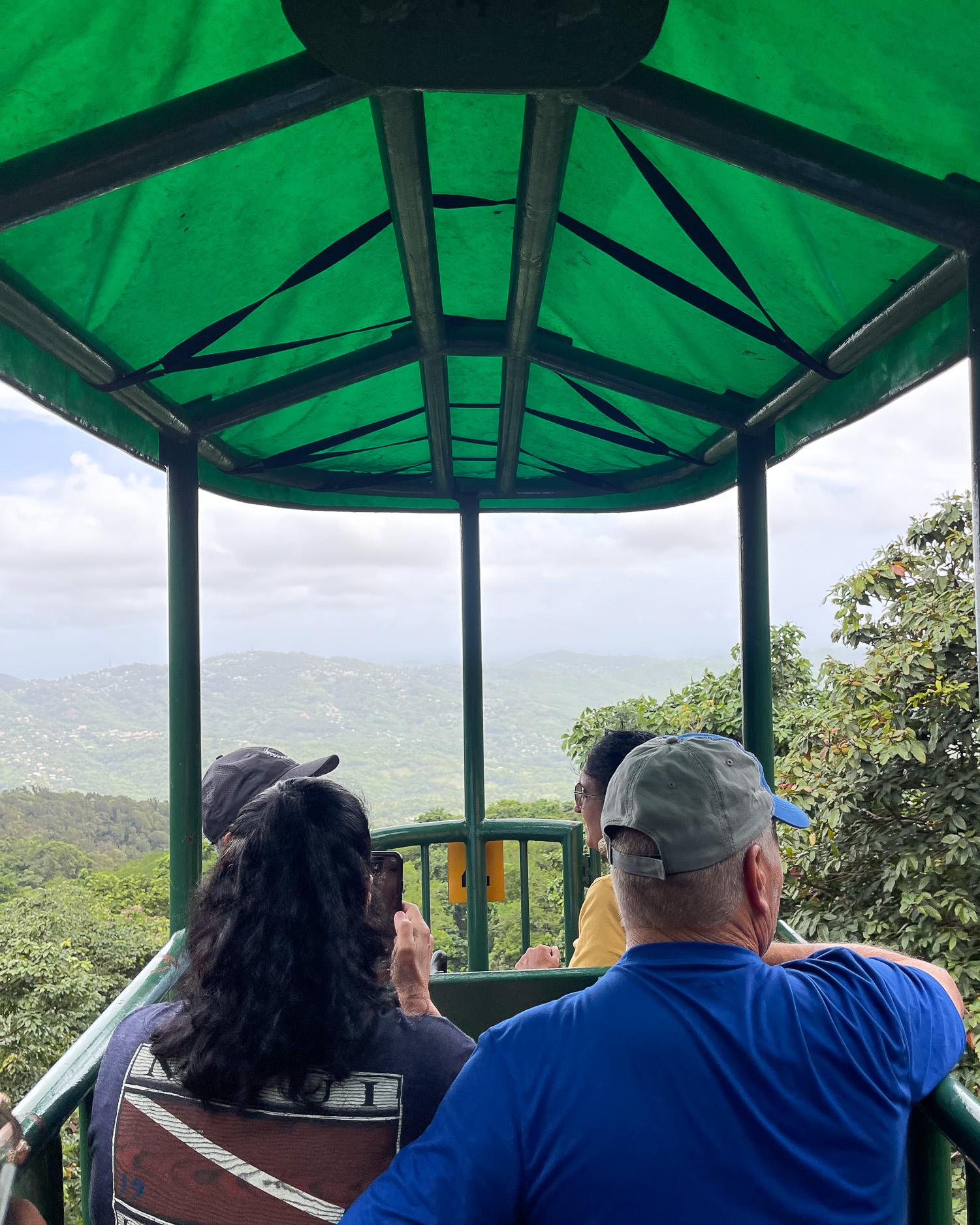 As we rose through the understory, we could see liana creepers weaving through the larger trees, and fiddle head ferns on the forest floor. Their young shoots that can be picked and served as a vegetable. We learned about some of the uses of the forest plants, such as the flowering Magnolia tree used by Chanel to create their perfumes, the towering Gommier tree whose wood is carved into canoes and the flowering Hibiscus that can be used to make a natural shampoo.
Every so often the rainforest aerial tram would come to a halt, allowing other people to board lower down. As we waited high in the canopy, our guide's sharp eyes helped us to spot some of the native birds that live in the rainforest. Iridescent black and green hummingbirds darted between the branches, and we spotted a banana quit with its yellow breast and the native St Lucian parrot flying high above us.
Turning around at the aerial tram's top station, our descent gave us some of the best views as we looked down on the forest canopy, with views towards the coast. The whole aerial tram ride took around 45 minutes and once we had reached the ground again, we followed the optional fern nature trail with our guide for a further 30 minutes.
On this easy trail, we passed alongside the flowing stream, spotting lizards and birds – including "Dave" the hummingbird who has staked his claim to this area of forest and tends to chase the other birds away. Around the lower station, we enjoyed the plantings of tropical flowers such as the heliconias, ginger lily and the stately wax rose or torch lily. Click here to pre-book your aerial tram tickets.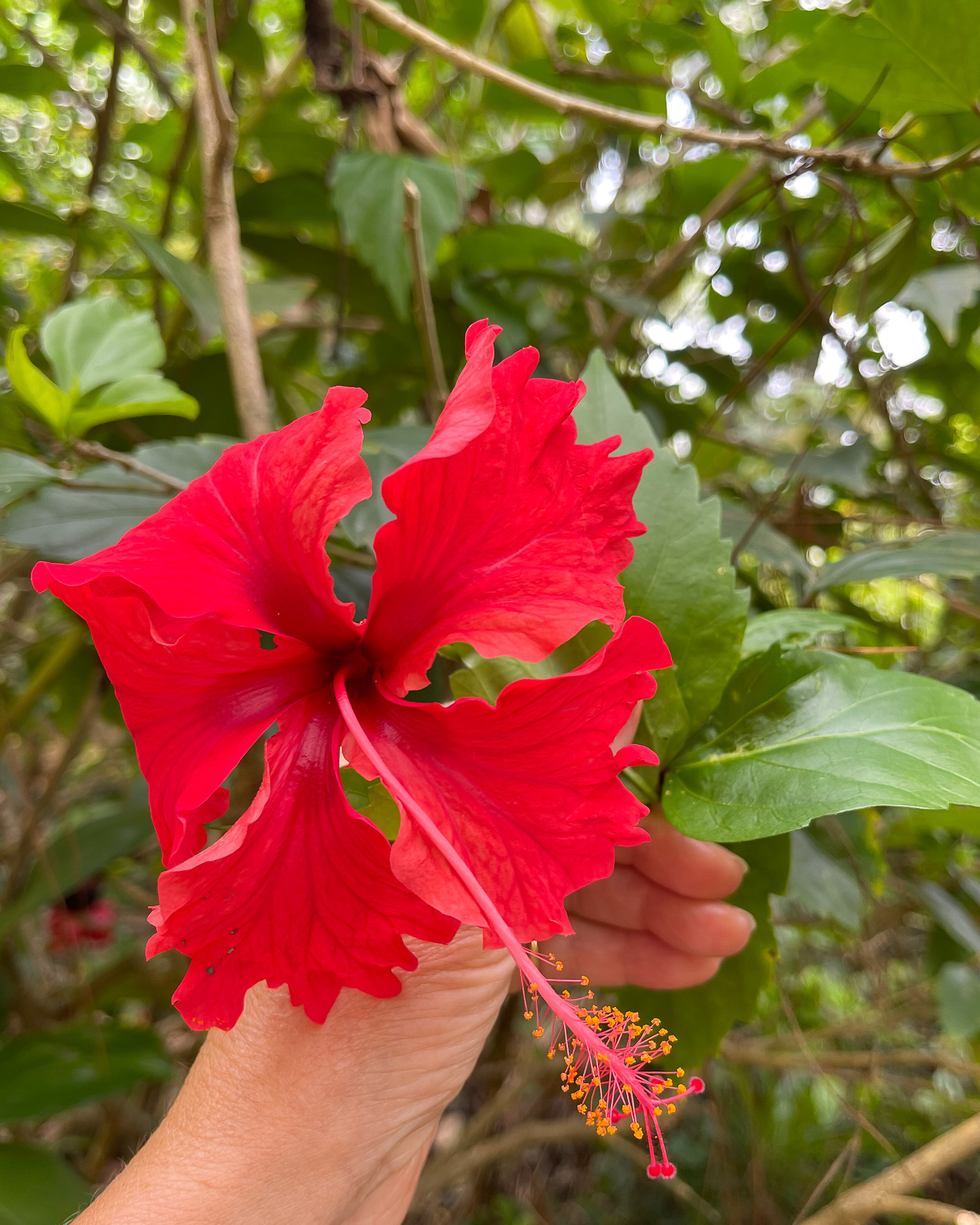 If you fancy a more adventurous way of seeing the rainforest, there are zip line courses also available through the canopy, or you can hike Jacquot trail, a nature walk that takes you up through the rainforest with a guide to the top aerial tram station.
Rainforest Aerial tram costs $65-85 US depending on the season and is often offered as a group excursion, where transport from your hotel or cruise ship is included. It's best to book a slot in advance as this is a popular excursion in St Lucia.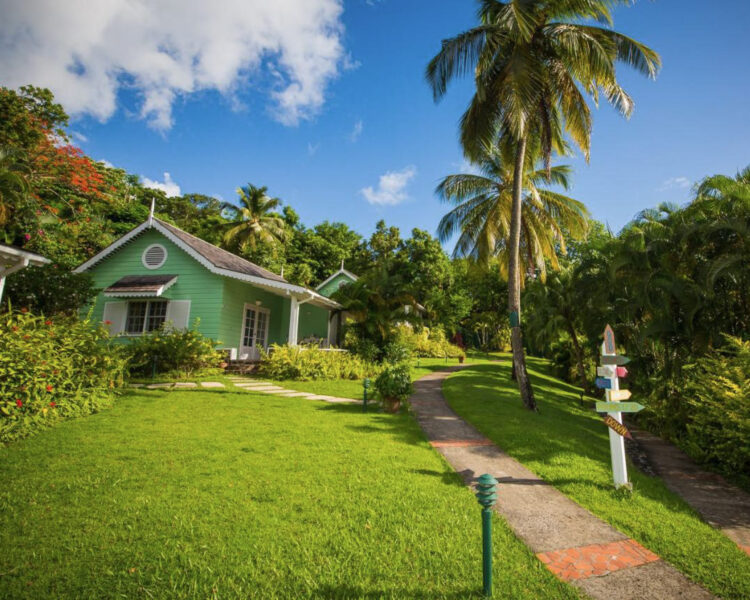 Mamiku Gardens – near Micoud
On Saint Lucia's east coast, between Micoud and Dennery lie the Mamiku Gardens. This side of the island tends to be less touristy, so the gardens are not as much visited as those around Soufriere, but worth including on any tour you might make along this coastline.
The estate was acquired in 1766 by Baron Micoud, a colonel in the French army and former governor. After 1796 when the the English took over the island, Frenchmen were not allowed to own land. However the Baron managed to transfer the estate into the name of his French Creole wife Anne Marie, of the Devaux family who owned Morne Coubaril and other property around Soufriere.
The land was then named after Mme Micoud, being eventually shortened to the current name of Mamiku. A plantation house was taken over by the British Military, who had a famous battle there in 1796 with the 'Brigands'. These free and escaped slaves were inspired by the French revolution to fight against the French and English, trying to establish freedom from colonial rule. During this battle, the plantation house was burned to the ground, and was never rebuilt. We climbed the hill to see the ruins of its stone foundations.
Today the Mamiku estate is a working plantation, growing bananas, cocoa, tropical flowers and fruit. A botanical garden has been established by owner Veronica Shingleton-Smith, whose family acquired the plantation in 1906. Mrs. Shingleton-Smith is known on St Lucia as a leading horticulturalist and landscape gardener, creating the garden in the 1990s as a 12 acre oasis of flowering botanical plants, shrubs and trees.
Walking up from the car park we found no-one manning the entrance kiosk, so walked up the meandering path to the visitor centre, where there is a small museum room and cafe. We received a leaflet with map about the gardens, which is divided into several different garden areas.
To the left of the centre, the Secret garden is full of medicinal and culinary herbs, while the Mystic garden shows off a collection of orchids in their natural surroundings. Near an old Banyan tree is the ruins of "Grandpa's house", where a waterlily garden has been created in an old copper pan.
As we hiked up the steep path on Tamarind Hill, the view over Praslin Bay was revealed through a clearing and nearby we found the stone foundations of the old Micoud plantation house, site of the Brigand's battle.
After a walk around the garden trails, there's a small bar serving drinks and snacks, and a chance to look at some of the artefacts that have been found on the estate, with information about the historical event that took place there.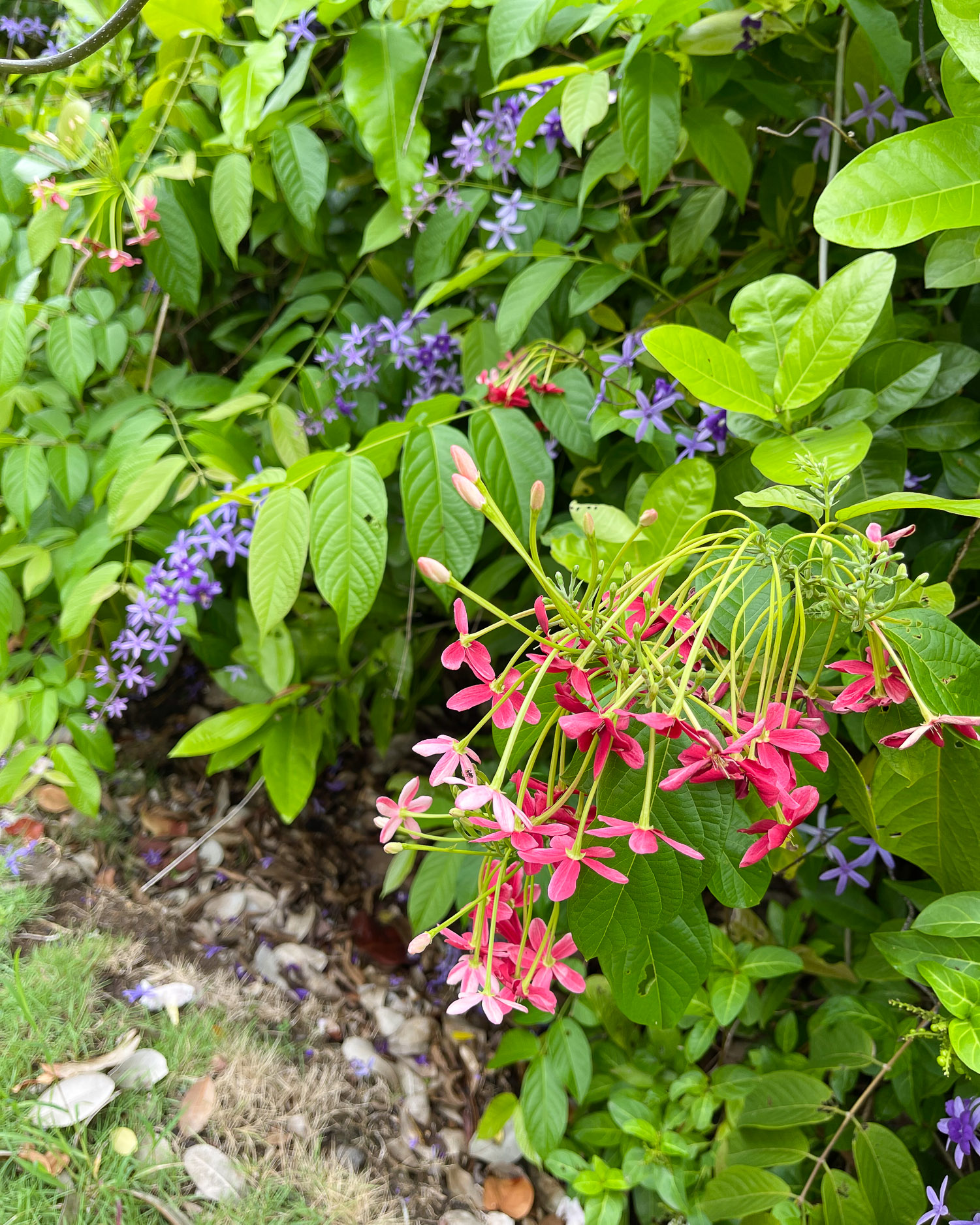 This peaceful and colourful botanic garden in St Lucia deserves to be better known and visited, so make sure you stop by if you are exploring the wild and unspoiled east coast of St Lucia.
Mamiku Gardens costs $10 US to visit, group tours should be arranged in advance but otherwise you can arrive daily 9am-5pm for a self guided tour.
Latille Waterfall and Garden
In the same area of St Lucia as the Mamiku gardens is the LaTille waterfall and garden, so it's worth trying to visit both on the same trip. The garden is privately owned by John Selie, who practiced horticulture on St Lucia for many years. Around his home he has created a quiet and shady organic garden with plantings of herbs, flowers and fruit trees. While we were there it was mango season and the trees around the buildings were dropping their fruit onto the ground.
John is Rastafarian and there's an open sided shelter filled with Rastafarian colours and decoration, with crafts on sale and an area where refreshments can be organised for group visits. After paying the $10 US entrance fee, we wandered down the path and steps planted with giant heliconia, to see the Latille waterfall. The area was shady and surrounded by forest, the pool under the falls looking rather muddy.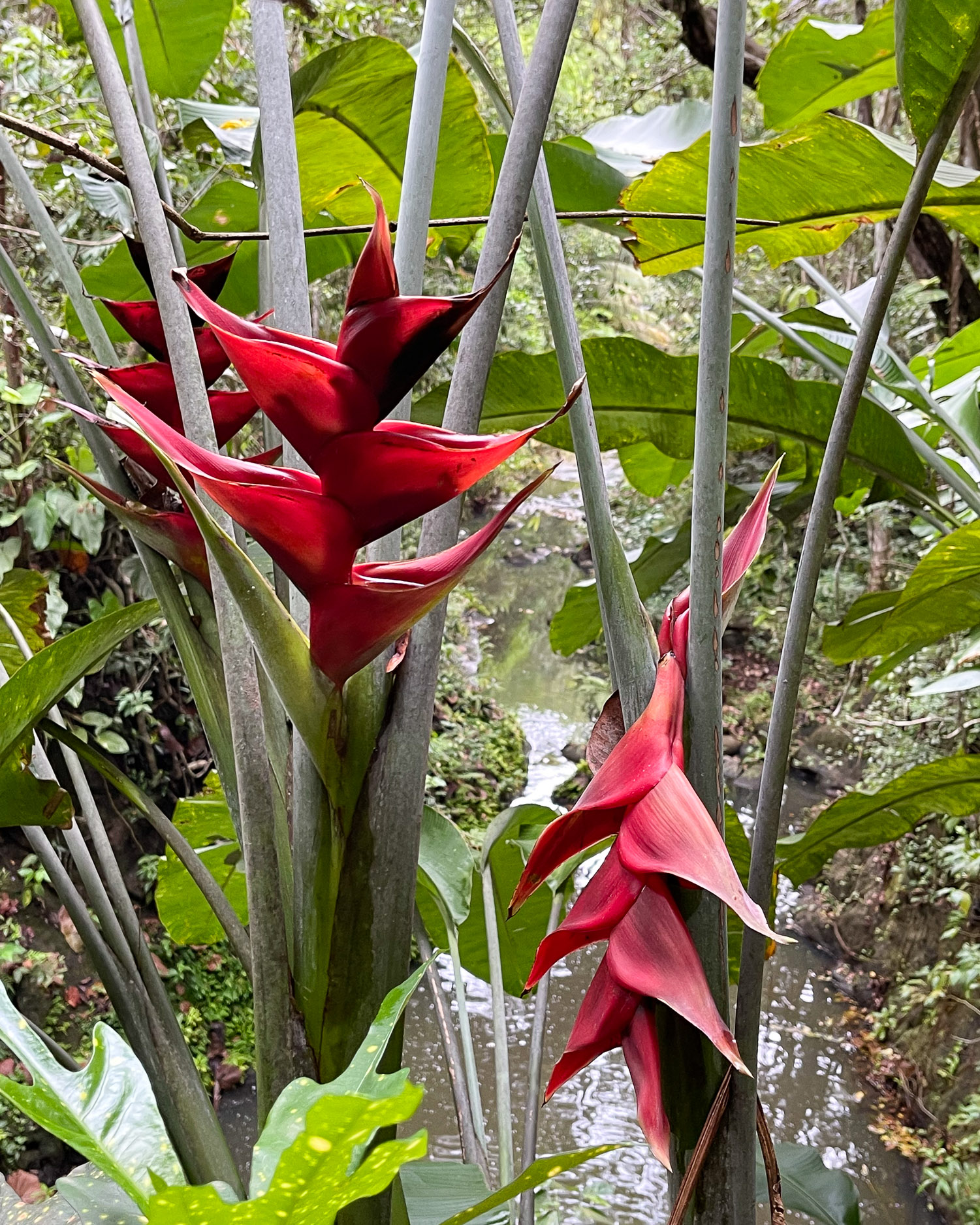 I wasn't very tempted to paddle or swim, although on hot days you might want to cool off under the waterfall. We read there are trails that you can follow along the course of the river below the waterfall, leading to further swimming pools, but you'd need swimming shoes or trainers at it all looked quite slippery.
After taking some photos at the waterfall, we returned up the path to the garden for a pleasant chat with John, who showed us some of the different herbal plants and heliconia varieties around the garden.
There's also a rectangular pool where you can sit on wooden benches and dangle your feet in the water, with small Tilapia fishes that nibble the dead skin off your feet for a natural pedicure. Latille Falls St Lucia is a pleasant stop on any trip around the island's east coast, and one that is easily combined with the Mamiku gardens.
LaTille Falls and Gardens entrance $10 US – we spent around 45 minutes to see the gardens and falls but you could stay longer.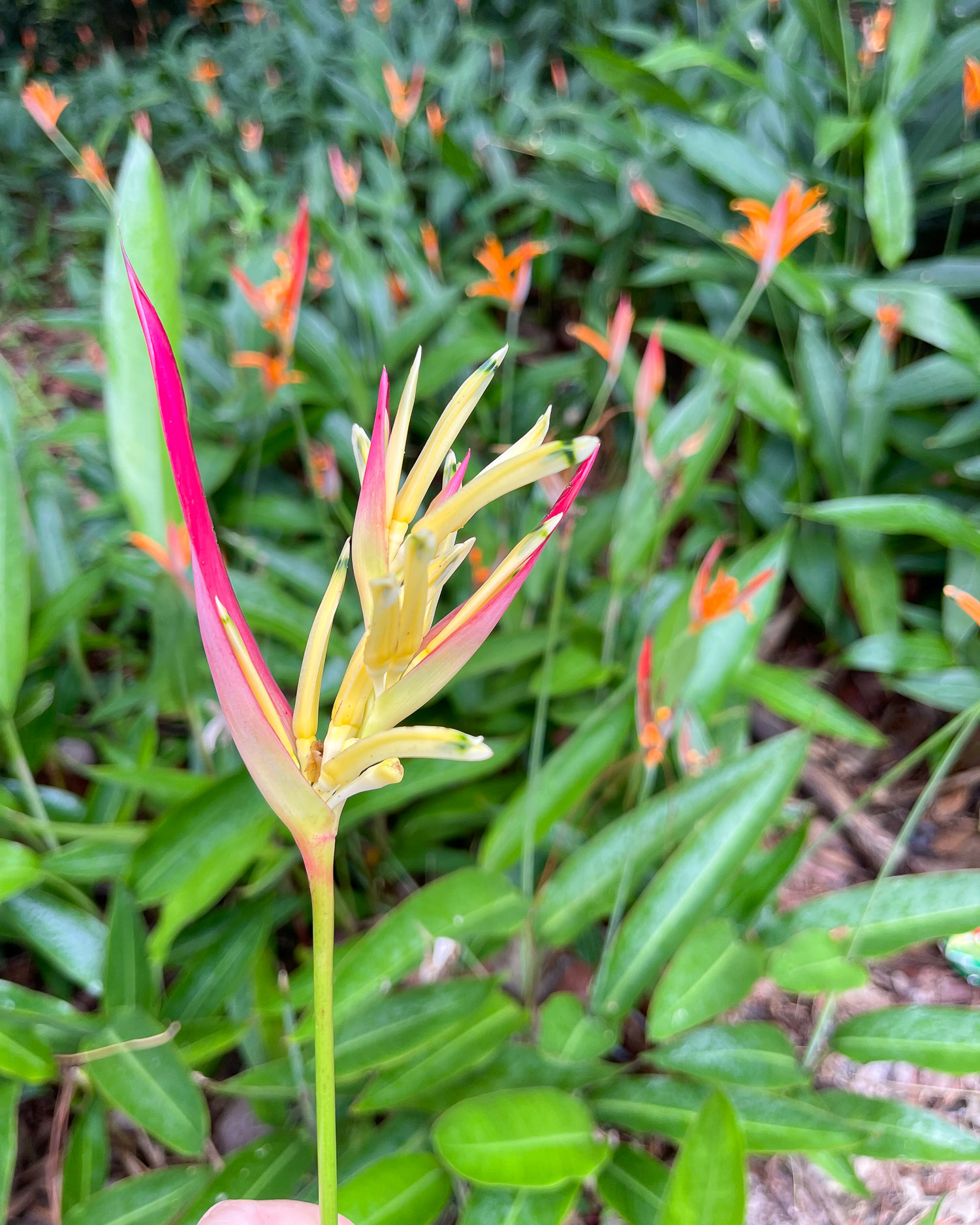 Rabot Estate – Project Chocolat experience
The 140 acre Rabot Estate is located close to Soufriere, with views of the Pitons, rainforest and Mount Gimie, St Lucia's highest peak. In 2006, the estate was purchased by Angus Thirlwell and Peter Harris, of Hotel Chocolat, who have invested heavily in restoring this organic cocoa estate with bean to bar production.
The estate is run in partnership with local growers, who are supplied with training and subsidised seedlings, as well as a guaranteed market for their cocoa beans at a fixed price above the world market price.
Through their Project Chocolat tours, you can learn how cocoa is grown on the Rabot plantation and have some fun making your own bean to bar chocolate. Tours start at the trendy Project Chocolat centre which is next to the exclusive Rabot Hotel, offering 25 private eco-lodges. We entered through the herb garden, past the murals by local artist Sakey and up steps to the Project Chocolat bar and street food cafe area. Click here to pre-book your tour.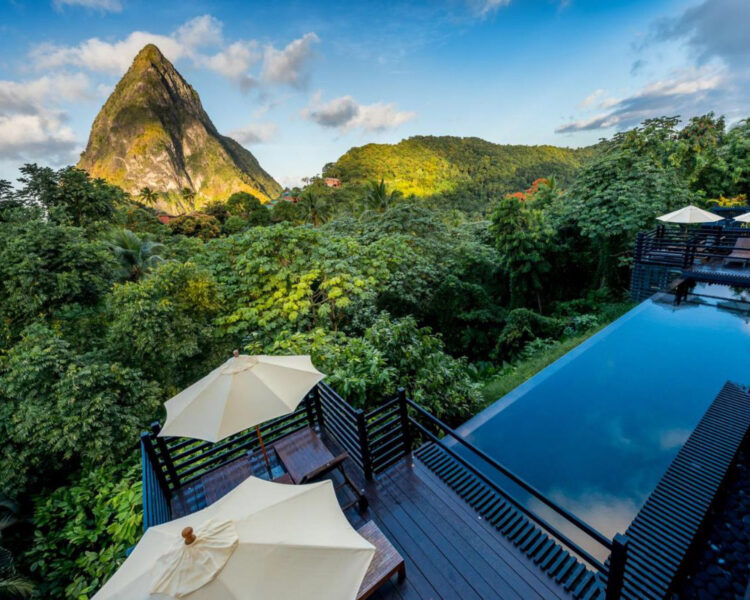 Our tree to bar tour started in the Seederie, where the young cocoa plants are propagated and we had a chance to graft our own seedling and give it a name. Then we wandered through the plantation area, learning about all the different botanical plants and crops, although a rain storm meant that we had to seek shelter rather than explore the full area.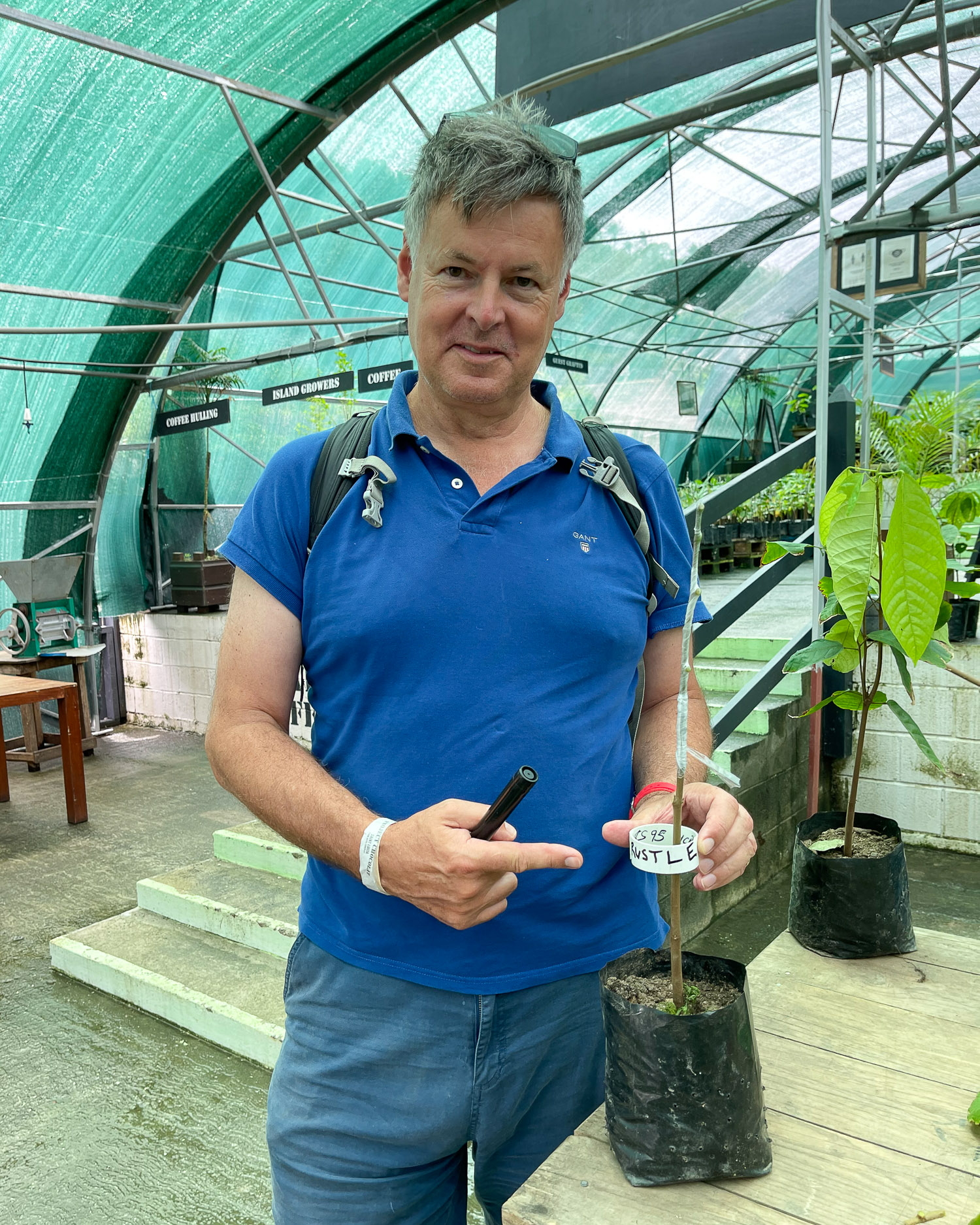 On returning to the centre, the "bean to bar' part of the tour began as we ground the cocoa nibs by hand in a pestle and mortar. Sugar and cocoa butter was added with lots more mixing, before our rather grainy mixture was deemed ready to pour into moulds and make the chocolate bar. The Tree to Bar tour ended with an excellent lunch from the street food style cafe, where lots of the dishes were flavoured with cacao, including the delicious cocoa infused ice cream.
Although Project Chocolat St Lucia offer more of a chocolate tour than a plantation tour, it's an interesting insight to how cocoa is grown with a fun chocolate making experience thrown in.
The Project Chocolat tree to bar experience including lunch costs around $119 US. The bean to bar experience costs around $69 US and covers similar activities, but does not include the lunch. Book your Project Chocolat tour here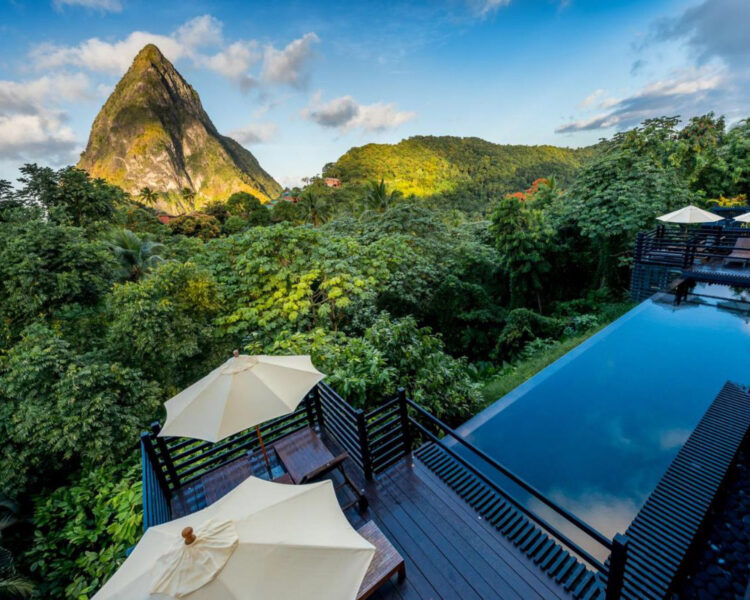 Anse Mamin Plantation
While staying at Jade Mountain and Anse Chastanet Resort, we had a chance to explore the lovely plantation at Anse Mamin. This 600 acre French colonial plantation is set immediately behind Anse Mamin Beach. It features walking and cycling trails that lead to the ruins of the old sugar mill and other plantation buildings.
While the beach is public, the plantation is privately owned by the resort and for the use of guests only, with complimentary guided hikes arranged by the hotel. Within the plantation are atmospheric ruins of the old sugar mill, cocoa shed and stables, with further paths leading up to the reservoir that supplies the resort with water.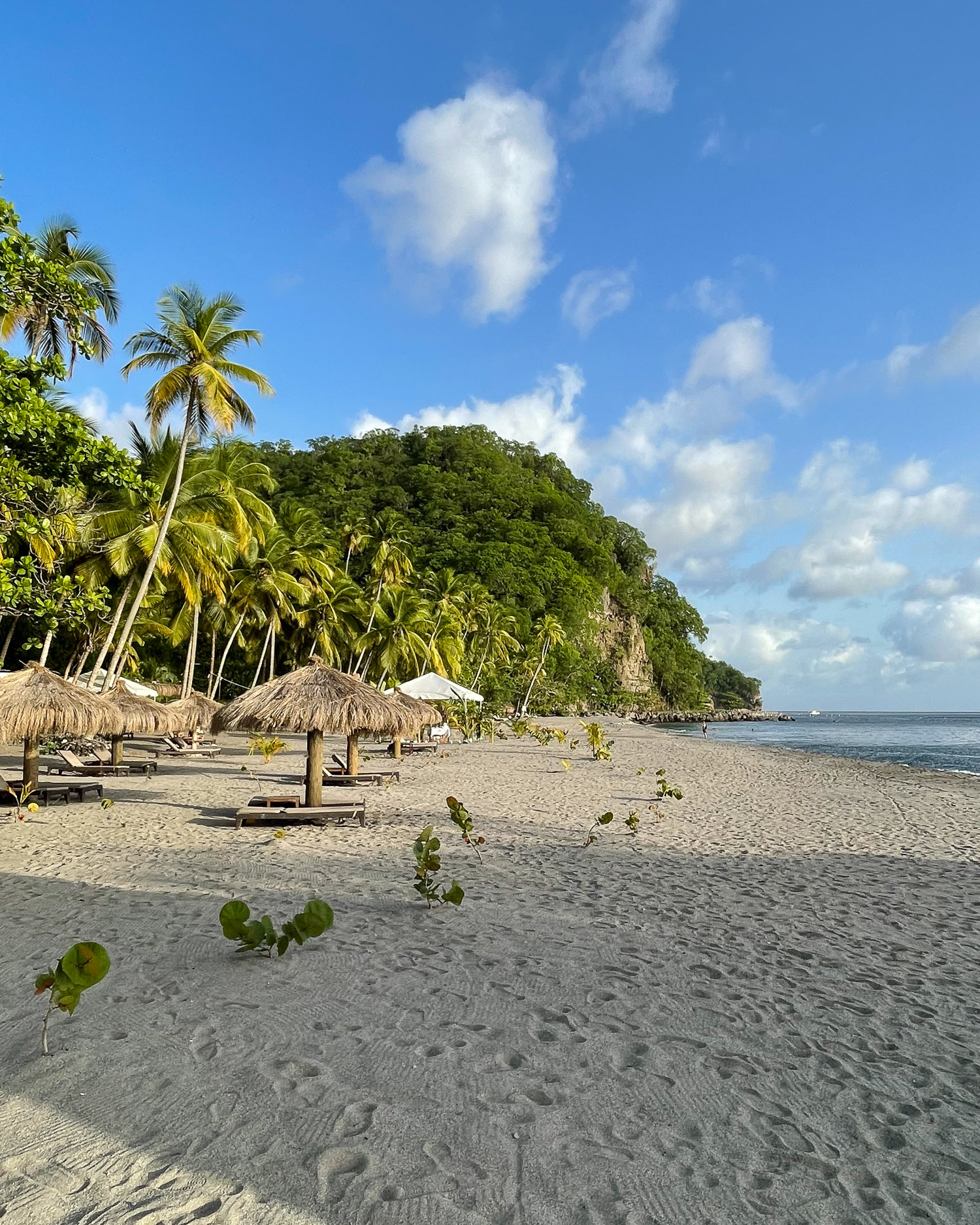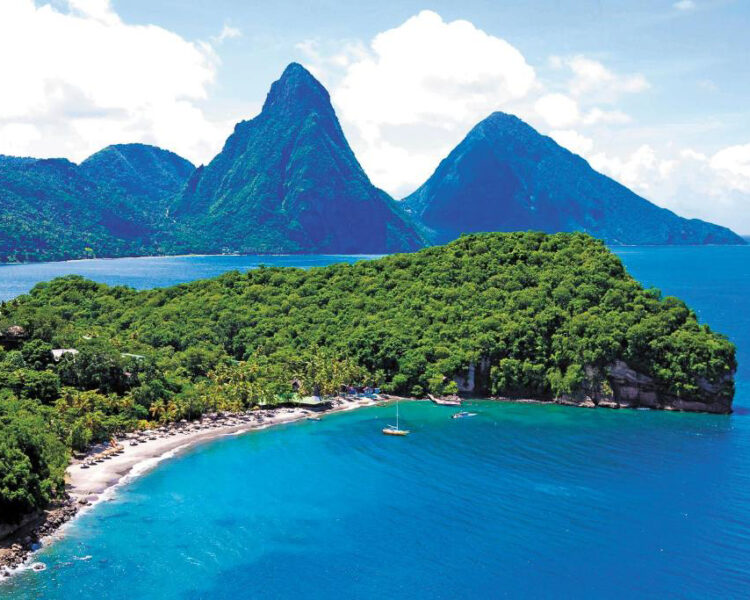 One way that visitors not staying at the hotel can experience the plantation is by renting a mountain bike through Bike St Lucia. There are a number of cycling trails within the plantation, many that are suitable for novices, others like the Tinker Trail that are only for the determined rider. While preference is given to resort guests, you can contact Bike St Lucia if you'd like to make a bike rental reservation in advance to check on availability.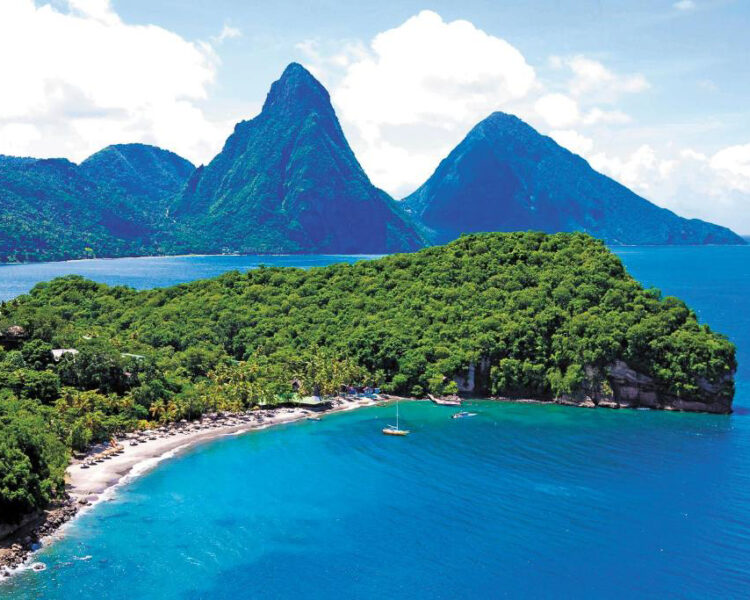 If you are not staying at the resort, access to Anse Mamin plantation is by taking the mountain road from Soufriere to Anse Chastanet resort (there's a car park just before the resort entrance), then walking onto Anse Chastanet beach. From here a path runs around the coast in a 15 minute walk to Anse Mamin beach. If you have a booking there's a hotel shuttle boat that goes from Anse Chastanet beach to Anse Mamin. Alternatively, water taxis are available from Soufriere.
Saint Lucia Botanical Trail
St Lucia's tourism board has created a Botanical Trail, with a map of some of the major plantations and gardens in St Lucia. You can read about medicinal plants such as Lemongrass used as a mosquito repellent, Moringa which is one of the most nutrient rich plants known as 'the tree of life' and Bitter Melon used to strengthen the liver. The map below shows the location of many of the gardens we visited and you can find more on the website about the St Lucia Botanical Trail.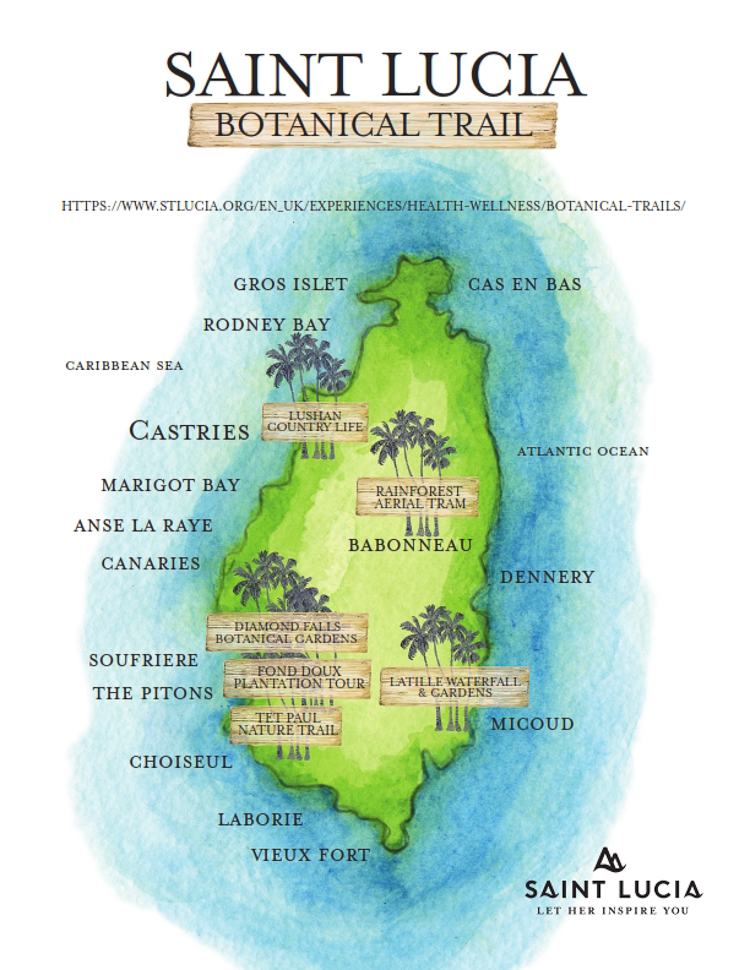 Plan your visit to St Lucia
If you are planning a visit to beautiful St Lucia you'll find plenty more information on the St Lucia official UK Tourism website and their social channels; Twitter | Facebook | Instagram
If you need a guidebook to St Lucia we recommend the Mini Rough Guide to St. Lucia
If you are looking for less expensive, local accommodation that's great for independent travellers, check out the Saint Lucia Collection de Pepites, with listings of smaller scale properties, apartments, villas, guest houses, B&Bs.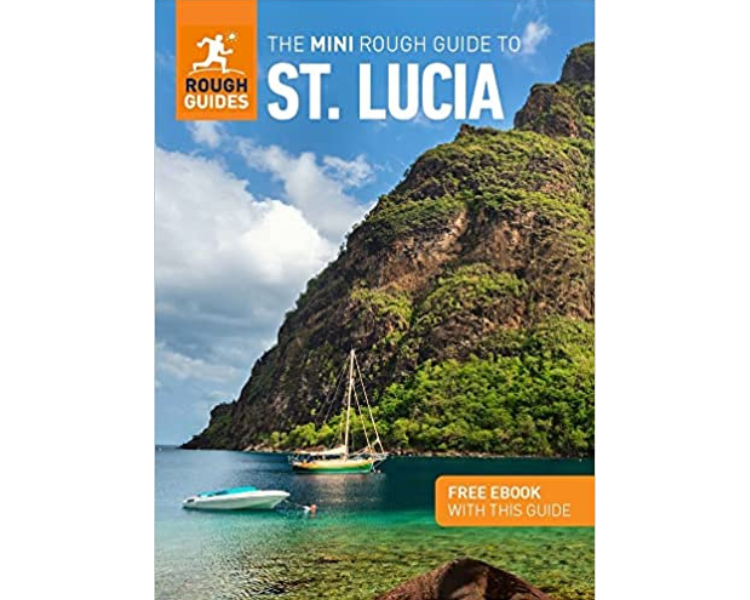 If you need a transfer from the airport to your hotel check out this Private transfer to/ from Hewanorra Airport
Getting around St Lucia
To get around St Lucia the best ways are by taxi or by local mini-bus. The taxis are plentiful and most convenient when you are travelling from hotel to hotel or to locations that are away from the main road. There are set rates for each journey and the taxi driver can let you know the cost of each trip. You'll find taxi ranks in Castries and other towns and your hotel can always arrange a taxi for you.
The bus is a cheaper alternative, and works well if you are travelling on routes along the main highways as they pass by very frequently. They are small minibuses that are privately run and there are set fares – expect to pay around $2-3 EC per journey. It's a fun local experience to travel on local buses and I enjoyed squeezing in with chattering schoolgirls travelling into Castries. You can ask any local where to get the bus and which one to catch – there are bus stops but the buses may also drop you off or pick you up at other places if you ask.
Money in St Lucia
The currency is St Lucia is Eastern Caribbean Dollars, referred to as $EC but US Dollars are generally accepted in shops and visitor attractions that attract a lot of tourists. If you pay in $US cash you may be given change in $EC. The rate of exchange that was in general use at the time of my visit was $1US = $2.5 EC or £1 = $3EC although you may get better rates at banks. At the major visitor attractions or for hotel excursions, rates are often quoted in $US so be sure you know which currency you are paying.
It works best if you arrive in St Lucia with some $US in cash which can be easily changed in $EC locally and there are ATMs at banks in Castries and other centres around the island where you can also withdraw money as you need it. Credit cards are widely accepted in hotels, restaurants and larger shops, especially those that cater for tourists, but you will need $EC for smaller shops and in the markets.
Where to stay in Saint Lucia
Here are some of the hotels in St Lucia that we stayed in and can personally recommend – you can also search for other hotels in Saint Lucia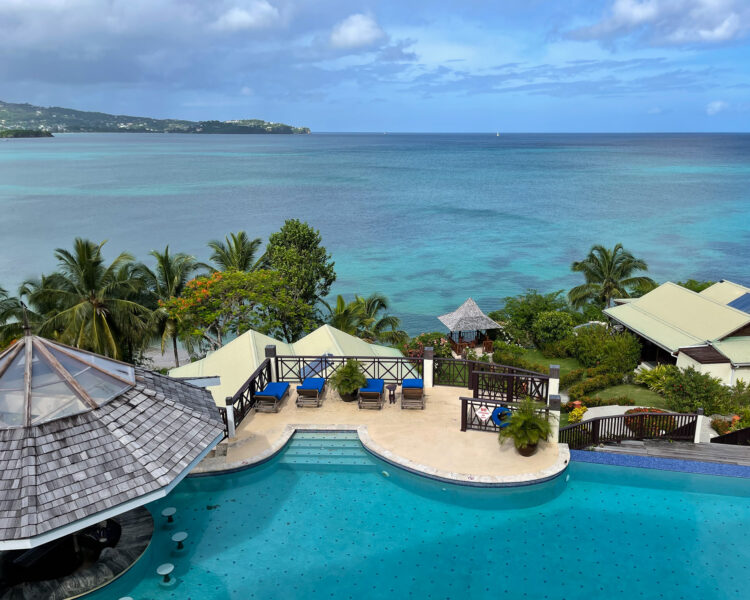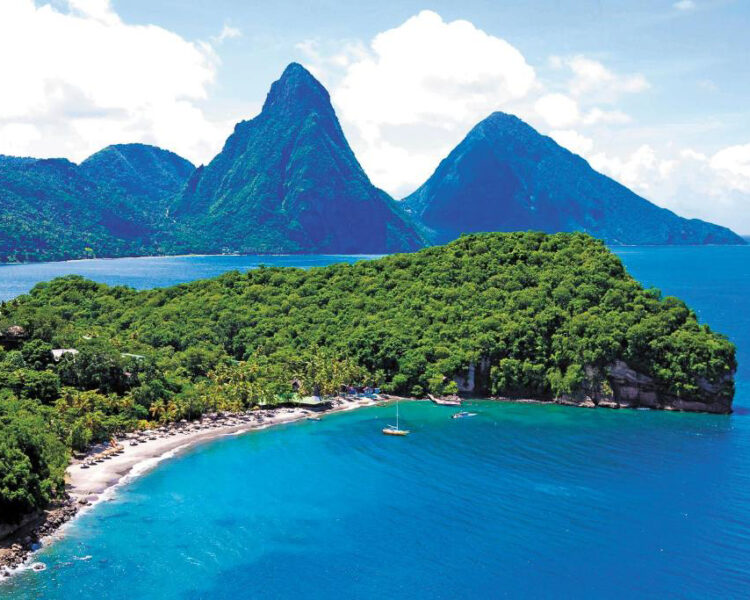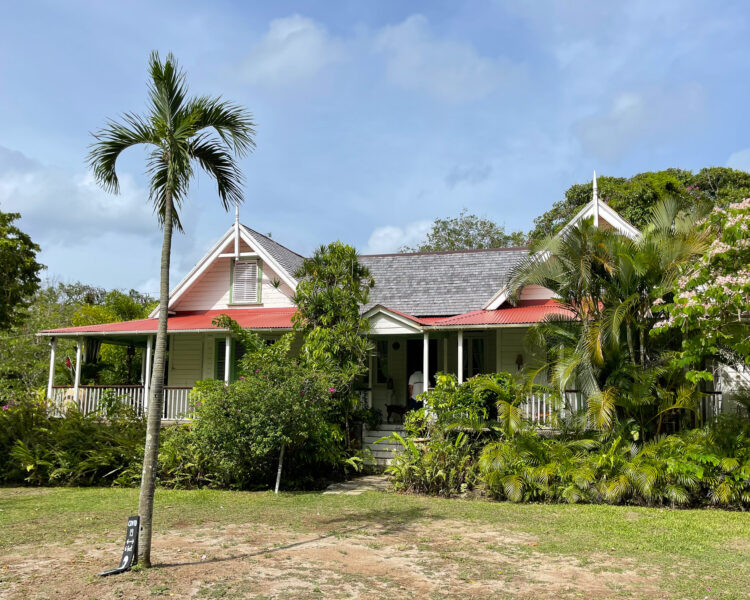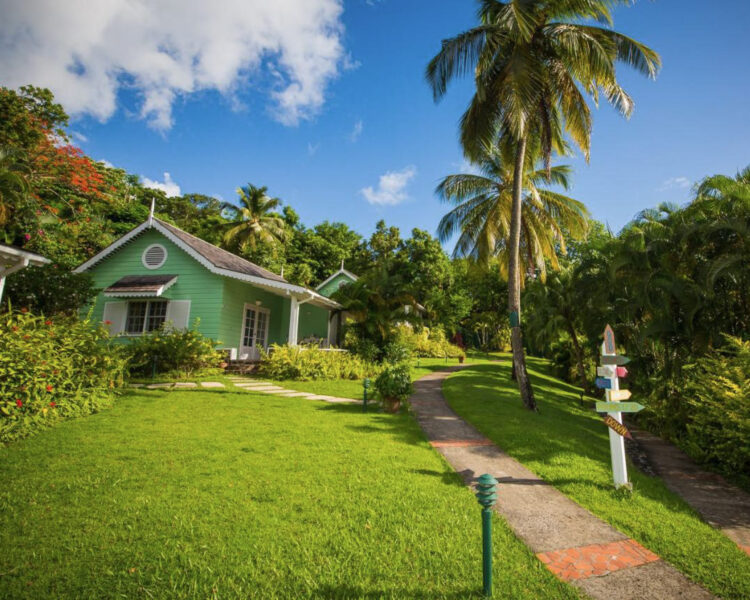 Pin it
Heather's press trip to Saint Lucia was hosted* by Saint Lucia Tourism, who provided some of the experiences mentioned.
* More info on my policies page
This article is originally published at Heatheronhertravels.com