Norwegian Cruise Line, the innovator in global cruise travel, today announced the completion of Norwegian Prima's first U.S. voyage. 
Prima's inaugural voyage departed on a round-trip cruise from New York City to Halifax, Nova Scotia on October 6, 2022.  The ship returned to New York City on October 10, 2022. 
As NCL's newest vessel in the brand's 18-ship fleet, Norwegian Prima made an historic launch as the first major cruise ship to be christened in Reykjavik, Iceland.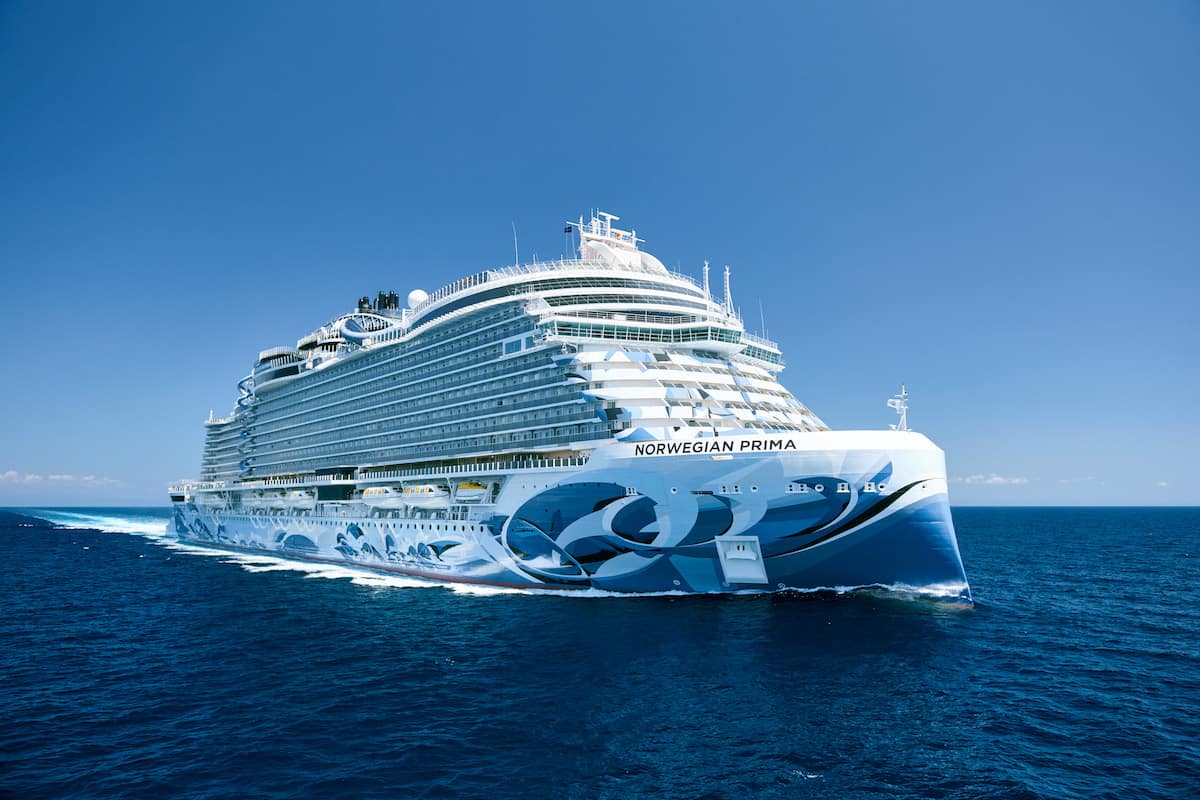 Norwegian Prima Makes Her U.S. Debut in New York City
For the first time in the U.S., Norwegian Prima welcomed guests to enjoy unrivaled experiences only available on NCL's Prima Class. 
Unlike any ship at sea, Prima holds the world's only and largest three-level racetrack at sea – the Prima Speedway.  Prima also marks the cruise line's first upscale eatery, Indulge Food Hall.
There's also The Metropolitan, the cruise industry's first sustainable cocktail bar features responsibly crafted zero-waste cocktails prepared with surplus ingredients, including banana peels.
RELATED:  A Look at the new Prima Class Dining 
"As a native New Yorker this city is dear to me as well as to our Company, where NCL has been sailing from the Big Apple since 1991, so we are thrilled that our newest ship, Norwegian Prima, completed her first U.S. voyage in New York City," said Norwegian Cruise Line President and Chief Executive Officer Harry Sommer. "We are very excited to show travelers all that Norwegian Prima has to offer, including more wide-open spaces, thoughtful design and elevated service that will exceed guest expectations."
Innovative Offerings at Every Level
Norwegian Prima is the first of six ships in the brand's groundbreaking Prima Class with capacity for 3,100 guests at double occupancy. She offers the highest staffing levels and space ratio of any contemporary or premium cruise ship.
The ship boasts the largest variety of suite categories available at sea as well as a redefined The Haven by Norwegian, NCL's ultra-premium keycard only access ship-within-a-ship concept.
A variety of recreational activities includes the fastest slides at sea – The Rush and The Drop.  There's the popular racetrack, here called the Prima Speedway, provide guests with adrenaline-pumping moments.
There are unique spaces like Ocean Boulevard, a 44,000 square foot outdoor walkway that wraps around the entire ship.  A real promenade!
The Concourse boasts a multi-million dollar outdoor sculpture garden, expansive pool decks, and infinity style pools at Infinity Beach for guests to sit back and relax.
READ MORE:  Norwegian Cruise Line Drink Packages Guide
Norwegian Prima – A Masterclass in Entertainment
Norwegian Cruise Line, known for its world-class, Broadway-caliber entertainment, premiered Tony Award®-nominated musical "Summer: The Donna Summer Musical" on Norwegian Prima during her christening voyage.
The headlining act is an 85-minute immersive production and a first-at-sea experience.  The theater itself transforms into a full disco.  Guests can become a part of the show and dance to Summer's all-time fan favorite medleys. 
After Prima completes her first set of revenue voyages from New York City, with visits to sunny Bermuda, historical Virginia Beach, the Dominican Republic, Mexico and Puerto Rico, the ship will reposition to homeport at Port Canaveral, Florida from December 2022 to mid-March 2023 for Caribbean cruises.  
RELATED:  Norwegian Celebrates Float Out of Next Prima Class Ship
Starting March 28, 2023 through May 14, 2023, Norwegian Prima will offer cruises to Bermuda before returning to Northern Europe. 
Then on May 14, 2023, the ship will head to Reykjavik, Iceland.  Then onto Southampton, United Kingdom, with calls at some of the most beautiful northern European port destination throughout Iceland and Norway.
Jamie Kennedy
Jamie lives and works in Jacksonville, Florida. While her day job keeps her busy managing digital customer experience strategies for global brands, her passion is writing and finding new, eco-friendly ways to see the world. You can find her chatting about marketing, eco-tourism, and adventurous travels on Twitter @jamieckennedy.