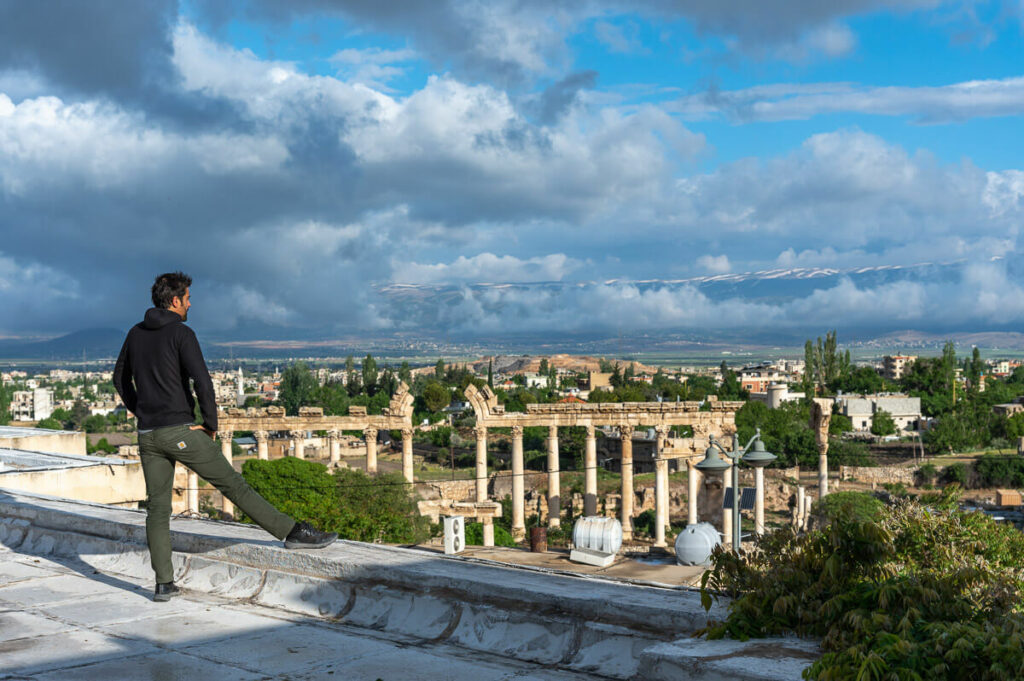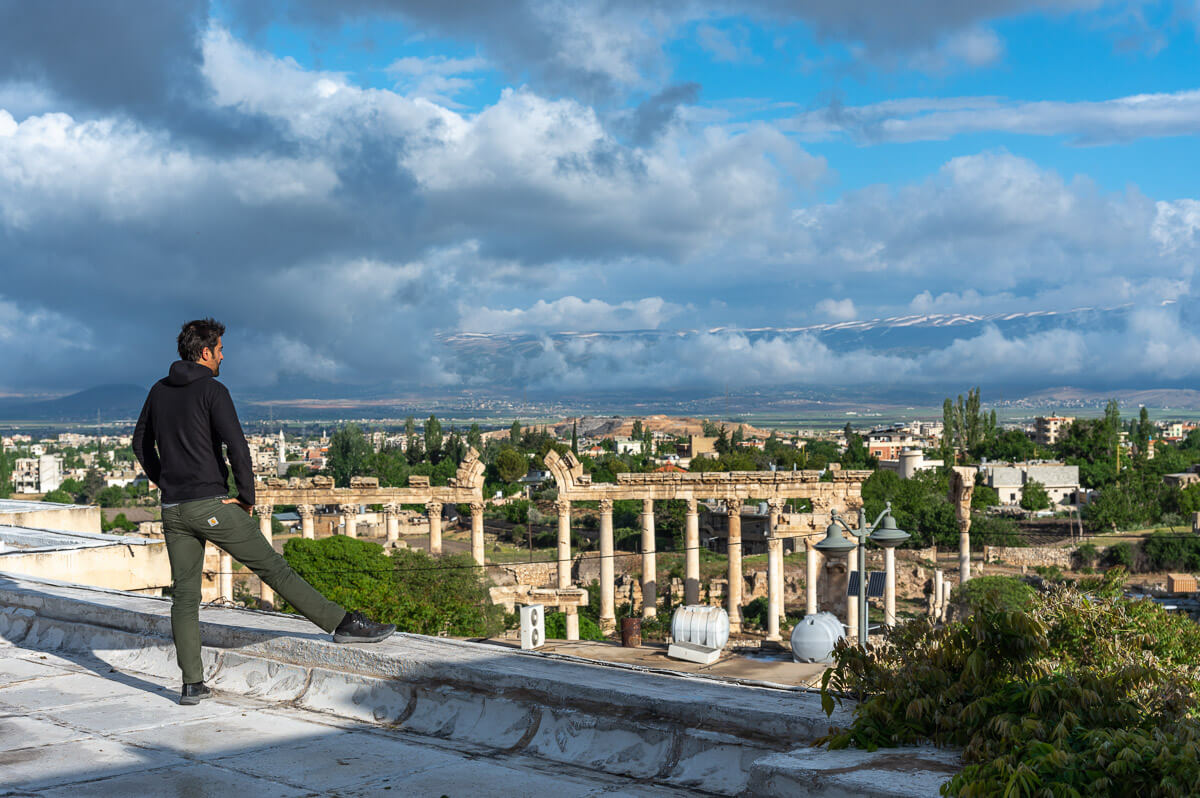 This is a compelling travel guide to Lebanon that shows how to visit the Levantine country during the crisis, including where to exchange in the black market. It also includes things to do, how to move around, where to stay and more.
Despite its tiny size, Lebanon is the most diverse country in the Middle East, a nation that chaotically combines both Arab and European Mediterranean culture, with their love for good wine and the most exquisite food in the region, without never losing their Arab essence.
Lebanon, however, is not in their brightest moment.
A deep economical crisis fuelled by the port explosion and also COVID-19 has left an impoverished country with terrible inflation, and an absolutely desperate population.
As a traveler, Lebanon has changed a lot, the crisis is particularly palpable but that should not stop you from visiting such an alluring country, which is also desperate for foreign currency.
This guide contains travel tips for Lebanon, as well as a complete itinerary.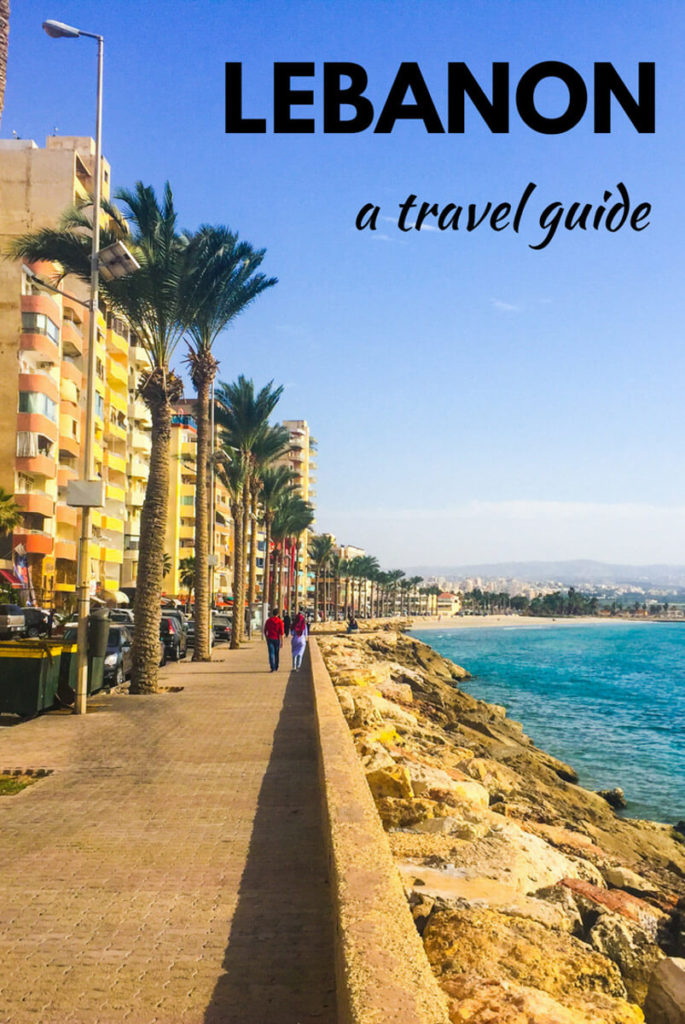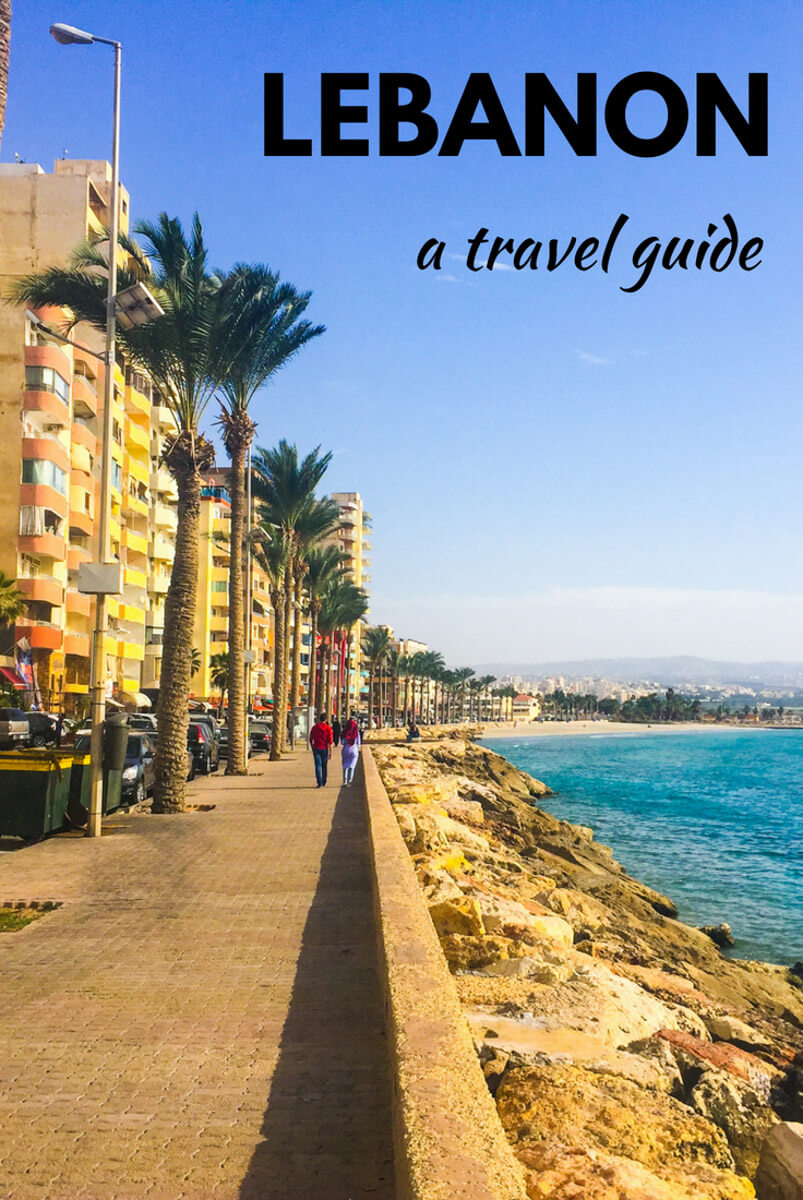 COVID-19 Travel restrictions for Lebanon
In October 2022, Lebanon lifted all its COVID restrictions.
Visa for traveling to Lebanon
Most nationalities can get a free 30-day visa on arrival at the airport in Beirut, which is extendable for 2 additional months.
You just get an easy, friendly stamp, that's it, and it's valid for multiple entries.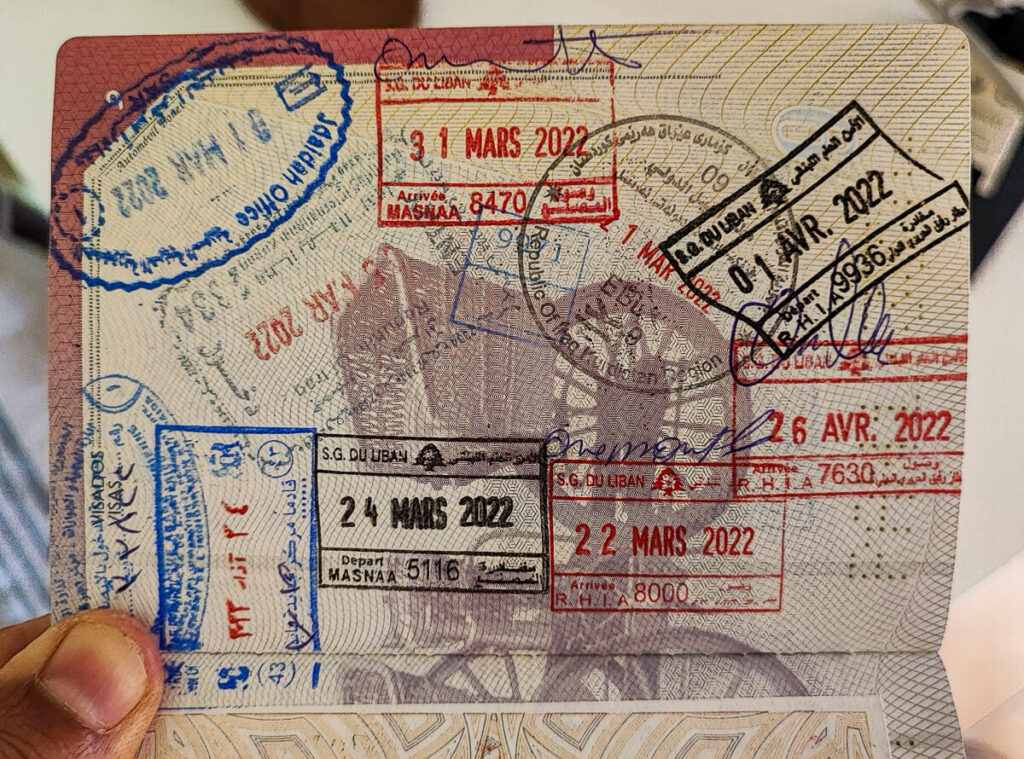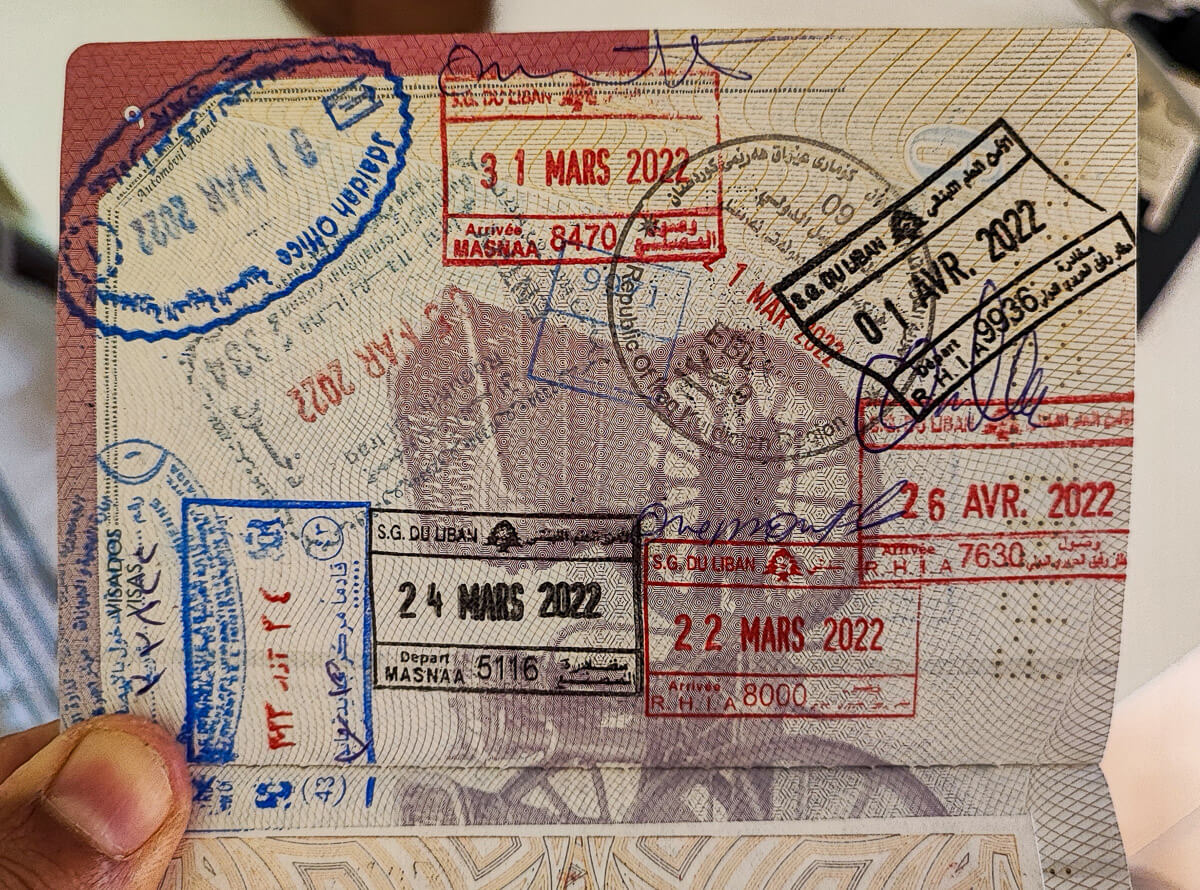 Internet and connectivity in Lebanon
Wi-Fi connection has improved over the last few years, but it's still not the best, it tends to fail in most budget hotels, and that's why I recommend buying a SIM Card.
One company I used was Alfa, their internet packages costing the equivalent of around 20USD.
Get a VPN for traveling in Lebanon
You should always use a VPN when you travel, especially when you connect to public Wi-Fi networks.
Your connection will be much safer. 
Moreover, you will be able to access content which is typically censored in Lebanon. 
I recommend ExpressVPN – Extremely easy to use, fast and cheap. 
If you want to learn more about VPN, check: Why you need a VPN for traveling.
Read: A travel guide to Palestine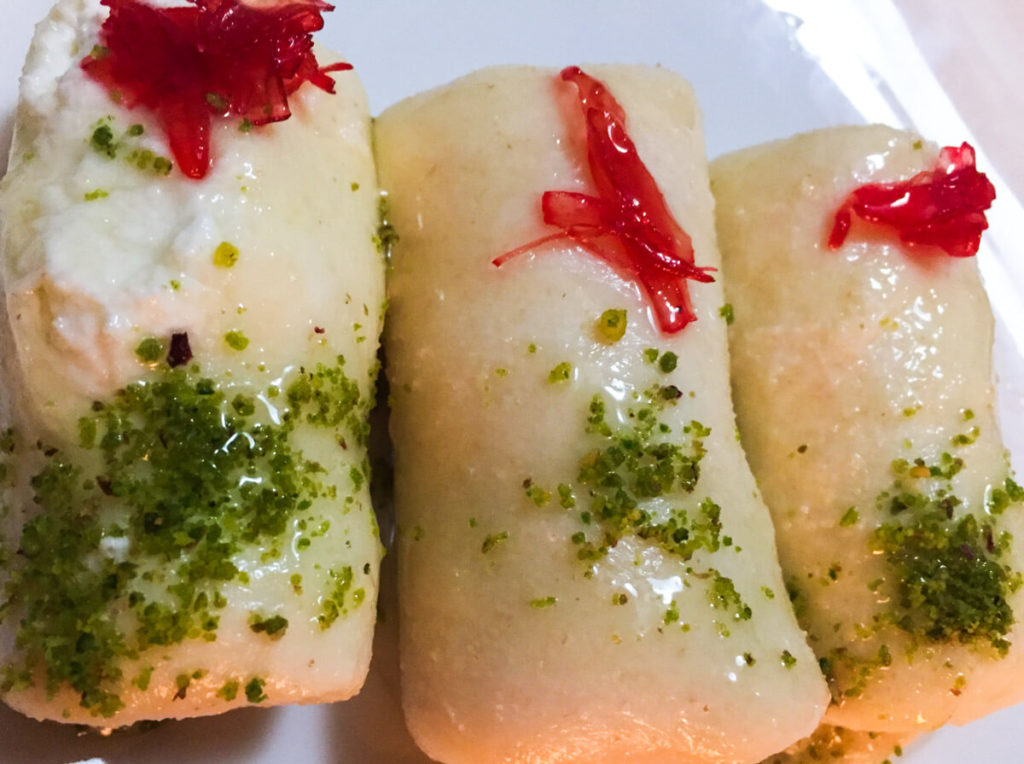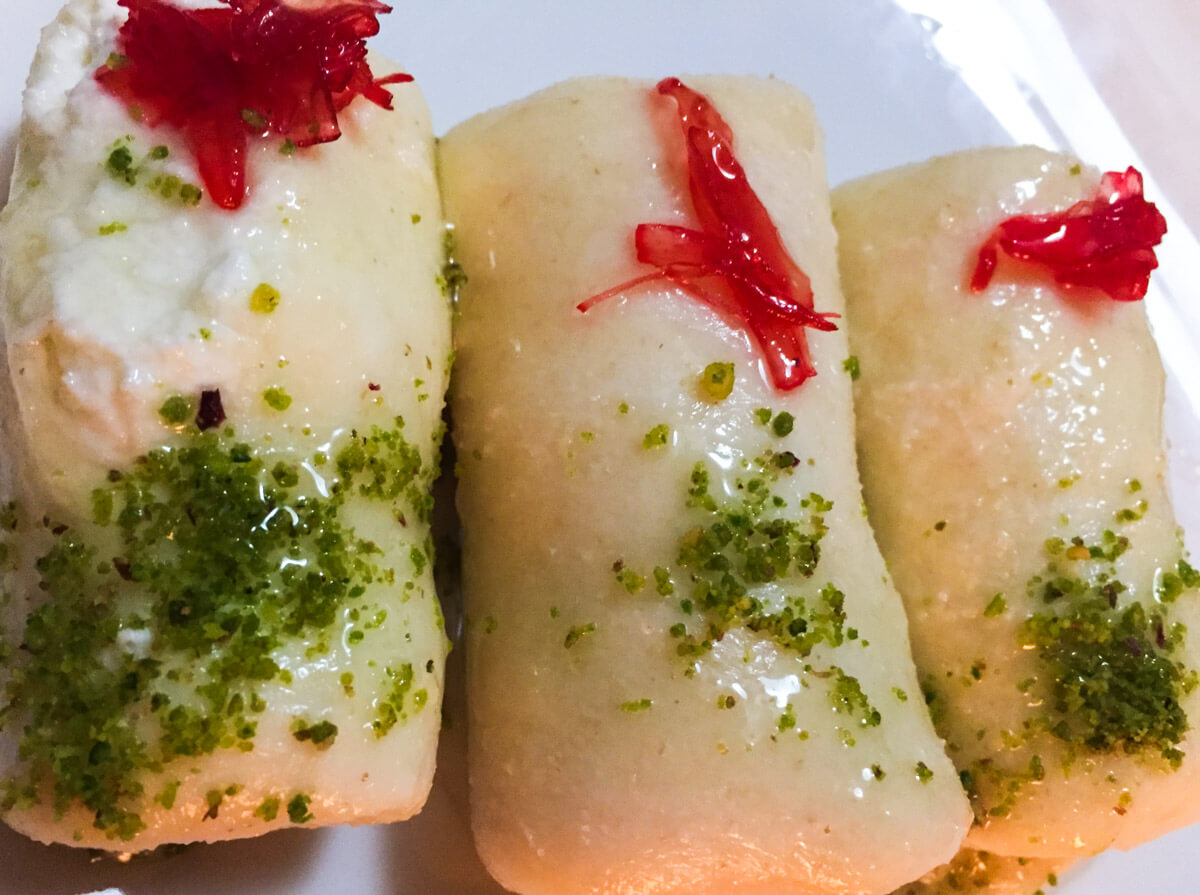 How to travel in Lebanon during the crisis
As mentioned, Lebanon is immersed in a hugely deep financial crisis, and below are the things that might affect you as a traveler.
1 – Need to know about money in Lebanon during the crisis
In Lebanon, the official currency is the Lebanese Pound (LBP).
The official exchange rate versus US $ is 1 USD equals 1500LBP.
That's the official (and old) bank rate. However, because of the crisis, the official rate in the black market is today:
1 USD = 27,000 LPB
The Lebanese pound has devalued more than 15 times its original value in just a few years, it's absolutely crazy.
Lebanon travel tip – I recommend you download Lira Exchange on your smartphone, an app that gives you the current black market exchange rate.
However, for some reason, Lebanese banks like to keep the old rate.
This means that you should never ever use your credit card in Lebanon, never pay by card, and never withdraw from an ATM, never ever because you'll get the old rate.
Lebanon is today a cash economy, bring all your money in cash, don't use your credit card. In the hypothetical case you run out of money, ask someone to send you cash via Western Union or similar, but never without your debit card.
How to exchange money in the black market of Lebanon
They call it black market but basically, the black market for exchanging money in Lebanon is anywhere, including the official money exchange offices which can be found everywhere, especially along Hamra Street in Beirut.
Which currencies do they accept?
You can exchange Euros (€), US dollars, or British Pounds, among others.
If the Lebanese Pound has devalued more than 15 times, does that mean that everything is 15 times cheaper?
No. The currency devaluation has brought massive inflation too.
For example, before the crisis, a bottle of beer in a supermarket used to cost 1,500LBP. Today, you can buy it for 15,000LBP.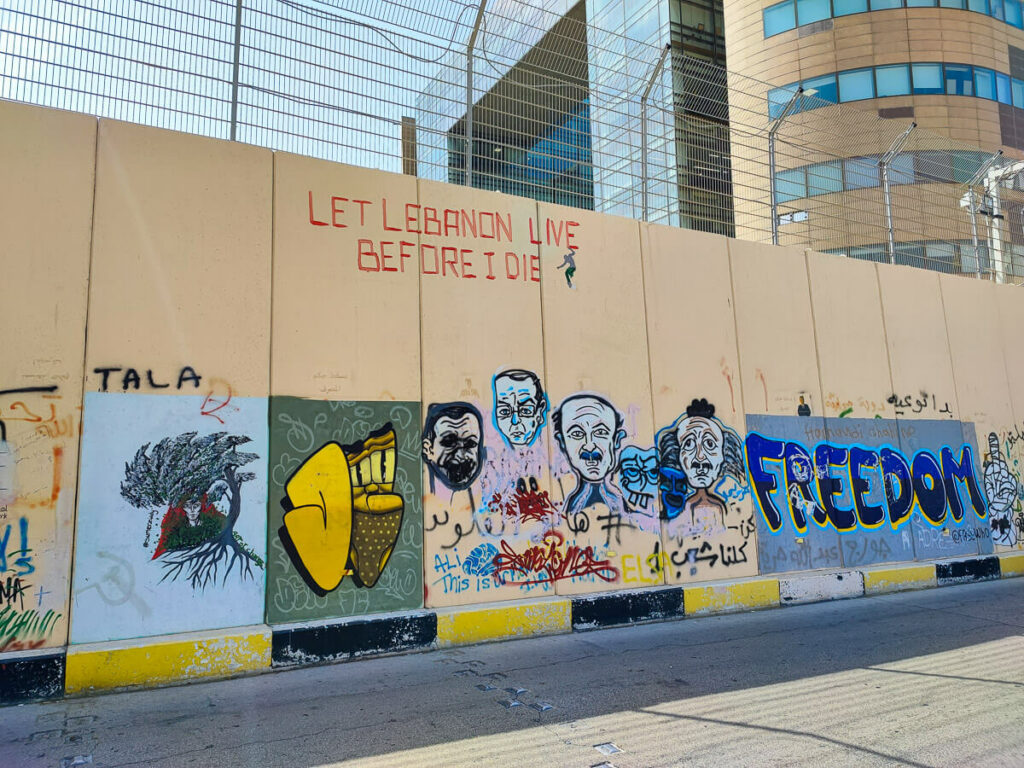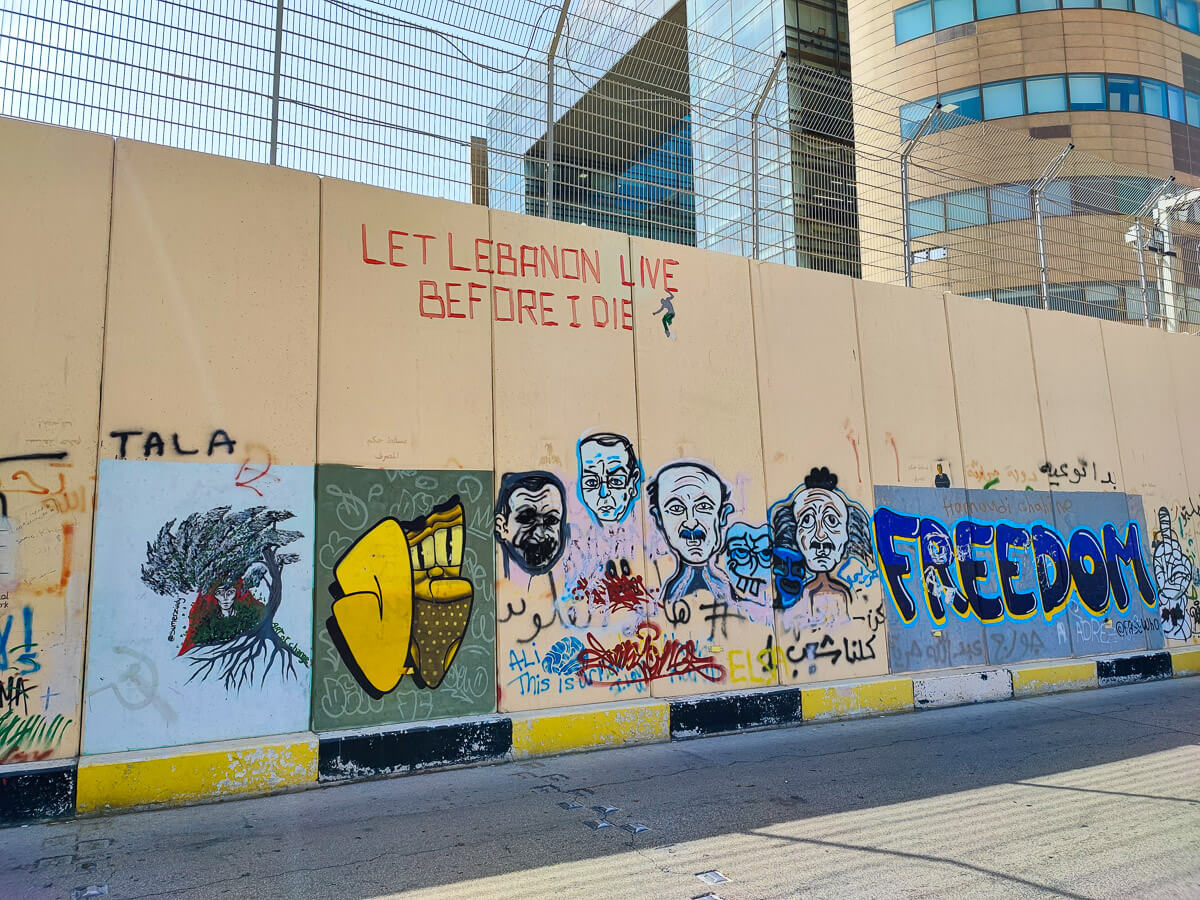 2 – Need to know about power shortages in Lebanon
One of the biggest consequences of this unfortunate crisis for the Lebanese people is their shortage of electricity. When you travel in Lebanon, you'll see that power cuts occur very often, every day.
As a traveler, if you only stay in fancy hotels and eat in top-end restaurants, the power cuts won't really bother you, since pretty much all use powerful generators.
However, in cheaper hotels, as well as outside of Beirut, power cuts occur pretty often.
By the way, one top travel tip for Lebanon is not to order meat from certain cheap restaurants, since their fridge might not be always on due to the power cuts.
3 – Is it safe to travel to Lebanon during the economical crisis?
Lebanon has never come without its own issues but this has always been one of the safest countries in the Middle East, a country home to a huge cultural and religious diversity, where there's never been a place for extremists.
In the last couple of years, however, since the unfortunate crisis started, many travelers are questioning the country's safety, claiming that traveling to Lebanon isn't safe anymore, but I strongly disagree.
Crime
Crime has always been pretty insignificant in Lebanon and, despite that many Lebanese are in urgent need of cash, it still remains low, and there are no travel reports telling otherwise.
Public demonstrations
Since the crisis started, the only place or moment of potential violence has been during the street protests. If you bump into a public demonstration, it's recommended to stay away from it.
Moreover, one of the most tangible legacies of the Lebanese Civil War, is that many people in Lebanon have guns at their homes, and many still like to carry them outside of their respective houses.
Once, I took a shared taxi in Beirut, from Hamra to Burj Hamood, and one of the passengers was carrying a gun, yet, nobody seemed to care about it.
This is the reason why in most public demonstrations, some demonstrators have guns, and they tend to like shooting into the sky. Being around those people is, obviously, dangerous.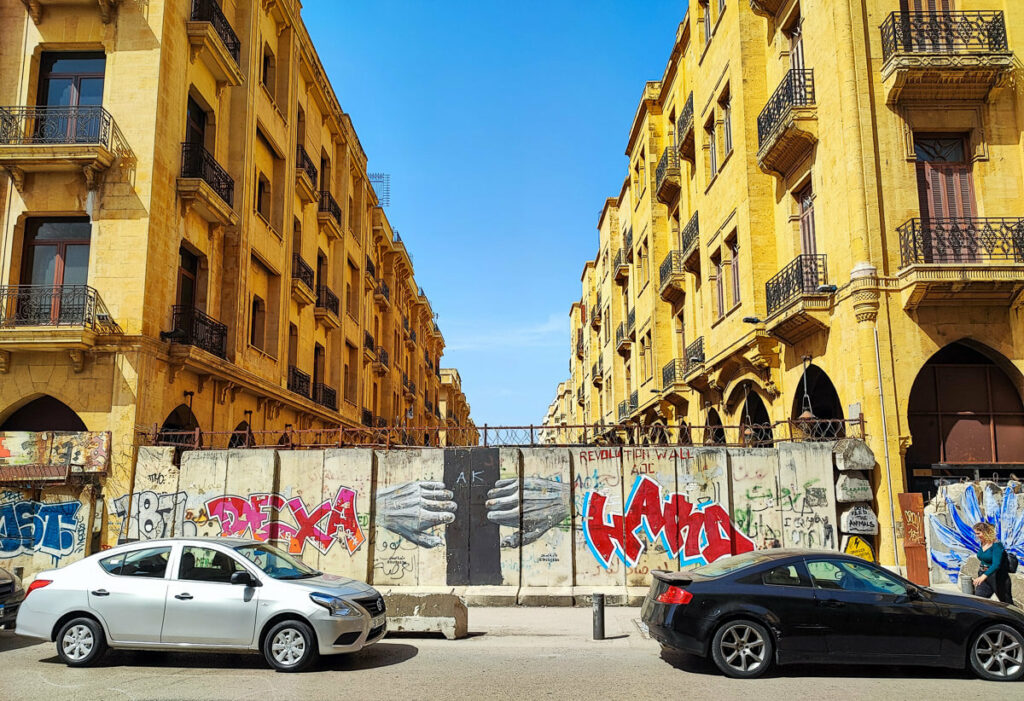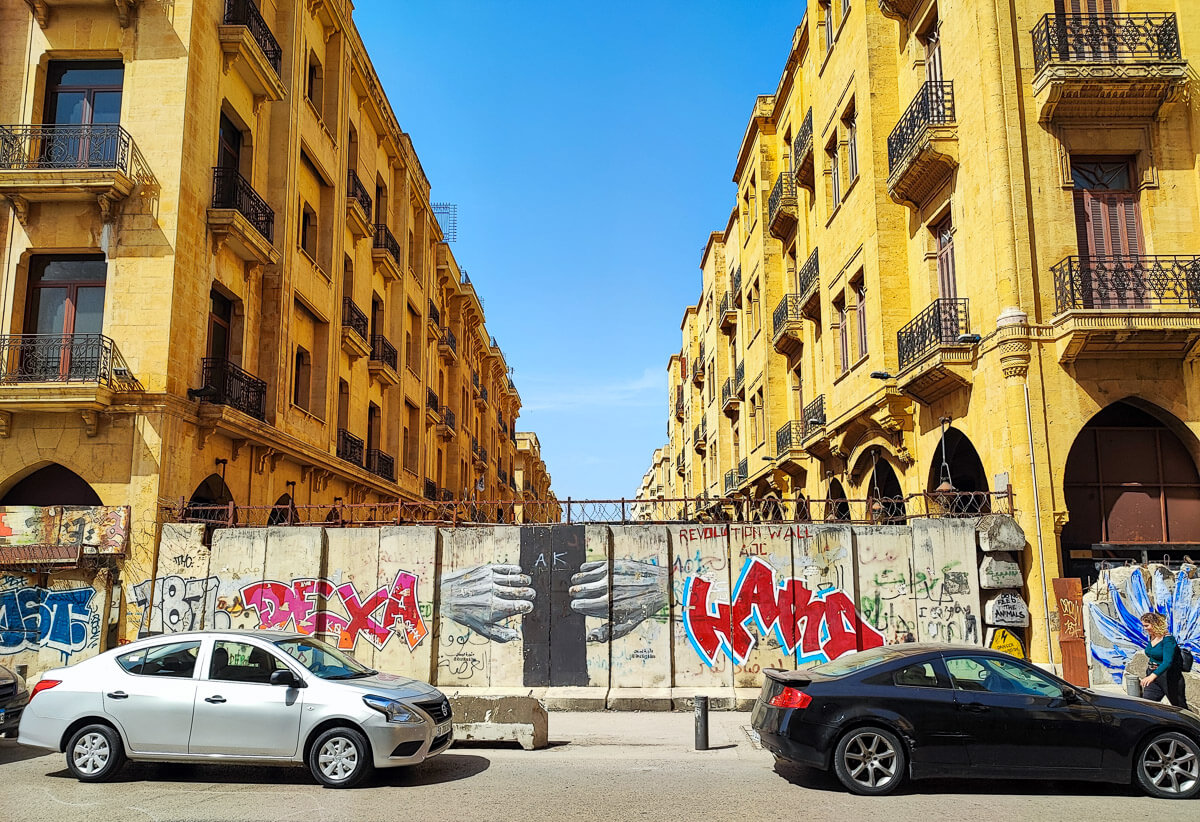 How to get to Lebanon
How to travel to Lebanon by air
The national airline in Lebanon is Middle East Airlines (MEA), which has several connections across Europe and the Middle East.
Moreover, you can also fly to Beirut International Airport from Paris (Air France), Frankfurt (Lufthansa), Barcelona (Vueling), Istanbul (Turkish and Pegasus) and pretty much any country in the Middle East.
How to travel to Lebanon by land
Lebanon shares a border with Israel and Syria.
Traveling to Lebanon from Israel: The border with Israel has always been closed, not possible to cross it.
Traveling to Lebanon from Syria: It's fully open and very easy to cross. We use it all the time for our group expeditions.
For more information, read my Syria travel guide.
How to travel to Lebanon by sea
Apparently, the ferry from Cyprus to the northern city of Tripoli isn't running anymore but you can take a ferry from Tasucu, Port of Mersin (Turkey). However, there isn't any reliable information online regarding departure timings so overlanders should just show up in Tasucu.
Travel reports are more than welcome 🙂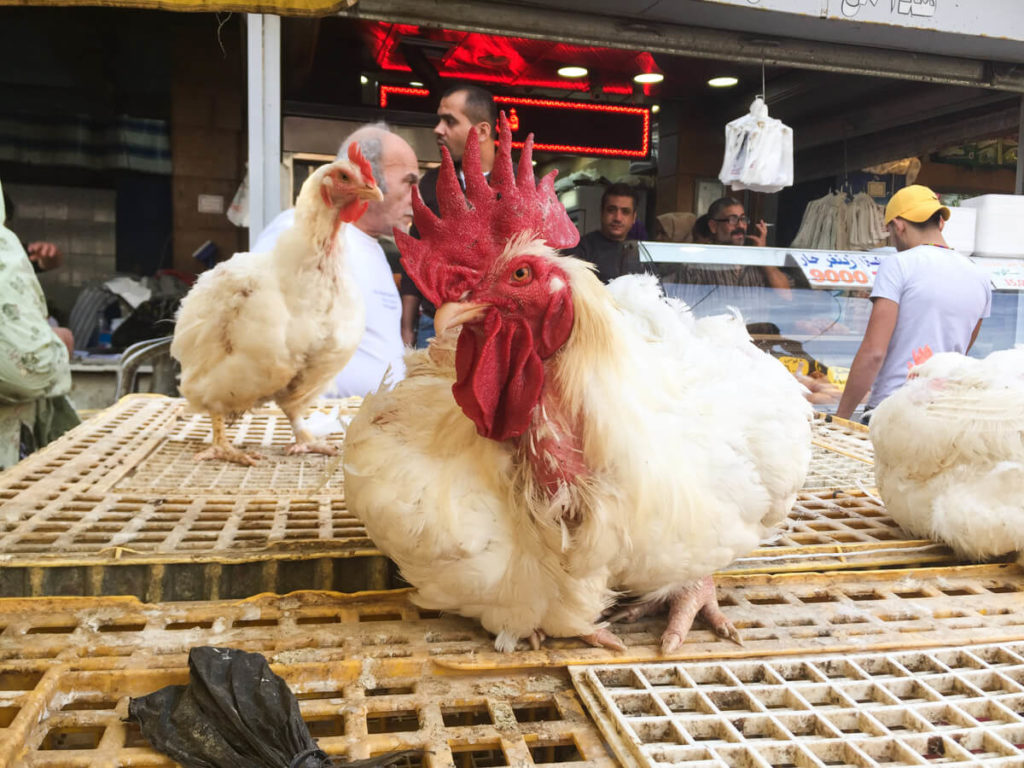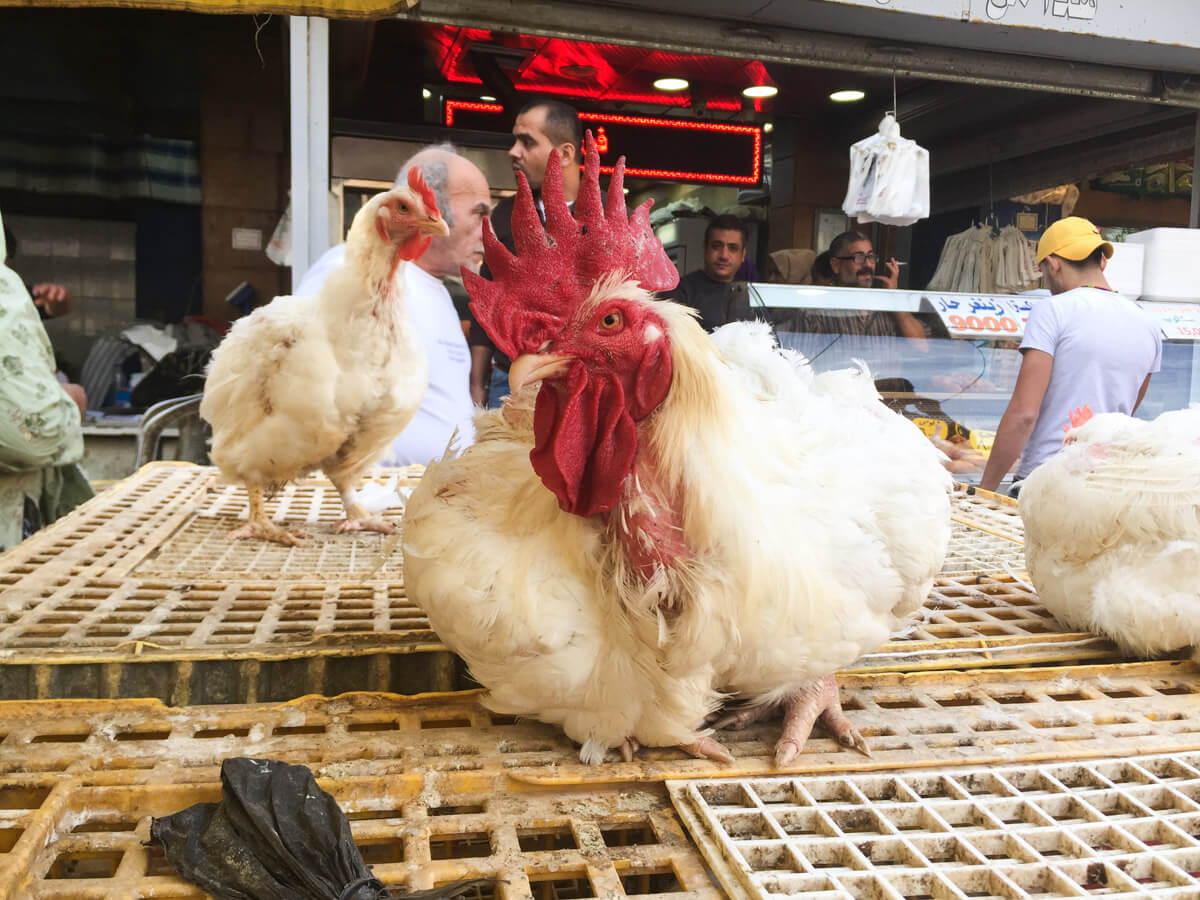 Useful books for traveling in Lebanon
Lebanon Travel Guide by Bradt
This is the most up-to-date travel guide to Lebanon. I am a Bradt Guides fan because all their guides are extremely insightful, both from a local perspective and also, because they give plenty of tips for independent travelers which help you easily plan your itinerary for Lebanon.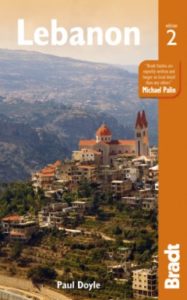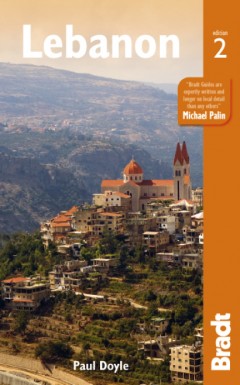 Middle East Travel Guide by Lonely Planet
It has only one chapter about Lebanon but, at least, the information here is updated.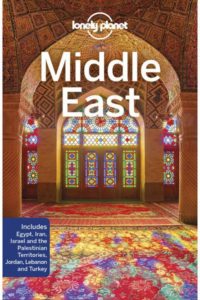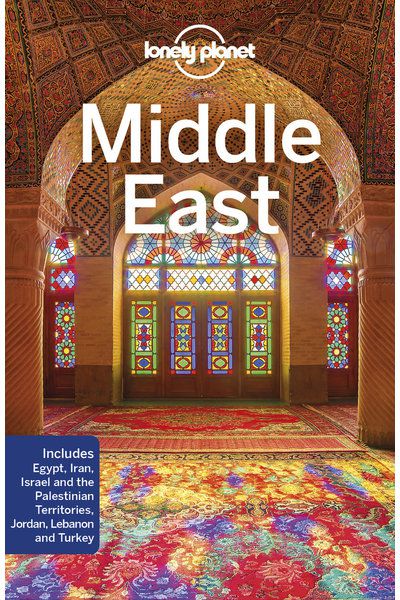 Travel insurance for visiting Lebanon
Lebanon is one of those countries where you must travel with insurance, as it is a wild place where people drive crazily.
I recommend IATI Insurance because:
Plans for all budgets.
Covers all countries in the Middle East, including Syria and Iraq
Full COVID coverage
It covers senior citizens too
Readers of this blog can get a 5% exclusive discount
The country: people & culture
For me, the highlight of traveling to Lebanon is by far, the Lebanese people.
However, I am not talking about their kindness and hospitality – since that would be falling into the classical cliché one can say about any country in the Middle East – but I am talking about the cultural diversity.
There's no other country – at least that I am aware of – where there can be so many groups of people living in such a tiny space.
Shia, Sunni, Catholics, Orthodox and Druze, but also Armenians, Palestinians, and Syrians.
From Hezbollah areas to Christian districts inhabited by European-like people and Sunni women wearing the niqab, the cultural mix in Lebanon is so chaotically mixed that it can't be defined as a whole, and that's what Lebanon is about.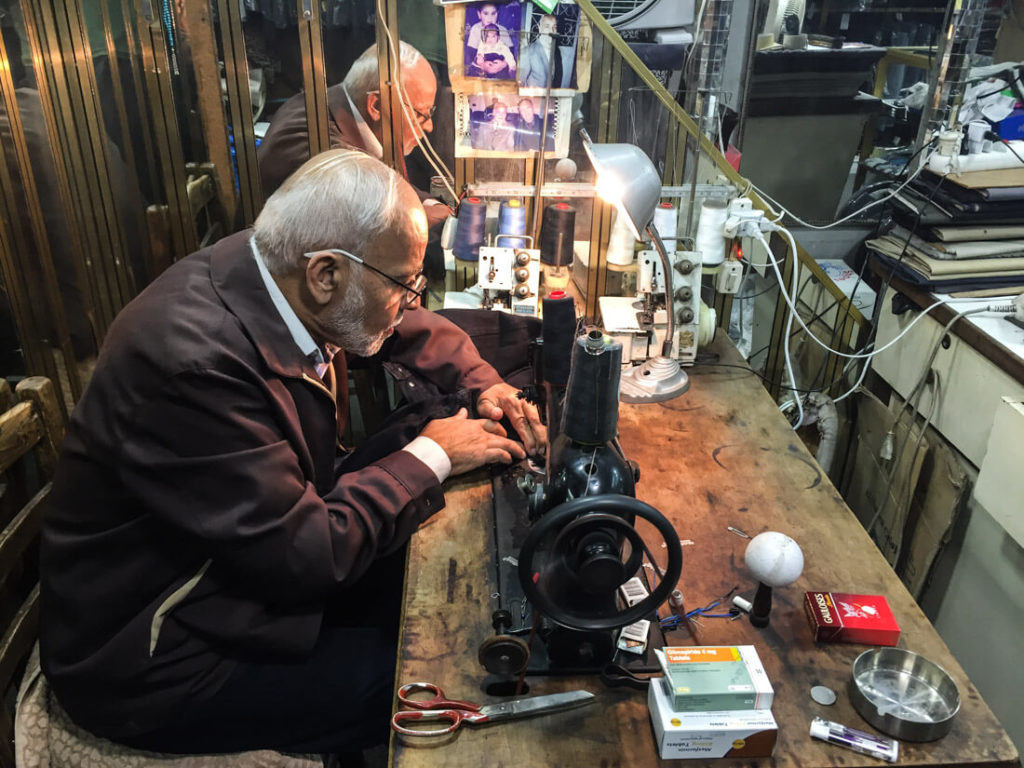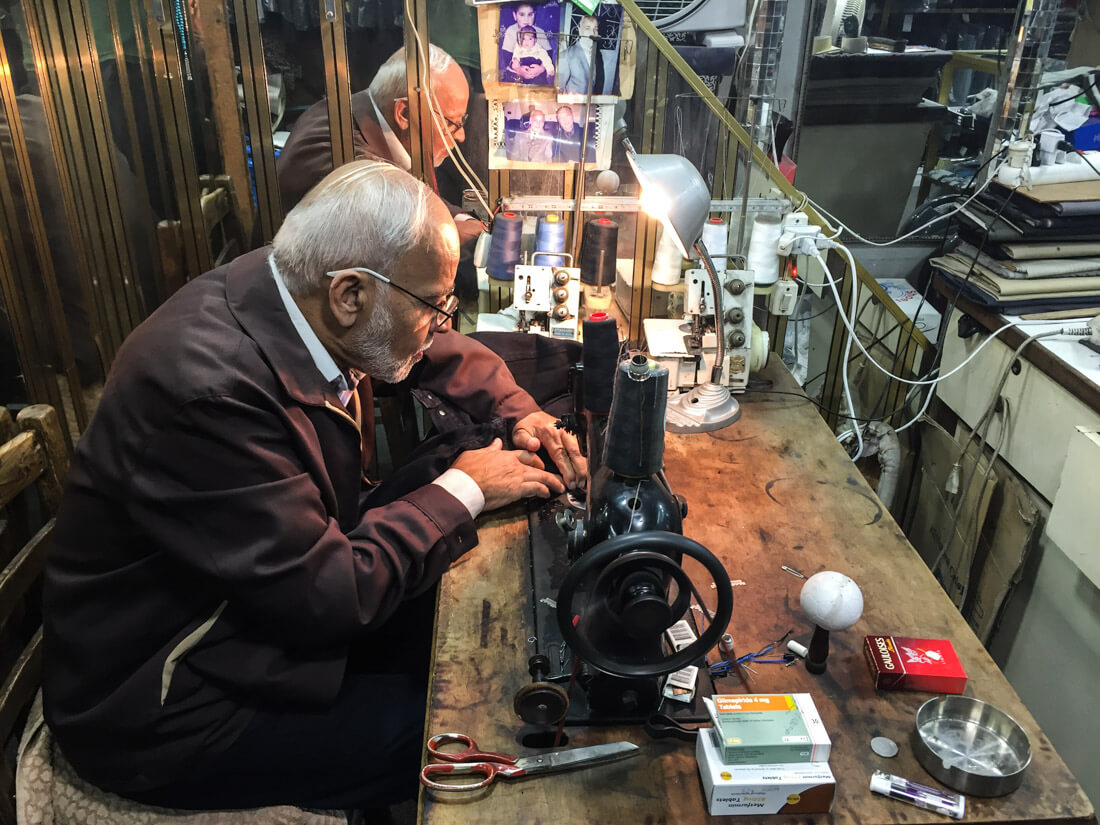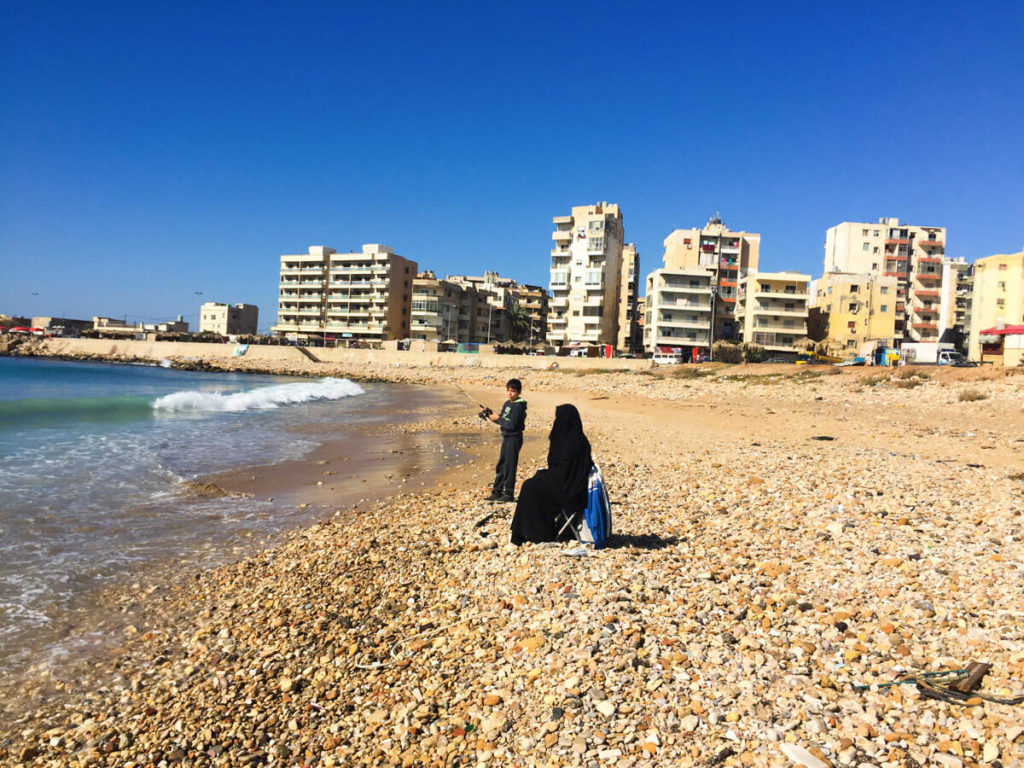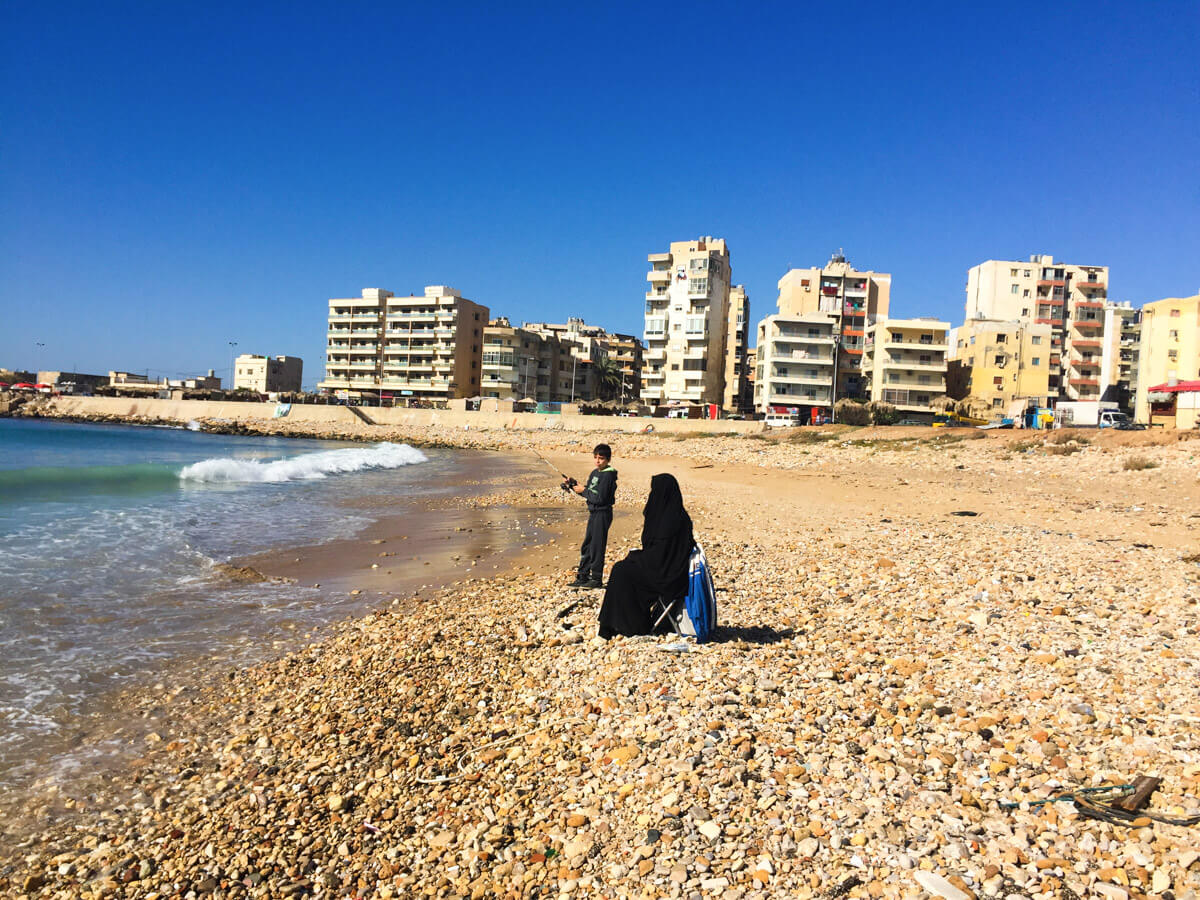 Which language do they speak in Lebanon?
The official language in Lebanon is Arabic.
English is widely spoken in Beirut among well-educated Lebanese, especially in the districts of Hamra and Gemmazyeh.
Outside of Beirut, English is less spoken.
French is also spoken among a tiny part of the Lebanese population.
Food in Lebanon
Lebanese food is a Mediterranean cuisine with influences from both the Middle East and the French colonial era and, as in Spain, Italy or Greece, olive oil is the base of any dish.
Typically, most restaurants serve mezza, an array of small dishes similar to the Spanish tapas, which includes both vegetarian and non-vegetarian dishes.
From the classic hummus, kibbeh (a local steak tartar), kebabs and syadye (rice, fish, and almonds in a gravy sauce) to a tasty olive oil of the standard of any southern European country and a strong wine culture, Beirut is home to the best food in the entire region.
Read: Iraqi Kurdistan travel guide
How to move around Lebanon
Remember to get travel insurance for Lebanon
I strongly recommend IATI Insurance as it has COVID-19 coverage + 5% discount
Get your 5% discount if purchasing via this link
Everything in Lebanon can be reached in less than 2 or 3 hours.
Except for the northern mountains, where you might need to stay overnight, if you wanted, you can visit the entire country on different day trips from Beirut.
However, in order to enjoy all the places to their fullest, I really recommend spending some nights outside of the capital.
Traveling around Lebanon by public transportation
Lebanon is a very easy country to move around.
There are public buses and mini-vans going to almost every corner in the country from Beirut, where there are 2 main stations named Charles Helou and Cola Station. Charles Helou is ideal for traveling to the north, whereas Cola is to the South.
For more information about these 2 stations, check my Beirut Travel Guide and for more details about how to reach each city in Lebanon, check the Itinerary Section on this post.
Travel around Lebanon by taxi
If you can share the costs with other travelers, traveling by taxi around Lebanon is relatively cheap and pretty convenient, since most places can be reached from Beirut on a day trip.
One easy option would be calling an Uber, but I recommend getting in touch with a local taxi company. One I tried is located in Hamra street. They have fixed rates for going anywhere in Beirut.
Self-driving in Lebanon
You can also rent a car, no problem.
Just be aware, however, that the driving in Lebanon is pretty insane, but definitely not more than in Saudi Arabia, Iraq and any other country in the Middle East.
As per rental car companies, some travelers recommend a local company named Mike Rent a Car, but Hertz or Europcar are also available.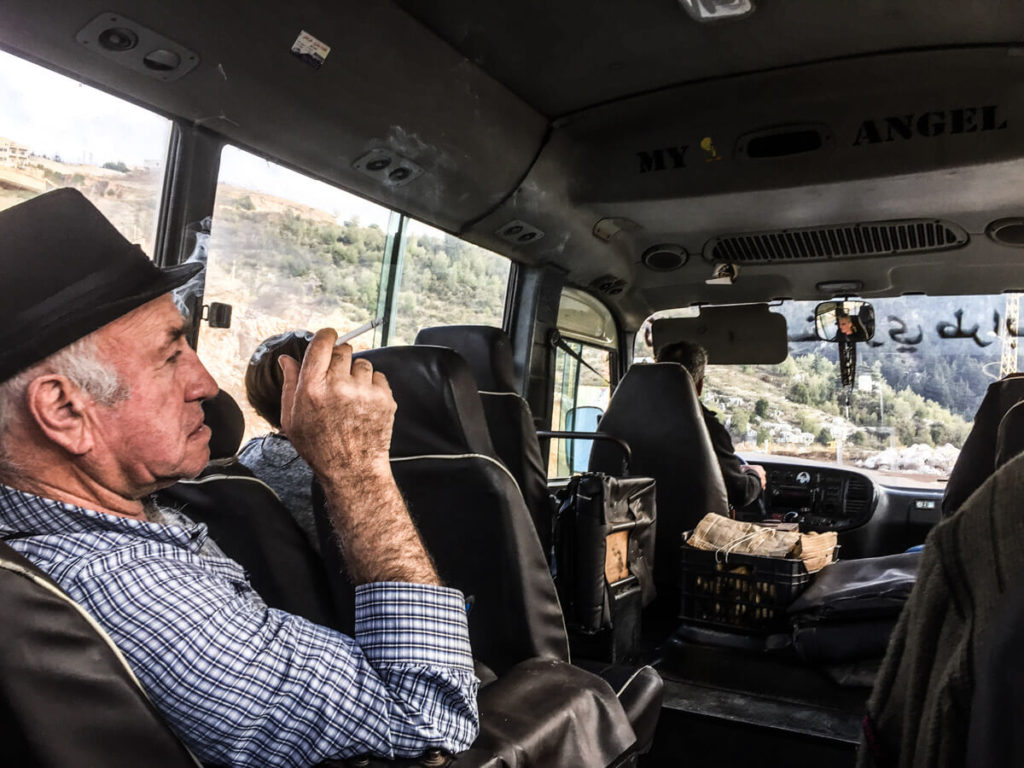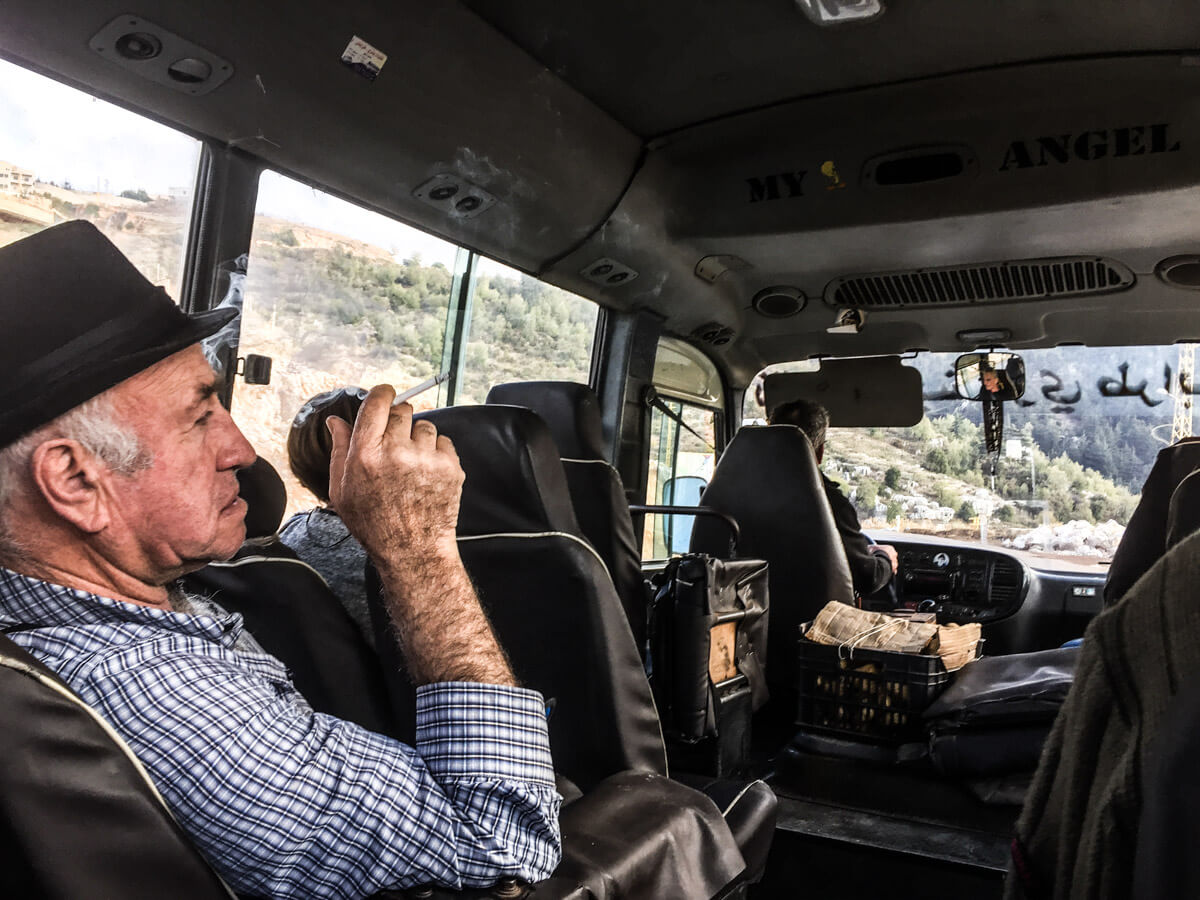 Lebanon travel guide: a 2-week itinerary
Here you will find the best itinerary for Lebanon.
It might be a bit challenging to include all of these places in just 2 weeks but, if you plan ahead, it is totally feasible.
Day 1, 2 – Beirut – The most liberal city in the Middle East
What can I say about Beirut that I haven't said already?
The Lebanese capital is the most westernized and liberal city in the Middle East (outside of Israel), only comparable to Tehran and a city full of contrasts and owner of deep and interesting history.
Beirut is composed of several neighborhoods, each one with its own subculture, so different from each other that, when you are wandering around them, it looks like you are in a different city, from the hipster neighborhood of Gemmazyeh to Hezbollah areas, Armenian, Christian, refugee camps and fancy districts with the most glamorous stores and the best restaurants in the region.
For more information about Beirut, read my article: A travel guide to Beirut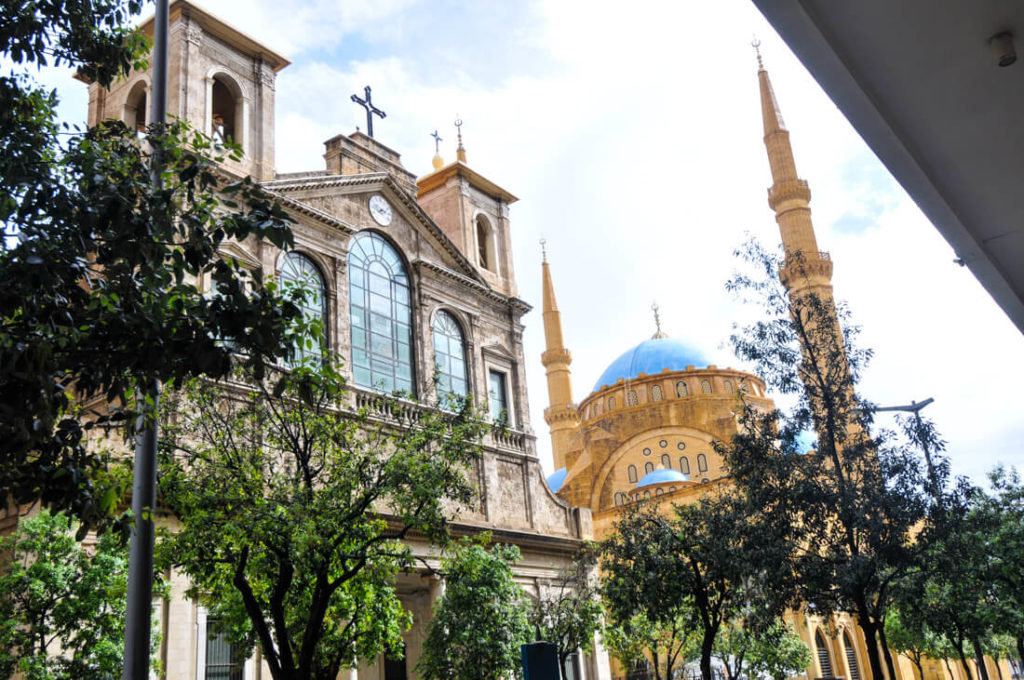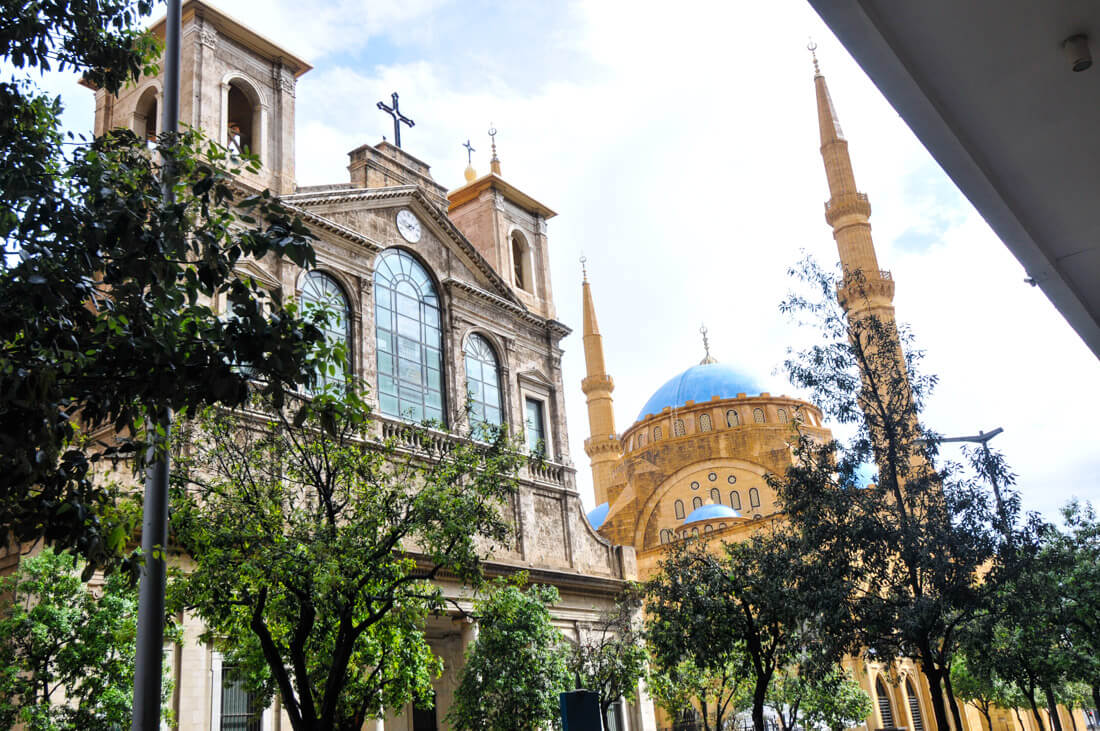 Where to stay in Beirut
Budget Hotel – Embassy Hotel – This is the cheapest hotel in town. The rooms are getting quite old but, at this price, you won't find anywhere better. The location is great, however, in Hamra, a very cool area to hang out.
Backpacker Hostel – Hamra Urban Gardens – Located in the main Hamra Street. It offers both suite and dorm rooms with a seasonal outdoor pool and bar.
Mid-range Hotel – O Monot Boutique – Strategically located at the heart of Beirut, this property was highly recommended by many because of their amazing facilities especially their rooftop bar with a panoramic view of Beirut.
Top-end Hotel – Radisson Blu Hotel – If you are looking for a comfortable place which has a delightful design, a good restaurant and other various facilities, this 5-star hotel is a perfect choice. Located in Dunes shopping center and 5-minute walk away from the beach.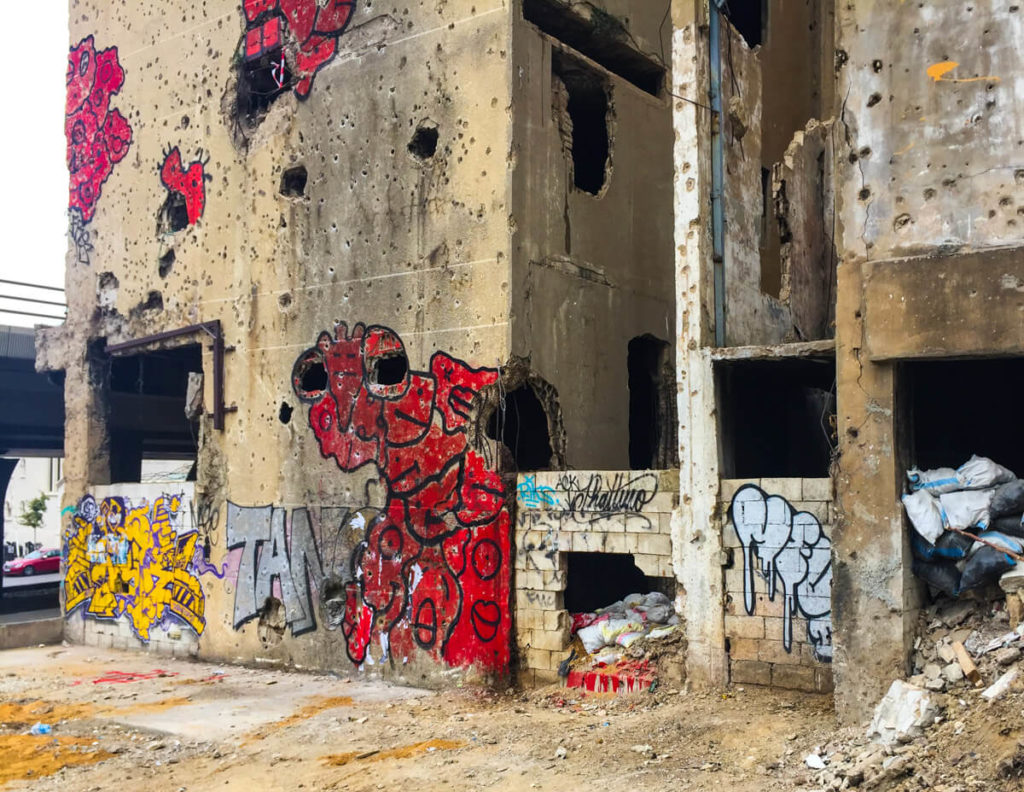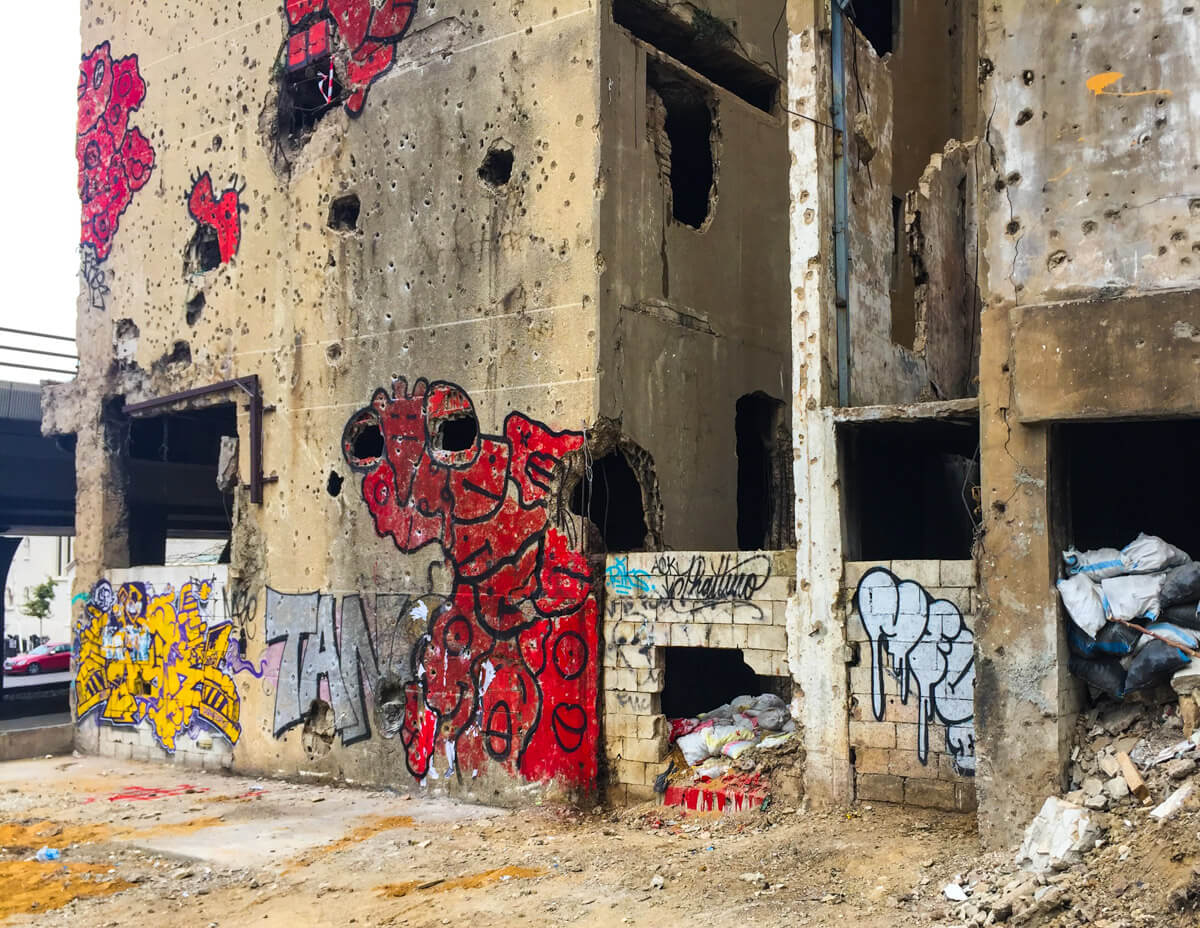 Day 3 – Byblos – The native home of the modern alphabet
With 8,000 years of history, Byblos is considered one of the oldest inhabited cities in the world and the place where the first inscriptions containing the modern western alphabet were found.
Byblos derives from the Greek word bublos, meaning papyrus, as the town was the stopping place for the Phoenicians who shipped papyrus from Egypt.
Besides a super interesting museum that explains the history of the creation of the alphabet, in Byblos you can also visit a crusader castle from the XII century, built by the Franks, a restored souq, a beautiful Mediterranean harbor full of restaurants, where you can eat seafood feasts, and some archeological sites containing mainly Roman ruins but also from many other civilizations, from the Neolithic settlements 8,000 years ago to Phoenician, Egyptian, Greek and Ottoman.
Book a tour to Byblos from Beirut
It also includes Jeita & Harissa
CLICK HERE TO LEARN MORE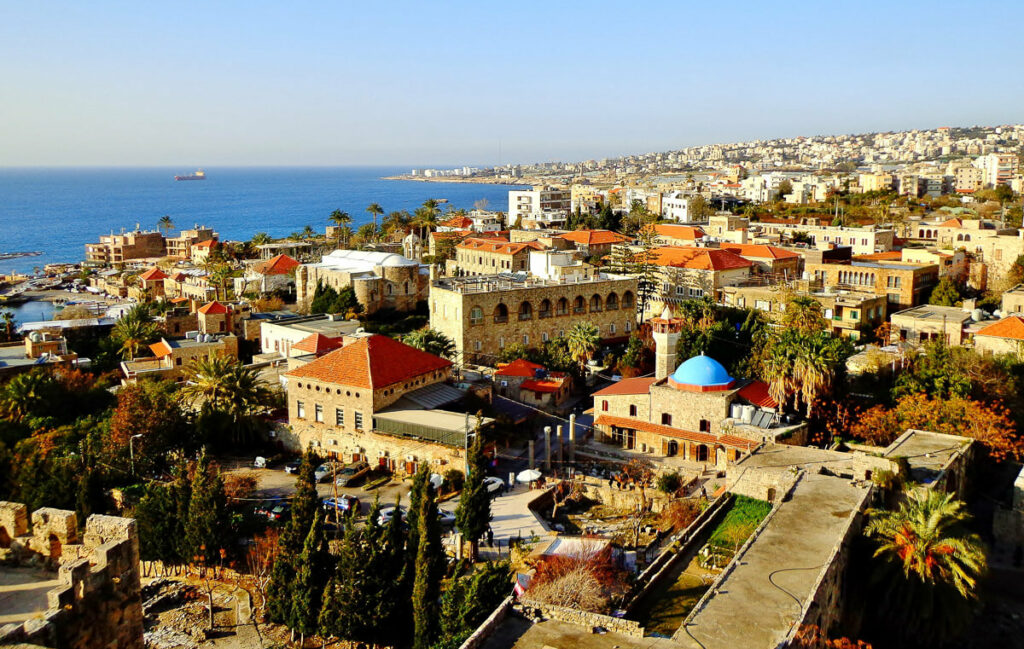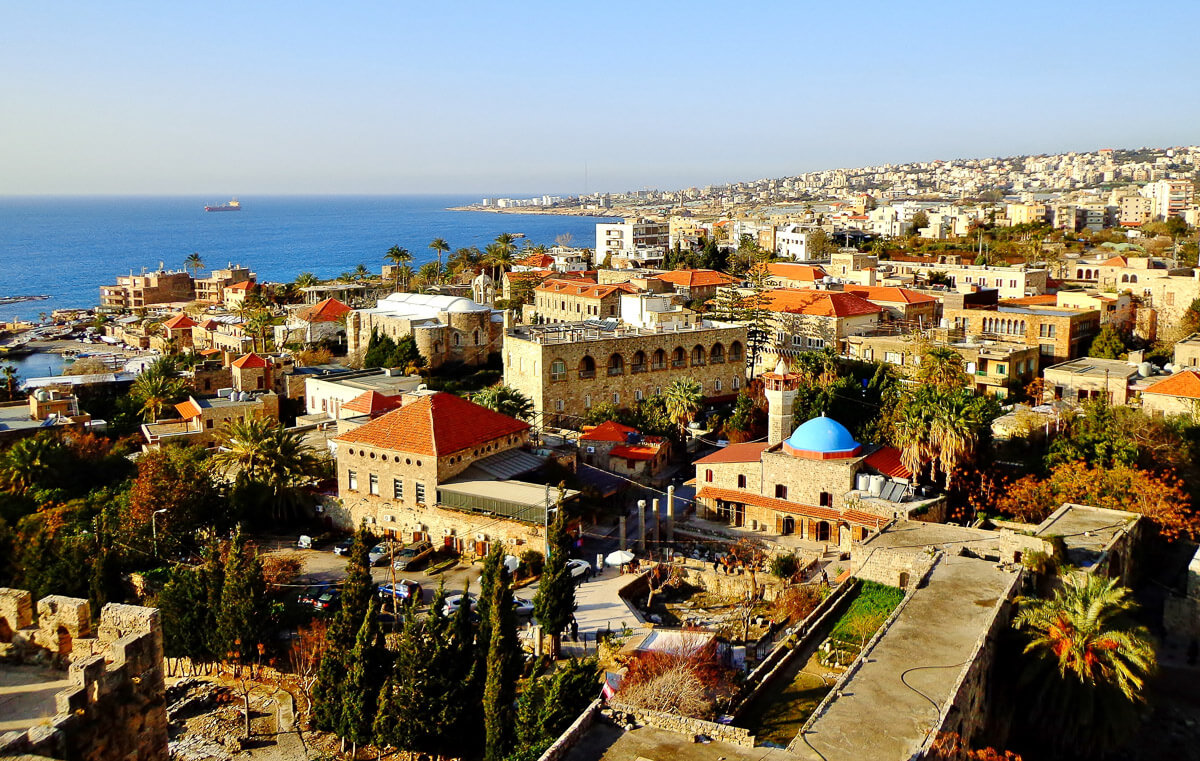 How to get to Byblos from Beirut
Byblos is around 50km from Beirut. Buses depart from Charles Helou station.
Where to stay in Byblos
Byblos can be reached on a day trip from Beirut but, in case you wanna stay here, here's a few options:
Budget Hotel – Sea Valley – The cheapest hotel in Byblos is a very decent aparthotel. 
Mid-range hotel – L'Hotel de mon pere – With stunning panoramic sea views and really awesome breakfast, this super pretty modern hotel serves the best quality in Byblos, at the lowest price. It is really close to the beach and even closer to the Old City of Byblos, so you can't ask for more!
Top-end hotel – Byblos Sur Mer – This boutique hotel is at the most privileged location in the whole of Byblos, next to the ruins, on the seaside and at the heart of where the exquisite social life in Byblos is, which consists of eating at the seafood fancy restaurants that compose the harbor.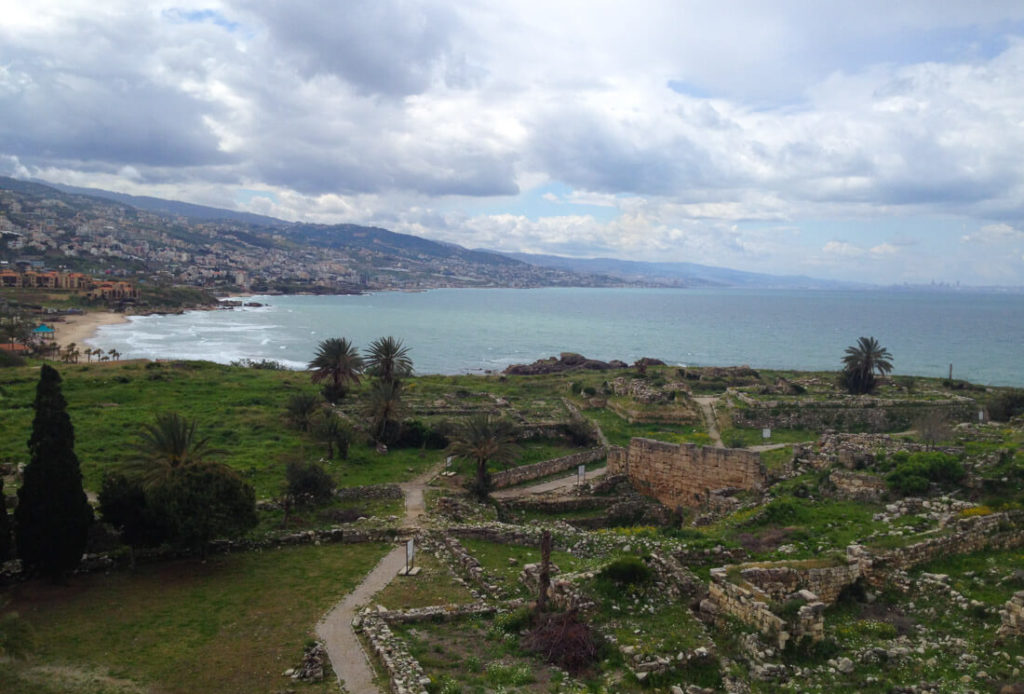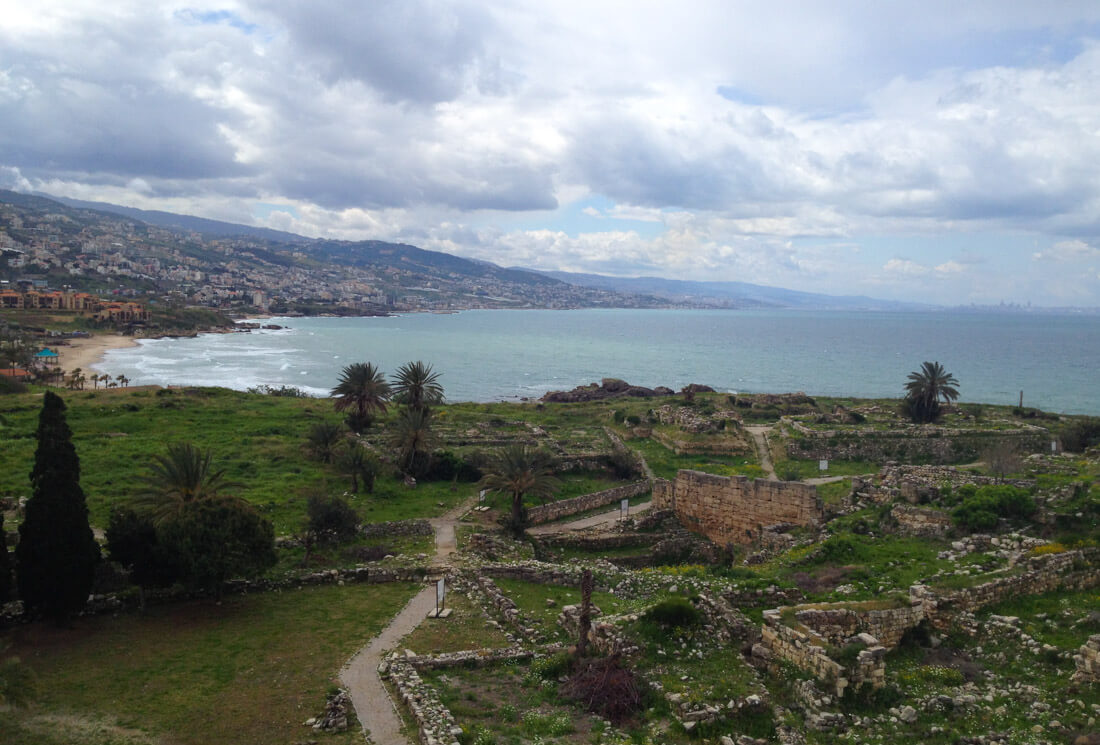 Day 4 – Zahlé – The face of Lebanon you didn't know about
What I loved about Zahlé was that, even though it is a Lebanese city located in the heart of the Bekaa Valley, it is more similar to the villages of Mediterranean Europe than to Lebanon itself, as this city, with a Christian majority, is famous for its wineries and for its restaurants, serving the best mezza in the whole country.
In Zahlé, you can't miss Berdawini, located just outside of the city, a green area with a river flowing, plenty of high-quality restaurants, slightly pricey for my taste but delicious.
When I went there, it was not only full of Lebanese people from the middle-upper class but also, there were plenty of Western diplomats escaping from Beirut for the weekend.
I also recommend you go to Ksara Winery, the oldest and most famous winery in the whole country.
I always prefer visiting small, traditional wineries, rather than big corporations (check my Kakheti travel guide) but I have to admit that the wine I tasted here was excellent. Their tour was OK but there wasn't any need to book it in advance.
Book a wine tour from Beirut
which includes 3 different wineries in the Beqaa Valley
CLICK HERE TO LEARN MORE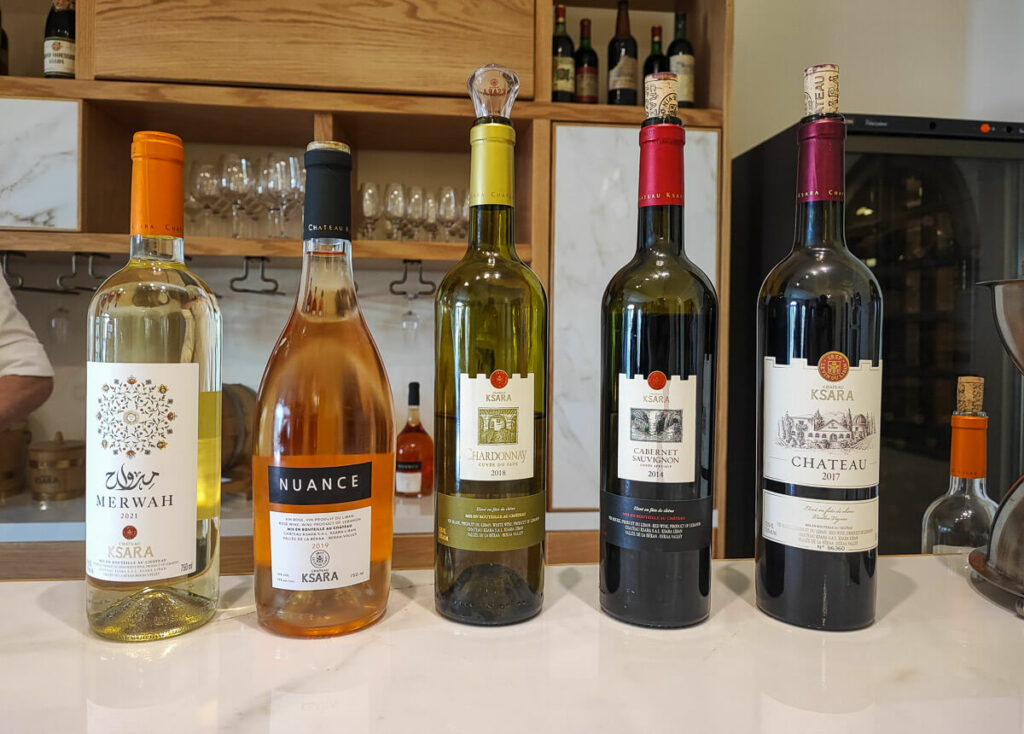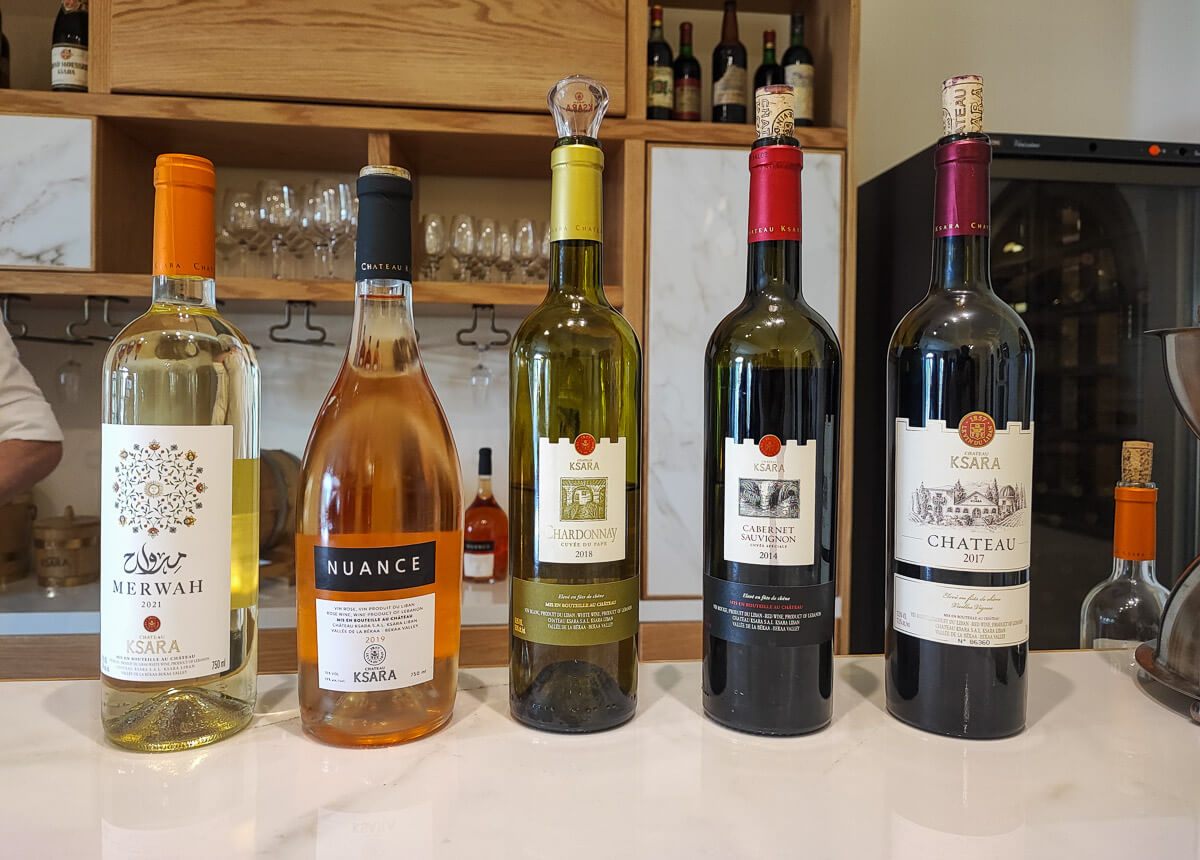 How to get to Zahlé from Beirut
Zahlé is on the way to Baalbek, so you should first take a bus to a town named Chtoura. From there, you can get on a second bus to Zahlé.
I got it at Cola Station but there may be a direct bus from Charles Helou station.
Where to stay in Zahlé
There is no cheap accommodation in Zahlé: the most budget accommodation starts at 70USD, so if you are on a budget, you should spend the night in Baalbek or go back to Beirut.
Mid-range Apartment Hotel – Berdawni Apartments – This apartment-hotel is nothing outstanding but it really fulfills its function, with very comfy beds and the best location, right next to Berdwani river, the highlight in town. It is a good value money for money option and, in any case, you won't find anything cheaper!
Top-end Hotel – La Place Hotel – Located in the old part of town, people love this hotel because it manages to combine the old and traditional with very modern facilities and exquisite decoration. The breakfast is great and they have the purest and kindest Middle Eastern service.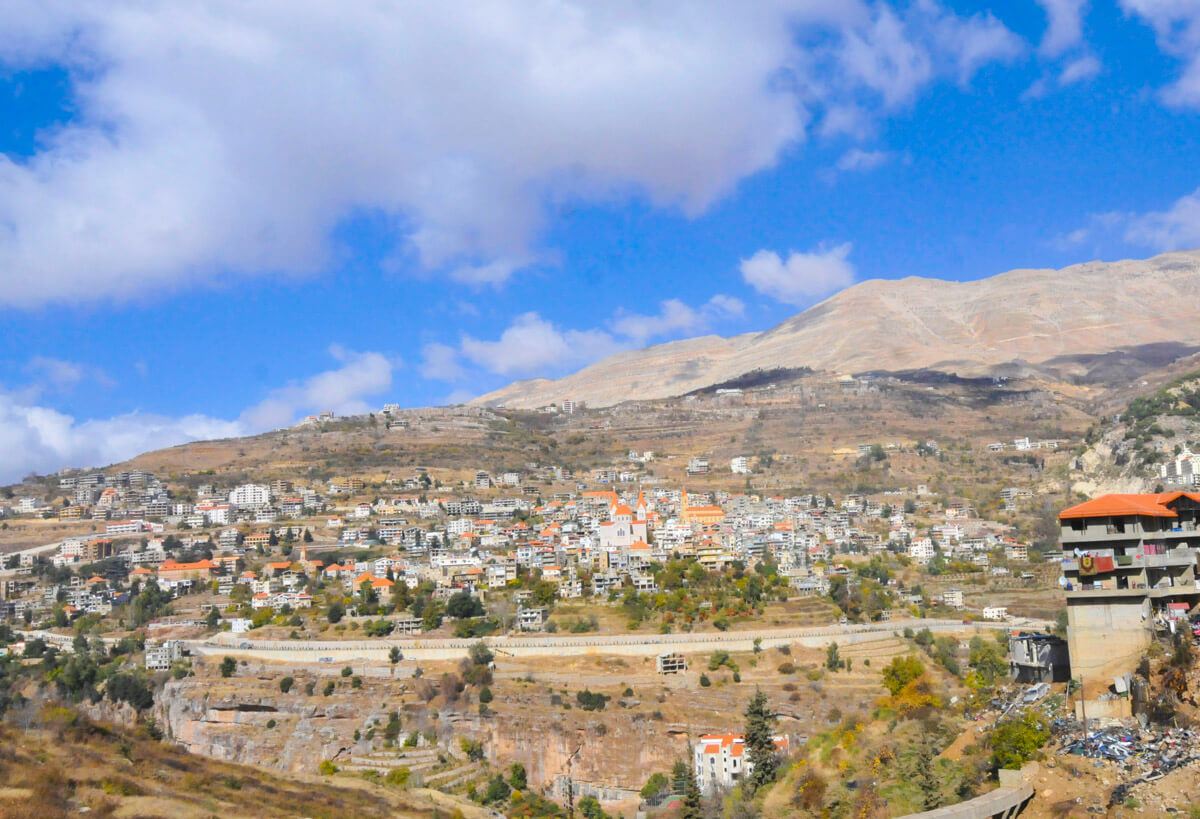 Day 5 – Baalbek – The most impressive and off-the-beaten-track Roman ruins
Lebanon travel tip – Pay the entrance ticket in Lebanese Pounds (LBP), not in USD, since they will give you the official bank rate, meaning that you'll pay no more than 1 dollar to enter the site. Before the crisis, the entrance fee was $15
Visiting Baalbek is one of the best things to do in Lebanon, a city that has some impressive Roman ruins, built on a giant scale and often considered the most important in the Middle East and, controversially, one of the least visited off-the-beaten track Roman ruins in the world, even lesser visited than Palmyra in Syria, which used to receive hundreds of thousands of visitors before the war.
The temple of Jupiter and the temple of Bacchus are the buildings that dominate this stunning architectural masterpiece.
Seriously, these Roman ruins are just outstanding and, when I went there, I had the ruins completely to myself.
Book a tour to Baalbek from Beirut
the easiest way to visit the site with no hassle
CLICK HERE TO LEARN MORE
How to get to Baalbek from Beirut 
Baalbek is 90km from Beirut.
From Cola Station, there are buses going to Chtoura, situated half-way, a town from where you should take a second bus to Baalbek.
Where to stay in Baalbek
Even though you can visit Baalbek on a day trip, I strongly recommend spending one night there to see the ruins at sunset time.
Budget Hotel – Jammal Hotel – This is the most budget hotel in Baalbek but you can't book it online. It is OK for 1 night. 
Mid-Range Hotel – Palmyra Hotel – This is, perhaps, the most famous hotel in the country and the reason is that it has never been closed since it was opened in 1874. it has hosted famous people such as Nina Simeone and the President of France It is also located next to the Roman ruins. I personally think the hotel is absolutely overpriced, since there hasn't been any renovation for decades.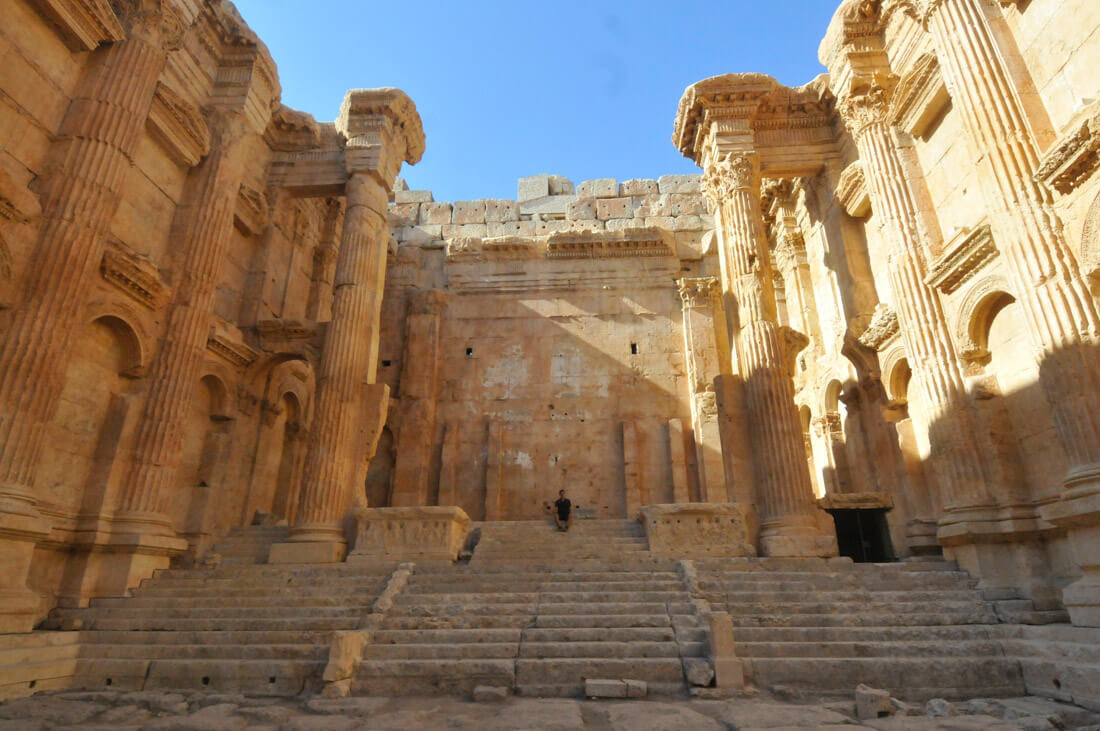 Day 6 – Tripoli – The most traditional Lebanese city
Tripoli is the second biggest Lebanese city, a city that would probably fit in what you think are the Lebanese standards, with its beautiful old souq of spices, ancient medieval architecture, and a citadel from where you get fantastic views of the city.
In Tripoli, a city famous for its sweets, live the Lebanese people who have the famous Arabic hospitality, as it's impossible to be wandering the streets, kind of lost, without several locals offering you their help.
This is a city to get lost in around its narrow alleys and an old city belonging to the XIV century.
Furthermore, you can't miss the fortress of Raymond de Saint Gilles, built in the XI century and the lovely neighborhood around the harbor.
By the way, you probably heard that the U.S. Embassy describes Tripoli as a dangerous city to travel to. Why is that so? Since the Civil War, there have been one-off clashes between Sunni and Alawi Muslims who reside in the neighborhoods of Bab al-Tabbaneh and Jebel Mohsen, respectively. Throughout the years, these clashes have killed several people.
This is a one-off conflict happening in a specific area, far away from the city center. It's a fight between two small districts and doesn't go beyond.
The rest of the city is totally cool and safe. However, since I'm an extremely curious human being, I also went to Jebel Mohsen. And what can I say? Life there was merely normal. Again, clashes and bombings happen once a year, not more.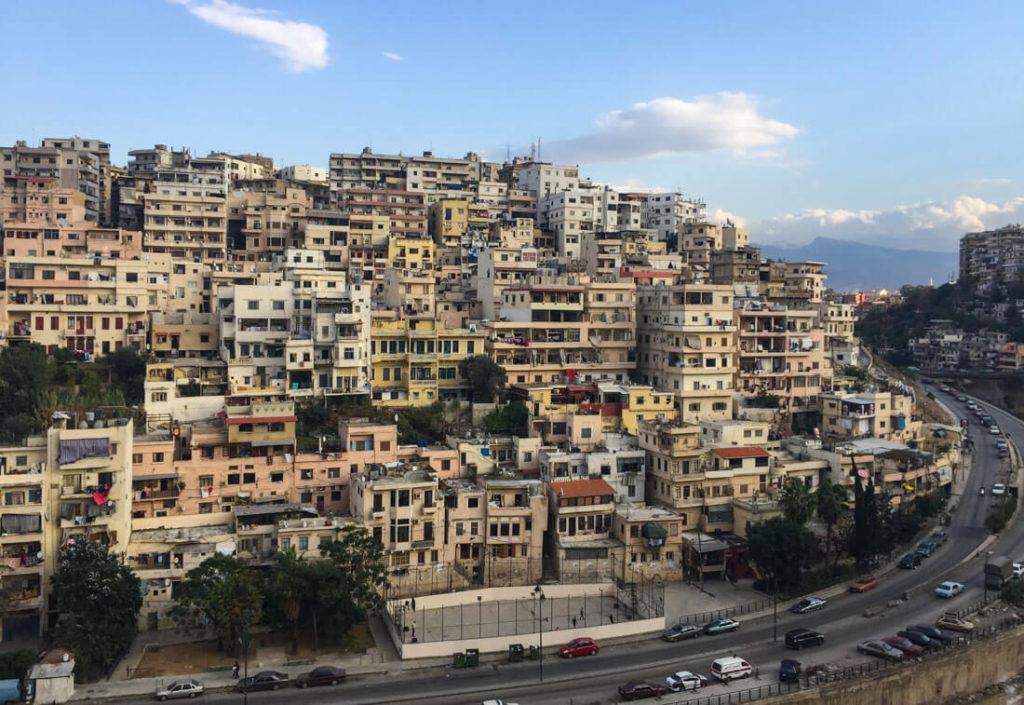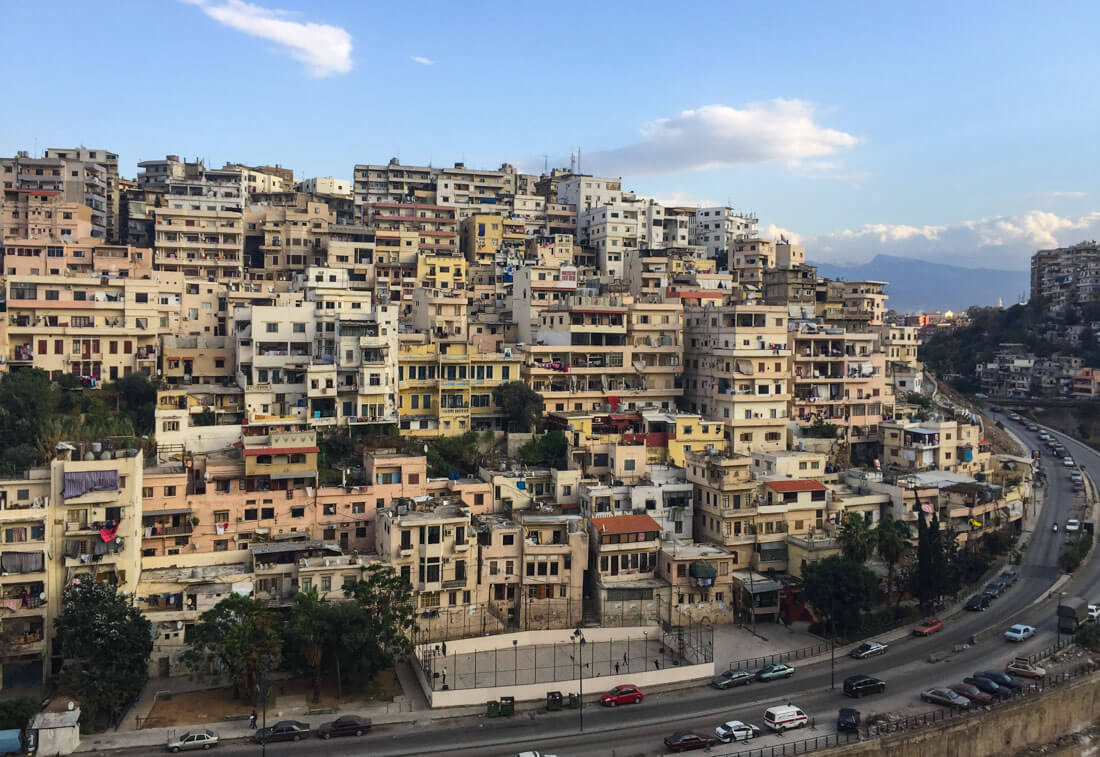 How to get to Tripoli from Beirut
Located 80km, there are buses leaving from Cola Station continuously, as well from Charles Helou.
Where to stay in Tripoli
There are very few options in Tripoli but these would be the most popular:
Budget Guest House – Haddad Hotel– The facilities and rooms are very old but the staff is a lovely family that will give you a very charming welcome and a great, traditional breakfast. With an awesome location, close to the old city, this is the best place for budget travelers and backpackers. Online booking not available. 
Mid-range Hotel – Via Mina Hotel – Being the top rated hotel in Tripoli, Via Mina has a kind of rustic style but with very modern facilities at the same time. It is located right in front of the sea, has a great pool and the staff will bless you with great hospitality.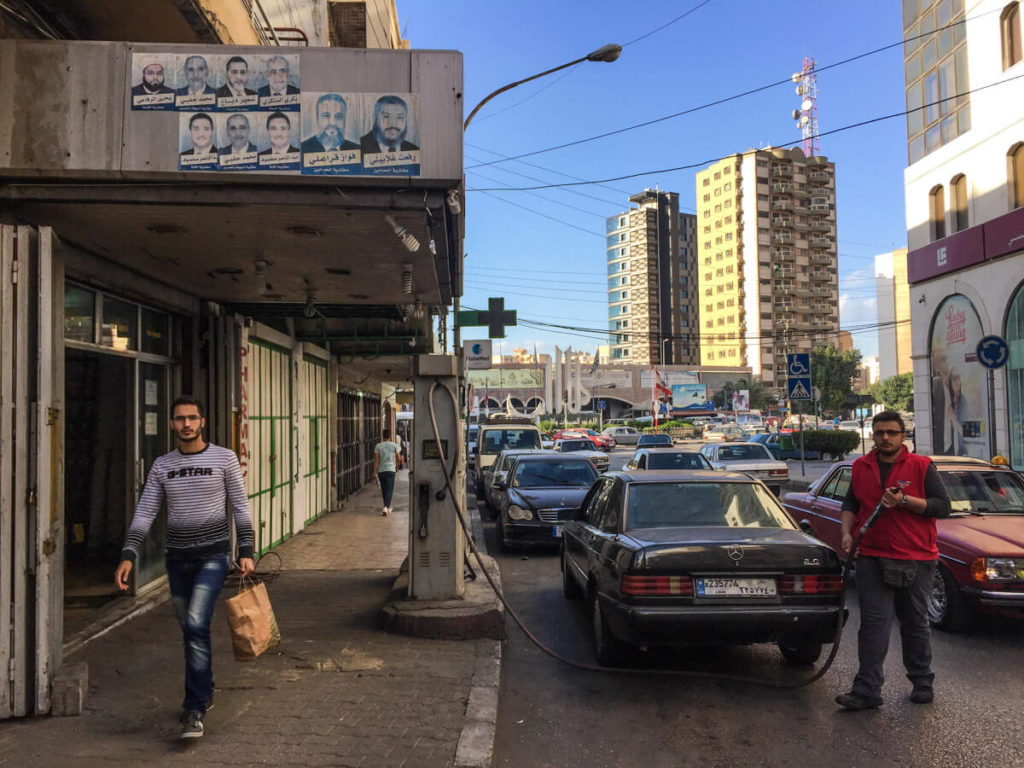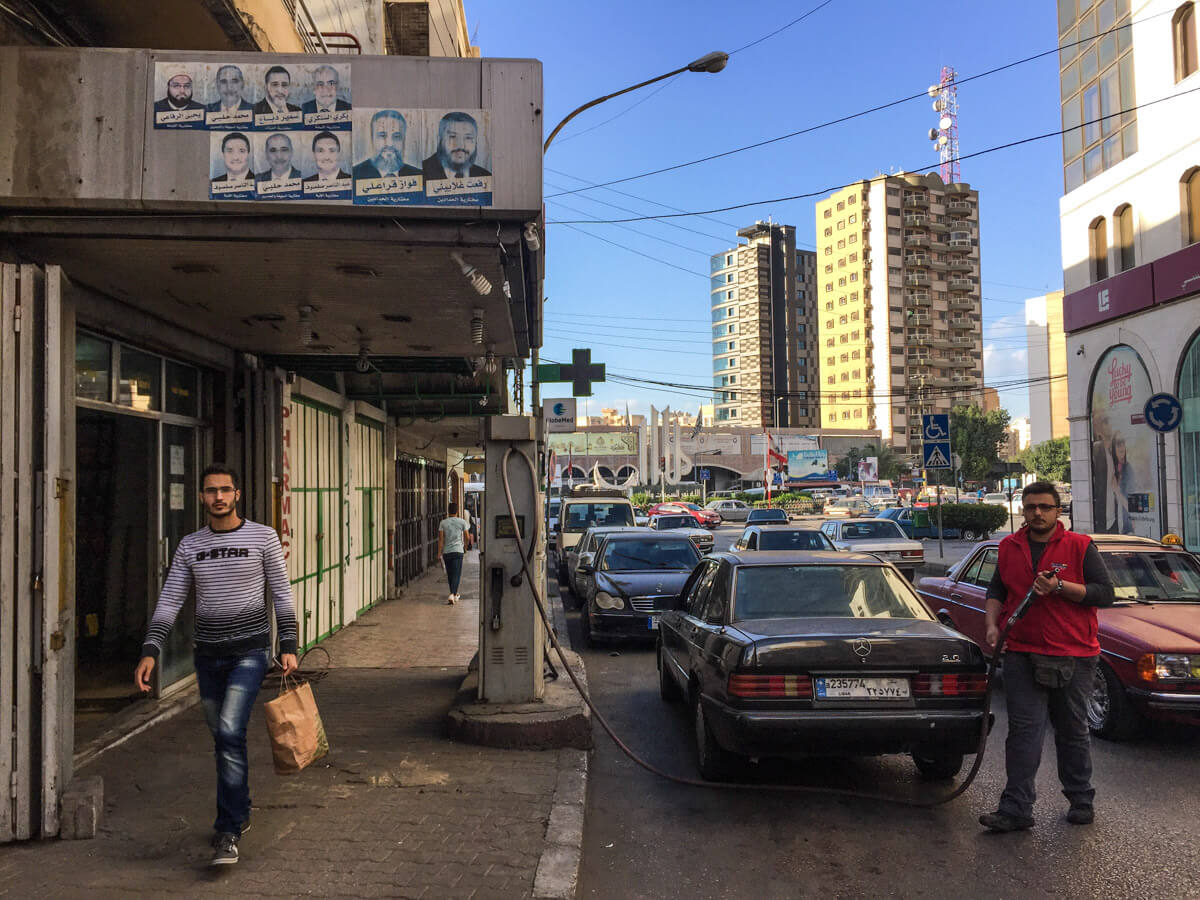 Day 9, 10 – Kadisha Valley – Lovely Christian mountain villages
Remember to get travel insurance for Lebanon
I strongly recommend IATI Insurance as it has COVID-19 coverage + 5% discount
Get your 5% discount if purchasing via this link
If you either want just to relax, eat good food, visit beautiful Christian monasteries or to go hiking, the Kadisha Valley in Lebanon will always be the perfect place for you.
Kadisha means "holy" and owes this name to the fact that this valley is home to some of the most ancient communities of monastic Christians in the Middle East.
In case you don't know, monasticism is a way of life for which the person (in this case Christian monks) renounces everything to devote himself completely to spiritual work.
The valley is full of natural caves, difficult to access, that once served as places of isolation for the monks living lives devoted to Christ.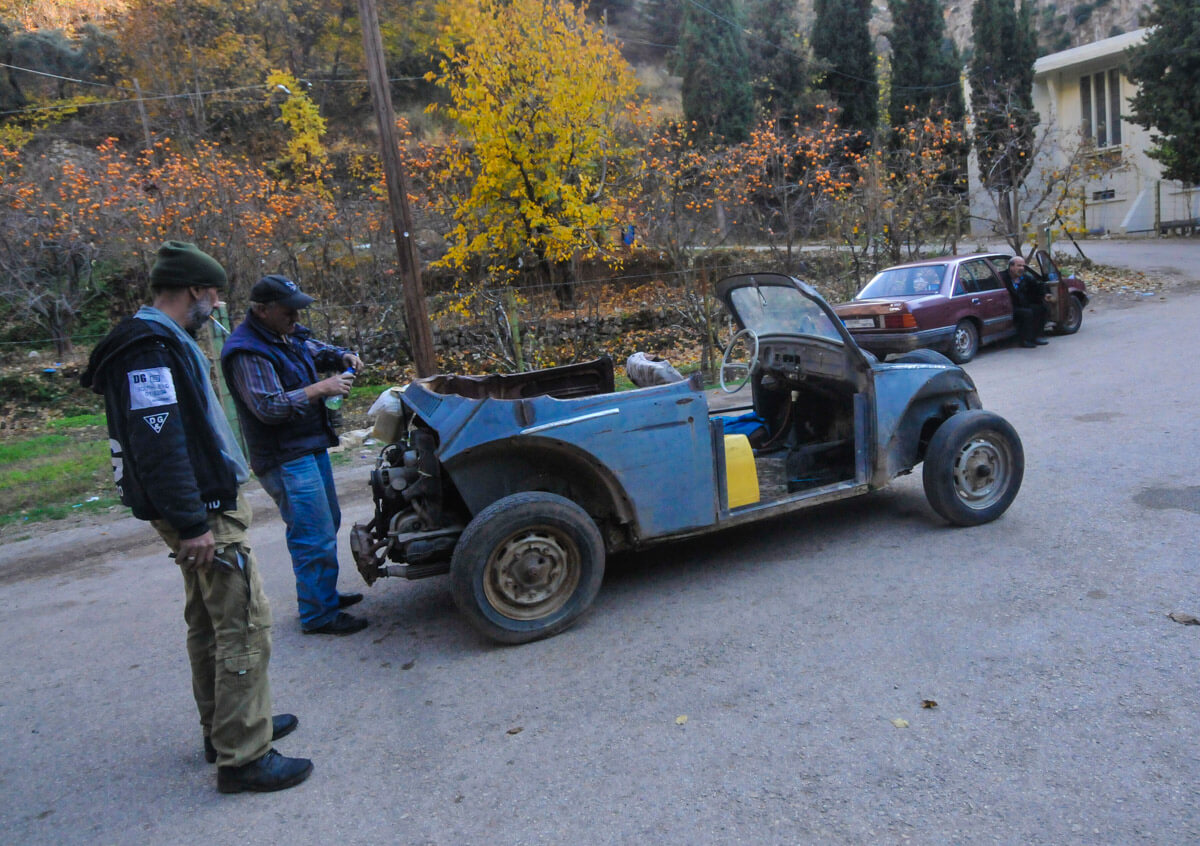 How to get to Kadisha from Tripoli (or Beirut)
If you come from Beirut, you will have to go to Tripoli first.
Once in Tripoli, there are buses leaving from 9am to a small village named Bsharri, which is a great base to explore the rest of the valley. For coming back, the last one is at 4:30pm.
Where to stay in Kadisha Valley (Bsharri)
Kadisha is one of those places where you really should spend one night at least, especially if you come by public transportation. Otherwise, you will just have 1 hour to explore it entirely.
Budget Guest House – Tiger Guest House – This is an ideal place for budget backpackers and, basically, the only cheap accommodation in town. Everything is very simple but the family is lovely and very helpful.
Mid-range Hotel – Bauhaus Chalets Apartment – Breathtaking views, a very accommodating owner, and pretty modern facilities, this hotel is pretty good, given the low range offer in Bsharri.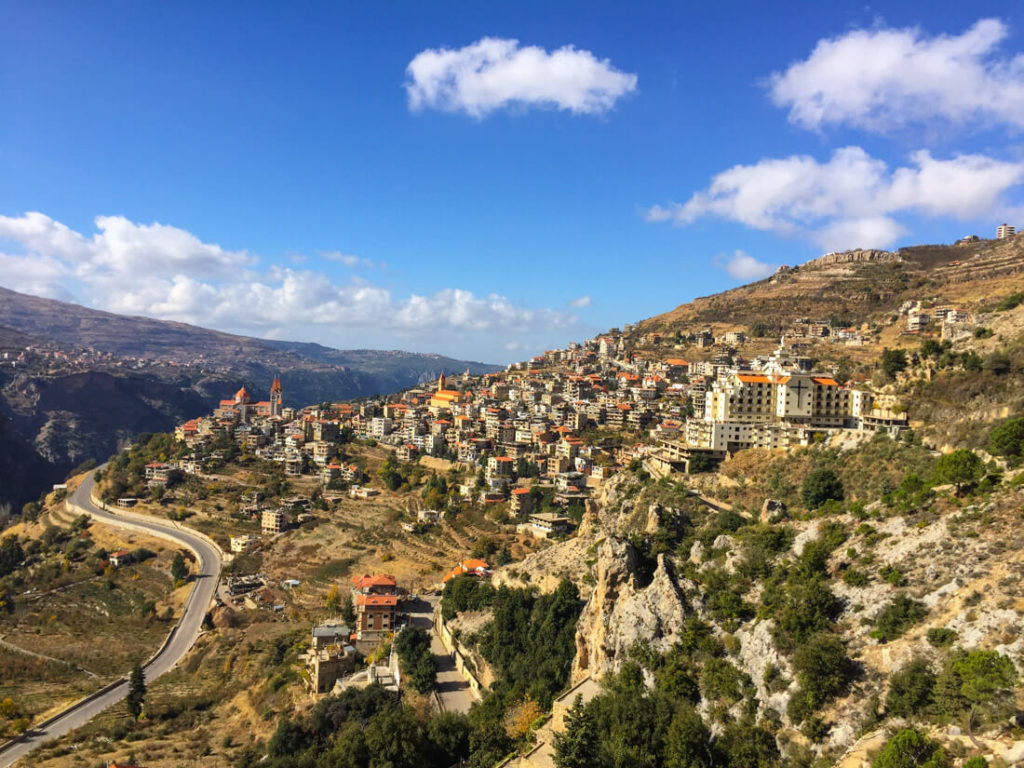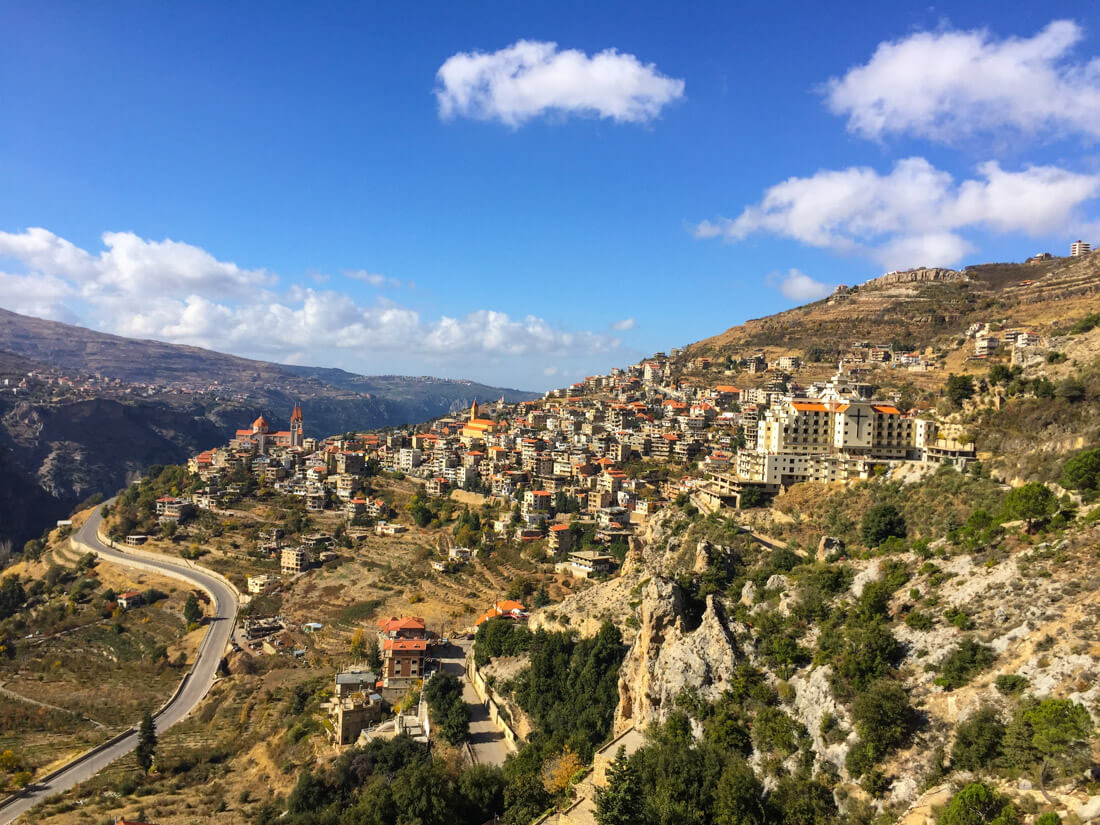 Day 11 – Sayda and Mleeta – Hezbollah territory
Sayda is a small city located 40km from Beirut. Slightly conservative, Sayda is a nice place to visit on a day trip, wandering around its labyrinthine, covered souq, full of cafés where the Lebanese are sitting outside, looking with expectation at the few foreigners that pass by.
Perhaps, the most iconic building in the city is the castle, built in the XII century, located on a tiny island just 80m from the shore, whose walls turn into a beautiful orange during the sunset.
Mleeta, the Museum of Hezbollah
A fantastic day trip from either Beirut or Sayda is visiting the Mleeta Museum, aka the Hezbollah Resistance Museum.
Hezbollah is a Shia militia and armed group created in Lebanon during the war against Israel.
They don't like to be called militia, however, but they consider themselves a resistance organization against a common enemy named Israel.
The area around Mleeta was their headquarters and stronghold during the war and today, they have built an amazing museum where you can visit the underground tunnels they used to hide in, as well as some captured Israeli tanks and artillery.
The museum only costs a few $ and it includes a guided tour with a member of the militia.
While it's true that his explanations are pure propaganda, the guides are open to absolutely any question, and they are actually very pleasant people. A must-see.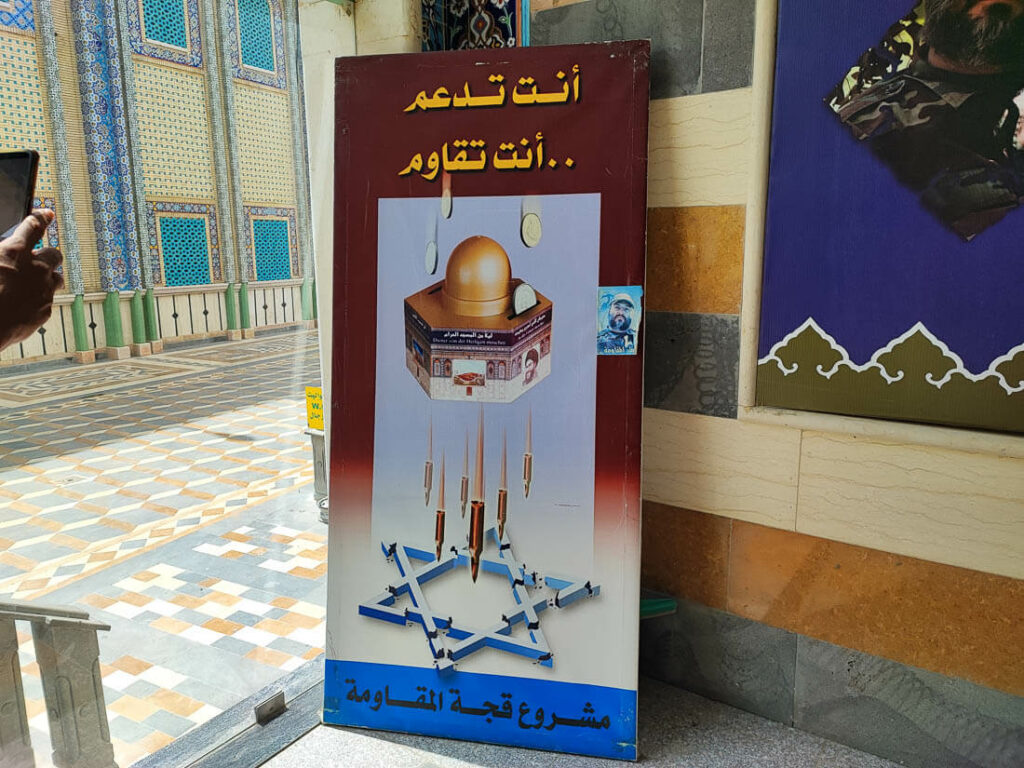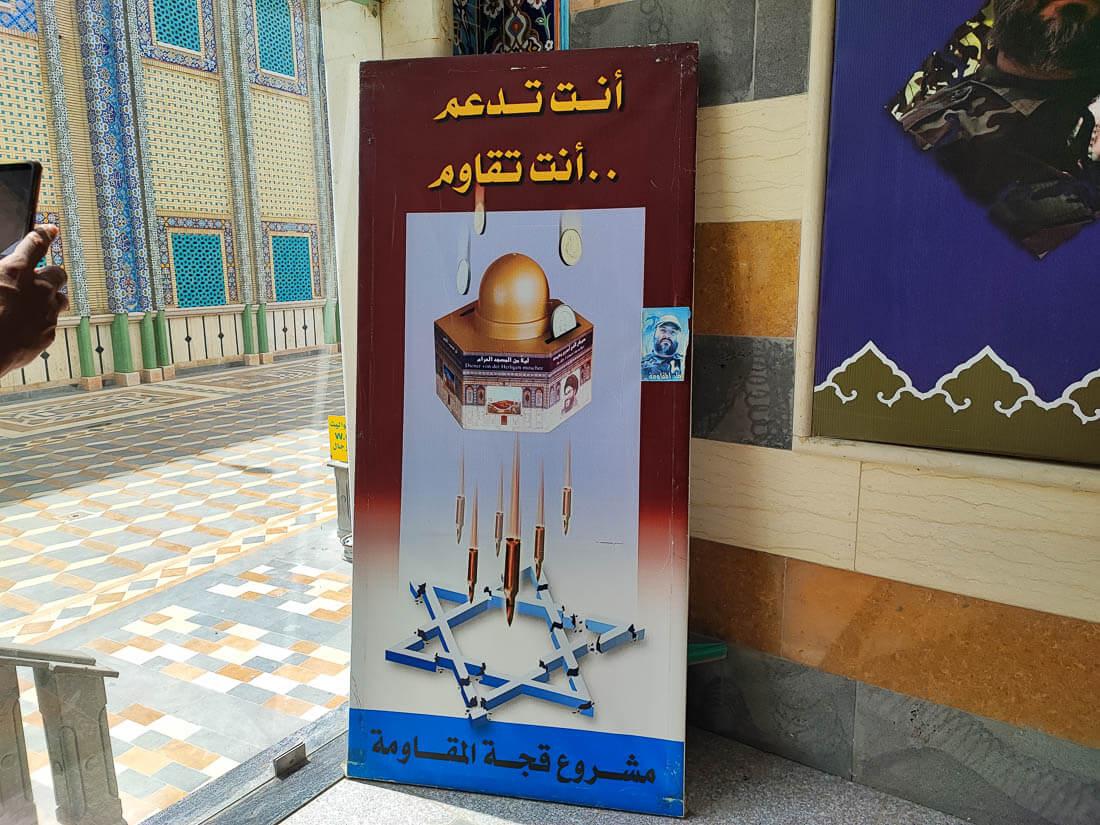 How to get to Sayda from Beirut 
To get to the south of Lebanon, Cola Station is the best and only option.
Where to stay in Sayda
Sayda isn't famous for its accommodation. To be honest, I didn't stay here but came on a day trip from Beirut. In any case, if you plan to stay here, these are the most feasible options:
Budget / Mid-range Hotel – Yacoub Hotel – A very old hotel from 1920, Yacoub is located very close to the old city and the beach, the main city's tourist attractions. However, many people have complained about cleanliness, especially because it is not a cheap hotel for what you get.
Mid-range Hotel – Al Qualaa Boutique Hotel – This boutique hotel isn't bad but, for what you pay, the experience should be way better. The location is unbeatable, next to Sayda Old Fort and, overall, it is in a very cute building and the breakfast is just great. However, people complain about small details, like power cuts, the shower was not working and a large etcetera.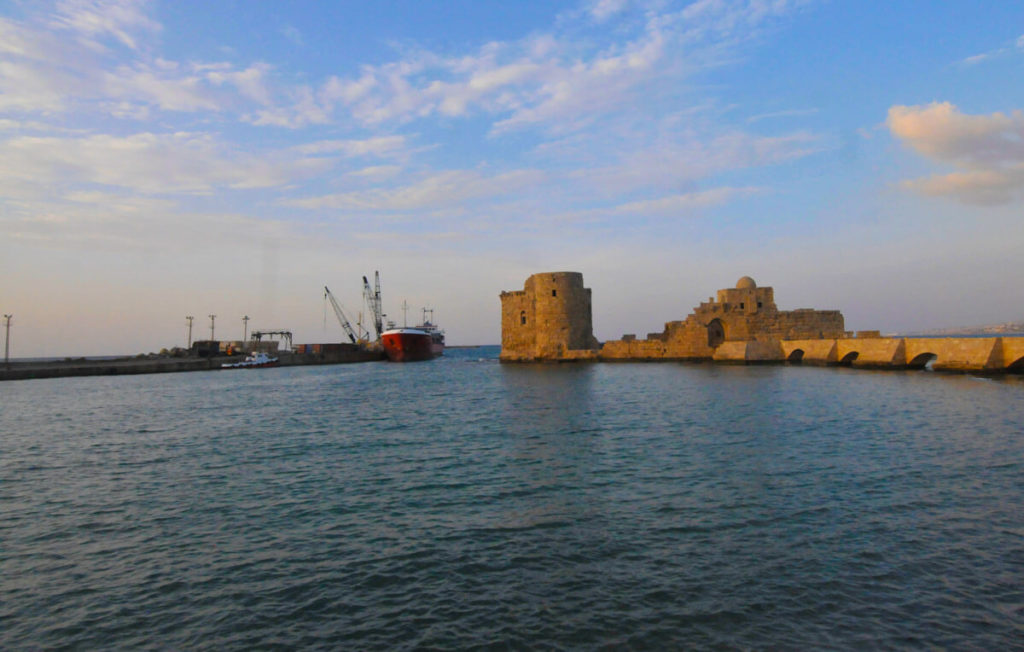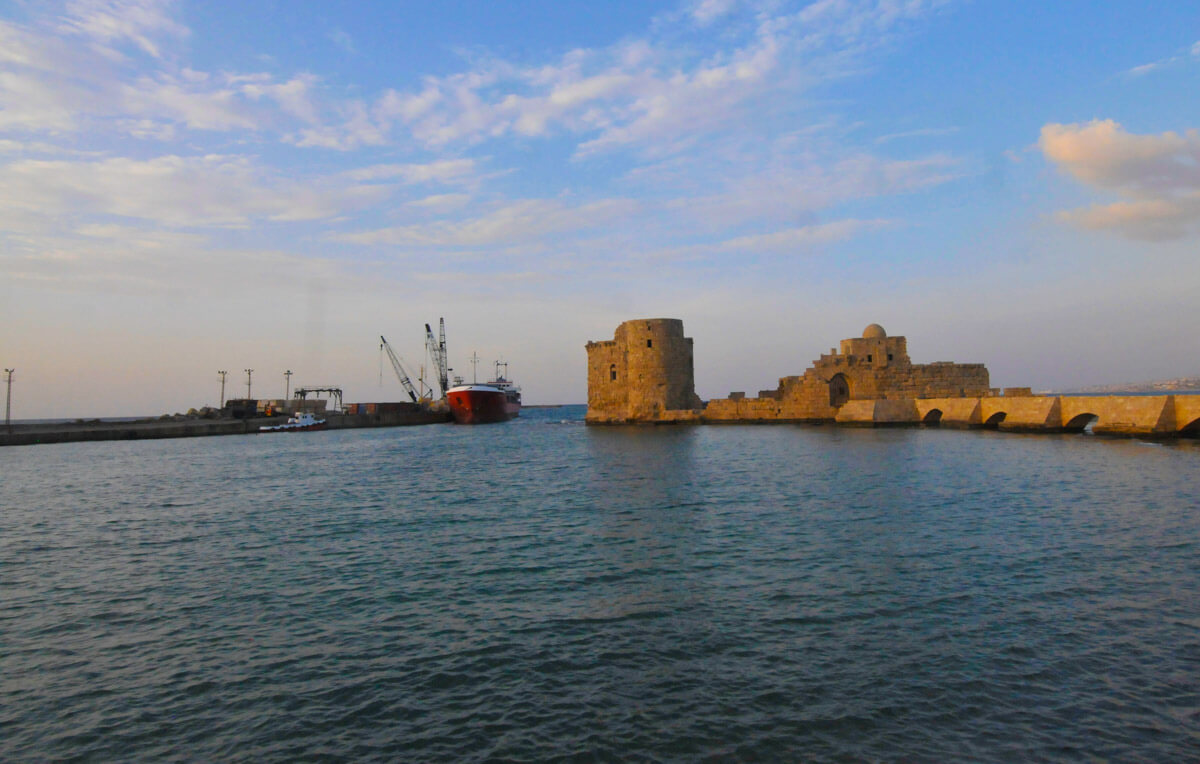 Day 12 – Tyre – Your beach destination in Lebanon
The most southern city in Lebanon, Tyre brags about being the place where you find the best beaches in the country.
In summer, every day, tons of Lebanese come from Beirut to spend the day and chill at its beaches and eat awesome seafood at the many restaurants that are found around the harbor.
In Tyre, you also find a castle, Roman ruins, a corniche, and a beautiful and colorful harbor, full of seafood restaurants.
How to get to Tyre from Beirut
Tyre is 90 kilometers from Beirut and buses leave from Cola Station.
However, you should first take a bus to Sayda and, from there, take the second one to Tyre.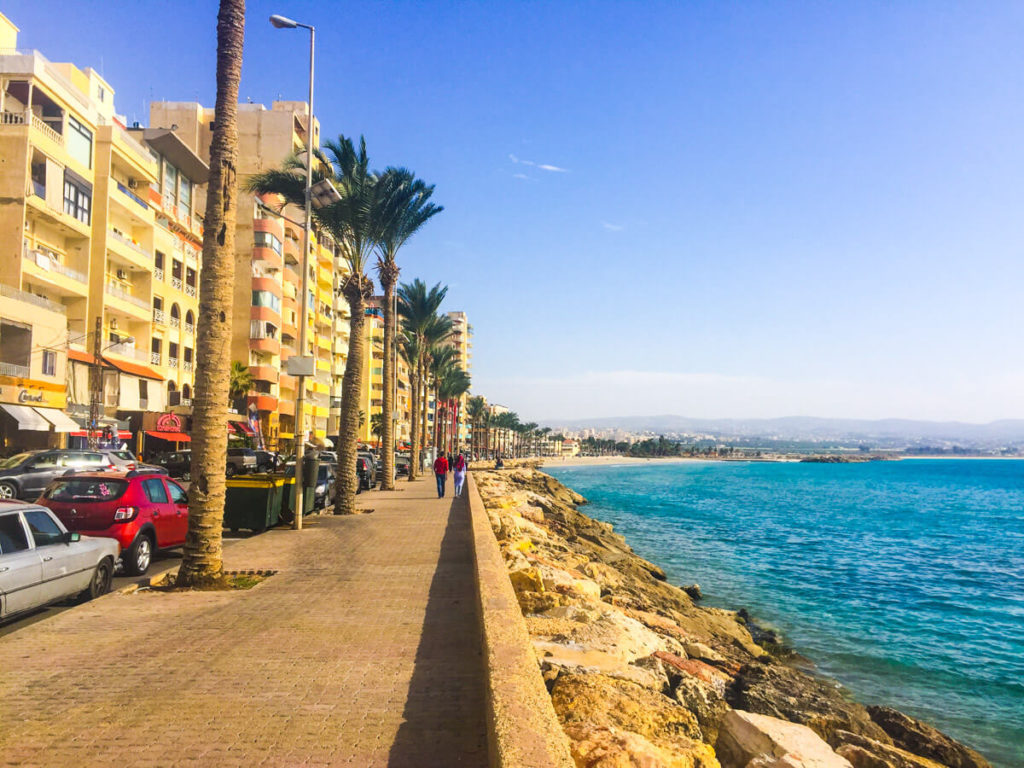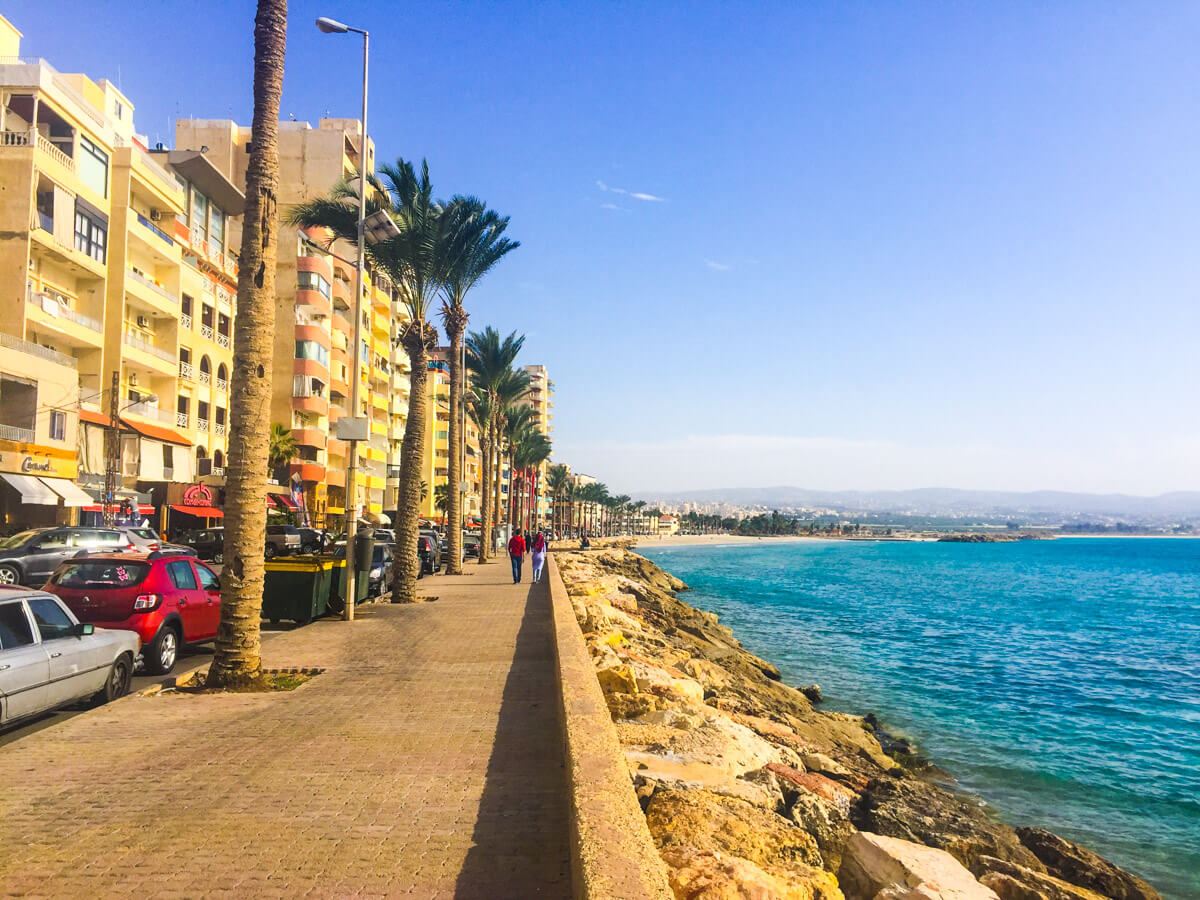 Where to stay in Tyre
In Tyre, accommodation is super expensive. I didn't stay there but, if you are a beach lover and you can afford it, this is the most popular hotel:
Mid-range Hotel – Asamina Boutique Hotel – Tastefully furnished and with really cozy rooms and comfortable beds and located in the old city, very close to the sea, this is one of the best boutique hotels in the country. They serve an amazing traditional breakfast, with really fresh products and the staff are just extremely accommodating. I think this is the best option in Tyre, better than any of the other resorts, which kind of lack of personality and authenticity.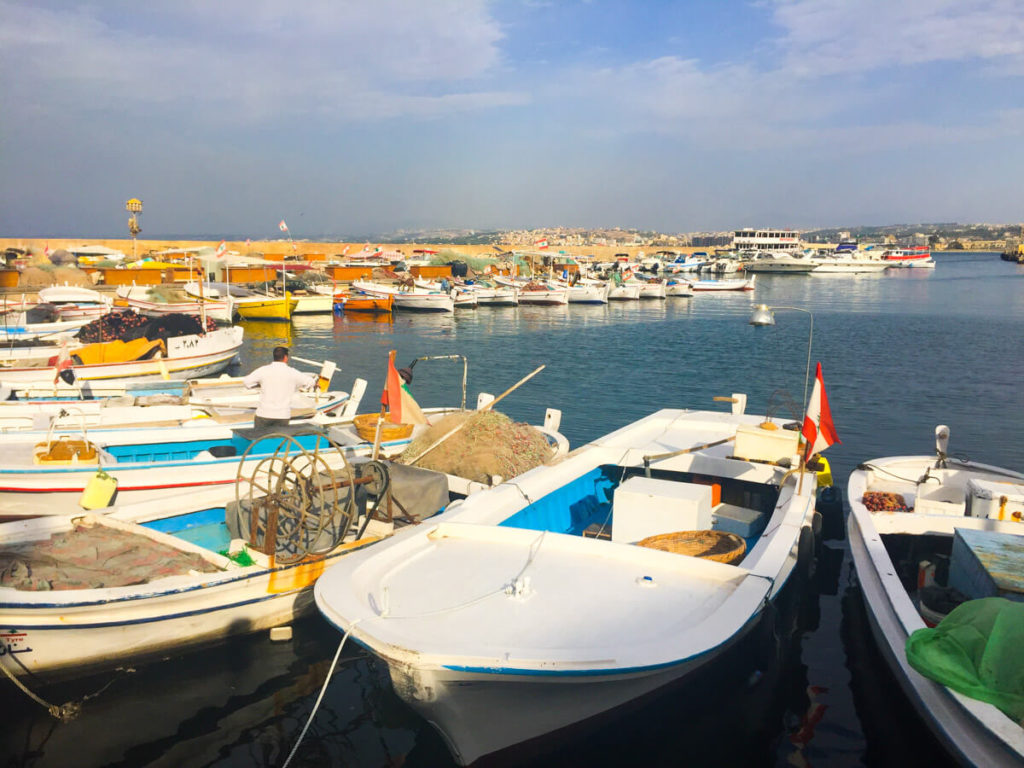 Day 13 – Go off-beat – The wall that separates Lebanon from Israel
Both Lebanon and Israel have been in continuous war for several decades and, today, diplomatic relations between both countries don't exist, since they still consider each other to be enemies. This is one of the most sensitive borders in the world.
These two Middle Eastern countries share a 79-kilometer border. For the most part, it is unreachable, as it's located too far from the road. But I was told that there's one area where you can actually get close to it. I liked the idea pretty much, so I decided to go there.
Visiting it is an adventure, as the whole area is full of military facilities and soldiers from the United Nations, who are guarding the border.
You need to be very cautious when visiting it. I was there by myself, with a camera, and I got arrested. If you wanna read my full story, check out this article: The day I was accused of being an Islamic State spy.
Please note that this is a Hezbollah area, which means that a permit is required. It's very easy to obtain and you can get it at the police station in the city of Sayda.
They give it to you instantly but remember that a permit makes you eligible to enter the area and it doesn't mean that you can take pictures or walk freely along the wall.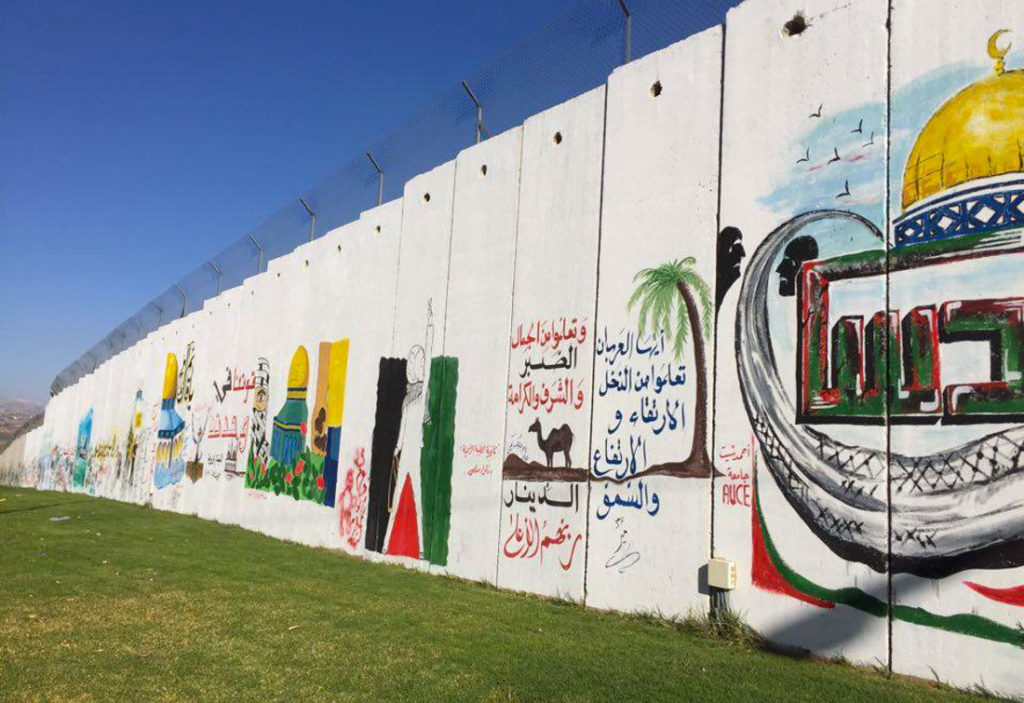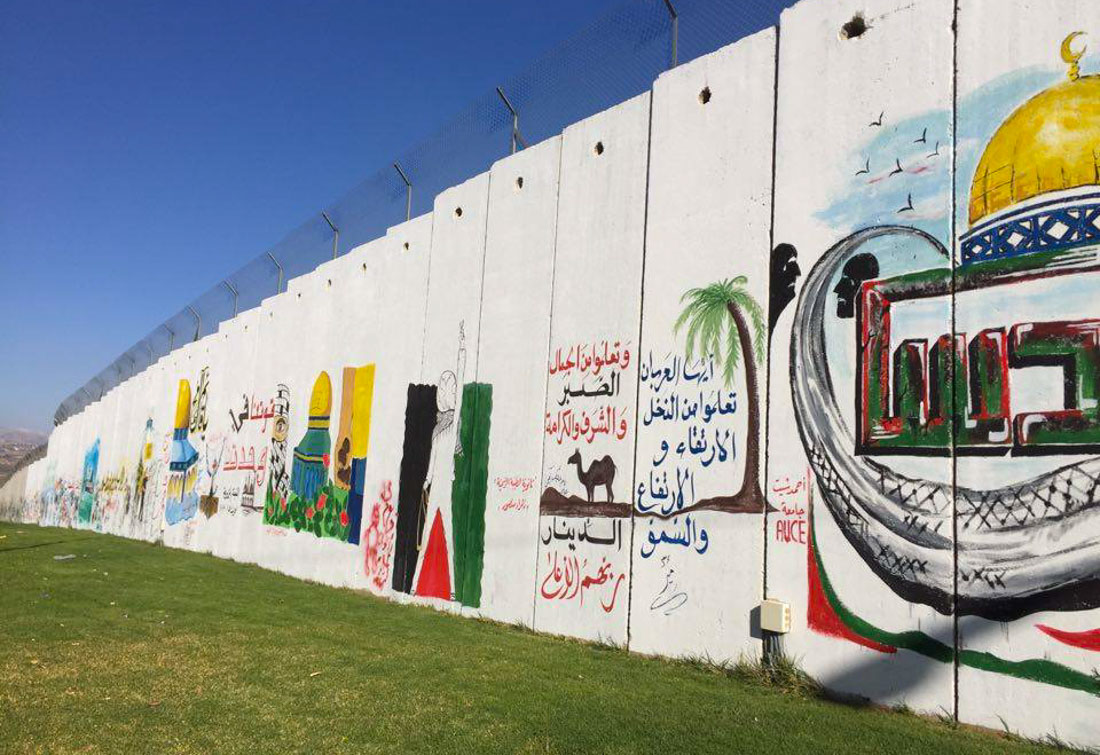 How to get to the Wall from Beirut
Be aware that it is not recommended to get there by public transportation, as you will trigger the suspicion of the Hezbollah Army.
It is not about walking around the wall but just that tourists never go there, so seeing a dude wandering there by himself is kind of weird, according to their eyes.
As I said, I got arrested when I was there but, in part, it was because I had a camera hanging from my shoulder.
Going there on your is your own responsibility but, if you decide to go, here's how to get there by public transportation.
From Beirut, go to Cola Station and take a bus to Sayda. From Sayda, take a bus to Nabatiyeh. In Nabatiyeh, you need to take a shared taxi towards Kfarkela. You have to drop off as soon as you see the wall. Please note that you may have to wait for over an hour for the taxi to be completely full.
More information to complement your Lebanon itinerary
Remember to get travel insurance for Lebanon
I strongly recommend IATI Insurance as it has COVID-19 coverage + 5% discount
Get your 5% discount if purchasing via this link
All guides and articles for traveling in Lebanon destination
Travel guides to other countries in the Middle East
You will also be interested in: Where in the Middle East is safe? and The most beautiful places in the Middle East.