Budapest is without a doubt one of the most beautiful European cities to visit in December. Although temperatures are low and days are short, people venture out on the streets lured by the brightness of the Christmas lights and and the festive atmosphere all around. But the biggest attraction of Budapest in winter are the Christmas markets filled with traditional handicrafts and delicious foods. Whether you find yourself in Buda or in Pest, the Hungarian capital will delight you with its outstanding karácsolyi vásárok (Christmas fairs).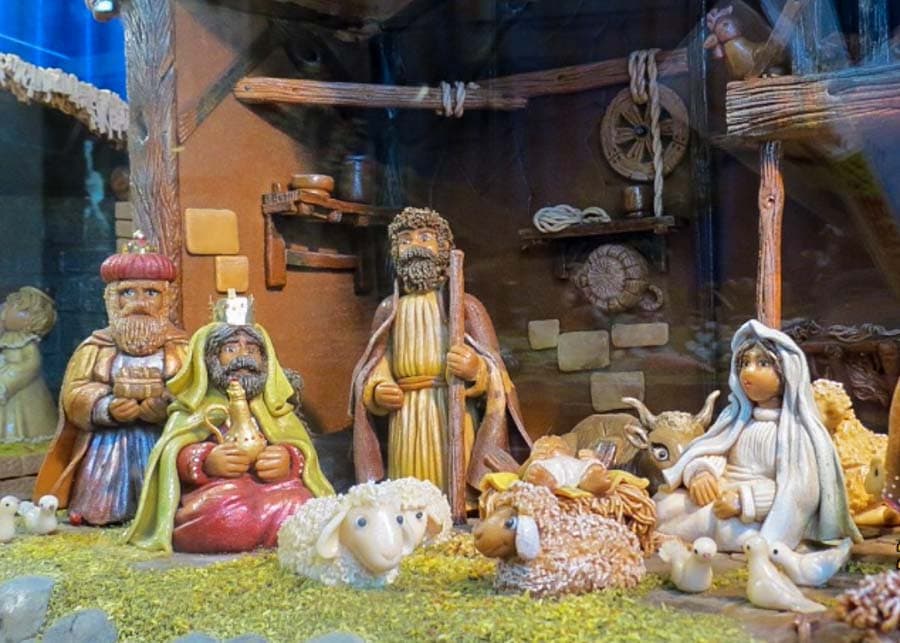 With hundreds of stalls across seven sites throughout the city center, this year's Christmas fair and winter festival is set to bring a festive cheer to Budapest. Since the first Christmas market opened in Budapest in 1998, the winter festival has been attracting hundreds of thousands of visitors. And that's because of all the food and wine festivals held in Budapest through the year, this is perhaps the most beloved and joyous one of all!
Our Favorite Christmas Markets in Budapest
I can't think of a better way to get into the holiday spirit than strolling through the Christmas markets of Budapest with a cup of hot chocolate in my hand. Filled with delicious foods and local crafts, the booths make the most authentic environment to have a merry time and shop for Christmas gifts.
1. Budapest Christmas Market at Vörösmarty Square
Budapest oldest, richest and most spectacular Christmas fair is held every year at Vörösmarty tér. Countless wooden stalls and vendors are spread all around the square. Here you'll find not only authentic Hungarian souvenirs, but also the best traditional Hungarian dishes and some of the most famous Hungarian wines.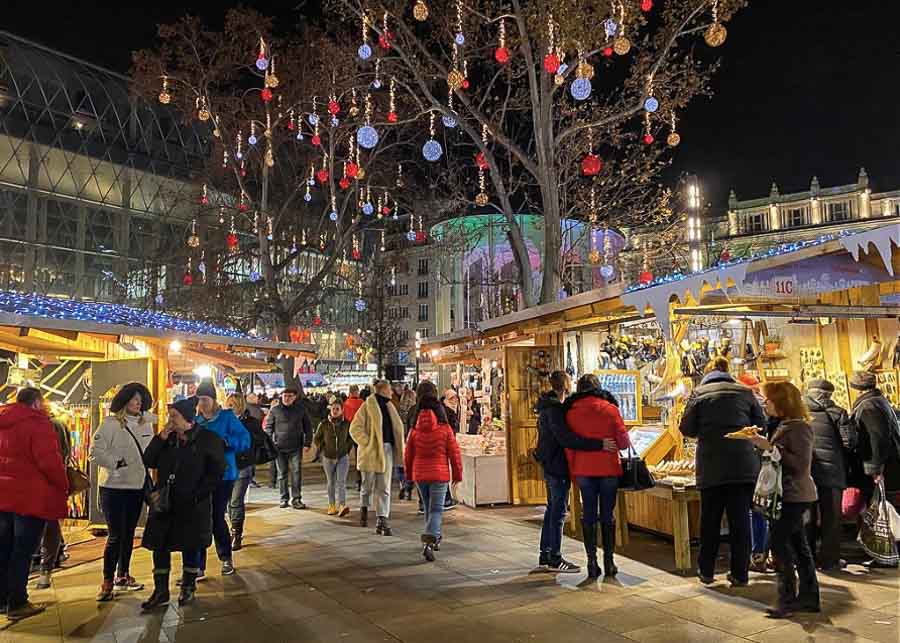 On the main stage, concerts and activities for children are organized every day from 5 pm to 8 pm on weekdays and from 10 am to noon and 4 pm to 8 pm on weekends. 
The market is located in the very heart of Budapest, at Vörösmarty tér, in District V. To reach it you can take the Metro M1 (yellow line) which stops right in the middle of the square. You can also use M2 & M3 metro lines to Deák tér station, or tram 2 to Széchenyi tér stop. The square is just a couple of minutes walk from both stops.
Opening Dates in 2022: the market is open from November 19 to December 28.
Visitation hours: 10 am to 8 pm on weekdays and 10 am to 9 pm on weekends.
2. Déak Ferenc ("Fashion Street") Christmas Market 
After visiting the Christmas Market on Vörösmarty Square, head to Deák Ferenc Street which is just 100m away. Nicknamed Fashion Street, Deák Ferenc is probably the busiest shopping street in Budapest, after Váci utca.
Unlike the other Christmas fairs in Budapest, this market is more about indoor shopping. It's basically a street full of elegant stores and fancy boutiques impeccably decorated.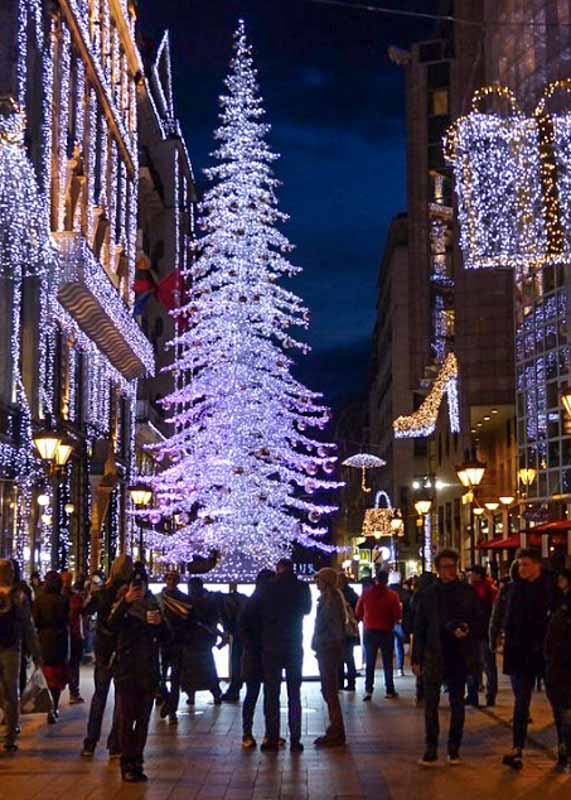 Everywhere you look there is a plethora of lights and ornaments, including a large Christmas tree installation set in front of Hotel Kempinski Corvinus. 
3. Advent Feast at the St. Stephen's Basilica
Also located in the Budapest city center, is the Advent Feast at the St. Stephen's Basilica. The address is: Szent István tér, 5th District, Pest – Budapest.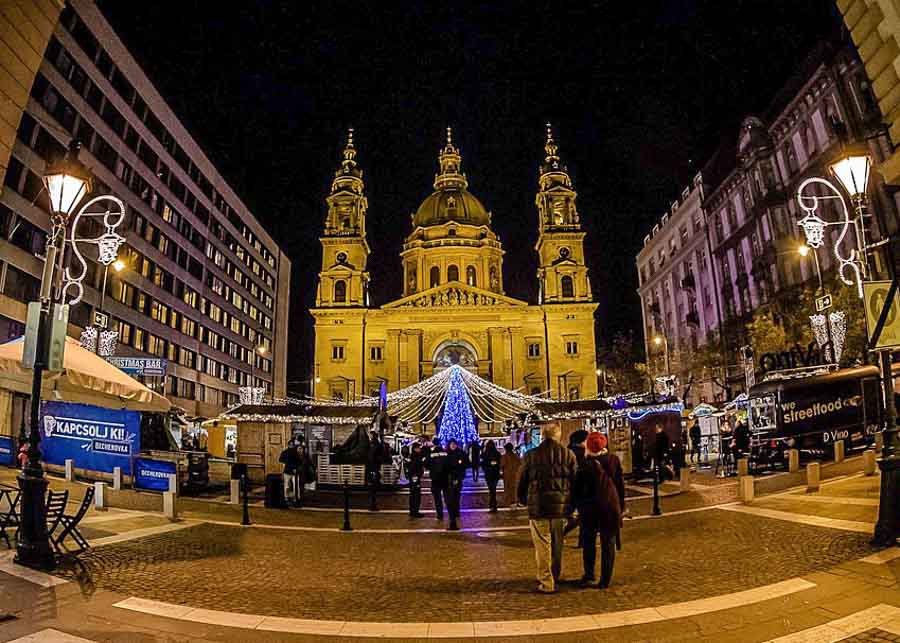 This market is less than a 10-minute walk from the Christmas fair on Vörösmarty Square, so you can easily walk from one to the other. This spot is a locals' favorite during the Christmas season, as every year the city comes up with new ideas in decorating the square in front of the Basilica.
The market has an ice skating rink at its center and also a huge Christmas tree. But what makes it unique is the projection of different animated films on the façade of the St. Stephen Basilica. These magical projections take place every 30 minutes between 4:30 pm and 10:00 pm.
Opening Dates in 2022: the market opens between November 18 to December 31st.
Visitation hours: 11 am to 9 pm on weekday and 11 am and 10 pm on weekends.
4. Erzsébet Square Christmas Market
The Christmas market at Erzsébet Square is located on the Danube shore, at the foot of the Ferris wheel in District V of Budapest. All throughout the Holiday season this Erzsébet Square market attracts visitors who want to enjoy not only great food and beautiful crafts, but also glorious views of the city.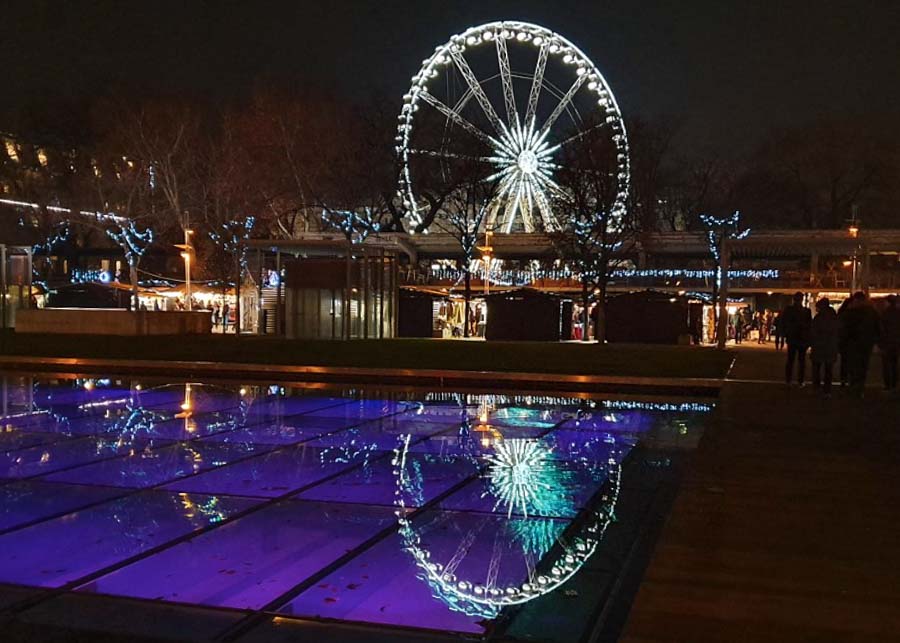 For the best view of downtown Budapest you'll have to ride the iconic Ferris wheel rising to a height of 65 meters. The wheel is open year-round, but at Christmas time when the city is more illuminated, the views are even more enchanting!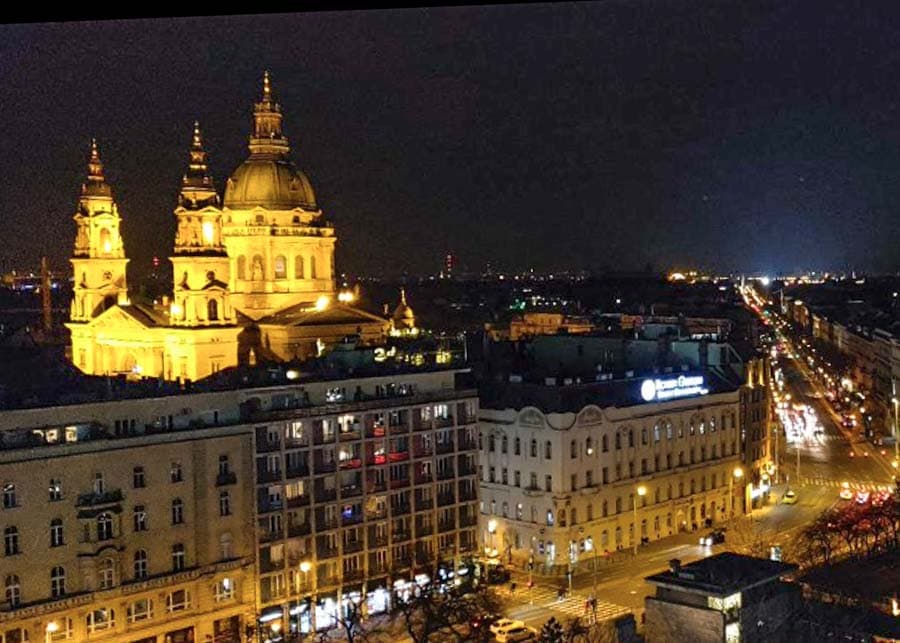 Opening Dates in 2022: the market is open daily from noon to 8 pm.  
The Ferris Wheel is open daily from 10 am to 11 pm.
Ticket price is €9 for adults and €5 for children.
5. Óbuda Christmas Fair (Advent Óbudan)
Our favorite Christmas Market in Budapest is the one in Óbuda (old Buda), the oldest district of Budapest. This part of town is known as Old Town Budapest and is famous for the gorgeous views of the Danube and its many attractions.
We like Advent Óbuan because it has a very authentic, old-world charm and atmosphere.It is also less crowded than the Christmas markets in the city center. On the downside, this fair ends on December the 23rd, so you should keep that in mind when planning to visit it.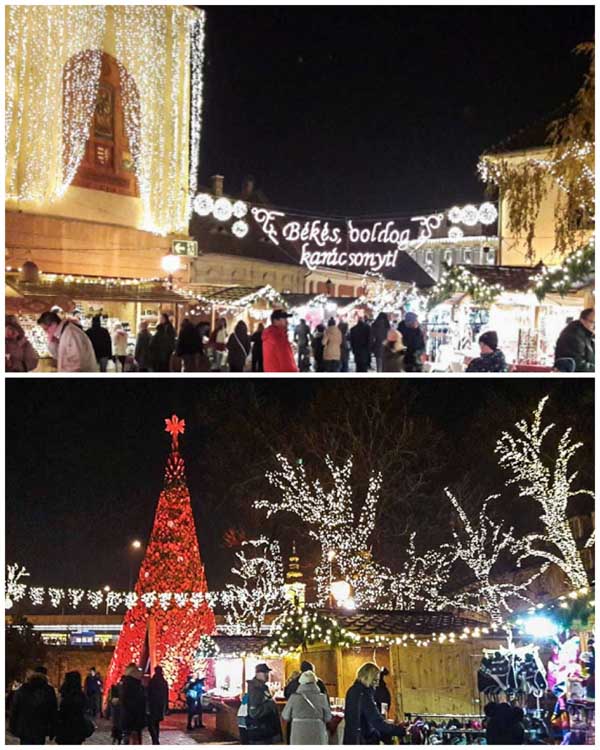 The market opens in the Main Square (Fő tér) and hosts festive programs on the four weekends of the Advent. In addition to the usual food stands and handicrafts, Óbuda fair has also an ice-skating rink, a tall Christmas tree, and a life-size nativity scene.
To get to Advent Óbudan from the city center, take tram 1 or Metro 2 (M2 red) and get off at Szentlélek tér stop.
Opening Dates in 2022: from November 25 to December 23.
Visitation hours: Advent Óbudan is open daily between 2 pm to 9 pm,
Tickets: entry is free to all programs and the ice-skating rink. However, if you want to sip mulled wind and taste the food, you'll have to purchase a mug for 500 HUF.
6. The Great Market Hall (Nagy Vásárcsarnok )
Nagy Vásárcsarnok is Budapest's largest and most expansive indoor market. Although the market is a colorful place to visit year-round, during the month of December it becomes particularly attractive. Everywhere you turn you'll find mouth watering delicacies, and seasonal crafts and decorations. There is street food, Hungarian snacks and home-style meals on the upper floor.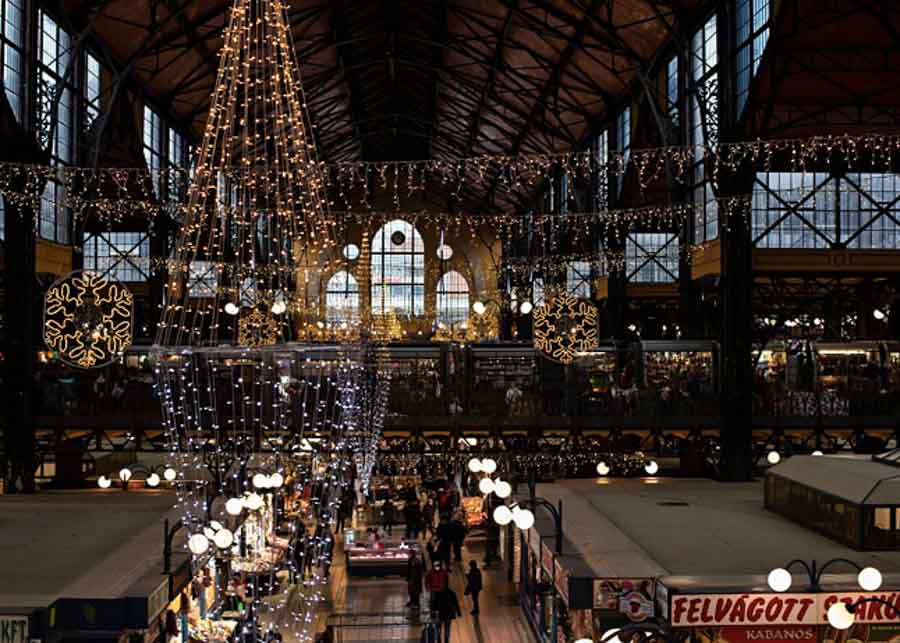 Getting there: Metro M3 (blue line) or M4 (green line), or trams 2, 47 and 49 which stop at to Kálvin tér. 
NOTE: Central Market is open Monday to Friday from 6 am – 6 pm, Saturday from 6 am -3 pm.
The market is closed on Sundays and also on December 25 and 26.
7. Advent In City Park
A little farther away from the Budapest city center you'll find another beautiful Christmas market located in the City Park, next to Heroes' Square. The popular leisure park, Városliget, also dresses up for the Holidays and welcomes everyone with crafts, foods and drinks, as well as exciting family programs and an ice skating rink.
To get to the City Park from the city center you can either take the Milennium( line M1) to Hősök tere. Or you can bus lines 20E, 30, 30A, 105 or 230.
Opening Hours: 9am to 9pm every day, including 24-25-26 December and January 1st.
Christmas Markets Beyond Budapest
If you have more than 3 days in Budapest and would like to see some other authentic Christmas markets, there are several historic towns within close proximity to the capital which make beautiful day trips from Budapest.
Szentendre Advent Fair
The town of Szentendre is an ideal day trip for those staying in Budapest. Famous for its fairy-tale atmosphere and well-preserved medieval buildings, Szentendre is an equally popular destination both in summer and in winter. In December the town's old-world charm gets amplified by the beautiful Christmas Market held in the main square.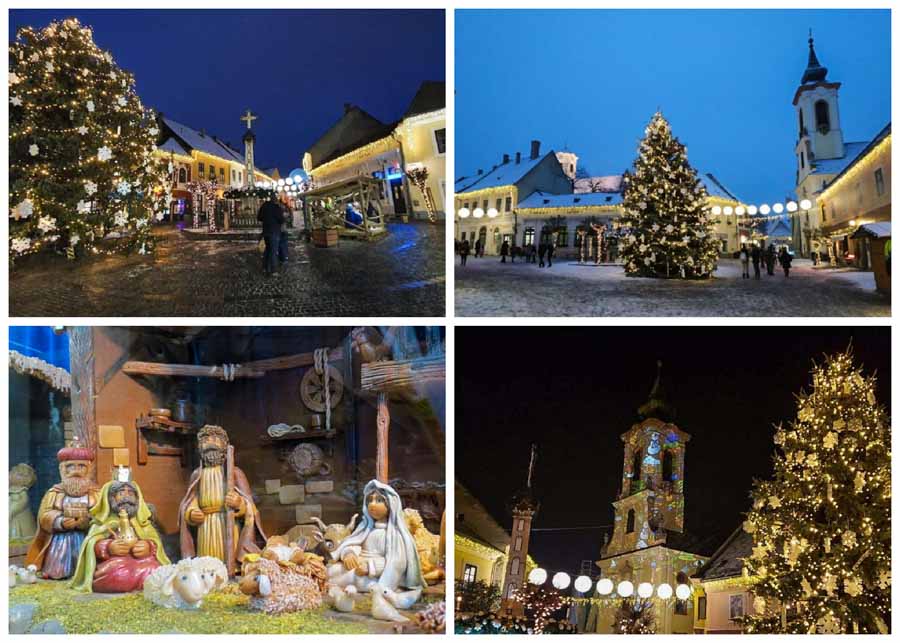 There are two ways to get from Budapest city center to Szentendre. You can take the HEV train from Batthyany tér (40 minutes). Or take the bus from the Újpest-Városkapu metro station (30 minutes). The walk from Szentendre station into the centre of the town takes five minutes. Admission to the Christmas Market is free.
Eger Christmas Market
Like all Hungarian towns, Eger has a special Christmas fair each December. The market is in the town square – Dobó István Square. The square bears the name of the famous general who defeated a much bigger and stronger Ottoman army in 1552, during the siege of Eger.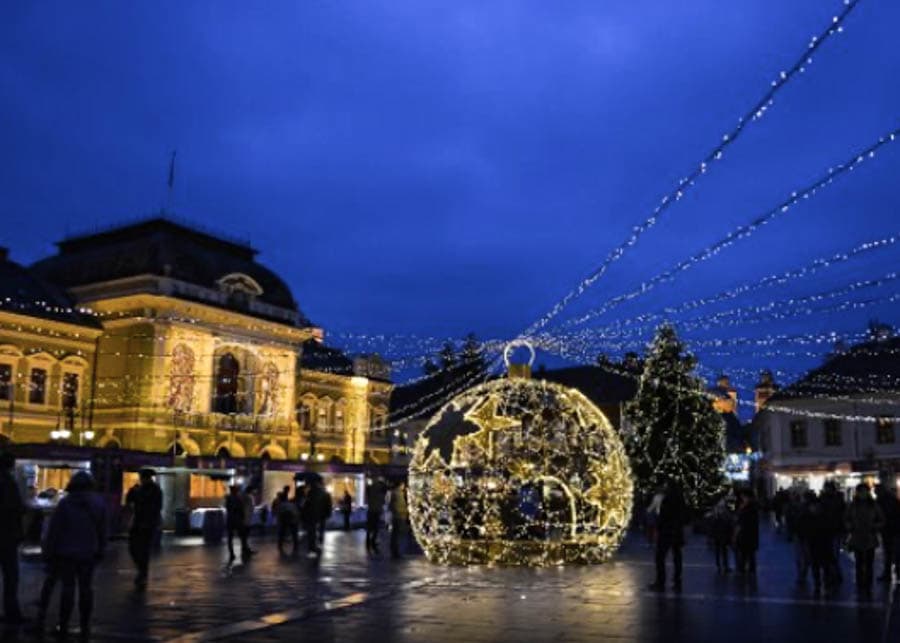 The beautiful lighting on the backdrop of the Eger castle give the Christmas market an enchanting look. So if you have time, I strongly encourage you to visit this beautiful historic town.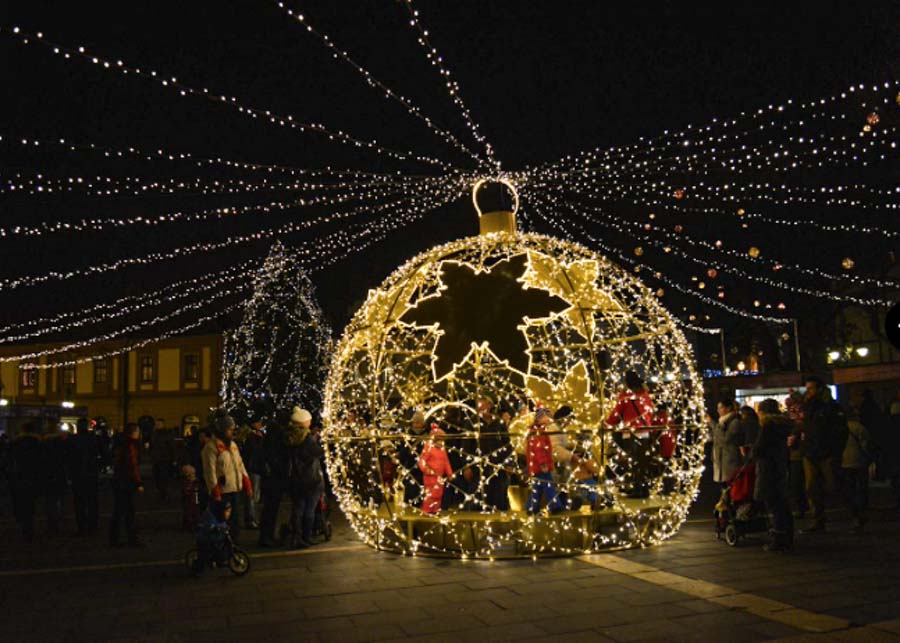 You can visit the castle during the day and at night indulge in the delicacies of the Christmas market. Taste the mulled wine, chimney cake and grilled chestnuts while listening to the Holiday concerts that takes place every night on the main stage.
There are two ways to get from Budapest to Eger if you don't have a car. You can take the train ($6 to $8/ticket) or come by bus ($5 to $7/ticket). The travel time is about the same: roughly 1 hour and 40 minutes.

Traditional Hungarian Foods to Try at the Christmas Markets
Christmas Markets are all about eating well and being merry, so forget about staying slim in Budapest! With so many mouth-watering delicacies around it will be difficult to keep your mouth closed.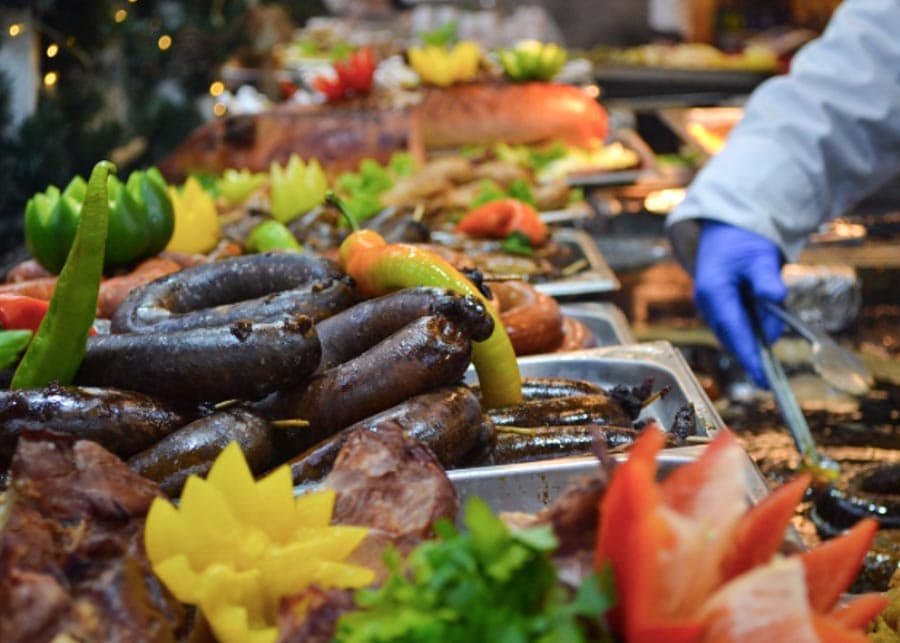 Some of the traditional foods you'll find at these markets are pretty well known. Like grilled sausages, Goulash soup, roast goose, venison or stuffed cabbage. But there may be others that you haven't tried or may have never heard about. Here are some that I would recommend: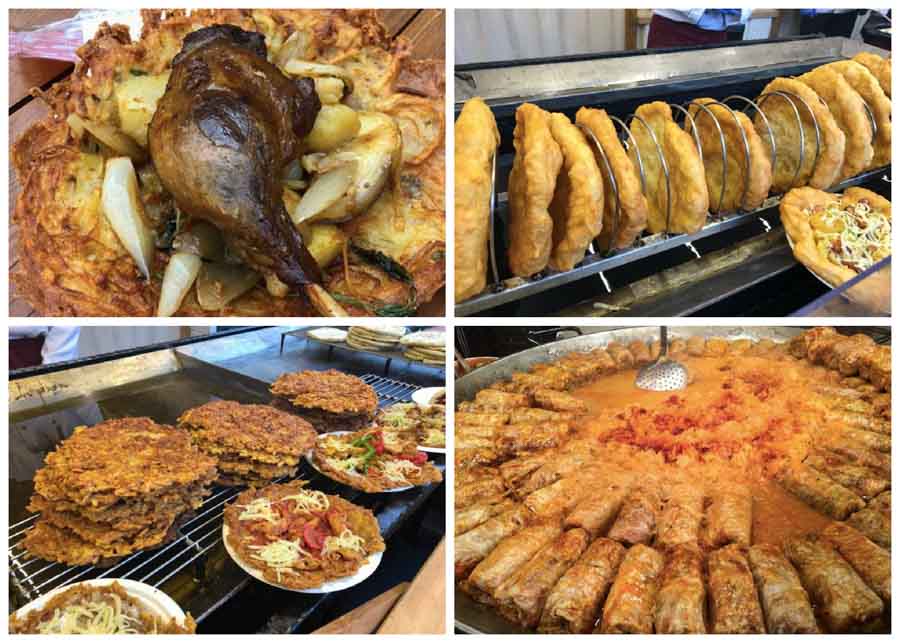 Duck leg with potatoes on a vegetable omelette, lángos (deep fried flat bread), stuffed cabbage rolls, chicken/veal paprikash and Hortobagyi Palacsinta (meat pancakes).
For desert, don't miss the famous Kürtőskalács (a sweet bread shaped like a hollow cylinder) and the Poppy seed/Walnut Rolls (Beigli).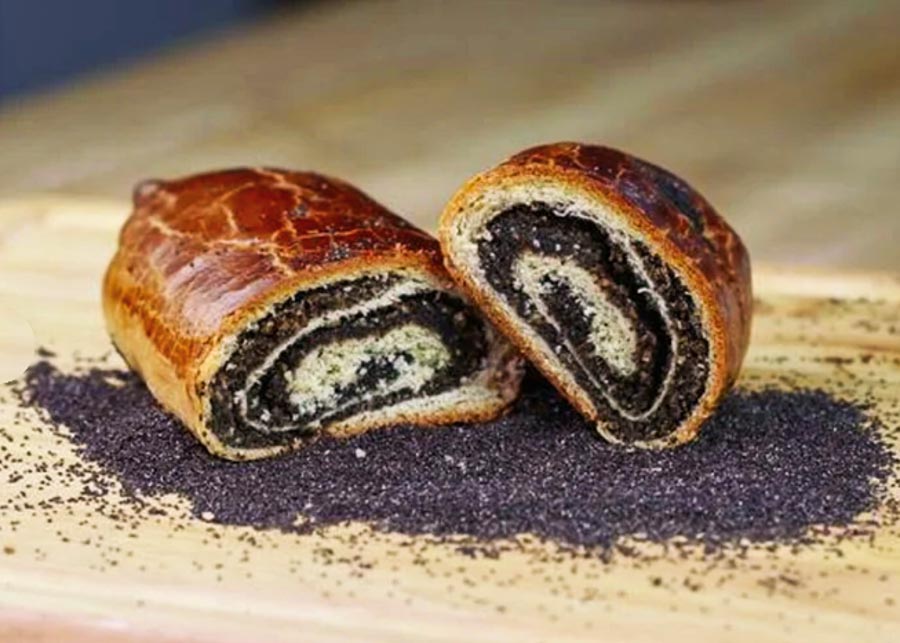 TIP: Take a ride on the special Christmas Trams (6 lines in 2022) between December 1st, 2022 and January 6, 2023. The trams are decorated with festive lights and run in different parts of Budapest. Tram 2 runs along the riverbank in Pest city center.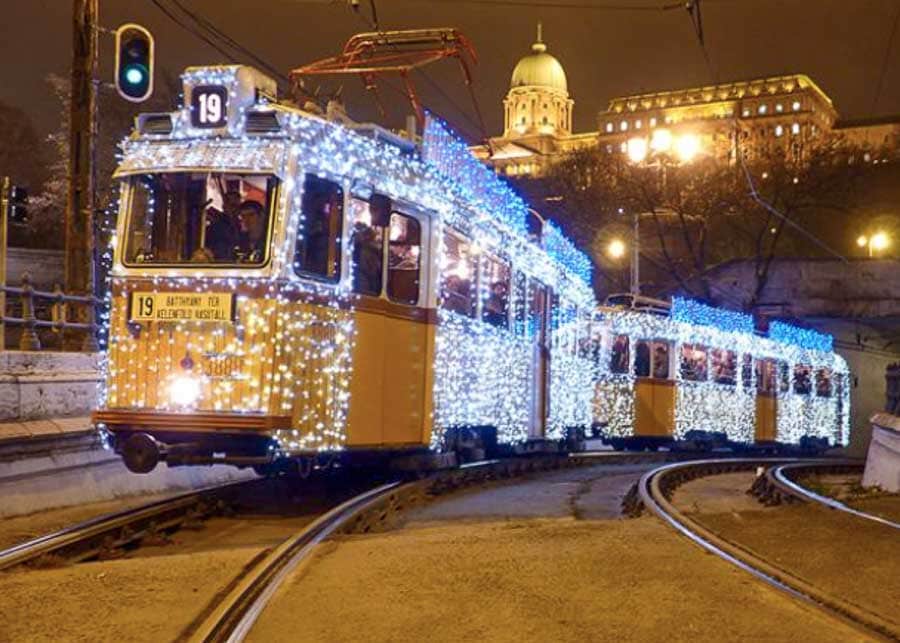 Tips for Visiting the Christmas Markets in Budapest
Christmas markets are meant to be enjoyed. But if you want to have a good time while strolling through the countless kiosks of food, drinks, arts and crafts, you need to be prepared. So here are a few tips that will make your visit more enjoyable:
Dress warmly. Even if there is no snow, Budapest gets very cold in winter, especially at night.
Bring cash with you. While you can pay with Euro at almost all stands at the different Christmas markets in Budapest, you'll be better off paying with the local currency, Hungarian Forint (HUF).
Book a hotel near the city center, where most Christmas markets are. Some hotels in Budapest that I can recommend for this purpose are: Mercure City Center, Eurostars Budapest Center and 7Seasons Apartments.
Don't bring valuables at the markets. Budapest is overall a very safe city, but pickpockets always roam around crowded areas in big cities, so watch your purse!
Don't use taxies if possible. Cab drivers in Budapest are famous for being dishonest with foreigners. Use Bolt or Uber instead, or public transit. Public transport in Budapest is one of the best in the world.
Dare to taste new foods. This is one of the most important advises when you come to the Christmas markets in Budapest. Many of the foods you may recognize, or heard about. But even if you come across something that you don't even understand what is, taste it! I promise you won't regret it.
Which Christmas Market to Visit While in Budapest?
Christmas is a very busy time of the year and unless you have a very long holiday in Budapest you probably won't have time to visit all the markets listed here. Besides, winters may be very cold in Hungary, so you may not like to spend too much time outside. If you were to choose which of these markets to see, here are our three main favorites:
1. The Christmas Market at Vörösmarty Square. Unfortunately, it tends to get very crowded in the evenings, but is a must. 
2. The Advent Fair at St. Stephen's Basilica, which has the interesting film projections. 
3. The Christmas Fair in Óbuda, which has the most authentic Advent atmosphere.
Merry Christmas!