It's a city that has been ruled by various empires and kingdoms over the centuries and has survived earthquakes and war. 
Hiking may not be what comes to mind when you think of Dubrovnik, but nature abounds in and around the city. While Dubrovnik's popularity may be largely focused on its association with Game of Thrones, there are some pretty incredible secrets to uncover when you leave the walls of the city.  
A range of day hikes, multi-day treks, and coastal walks are easily accessible whether you wish to explore nearby national parks, escape to an island, or head into the mountains. 
While you can walk along Dubrovnik's famous Old Town walls and partake in Game of Thrones walking tours to spot filming locations and uncover the city's history, the best-kept secret may be the hiking opportunities that are available via easy day trips from the city. 
Whether you wish to book an organized hiking tour, rent your own vehicle, or make use of the many ferries that connect you to various nearby cities like split and islands like Hvar, here are some incredible hiking locations you may want to consider for your next Croatian holiday.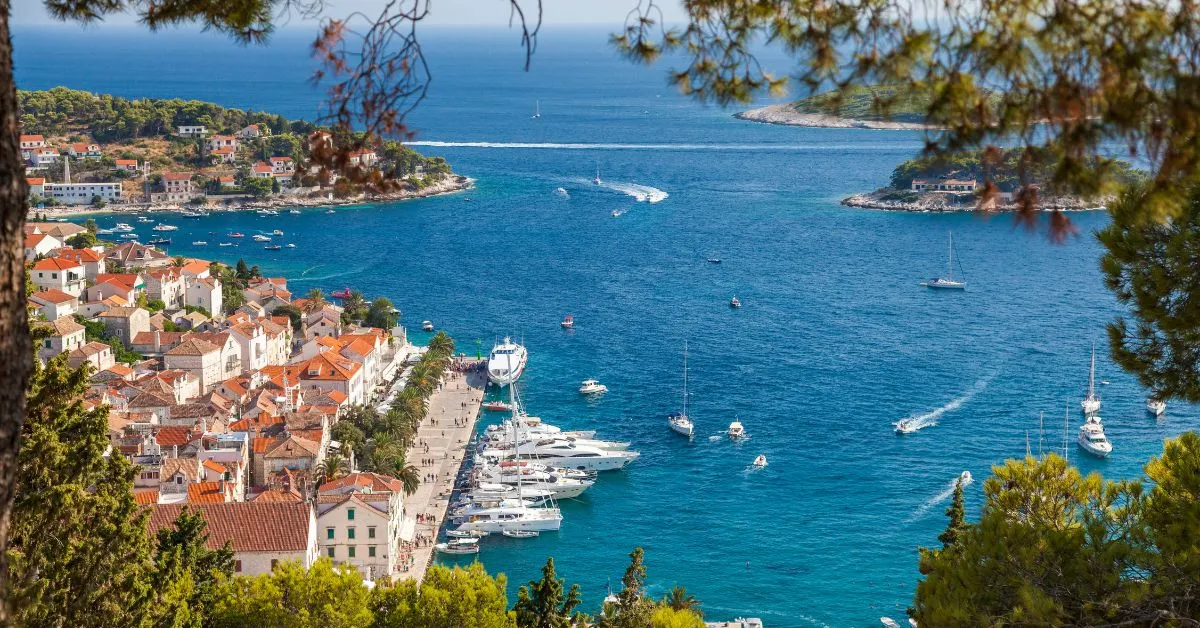 Mount Srd Hike
It's hard to miss the small mountain that sits as a backdrop behind Dubrovnik. Reaching the summit of Mount Srd is a great hike to start with since you can reach the trailhead within walking distance from Dubrovnik's Old Town. 
Hiking is the best way to enjoy Mount Srd in the sense of feeling a sense of accomplishment, however, there is the option to take a cable car up the mountain and simply walk down, or vice versa. 
The hiking trailhead located off Jadranska Cesta Street can be a bit tricky to find so you may want to ask directions from your hotel or do a bit of research on Google Maps beforehand. There are several routes leading out of the city that will guide you to the trailhead. 
The hike to the summit involves about an hour uphill climb along a series of switchbacks that help take some of the steepness out of the climb. 
Upon reaching the top of Mount Srd, you will discover Fort Imperial which dates back to the Napoleonic Wars. There's also a small war museum and restaurant with impressive views over Dubrovnik below and offshore islands in the distance. 
If you wish to extend your hike, I recommend walking down the road that leads to the small mountain town of Bosanka that features the ruins of some old buildings that were ravaged by war. 
Mount Mosor 
A great day trip from Dubrovnik if you want to enjoy a bit more challenging mountain hiking is to head to Split where you can tackle Mount Mosor. Split can be reached by car in around 3 hours or by ferry which will take 4-5 hours. The trailheads can be accessed via vehicle or public bus from Split.
Well-marked trails lead from the town of Gornje Sitno and once on the mountain you can choose to follow a number of trails leading to different peaks like the two tallest which include Veli Kabal and Vickov Stup. 
There are a few mountain huts which hikers use as end points for hikes or break points if continuing on to other peaks. You'll often find many hikers congregating at the Umberto Girometta House/Hut for drinks and snacks, while also taking in the views of the Dalmatian Islands and Split below. 
The mountain is often covered in beautiful wildflowers and you may be accompanied by groups of passing goats. The hike is relatively safe, however, some sections require a bit of scrambling over loose rocks and there are native venomous snakes that call the region home. 
Hvar
Those Dalmatian Islands we just talked about which can be viewed from Mount Mosor includes Hvar. One of Croatia's most famous island tourist hangouts is Hvar and it can be reached by taking the ferry from Split to Hvar.
The island is regarded as one of the sunniest spots in all of Europe, making year-round outdoor recreation a delight. Not only does Hvar offer a number of great hikes and walks, you can also enjoy snorkeling and biking. 
One great hike leads from Milna to the towns of Malo Grablje and Velo Grablje. For a bit of a challenge and nice view of the Pakleni Islands, try summiting Motokit which can be accessed from either of the last two towns previously mentioned.  
St. Nikola is another peak you can tackle and is the tallest point on the island. There are a number of different trails leading from several villages to the summit, but one of the most enjoyable ones leads from the seaside village of  Sveta Nedjelja with its lovely winery. 
If you wish to enjoy the sea breeze, look into the Robinson Trail which is a flat and easy hike that hugs the coastline and allows you to take in a number of beaches.
Hvar is home to fragrant seasonal lavender which makes being outdoors even more enjoyable and there are a number of clothing optional beaches if your into that in order to cool off after working up a sweat hiking.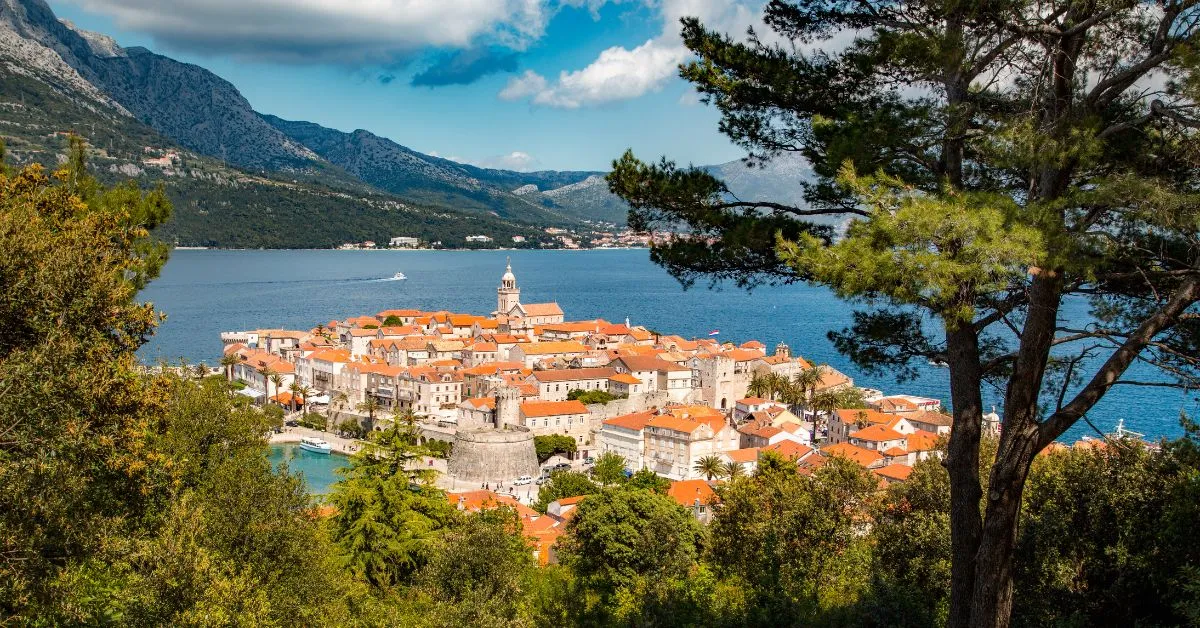 Krka National Park
A bit further down along the coast from Split and Hvar is Krka National Park. This park offers a great alternative to Croatia's famous Plitvice Lakes National Park if you wish to enjoy less tourist crowds. 
The highlight of the park is the well-marked loop trail that leads you around the collection of 17 waterfalls known as Skradinski Buk. The wooden walkway leads over water and close to the various falls to allow you great views. Sadly, much like Plitvice Lakes National Park there is no longer swimming allowed here.
There is also another series of falls to check out known as Roski Slap, and many other sites which are best accessed by taking a boat tour along the Krka River. The boat tours do allow you to get out and walk around the various points of interest.
This is a great park to visit if you enjoy birdwatching since over 200 species have been recorded here including numerous birds of prey like Bonelli's eagles and ospreys.
There are organized tours to Krka National Park but if you have your own vehicle then it's best to drive to Lozovac and its large dedicated parking area to access the park.
Lopud Island
Heading back to Dubrovnik for our final ideal hiking stop, you'll need to once again catch a ferry. Lopud Island can be reached by an hour ferry from Dubrovnik but you will definitely feel a greater sense of peace and nature on this car-free island. 
There are numerous easy-to-manage trails that cut across the island. Some lead to beautiful swimming spots and sandy beaches like Sunj Beach, while others lead to churches, a monastery, and a fortress. 
There are even a few peaks including Polacica and Balakovo to tackle if you want to give your legs a bit of a workout.
Final Thoughts
These are just a few of the great hiking regions close to Dubrovnik but there are countless others that suit various fitness levels. I didn't even mention Lovćen National Park which is home to wolves and bears. Just a 3-hour-drive from Dubrovnik, you will have to cross into Montenegro to visit the park but there are organized tours that can be arranged from Dubrovnik.
Lovćen National Park is one of Montenegro's most biodiverse natural areas and from the summit of Mount Lovćen you can actually see not only parts of Croatia and Montenegro, but also Albania as well.